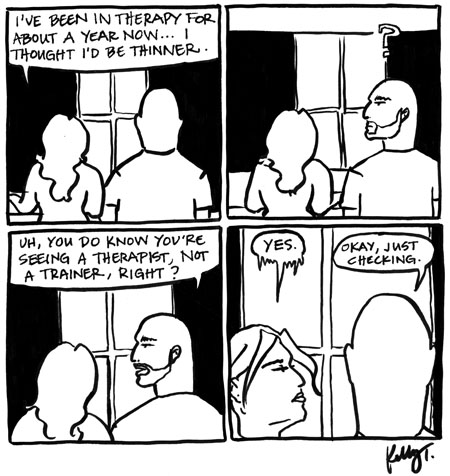 I know, it doesn't really make sense, but I guess I thought when I got my head together, the rest would follow.  Now, arguably my head is not together just because I've been in therapy for a year, but it's better.  Actually, I'm not really sure it's better…no fault of the therapist, or me really, 2007 was just a really hard year, and you can't expect to get better or "together" when all you're doing is surviving.  Regardless, I continue to hold on to the possibly erroneous belief that getting my head together will be the first step to making the body come along in the direction I want it to.  It would be great if it could start coming along before I go to Hawaii in July…how about that body?  C'mon! 
Sidenote: I think I'm getting sick (again).  Adam has been sick since Saturday night and I've been taking care of him.  I thought I dodged it with clever handwashing and taking vitamins and such, but my throat hurts this morning, so all that damn hand washing may have been for naught.  Anyway, I've already got a comic scanned and ready for tomorrow, but I haven't done Friday's yet, so we may have the first ever Rabid Lamb Comic interruption if I get hit with this thing.  Maybe it would be best if you all mentally prepare yourselves now…I know your day just won't be right without a morning comic from Rabid Lamb… 

Shoutout:  A special shoutout/thank you to Josh, who has been helping both Adam and I whore out our blogs.  The line of widgets you see on the bottom of some of these posts is my blatant attempt to get more traffic…and it's all thanks to Josh.  Thanks Josh!
Comments are now closed.