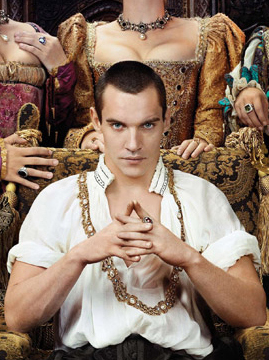 So, in finally getting back to my previously promised Tudor rant/review, here we are.
I guess part of my problem with this show is that, at this point, I have a surprising amount of actual knowledge about this time period and these people and all the events that led up to these kind of amazing (and horrible) things that happened to these people.  And so, knowing what I know, I just don't understand the choices that they make for the show. They will make these seemingly valiant attempts to keep it true to the facts in certain ways and then just go wildly off the mark for no apparent reason. 
Adapting material is difficult, and it's very difficult to do it well, so I do try to cut them some slack, but some of this stuff they have added in or changed is just ridiculous and unnecessary.  The great thing about Henry VIII and his six wives is that it was rife with drama and intrigue to begin with.  There were murders, conspiracies, marriages, affairs, sexual escapades, religious persecution, beheadings, trials, rumors, it's all there – you actually have to invent very little to "sex it up" and make it pretty for the masses…so I just don't understand the choices they make. 
The Good:  It's interesting to see these characters brought to life and the scenes shot on location are rich and beautiful, unfortunately,  too large a percentage of the show is shot on sets, which despite a good effort for a television show, look pretty sad and small and cheap.  The costumes however, show no expense spared, and are fantastic. 
*spoilers*
The Bad & The Ugly: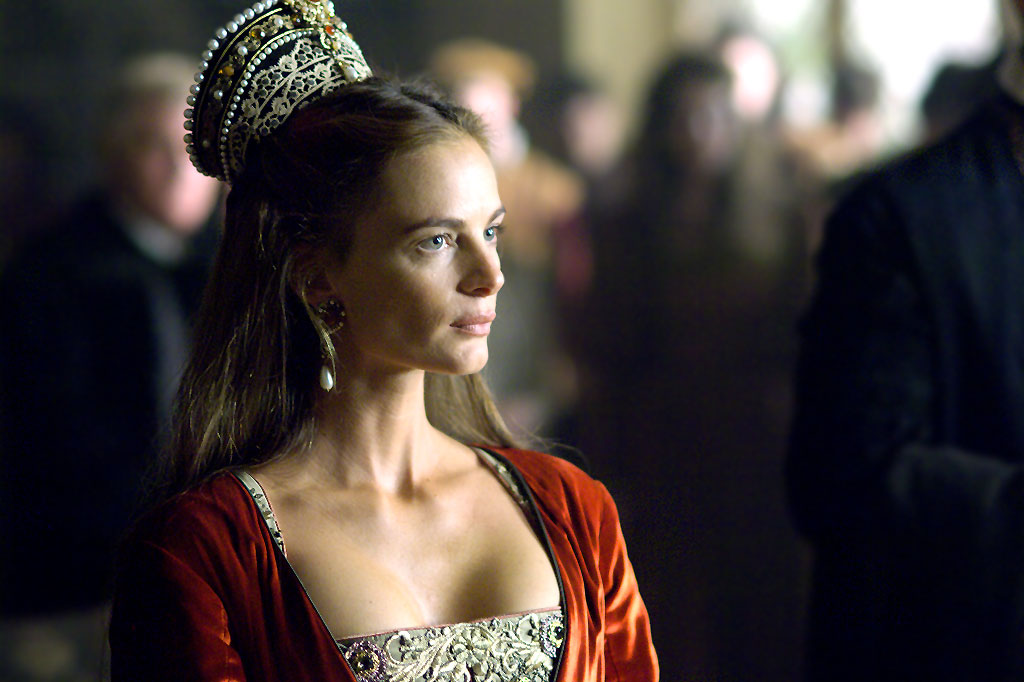 Mary of Tudor (Henry VIII's younger sister) was married to King Louis XII when she was 18.  This character is played by…wait for it…38 year old actress Gabrielle Anwar.  Now I hate Anwar, and have never liked her ever, so I'm a bit aggressively biased here.  However, even for the non-biased, Anwar is not looking too good these days (and certainly not anywhere near 18 )  and she has a really bad habit of making these terrible expressions while she is "acting" that make her look even older than her 38 years.  It is a painful experience watching her play this interesting character.  
I know of course that people play characters much younger than their age all the time on TV, but it's actually kind of important here when you understand that these women were being married off at very young ages.  It was a huge part of what was going on at that time, and it's difficult to understand as a viewer when we see Anwar, looking 40-ish and being horrified because she's marrying an ugly old king.  It's far less dramatic to see Anwar marry this guy, than if they had cast an innocent looking 18 year-old.   
Additionally, in the show they had her marrying the wrong king (who cares about any kind of accuracy, right?).  They invented (or stole?) some King of Portugal for her to marry.  This seems to be not such a sin until you understand what a complex web of alliances there were at this time, and marrying off princesses to other countries was a chief way of solidifying an alliance.  In reality, she married King Louis XII of France…and Portugal had nothing to do with it. 
But the greatest sin is in how it all plays out.  In reality, Mary didn't kill her husband as Anwar does (a crime of treason for which she could easily be killed).  In truth the King dies about three months after the marriage (an old guy putting it to an 18 year-old for three months can be exhuasting – and fatal).  After King Louis VII died, Mary very cleverly arranged to marry the man she was actually in love with, Charles Brandon, with the help of King Francis I (the new King of France) and much to the anger of her brother King Henry VIII, since it was without his permission.  In the show, Anwar kills this 'King of Portugal' and heads back home within a week, marrying Brandon in the process.  It's like they want to tell the story, but they just can't manage it.  And I have to say, again, a far less dramatic take than the actual original story, which is pretty tragic and then redeeming in its own way.  A headstrong young woman being sold off to a foreign country but then cleverly managing to marry the man she loves anyway (unheard of in that time)…fascinating.
Henry Fitzroy.  Son of King Henry VIII by his mistress Elizabeth "Bessie" Blount.  This is true, and handled pretty accurately.  And then they suddenly decide to kill the kid with the "sweating sickness".  Why?  I have no clue.  It's not like they milk it for high drama.  There is literally one scene in which the kid's mother comes to see him (already dead) and there is a maybe five-second scene of King Henry looking at the tiny crown of the kid (who he never saw anyway).  In reality Henry Fitzroy lived to the age of 17 and died suddenly of consumption (tuberculousis).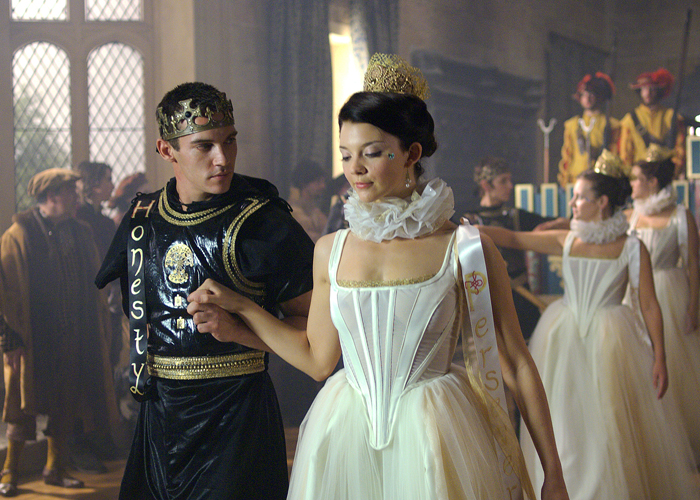 Anne Boleyn.  They've done Anne the biggest disservice of anyone, which is really a crime for a series focused partially (for the first two years at least) on the rise and fall of Anne Boleyn.  I'm not a huge Anne Boleyn fan, she was a manipulative clever woman and a vindictive tyrant of sorts, but she was also incredibly witty and wise in a way and she rose to a power no women had previously imagined, based solely on her own merit (and maybe beauty). 
She also had a very good reason for being as angry as she was and for becoming the tyrant she became.  Much of what Anne Boleyn did in her rise to becoming the Queen of England can be chalked up to revenge.  In reality, Anne was very much in love with Henry Percy (eventually to become the Earl of Northumberland) and he with her.  They were likely married or "pre-contracted" which was as good as marriage in those days (and the relationship was likely consumated).  This was a great match for Anne, both in that it would rise her up in the societal ranks, and also because, rare in that day, she loved the man and he her. 
This marriage was deemed unworthy by both Cardinal Wolsey and Henry Percy's father and possibly King Henry (although it was a time before Anne would realize the king had anything to do with it – and there is speculation as to whether he actually did).  Wolsey and Percy's father undid her marraige quite cruelly and Anne was temporarily banished from court.  It was a very hard lesson to learn.  And for a woman like Anne, it was not taken lightly.  She came back to court with a very clear idea about how to get power, and that she would need to play the game like a master.  There was no way to get that power, or revenge on Wolsey without rising as high as possible, and there was nothing above Queen for a woman.  It's unlikely she ever really loved Henry VIII, although it's possible that after years of courting she did fall for him.  It's also highly unlikely she was guilty of any crimes against him. 
In The Tudors there is none of this backstory.  None.  We never know why she hated Wolsey so much. Religious reasons are given, and they were certainly present as well, but her single minded hatred of the man is far too personal for it to just be religious difference, and Wolsey was actually fairly light in punishiment for the followers of Martin Luther (i.e. heretics) compared with his successor Thomas More, who also opposed Anne's marriage to Henry, yet she did not set out to destroy More, she had a very specific reason to go after Wolsey, and none of that is addressed.  They do give her a previous "dalliance" with the poet Thomas Wyatt, which is completely out of context and just wrong.  There is a recorded flirtation, but an affair is very unlikely.  So overall it is an incredibly unfair portrait.  All the history that built this amazing woman and character is just dropped.  It makes it impossible to understand her motivations and as such it is the broadest of sketches of a fascinating woman.  And it makes me angry.  Really angry.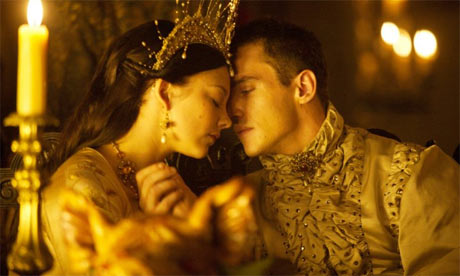 In the end, I don't mind so much if you want to create a completely fictionalized world of The Tudors, I probably couldn't ever love it, but I certainly can't even like it if you can't make it more interesting than what really happened.  If you're going to make it fiction…it's gotta be better than reality.  And this, isn't. 
2 Stars.   Blech.
Comments are now closed.