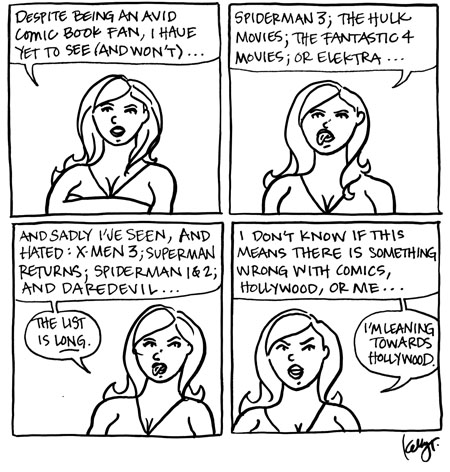 Definitely Hollywood.
Let me just say, before everyone (anyone?) jumps all over me for not liking the first two Spiderman movies, I will give the people involved credit for really trying, but it just didn't work for me.  The dialogue, the kind that DOES work well in a comic book, was laughable on the big screen.  They also had a huge strike against them in that I cannot stand Kristen Dunst, and so to buy her as Mary Jane is difficult for me and frankly I just don't want to make myself do it.  I will admit that I find the train sequence in Spiderman 2 to be shockingly powerful.  I almost cried the first time I saw that scene…which was a huge surprise to me since I found the rest of the movie to be pretty terrible.  Let's talk about the new Incredible Hulk movie for just a second.  Why the F' is this movie being made?  I don't know anyone who is interested in seeing this movie.  How did the project get a greenlight?  Just because Edward Norton was interested?  I really don't understand.  The first film, only five years ago by my beloved Ang Lee was a very obvious and horrible miss (I've seen enough of the horror to agree – though I never saw the whole thing), so why is there a need for another bad Hulk?  Looks terrible.
You'll notice I only really included the "new" comic book movies, I didn't go all the way back (too much work) and deal with the original Superman series, and the Batman movies and all that.  Suffice to say most of those are hit and miss…I mean is there anything better than Michelle Pfieffer's Catwoman in Batman Returns?  Is there anything worse that Arnold Schwarzenegger's Mr. Freeze in Batman & Robin?  No.  No there is not.
Also absent off my list this morning I realized is Sin City.  I have issues with Sin City.  I love the graphic novels by Frank Miller, and I really wanted to love the movies because I respected the exact literal translation they did for the film, and I also respected Robert Rodriguez for giving Frank Miller co-directing credit (it was well deserved) even though it consequently got Rodriguez kicked out of the Directors Union (jerks and their jerky rules).  But for me, it doesn't really work on screen.  The exact translation, much like in Spiderman, involves behaviour and dialogue that feels stilted and false, or worse laughable.  Which is really sad, because it had my beloved and adored Clive Owen in it, among other talented powerhouses…but it doesn't matter, it still ultimately failed.
The best of the best, for me, in comic book films, are the first two X-Men films by Bryan Singer.  I never would have expected to like these films because X-Men were my favorite comics growing up and so they were precious to me like few other characters and stories.  But Singer handled the material expertly.  He understood that a direct translation of what was in the comic books would not work on the big screen, but he also understood that these were truly beloved characters that had to be treated with respect.  He did treat them with respect, and he stayed as true as he could to their personalities and storylines, and as such he established the standard on which future comic book movies should be built. 
I'm finally seeing Iron Man this weekend, and I have high hopes that my beloved Jon Favreau built his Iron Man on these standards.  If the masses can be believed, he did, and he was successful. 
Sidenote:  Though Singer gets mad props for the first two X-Men films, I don't know that I'll ever be able to forgive him for abandoning X-Men 3 (one of the worst comic book films of all time), allowing a hack like Brett Ratner to get ahold of my beloved characters; and all so that he could make a terrible new Superman movie. 
Sidenote 2:  Sin City is when I first really lost respect for Jessica Alba – there were plenty of opportunities to lose respect for her prior to this I know – but this one sealed the deal.  The fact that she plays a stripper, but doesn't take her top off?  C'mon.  If Nancy from the Sin City graphic novels didn't take her top off I'd be okay with it, but Nancy is topless for at least 30 to 40 percent of her time in Miller's books – so what happened to our frame for frame literal translation?  Suddenly Jessica Alba's boobs are so precious they can't be shown?  They should have gotten a real woman, who could have respected the material and the character more than her "precious reputation" which is crappy anyway.  Boo to Jessica Alba (who I've always wanted to like – ever since the surprisingly good Idle Hands). 
Sidenote 3:  Apparently the world and I are very in synch, as I found today, the 20 worst comic book movies of all time on EW. I don't know that I agree with their order (is it even in order? I can't tell) but I agree that all the films on the list well deserve to be there.  Except maybe Barbarella.  Not that Barbarella is a great film, but the clothes and craziness alone should maybe save it from the list.  Notably missing are Hack Ratner's X-Men 3; Lee's Hulk; Spiderman 3; and Fantastic Four #2 (though it's at least implied that the whole Fantastic Four franchise is terrible).   
Comments are now closed.