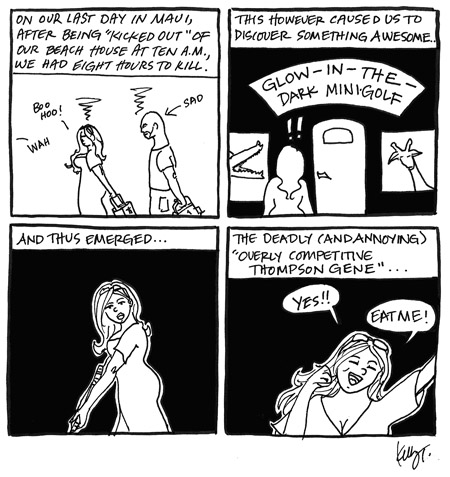 I know it looks like I won in that last panel, but I didn't.  I came real close though and was ahead for about the first half of the game, my brother Scott always close on my heels.  But I screwed up two not complicated holes, and added about five unnecessary strokes to my game…I lost (to Scott) by three strokes and tied with my dad.  The rest of the group (Adam, Dave, Mom, and Shelti) were close on our heels with I think one stroke separating each of them…it was a close game, and some good air conditioned fun.
Oh, and you're seeing a crocodile and a giraffe on the front of the building with the mini-golf is pretty correct…for some reason the "glow in the dark" mini-golf was also "safari themed"…my best guess is that someone had some glow in the dark safari crap lying around and thought "Hey! Let's just use this!".  Bizarre.
Let's ask the real question of the day…for all the Hawaii travelers that have to check out of their hotels at 10am/11am/12pm on a Saturday…why oh why do all the Maui flights leave in the evening?  I sense a tourism conspiracy.  A way to get us to spend cash at malls and movies and lunches, and yes, Glow In The Dark Mini Golf…
Everyone have a great weekend.  I'll meet you back here on Monday

Comments are now closed.