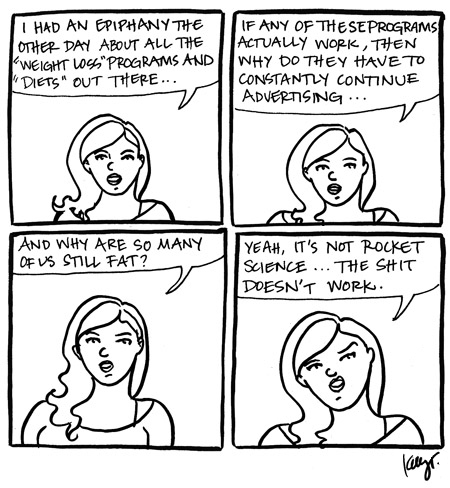 I've been noticing even more weight loss ads lately, particularly for Nutrisystem (the most annoying of all the ads – for various reasons) anyway, it hit me like a ton of bricks the other day, that if any of this crap worked, we wouldn't need these ads.  You'd just need a couple ads.  People would try it, it would be wildly successful, and then everyone would be doing it, and then in a couple years we'd all be blissfully thin and happy and there would be no more need for the ads. 
But, supposedly we're fatter than ever, and yet there are more ads and more diet plans and companies than ever.  Hmmm.  I wonder, is it possible that diets are not good for you?  That quick fixes and "new revolutionary plans" that are impossible to integrate into a real believable life actually set you back and make it impossible to live happy "normal" lives?  Gee.  Could it be? 
I've known for years that most "diets" out there are a bunch of bunk (partially through trial and error, and partially just by using my brain) but it didn't hit me until the other day that we're inundated by more and more diets and ads and systems and nonesense, and yet the world just keeps tell us we're getting fatter (and of course by fatter they mean less healthy – because OF COURSE that HAS to go hand in hand with less healthy…even though it doesn't always).  So something doesn't add up.  Has anyone else been thinking about the math on this?
Comments are now closed.