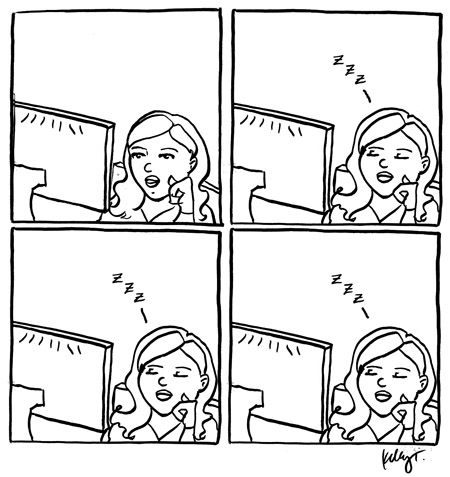 I promise you there is a punchline in your future (specifically your future of tomorrow).
Hope everyone had a great weekend. Mine was surprisingly productive/enjoyable as in I got some writing done, submitted a new piece to a new journal I haven't tried before, did some critiques for group on Sunday, actually attended group on Sunday, did five comics (shocking! this hasn't happened in months – maybe I'm getting back on track!) and spent a nice day with Adam eating sandwiches in a park-like setting and seeing two movies (Frozen River and Brideshead Revisited – more on both of those later) as well as had a nice little sushi dinner with him on Sunday.
All in all, if I'd managed to get in more exercise it would have been a pretty healthy and balanced weekend. Still too much time sitting on my ass though…I need new hobbies…reading, writing, and drawing/art/comics are just making me fatter and fatter and fatter…bastards.
Guess what I still didn't manage to do though…amongst all that other good work and "success" – I still managed to not write ONE SINGLE WORD for my novel rewrite.
Go me! I am the king of procrastination!
Comments are now closed.