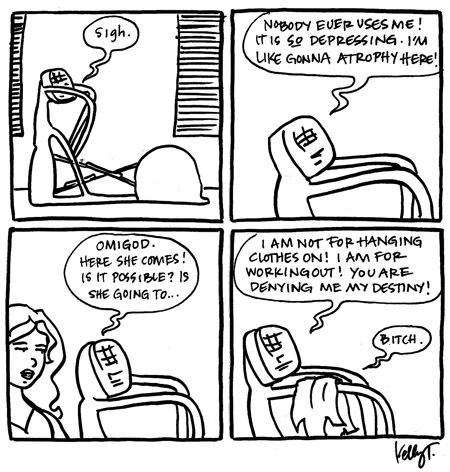 I have to say, not to brag, but this is maybe my favorite cartoon so far.  Not that the drawing is any good (it's terrible, as usual lately) but I just love the idea of my elliptical trainer having a whole personality that hates me.  That I'm not working IT out, which is what it was born to do.  I just find the idea hilarious.
I hope everyone's life is going better than mine.  I am so stressed out from developments at work, the kind of developments that really need you to buckle down and concentrate and work hard, coming at time when I should really be finding some better balance in my life –  getting more excersise, having more fun, and finishing my novel re-write (of course). 
So it's all very stressful.  And I feel very conflicted.  And tired.  All the time with the tired!
PS – Comic #200!  That's sort of an accomplishment!  Right?
Comments are now closed.