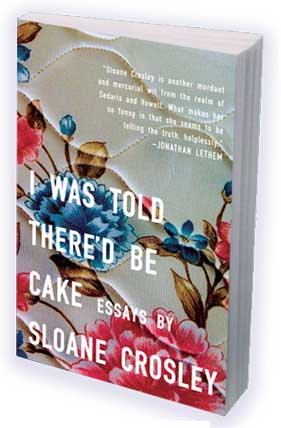 Is there a better title? I don't think so. Love it.
I really enjoyed this collection of essays by the (way too young!) Sloane Crosley. Crosley has a delicious style that comes off as both likeable and totally self-depricating without putting the reader off. You're left with the intense desire to hang out with her, and maybe end up in one of her tales (hopefully as an ally).
Overall I Was Told There'd Be Cake is a strong read, but I did find some of the stories towards the end to be less powerful and fleshed out than some of her earlier stories. "The Pony Problem", an awesome story about a quirk Crosley has that is siezed upon by boyfriends resulting in a horrifying collection of plastic ponies is hilarious and well told. It reads as completely realistic, despite the fact that it is a truly bizarre tale. But in the end you just know it has to be true – it's too bizarre and funny and ridiculous to be made up. Excellent. "You On A Stick" is Crosley's tale of being a bridesmaid (actually the maid of honor!) for a friend she hasn't seen or spoken to in years. It is a hilarious and perhaps painful look at herself as she straddles who she used to be and who her friend used to be and who they each are now (Mr. & Mrs. Universe in the friend's case) it's too painful and accurate not to be true, which makes it all the more fun. "The Ursula Cookie" a brilliant little piece about her job an assistant at a publishing house is brittle and sad, but in the best and funniest ways. Those three stories to me were the A+ stories – the rest were somewhere below that – but still wonderfully enjoyable as a whole and I burned through the book in just a couple days, which is always a great sign.
I would say that Crosley's book is not laugh out loud funny, but rather smile constantly and occasionally chuckle to yourself funny. And I wouldn't be surprised if she gets to laugh out loud funny very quickly. She will soon prove herself to be among the best of the humorous essayists – David Sedaris, David Rackoff, etc. She's already well on her way.
3.0 stars