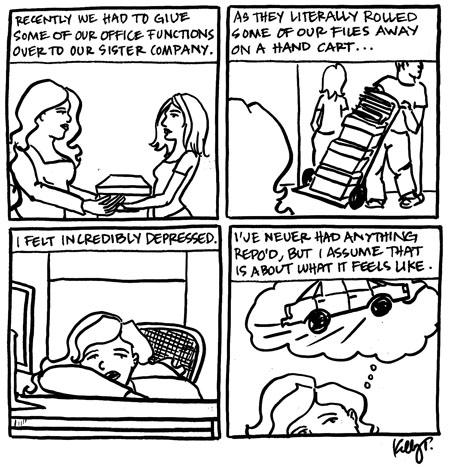 I didn't mean to end the week on such a sad little strip…but that's just the way it worked out.  Maybe it was unconscious considering my mood lately. 
Did you all watch the VP Debate last night?  Biden was amazing.  And while the Katie Couric Palin didn't show up, the one that does know how to find a coherant sentence (mostly) but that still speaks in folksy generalities and never answers an actual question showed up and fooled a good percentage of Americans (again) with her "straight talk".  Let's be clear – it's NOT STRAIGHT TALK…they have NO ANSWERS…NO PLAN…it's a horrible train (bridge?) to nowhere! 
According to polls though Biden won the debate (duh) and Obama Biden are still ahead, so I remain hopefully optimistic while the world crumbles around us…
And on that note, Happy Friday everyone, have a great weekend…
Comments are now closed.