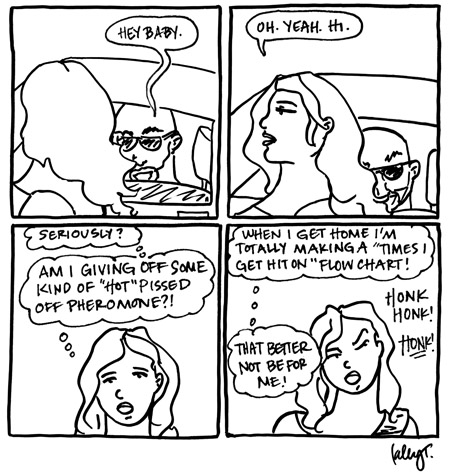 My emotions lately seem to be boiled down to a few basics:  pissed, annoyed, tired, or worried.  Good times!  The day above was definitely pissed – and so again I was left with the feeling of having no control over my own sex appeal. 
I realized this past week one of the things that bothers me so much about this whole "getting hit on" conundrum…First, it makes you uncomfortable – even the nicest least aggressive of compliments is quite frankly weird and uncomfortable, and immediately makes you feel like a sex object rarther than a person.  This is not a good way to feel.  Secondly, when you get hit on consistently at odd times (times you personally think you do not look your best – or worse – do not feel your best – like when you are sick, or angry, or skipped washing your hair) then it further takes the control away from you. 
Not only are you being subjected to someone's comments and opinions about you (positive or otherwise) but you also have to face the fact that you obviously aren't even in control of whatever it is they are finding appealing about you…because you think you look terrible…and that day that you dressed up and were feeling really good?  Nobody said anything to you THAT day.  It's very frustrating. 
I hope everyone is heading into a great weekend.  I'm planning a lot of writing, but I'll be honest I feel REALLY tired right now…so we'll see what actually happens.
Comments are now closed.