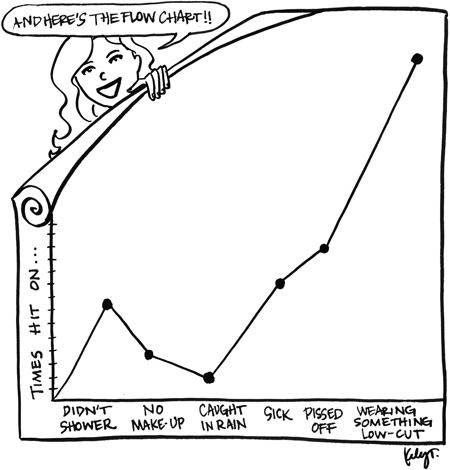 I love this one…maybe because it required very little drawing

I'm having severe writer's block…actually that's not true…that makes me sound like I'm trying.  I'm actually having severe 'not even trying'.  I'm just down about the economy, worried about my job (and therefore my money), and it has become incredibly hard to concentrate.  I'm in that horrible whining pattern of wishing and hoping  – dreaming about sitting down to write all week – and then given two full days to do so – I roll about on the couch whining about how hard it is and what a failure I am.  I think I wrote about a thousand words all weekend…AND I didn't do any cartoons…here's what I did do, by percentage:
2% getting drunk on my new favorite vodka drink Saturday night
8% being drunk or slightly hungover
2% watching Sex And The City (it wasn't near as bad as I feared)
18% sleeping
10% napping
2% actually writing
10% surfing the internet and reading blogs and other mostly pointless crap
2% cleaning the apartment
8% reading (Men Without Women by Ernest Hemingway – excellent!)
8% watching legitimate TV (i.e. things I recorded or was interested in)
5% watching pointless TV (i.e. things I should never bother watching – but watch out of frustration/avoidance)
2% eating (Hmmm – eating and writing – equal percentages – coincidence?  I think not!)
2% catching up on things I should have done during the week – emails, bills, etc.
21% rolling around on the couch whining and feeling sorry for myself.
Comments are now closed.