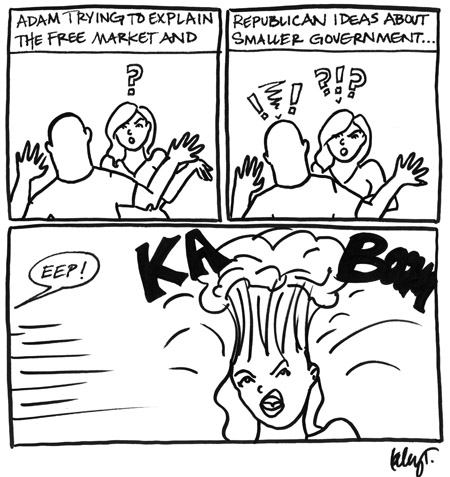 That's either me losing it in the last panel, or the creation of an awesome new superhero/villain called 'Broccoli Head'.  Either way, the conversation was rife with hand gestures and big sighs of frustration and ended with at least one person (me) going to bed angry. 
The thing is, I get some of it, I mean I don't agree with any of it, but I at least understand some of it – Adam explained the concept in regards to schools and health care and all sorts of things that made sense (and that I already understood), but I just couldn't grasp the concept of smaller/no government working when it came to things like getting a road built (or repaired).  He explained it to me at least half a dozen times, and was incredibly patient, but I think part of the problem on the "roads issue" is that Adam doesn't believe in it either – so neither of us really GETS how it would actually work…because we don't think it will. 
Anyway, it was an incredibly frustrating night and it will be a LONG time before I try to have a conversation like that again.
Comments are now closed.