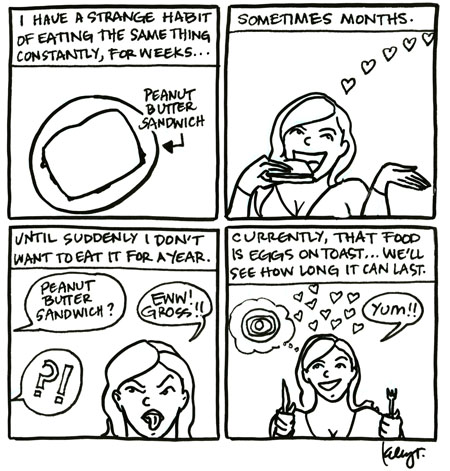 These things that I become obsessed with – it's not like I eat them everyday for every meal "Bread and Jam For Frances Style" (did you guys read that book as a kid? awesome!) – anyway, it's more like I could happily have a peanut butter sandwich everyday for lunch for weeks (yes, sometimes months) and still crave it and be all, "boy a peanut butter sandwich sure sounds good!" and then all of a sudden I don't want to eat it again for a VERY long time…sometimes up to a year. It's crazy – I've also got a whole thing about un-heated food that's weird – and quite frankly grosses Adam out. I'll give you a non-gross example…I don't heat up my pop tarts…if I eat them (which is pretty much never) I prefer them right out of the box.
Do you guys have any bizarre eating habits? I know Paul likes to eat in his bed…anyone else?
Comments are now closed.