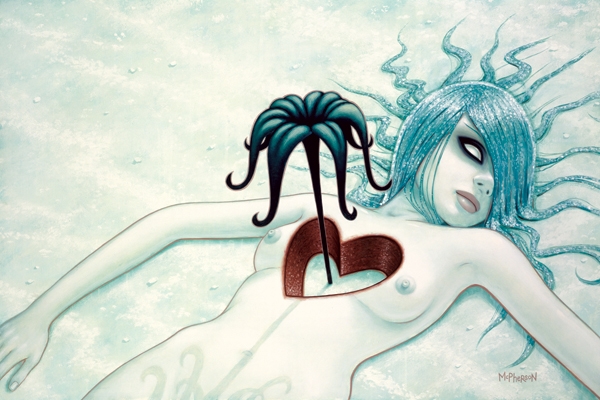 With TARA MCPHERSON, it's not just a love I have for her art, it's also that she so seems like the "whole artist package" with her awesome studio, badass tattoos, and constantly changing hair colors, she just LOOKS like what I think of when I think of modern female artists…or rather of the one I'd like to be (maybe in my next life).  So she is of course a shoe-in for Artist of the Week this week.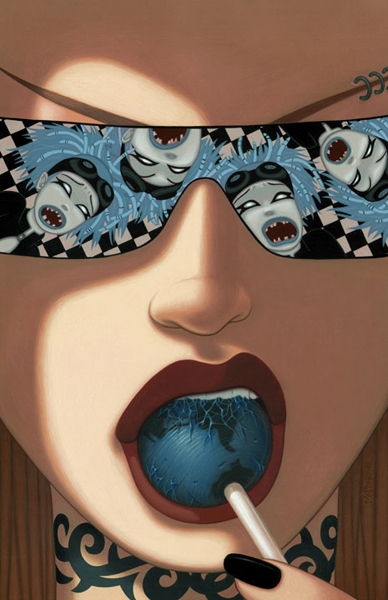 I don't remember how I first came upon McPherson's work, I feel like it was through something silly like Myspace, but whatever it was, I'm grateful for it.  One of the things that is a bit revolutionary to me about McPherson's work is that she seems to mostly draw women.  I'm not saying she can't draw men, I'm sure she can, but she seems to prefer women, and I love that about her, mostly because I feel the same way.  Perhaps I'm overanalyzing and she's just gotten a reputation for drawing women and now that is what people expect and really she's secretly dying inside to draw some boys…anything is possible.  But she puts such love and thought into the women that she draws…I find it hard to believe she wants to be drawing anything else.   McPherson is supremely talented, and she has a real point of view, which is sometimes lacking in the supremely talented, but her work, much like JAMES JEAN to me, has something to say.  It's beautiful work, yes, but it's not just there to be pretty (or creepy depending on what you're looking at), she is invested in telling a story and for me that's the difference between so many mediocre artists working today and the truly exceptional ones.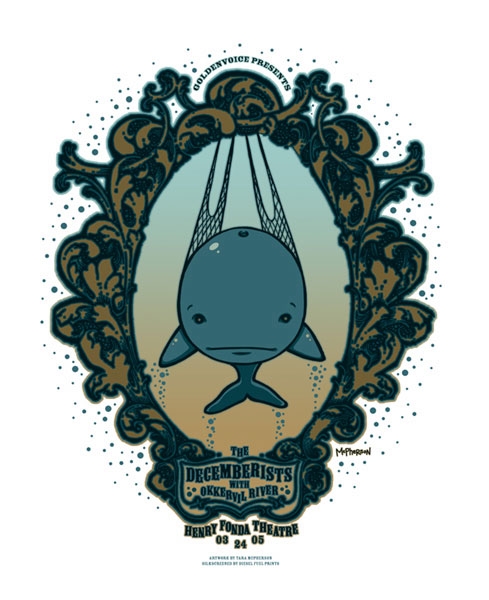 Another great thing about McPherson is that she's really managed to capture a large market – currently she does fine art, comic book covers, painted illustrations, sketches, posters (many awesome band posters – see above and below!) as well as toys and even a coloring kit.  It's really wonderful to see artists that also know how to market themselves and make themselves successful in such a competitive and unforgiving market.  Onward TARA MCPHERSON!  I've got my eye on a original of hers for someday…if someone doesn't snatch it out from under me (probably they will).  Check out her website (linked above) to learn all about her – and to buy all sorts of goodies – just in time for the holidays.