As I develop the pages for JILTED LEAGUE, I thought I'd give you all a chance to get to know the girls one at a time…so here's a little bio for your introduction to Val Chase aka The Bitch.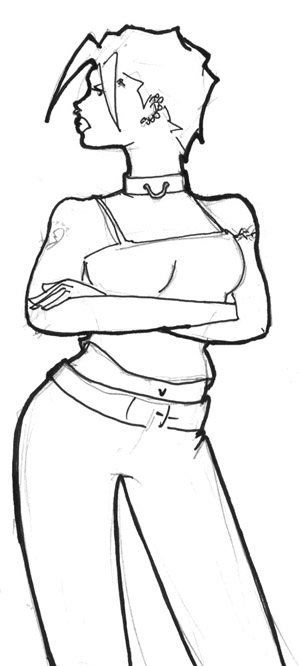 Name:  Valerie (Val) Chase
Age: 27
Height:  6'0″
Weight:  "Fuck Off"
Eye Color:  Blue
Hair Color:  Black
Astrological Sign:  Cancer
Favorite Band:  Rage Against The Machine
Favorite Song:  How I Could Just Kill A Man (Rage Against The Machine)
Favorite Movie: 28 Days Later
Favorite TV Show:  Law & Order (original version)
Favorite Color:  Black, duh.
Loves:  Not much
Hates:  Almost everything
Voted Most Likely To:  "Kick your ass for no good reason"
Nemesis:  Vic The Virus, and pretty much anyone with a dick
Nicknames:  Badass, Killer, Bitch (obvs)
Significant Other:  None
Accomplishments:  "I haven't killed anyone…yet.  Oh, and one awesome game of Men's Varsity Football, my senior year.  Yes, I'm aware it was almost ten years ago…you wanna make something of it?"
Comments are now closed.