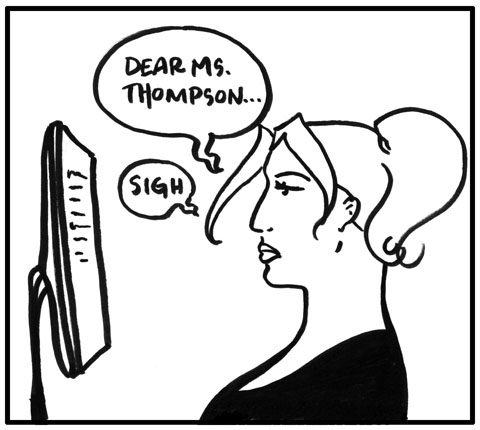 Double Damnit.
I thought I had this one, I really did. In part because through some quirk of the submission process (it's online for this particular mag) my submission got switched with another person with my same exact name…but living in Arkansas.
I was able to resend my piece and have the problem corrected, but initially, not understanding what had happened I clicked ont the piece by my name (that wasn't mine) and accidentally downloaded this other woman's story. I read some of it (is that bad?) before deleting it respectfully, as I hope she would do with mine, but from what I read I do honestly believe my story to be the superior story. Now I know it's not like "one of us was getting in and one of us wasn't" so we could both easily be rejected, but it did buoy my spirits a bit to see another submitter's piece and to honestly believe mine was the far better of the two (I'm usually pretty hard on myself so I feel pretty confident I'm being at least realistic, if not unbiased). Anyway, so I thought I had a shot…and have now been shot down, again.
The good news (I'm determined to find some good news) is that this piece would be good for another contest I heard about through my writing group, which closes very soon. And having just re-read this piece (while comparing it to the other me from Arkansas' piece) I'm confident it is solid as is and does not need any editing or clean up. So off it goes, back out into the world to seek my fortune…!
Updated Phase II Stats: 0 for 5 in Phase II with one submission still out there being considered and about six still prepping for submission.
Updated Overall Stats: 1 for 12, overall since I started submitting (with one still out there being considered). I started submitting in winter/spring of 2007. I hope to get another half dozen out there before the end of the year, but man is it a slow process. 1 for 12 is not a bad average overall I guess, but I need to be submitting more and faster and writing faster…it's all gotta happen faster!
AND a Novel Update: While I don't talk about my novel much on this site, I just wanted to let you devoted Semi-Finalist readers know that I haven't forsaken you…I'm on really tight deadlines for my new book draft, and hopefully when I get there I'll be able to devote a little more time to the blog. My first deadline, to my writer's group, is actually due today…so prepare youself for a deluge of posts (not really).