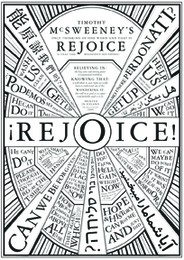 McSweeney's Quarterly Concern #30.  Editor, Dave Eggers.  Short Fiction Collection.
For some reason it's been a long time since I've gotten all the way through an issue of McSweeney's Quarterly Concern.  I don't know why that is and I'm inclined to blame myself, rather than McSweeneys.  But man am I glad I'm back.  Without even realizing it I read all eleven stories and 167 pages of McSweeney's most recent issue (#30) and it was great to be back with my friends.
I started, strangely enough with Kevin Moffit's Further Interpretations of Real-Life Events, which was story number three chronologically, and which I didn't intend to read first – I was headed for story number four – Bad Karma by Etgar Keret – when I stumbled upon these words in Moffit's story, "Full of bees."  This piqued my interest and I went back a few sentences so I could see what the hell he was talking about, here's the passage:
["It wasn't all the time." He pushed his glasses up on his nose and looked at me. "You should try writing about her, if you haven't already.  You find yourself unearthing all sorts of things.  Stories are just like dreams."
Something about his advice irritated me.  It brought to mind his casually boastful author's note, This is his first published story.  "Stories aren't dreams," I said.
"They're not? What are they, then?"
"I didn't know.  All I knew was that if he thought they were dreams, then they had to be something else. "They're jars," I said, "Full of bees.  You unscrew the lid and out come the bees."]
HELLO – I'M IN LOVE.  That passage sent me back to the beginning of Moffit's story, and then to the beginning of the quarterly to read it all the way through, front to back, as intended.  And it was wonderful.  All the stories were strong.  Some standouts for me were:  Kevin Moffit's Further Interpretations of Real-Life Events; Etgar Keret's Bad Karma; Carson Mell's Diamond Aces; J. Malcolm Garcia's Cuts; Catherine Bussinger's Foothill Boulevard; and Wells Tower's Retreat.  Matei Visniec's Madness, went beyond being a standout…and well over into the brilliant category.  The only complaint I had with Madness is that I wanted more more more.
But now let's get to the real meat of this post, the fact that one of the best stories in entire collection is a piece called Pinecone by Michael Cera.  Yes, I said Michael FUCKING Cera.  You know the one.  Why is the world so unfair…that someone gets to be Michael Cera and ALSO gets to be a great writer of short fiction.  The world my friends is a cruel cruel place.  I'd be pissed at Mr. Cera if I wasn't so hopeful that he'll write and publish more stories.
Overall I give McSweeney's Quarterly Concern #30 4.0 Stars and anxiously await my next issue.

Comments are now closed.