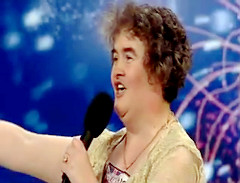 I'm kind of a jerk.
Especially lately, I'm not that fun to be around (feel free to ask Adam for confirmation).  My humor, if present at all lately, is self deprecating, or sharp and pointy and mean.
I think this isn't something that I "achieved" overnight.  It's something I've been working on for years…and now, unemployed and working non-stop on a book that just won't freaking let itself be finished, I sometimes feel like I've kind of imploded on myself.
So it was nice to see this (YOU MUST CLICK THE LINK!) today and realize I'm still human, and maybe not as cynical and jerky as I thought I was.  I don't watch and in fact pretty much revile  American Idol, Dancing With the Stars, and Britain, Spain, Australia, Whoever has Talent…or any of their ilk, and yet I had goosebumps when this woman sang like I haven't had in…well, I can't remember how long…and by the end my eyes were honest to gods misty…I think a tear might have even rolled out onto a cheek.
And let's just talk about the fact that from what she says about herself, AND the performance, she could not have picked a better song in all the world.  I've always loved that song, since I was a teenager, but this just gave it a whole new dimension to me.
I wish all the world will watch this, and take a step back and be less cynical…even if it's just once a day, to allow for the possibility of more extraordinary women like Susan Boyle to be heard – because they're out there – I know they are.
Comments are now closed.