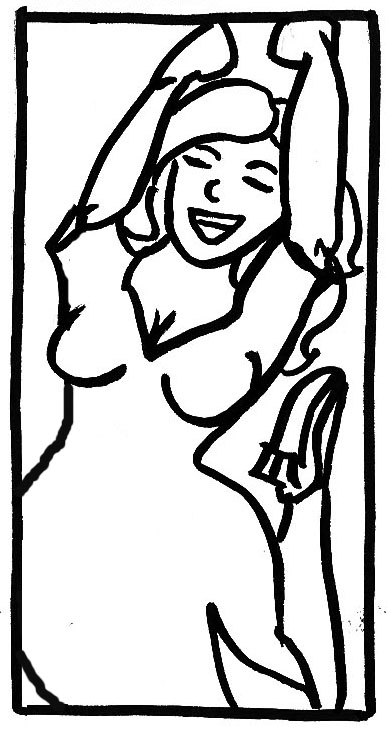 Thank the gods.  The novel is finally done.
I do have do a final edit and proofread tomorrow but the novel is officially done.  It's clocking in at a massive 440 pages (119,743 words).  I'm hoping to cut that down a little bit tomorrow, getting it closer to 400 pages, but done is done is done.  Right?
It goes on Monday to my writing group and an agent that has been waiting for it for months (and by waiting for it I mean he probably has forgotten all about it – but technically I have an email telling me to send it on through when it's done – so I'll be sending it).
Monday will be Adam's and my "big day of celebration that we cannot afford" which will include at least the following things:  An afternoon showing of Duplicity in our neighborhood theater (movies on a weekday!  this is what unemployment should be about!).  Dinner out (probably at a seafood restaurant we like on the West Side).  And when we come home we'll probably watch another movie and just hang out while I drink an entire bottle of champagne, already purchased and chilling in the fridge for the last two months waiting for me to hurry up and finish.
I also already placed an order on Amazon for a few things I've desperately wanted but told myself I wouldn't buy until I finished.  I bought them about thirty minutes after declaring it complete

Tuesday a small selection of queries (six maybe?) will go out to agents.
And on Wednesday, glorious Wednesday I'll move on to new projects, which include posting good posts more frequently, working on Jilted League, building my website, drawing some sample Shiksa pages, and hopefully finding a super talented artist to work on another graphic novel project I have up my sleeve – I've actually already found the artist I want for this  – but she's playing hard to get – read: not returning my email

Man it feels good to move on to something new.  I just wish I'd managed it before it turned 85 degrees outside.  I hate New York in the summer…and that's not supposed to mean late April, but apparently this year, it does.
UPDATE:  It took an extra day, but the final revisions are done.  I wasn't able to cut as much as I wanted, but font changes alone saved me 50 pages.  Final draft is 388 pages (approximately 118,000 words).
Comments are now closed.