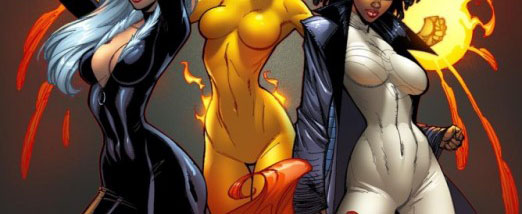 to see the full Marvel Divas image, go here
I tried to comment on the latest blog posting for "Cup A Joe" that was an interesting and informative feature on Myspace Comics, but alas I was denied.  Could have been just typical "technical difficulties" (which is what it claimed), or I could have been blocked or the comment suppressed…regardless I wasn't able to get through, so it's a good thing I have my very own blog with my very own readers and I can make my voice heard despite "technical difficulties"
Below is an excerpt from Joe Quesada's most recent "Cup A Joe" interview.  The excerpt includes a question from a woman named Ashley asking about our new favorite subject Marvel Divas!  Below Joe's asinine response is my response to Joe.  You're gonna wanna read that for sure.

ASHLEY'S (totally valid and deserving to be actually answered) QUESTION: About the "hating" on Marvel Divas, let's call it what it really is—criticizing how sexist this book appears to be. If Marvel produces comics that are offensive to female readers, why shouldn't people "hate" on it? Why would I want to support a company that produces offensive, sexist material? Why shouldn't everyone speak out against it? While the book hasn't come out yet, what has been released so far is blatantly sexist. But what troubles me the most is that Marvel thinks people want to read this, and this constitutes strong female characterization. Does Marvel actually want to attract female readers or is the whole point that Marvel Comics are only for guys?

JOE QUESADA'S (RIDICULOUS) ANSWER: Ashley, while I completely respect your opinion as I do every Marvel fan, your calling Marvel Comics and this particular mini series sexist is a bit extreme from where I'm standing.
I'm going to go on a limb here and assume you're a Marvel reader.  It's an assumption I'm making based upon the fact that you're responding to this column.  If you're Marvel reader and truly feel we're sexist, then why are you reading our books?  Now, perhaps you're not a Marvel reader, then if that's the case, I'm not quite sure what you're criticizing if you don't read our books?
Okay, all that aside, I'm going to go with the former assumption. With that in mind, I'm going to be as straight up honest with you as I can possibly be.  That's what this column is all about.
You haven't read a lick of this story yet!
Please, I can buy you saying that you're cautiously pessimistic based upon what you've heard so far, but to throw around allegations like that is completely unfair, not just to Marvel or myself, but to the creators and editors who are working on this book.  Have you ever read any of Sacasa's work?  Have you ever found him to be a sexist writer? Is the cover image provocative, perhaps, but it's no more or less than any other book we do.
The cold hard reality of publishing and trying to sell our books to as many people as possible, so here's an example of what happens more often than you may think here at Marvel. From time to time, we'll be launching a title that doesn't focus very heavily on the super heroic.  From time to time I'll get a cover sketch and it doesn't have a costumed hero or villain on the cover, what we internally refer to as a "quiet cover."  On those occasions, more often than not, I ask my editors to direct their cover artist to give me at least a first issue cover with the characters in costume.  Why? Because it will help launch a book that will most likely have trouble latching onto a large audience.  We want to give every title the best possible chance to be successful.   Marvel Divas is no different and that's why you're seeing our strong female leads in their super hero personas.  Let me try an example outside of comics.  I'm a huge fan of Pink, I really dig her music and love her voice. Love her or hate her, I would say that she's an amazingly strong and intelligent female performer and song writer in the pop genre.  In many of her songs she even criticizes the over sexualized female pop stars of the day and their over the top videos.  But when you look at Pink's CD covers, while she's looking strong and like she's looking like she's having fun, she's also looking really sexy. The reason is simple, she's trying to grab people's attention and sell some albums. Comics are no different and as much a part of the entertainment business as any other medium, and the cold hard truth is that if we were to launch Marvel Divas with a "quiet cover," I guarantee you the book would be canceled before it hits the shelves. That's it in a nutshell, I could sugar coat it for you and give you a million other reasons that would sound plausible, but that's not what I do.
So, where does that leave us?  Ultimately, it's up to you.  If you somehow feel you know what this book is about sight unseen, then by all means just pass it up when it hits the stores.  If you feel like giving it a try, drop me a line and let me know what you think. What I'd like you to avoid however is globally unfair statements like Marvel is sexist.  And if you feel like you're not being heard or like your opinion doesn't matter, just look at how much column space I devoted to your question.  Most companies would just duck stuff like this, but you guys are the reason we do what we do and if you have a concern or criticism, I want to try to address them as best I can.  Thanks again for writing and for your question.
MY ANGRY RANTY RESPONSE TO MR. QUESADA: Mr. Quesada you are SO missing the point.  Though I'm not surprised.
It isn't just Marvel Diva's J.Scott Campbell sensationalistic cover that Ashley is referring to…she's also referencing the ridiculous "statement" that went out about the book. The statement/quote has been attributed to you and also to Sacasa – I think it actually belongs to Sacasa – regardless, it was a cluster$#@% of horror.  To say "we're going to have some sudsy fun" and then in the next sentence say they're going to try to "ask questions about what it really means to be a woman in male dominated world of testosterone and guns" and then to say in literally the next sentence "but mostly it's just a lot of hot fun"…is hands down the most sexist handful of sentences strung together in comics that I've seen in years…maybe ever.
The reality is that Sacasa is a pretty good writer and I haven't read anything blatantly sexist of his and Zonjic's work is interesting and not nearly as sexist as every single thing ever drawn by Campbell, but it speaks to Marvel (and more specifically YOUR) choices that you let this horrible quote go out and pair it with Campbell's cover art.  Why didn't you have Zonjic draw and amazing popping superhero costumed cover?  No, you went with a guy whose name is practically synonymous with misogynistic cheesecake.  You don't want us to judge the book before we read it – well, personally, I'm not and I'll check it out (though I won't buy it after the mess you've made) – but I AM judging Marvel and they're failing huge.  The quote, the cover image.  That is ULTIMATE FAIL, and it's on Marvel, not on me and the many other women and men that are pretty outraged about this ridiculousness.
This dodging answer of yours to a legitimate question just lost you even more respect in my book Mr. Quesada. I understand you're in a tough position and you have PR people and money people to answer to – it's a hard job to be "the guy" but I assume rewards come with the horror too and so I expect more from you.
You are absolutely right to say that as a consumer it's my prerogative to not read your books if I think they're sexist, but then you undo that by telling me that it's not my place to complain about it if I'm not a Marvel reader.  Hell yes it is.  Let me say that again.  HELL YES IT IS.  It's my job as a comic reader (especially a female reader) to both not buy this and to speak out against it, in hopes that it will happen less and comics will make progressive moves forward, regardless of how you deem my (and others) status.
Just the fact that you went on a strange (really long) rant about putting the women in their costumes on the cover – so that you don't have a "quiet cover" which won't sell books proves that you have no idea what's going on, or are hoping we're stupid enough to fall for your innocent act.  Nobody, and I mean nobody is complaining about the women being pictured in their costumes – we know they're superheroes – we're happy to see them in costume – we love superheroes and we love to see them in costume – male or female – if you really think this is the problem with the Marvel Divas cover you're even more out of touch with reality than I thought.
Way to blame your readers Joe.  It's so noble of you to push us on your sword like that.  Bravo.
Comments are now closed.