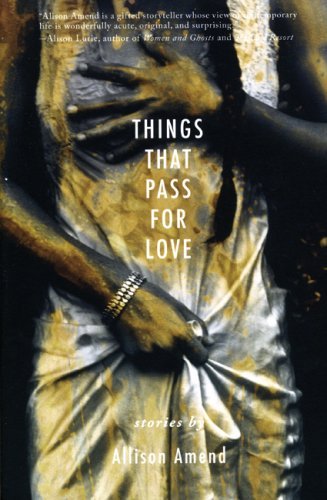 Things That Pass For Love.  Allison Amend.  Short Fiction Collection
This is a solid and lovely collection of thirteen stories that flow together beautifully, unlike many of the collections I've read.  It's no small feat to make all your stories both unique and also connected in some way, and Amend does it here, perhaps solely through her writing style.
Overall though, I was disappointed in about half of the stories.  They skated the edge of brilliance for me, but never quite got there.  The first story, Dominion Over Every Erring Thing,  is a perfect example of this.  From the first line I was absolutely riveted (and it was actually that first line that convinced me to buy this book over another) however, I don't feel the story finished well.  At all.  It was not as significant as it should have been, or as powerful as it could have been.  Other stories in the collection finished better – The People You Know Best; And Then There Was Claire; and A Personal Matter finish particularly well while others What Was Over There Is Over Here and  Sometimes It's Like That were filled with potential, but ended unsatisfactorily for me like the first story.
In the end I loved about half of the collection and felt only mediocre about the rest.  For me, Amend's strongest were:  The World Tastes Good; A Personal Matter; Bluegrass Banjo; The People You Know Best; and And Then There Was Claire.  These were all powerful, emotionally resonant, beautifully written, and had earned endings that felt real to me.
The rest, for me, came very close, but ultimately fell short.   However, the fact that some of these stories did not work for me personally should not imply that I don't think very highly of Amend.  She has a beautiful and haunting style that I will actively seek out in the future and I look forward to her next collection to see how her work evolves.
3.0 Stars
Comments are now closed.