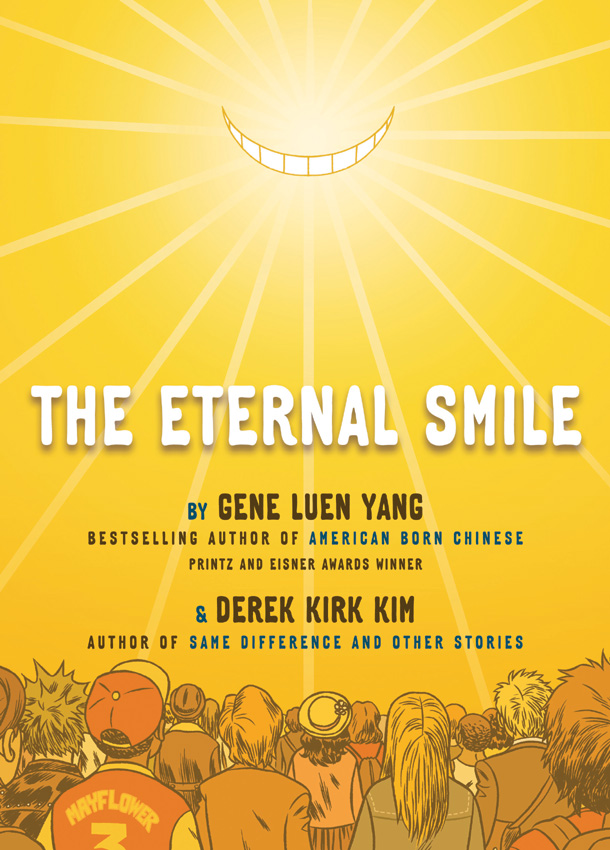 The Eternal Smile.  Derek Kirk Kim and Gene Luen Yang.  Fiction – Graphic Novel/Comics.
I picked up The Eternal Smile because of Vulture's excerpt of one of the stories in this collection of three – and I was not disappointed (click on the Vulture link to read a large excerpt).  That story, Urgent Request, is one of my favorite short graphic stories I've ever read.  I loved the concept and the execution equally and had I liked all the stories in The Eternal Smile as much, I would have been hard pressed to give this collection anything less than a 5 star rating.
Unfortunately, and largely based I think, on personal preference alone, the other two stories just didn't speak to me as Urgent Request did.  The art is well executed and lovely in all three stories, though different stylistically, which is a nice treat.  Urgent Request is the style that I personally find the most visually interesting and emotionally engaging, though Duncan's Kingdom is drawn vividly and is complex in its own right.  The pages are really quite beautiful and I wish more mainstream comics were drawn as well as it is.  Gran'pa Greenbax and The Eternal Smile was the least interesting visually for me, though still, excellent in execution overall.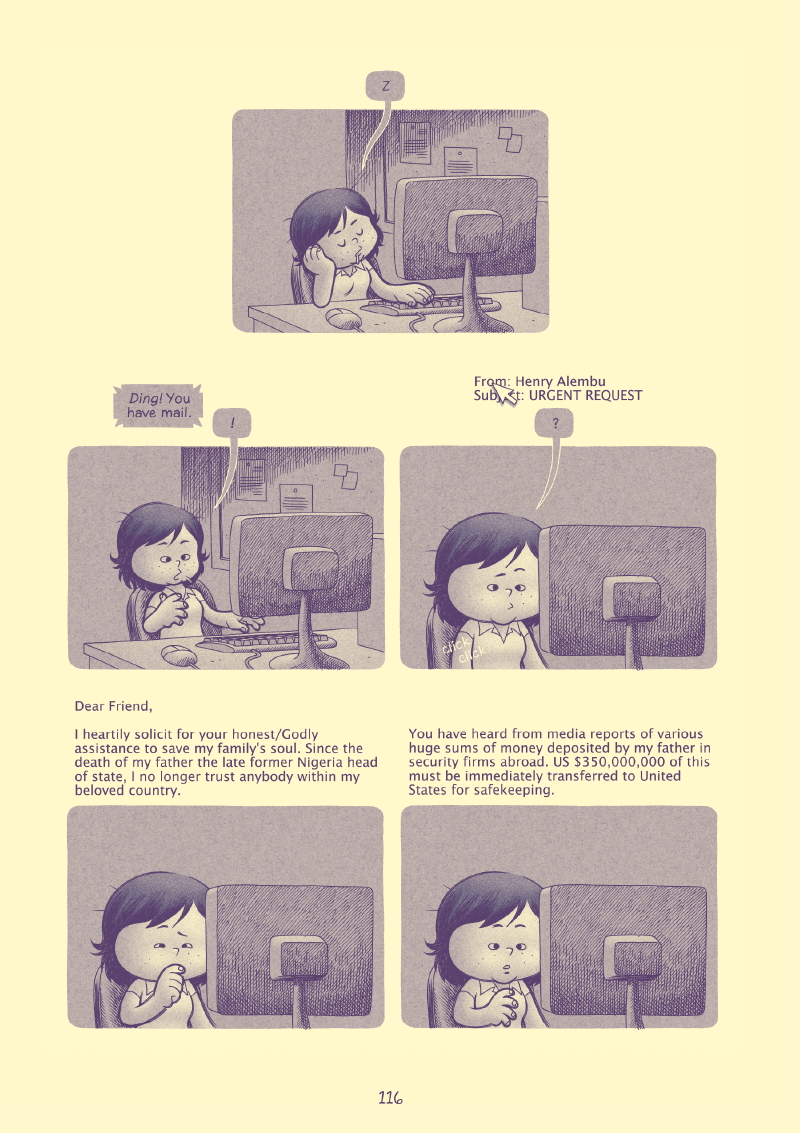 Excerpt from Urgent Request.
Unfortunately, though there is nothing wrong with Duncan's Kingdom or Gran'pa Greenbax and The Eternal Smile and each bring nice stuff to the table, neither really did it for me plot/concept wise.  Neither story was as nuanced or poignant as Urgent Request and thus ended up suffering in comparison.  Urgent Request is a story about a shy, mild mannered office worker named Janet and her experiences with an urgent email request for assistance from Africa.  Janet makes unique choices and as such gets unique results and I found the story to be charming and innocent and missing the cynicism of 'real life' in all the good ways.  Duncan's Kingdom is the story of a knight that makes good, but just can't leave well enough alone, and through his own curiosity unravels the wonderful life he's set up for himself.  Gran'pa Greenbax and The Eternal Smile is a loose parody of Uncle Scrooge and Ducktales (which I was never really a fan of – perhaps why this story didn't hit home for me) and touches on interesting themes like money and religion.  The 'Eternal Smile' part of the Gran'pa Greenbax story is rather insightful and interesting, but that alone couldn't save the story as a whole for me. But don't get me wrong – Duncan's Kingdom and Gran'pa Greenbax and The Eternal Smile are not bad stories – not at all – they just didn't live up to Urgent Request for me and so I was left feeling that Yang and Kim could have done better.
Even if you feel mixed about the collection, as I did, it's still more than worth the $16.95 purchase price – beautiful packaging, stunning artwork, and thoughtful stories, and you never know, you may prefer different stories – or love them all.
Overall I give the collection 3.0 Stars, though if I was rating the pieces separately I'd break it down thus:
Urgent Request:  4.5 Stars
Duncan's Kingdom:  3.5 Stars
Gran'pa Greenbax and The Eternal Smile:  3.0 Stars