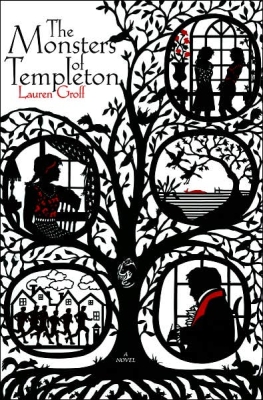 The Monsters of Templeton.  Lauren Groff.  Fiction.
The only real problem with Lauren Groff's lovely debut novel is that I read her short fiction collection Delicate Edible Birds first and gave it 5 Stars (a rarity on this blog) – and so she had set the bar incredibly high in my mind.  She didn't quite clear the bar of Delicate but I was thoroughly engrossed, enchanted, and enthralled by Groff's Templeton world.
The Good: Groff sets the stage beautifully as Willie Upton returns to her childhood home in infamous Templeton (loosely based on James Fenimore Cooper's Cooperstown) with her tail between her legs after an affair gone awry with her professor and a pregnancy to show for it.
The book opens with a Loch Ness type monster long believed to exist in the town's nearly bottomless lake to be found dead.  It's a great entry into the book – a book of myth, history, legend, and the loss of innocence that comes with development both in a town and in a person.  It sets a perfect stage for everything that Willie learns and the evolution that must come with those lessons.
Without a doubt however, the most fascinating aspect of Groff's book – is her sublime blending of the contemporary story of Willie, with the history of Templeton as she searches for clues from the town's past to find her real father.  It's a rich tapestry that must have been quite an undertaking to weave so perfectly.  There were areas that dragged for me a little personally, but only I think because I was sometimes anxious to get back to Willie and her more present (and pressing) woes.  Overall, and especially as a framework to hang Willie's story on, it worked tremendously.
The Bad: There is nothing really bad to report in this book.  The ending overall, is the only part that didn't work for me as well as I would have liked.  I found myself disappointed in the final arc, particularly in how Groff handles the pregnancy, which toyed with my emotions unnecessarily and for me personally didn't resolve as authentically as I had come to expect in the pages prior.
Additionally (and I won't ruin the ending by getting too detailed) but I felt the resolution with Willie finding her father was a bit neat and phoned in considering it was the arc that held the entire book together.
Clarissa's arc also faltered a bit at the end.  She's a character I loved, but like the arc of Willie's father, the end of Clarissa's arc is a bit abrupt and too easy…it didn't feel earned the way the rest of the book did.
So I suppose I did feel let down by the ending of Monsters in general, as I liked all of these arcs (the pregnancy, the father search, and Clarissa) but I didn't feel they concluded with the same levels of excellence I had come to expect based on the rest of the book.  As complaints go, not so bad.
The Ugly. Nothing.  This book is stunningly written.  Groff's prose is absolutely pitch perfect, with not a word out of place.
4.0 Stars