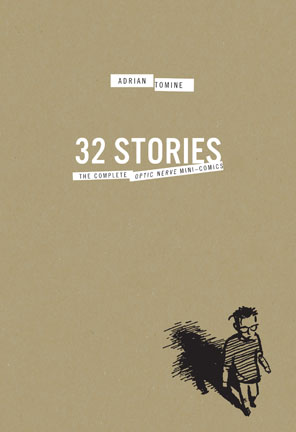 32 Stories: The Complete Optic Nerve Mini-Comics Box Set.  Adrian Tomine (Writer/Artist).  Comic Books/Graphic Novels.
I'm a huge fan of Adrian Tomine's later works – Summer Blonde, Shortcomings, every New Yorker cover he does – but I largely missed out on his early Optic Nerve mini-comics, so I was delighted to see Drawn & Quarterly release this gorgeous box set of his original mini-comics (Optic Nerve #1 – # 7).
I dug into them this past week, and it was such a great experience, I doubt I can accurately explain how much I enjoyed it.  Reading them seemed somehow both progressive and also like a total throwback to when comics used to really genuinely make me happy.  It's also great, as I've discussed before in relation to reading Alison Bechdel'sDykes To Watch Out For collected , to be able to see the evolution of a writer/artist in one sitting like that.  Tomine's drawing, inking, lettering, his very style evolves before your eyes and it's a wonderful thing to behold – to see an evolution captured like that.  Not that issue #7 is better than issue #1 – just different.  There was a real rawness and almost sloppiness to the early issues that I loved.  But it was amazing to see Tomine's drawing slowly evolve more into the style that I'm familiar with today.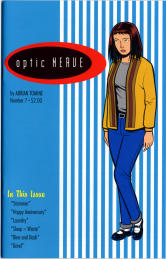 As I said there's a real gritty and honest style to Tomine's early work and when I realized that the first four issues of Optic Nerve were self-published by Tomine before he even graduated from high school I almost fell out of my chair.  Even with the rawness of it, this is an incredible accomplishment and really underscores the talent Tomine possesses.
Some of my favorite stories in this collection are: Back Break in #2; Rodney in #3; Adrian Quits His Job in #3; All Choked Up in #4; Haircut in #5; Mike The Mod in #5; My Appearance On The Jane Pratt Show in #6; Leather Jacket in #6; Allergic in #6; Smoke in #6 (#6 was my favorite issue); and Happy Anniversary in #7.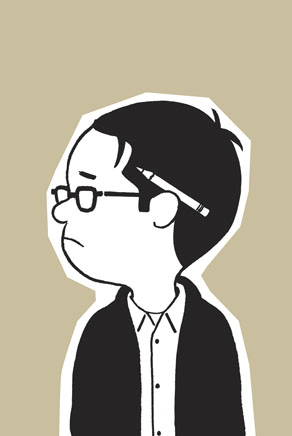 I also really enjoyed the additions to the Box Set in the form of another book with an introduction and some special features including a handful of unpublished sketches and strips.  The best of this to me was Tomine's discussion in 'A Note on this Edition' of another writer/artist having gotten a copy of his high school yearbook years ago and posting his high school picture on a heavily trafficked web forum.  Tomine talks honestly and frankly about how he felt about this (badly), how he dealt with it (badly) and how he feels about it today (not so badly – and to prove it that same high school photo is the cover of the introduction book).  But it really gives you some perspective – that no matter how talented and amazing we are (I will never in my life come remotely close to touching the badass-ness that is Adrian Tomine) we are all vulnerable and sometimes vain…but that 'this too shall pass' is something that really is true, and if we can remember it and laugh it off, we'd all be better off.
4.0 Stars.
Comments are now closed.