And me are not getting along.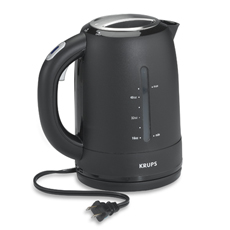 Last week my electric tea kettle, which I use a couple times a week, if not daily, broke.  It is only six months old.  My previous kettle which I had for four years broke last spring.  This very pretty Krups one I replaced it with apparently sucks.  I am also too stupid and lazy to fill out my warranty for a $60 item.  So I'm out of luck.
Today, my "fit and fresh" single serving blender thing-a-ma-bob informed me it too was broken.  WHAT.  THE.  HELL.  This thing is less than three months old and I've probably used it only 20 times. And now I've got a bunch of strawberries, milk, and protein powder mixed together that can't be blended.  Sonofabitch.
This sucks.  grumble. grumble. grumble.