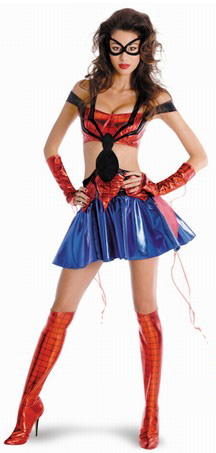 My friend Josh sent me this link to Marvel's "Women of Marvel" Halloween Costumes and said he thought it would be good "fodder for my blog".  And he's so right.  But I must be tired of fighting this unwinable (not a word) fight because all I can come up with is REALLY MARVEL? REALLY!?!
Actually, I tried, but even exhausted, I can't just say nothing.  I know we (I'm speaking for all women everywhere here – so that should tell you how tired I am) do sometimes like to dress up like sluts for Halloween – it's a nice opportunity to get our slutty selves out there with less public shaming, cause it's Halloween and well, anything goes!  And we can just pretend tomorrow that it didn't happen!  But c'mon Marvel, do you really have to stoop to the absolute lowest freaking common denominator?
First of all, a superheroine costume is pretty slutty to begin with – all skin tight and ridiculous – it's not like you actually have to make it sluttier.  I mean, until now I wasn't even sure it was possible in some cases.  The Spider-girl costume is perhaps the most disgusting, because, I don't know, she's SPIDERGIRL.  I mean, I'll give you the Emma Frost/White Queen costume, because frankly, compared to some of Emma's outfits that costume is actually pretty tame (although SUPER tacky – Emma would never be caught dead in that shit).  BUT WTF…AN AMERICAN DREAM COSTUME?  That's barely even a real character!  And that's not remotely HER COSTUME!
I'm sorry, AM I SHOUTING?! IT'S PROBABLY BECAUSE I AM INSANE WITH RAGE.
Ahem.  Yeah, "American Dream" barely a real superhero…I mean, even comic nerds that see you in this costume are going to be all…"Really?  American Dream?  She's uh…so…uh…minor. Where's Storm, or Jean Grey, or She-Hulk, or Ms. Marvel, or…I mean the list is endless."  So those of you who don't know about superheroes, you might want to stick with Hooker Spider-girl, or Working Girl Black Cat, which, though completely fucking ridiculous, are at least superheroes people will actually recognize…sort of.
Comments are now closed.