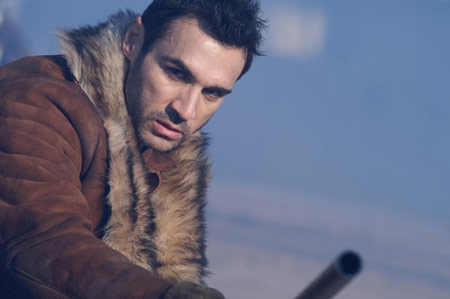 And don't laugh.  I'm dead serious.  Well I am serious…but you can laugh.
I caught an episode of this on late night Sci-Fi (no, I'm not writing Syfy) recently and all I could think is 'why the hell am I getting a shitty V remake?  Why can't I have a shitty Highlander remake instead?'
I had such a super sized crush on Duncan McCloud (and Adrian Brody ACK! Paul, ADRIAN PAUL…officially no more posts at 2am…thanks to reader David for the catch)*.  Plus, the Highlander concept was so awesome I totally didn't want to be an organ donor for (well, an embarassingly long time) because "WHAT IF I WAKE UP A HIGHLANDER AND SOMEONE HAS ALREADY HARVESTED MY DAMN EYES!?!?!?"
Anyway, let this serve as my official plea for a hot Highlander remake.  I'm sure I'm not the first…the internet is vast and filled with fools like me.  Also, the less said about Highlander: The Raven, the better.  Amanda was always so annoyingly blech when she should have been made of 100% win.
*And don't get on me about how the movies are better, or how dare I leave them out.  Some embarrassed part of me loves the Highlander movies too (it lives just to the left and down of the part of me that loves the TV Series) but pound for pound Adrian was just way more sexy and interesting to me as Duncan than Christopher Lambert ever was as Connor .
Comments are now closed.