The following is a selection of comics released this week (5/19/10)* that focus heavily on women in comics – whether that be characters, creators, or even readers.
The books are rated as BUY, TRADEWAIT, or SKIP.
Tradewaiting, for the uninitiated, is the act of not buying individual issues of a comic as it releases, but rather waiting for them to be collected in a trade paperback form (aka TPB).
*It should be noted that this list will focus on North American/English releases as that's mostly what I have access to.  Additionally, as I am in general unfamiliar with Manga, I will not be including Manga titles in my lists.  For some great reviews and discussion of Manga titles I urge you to check out Danielle Leigh on CSBG.  I will do my best to include independent and graphic novel selections as they are released as well – but if I've missed something excellent feel free to let me know in the comments.
Here we go…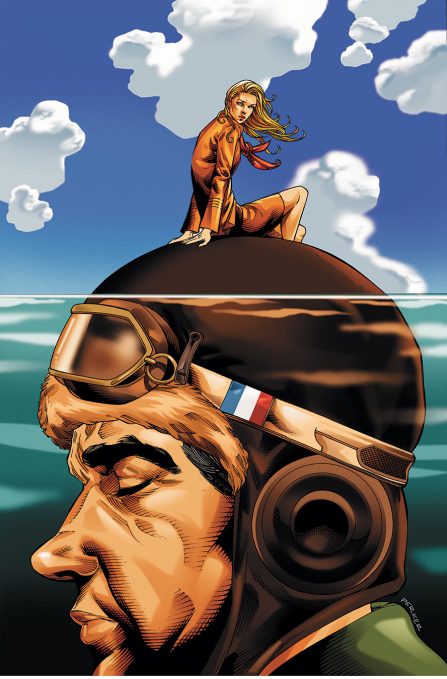 Air #21. G. Willow Wilson (writer).  M.K. Perker and Chris Chuckry (art).  Vertigo.  32 pages.  $2.99.

From a female positivity standpoint I really can't fault this book, I never have to see crazy naked tits and ass and inane costumes and Amelia Earhart guest stars, which is pretty much awesome.  However, I have never connected with the main character Blythe and she seems, despite G. Willow Wilson's best efforts, flat and weak willed.  Additionally, her obsession/relationship with Zayn never really worked for me emotionally.  Also of note in this issue is that there's a weird bathtub scene that, while not gratuitous just seems a little silly and unnecessary.  Though I don't particularly like this book, I have to give it credit for being a rare starring vehicle for a female character AND writer, and a book that tries to represent women well, so I'll give it a TRADEWAIT.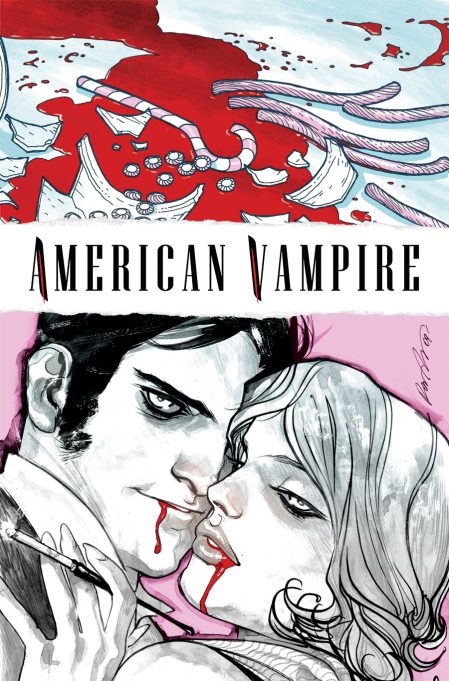 American Vampire #3.  Scott Snyder and Stephen King (writers).  Rafael Albuquerque (art).  Vertigo.  32 pages.  $3.99.

The Stephen King and Scott Snyder series continues to be very interesting with its parallel stories about Pearl becoming an American Vampire, and  how her maker Skinner Sweet first became one.  Pearl is a great character that I look forward to reading every week, and the art by Rafael Albuquerque is excellent. This is one of my favorite new books, definitely get on board now. BUY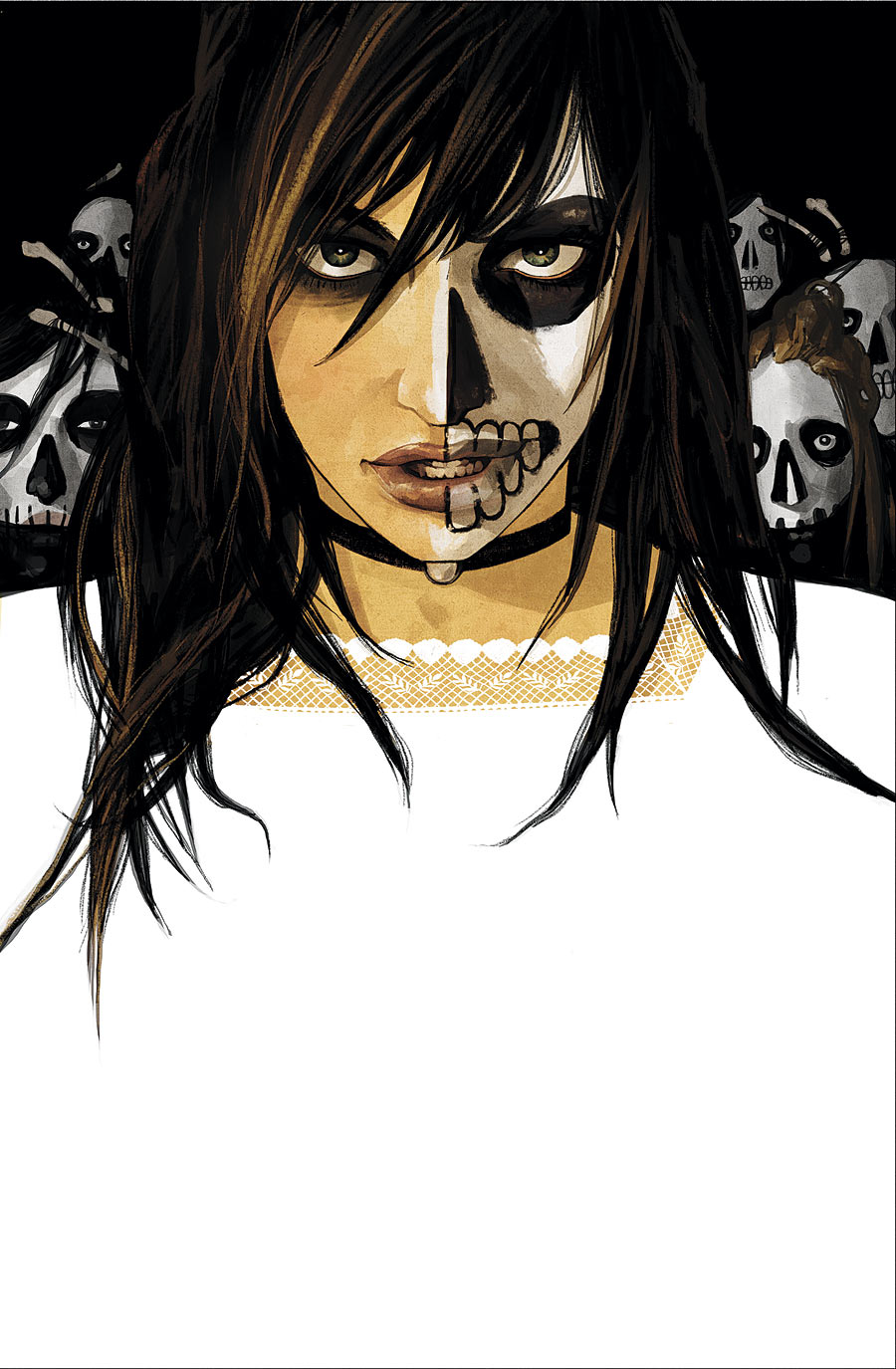 DV8 #2. (of 8).  Brian Wood (writer).  Rebekah Isaacs and Carrie Strachan (art).  Fiona Staples (cover).  Wildstorm.  32 pages.  $2.99.

Brian Wood and Rebekah Isaacs' excellent revamp of this old 90's superhero team continues to be edgy, forward thinking, and interesting.  The story is well-paced and beautifully illustrated and the covers by Fiona Staples are like a delicious cherry on top.  If you want to read more about DV8, check out my detailed review on CSBG's She Has No Head! BUY
Galacta: Daughter Of Galactus (one shot).  Adam Warren (writer).  Hector Sevilla Lujan (art).  Marvel.  48 pages.  $3.99.

This book is a mess.  It's about 90% narration bubbles/internal exposition and while I appreciate the attempt to make it feel "young and hip" with the whole twitter thing Warren uses, it just comes off as a device that is trying too hard (and failing) to be relevant.  The art inside is problematic at best as Galacta's costume is a nightmare in which her boobs are constantly out and I saw her underwear at least once.  There's also potentially a triggering thing for young girls in that she constantly talks about her "food issues"…by which they mean her interest in devouring everything since her father before her is an "eater of planets" but the comparison is pretty offensive and heavy handed instead of being nuanced and insightful.  And the Daddy issues refrain (repeated ad nauseam) is not much better.  The ending also skeeved me out a bit. This is a huge SKIP.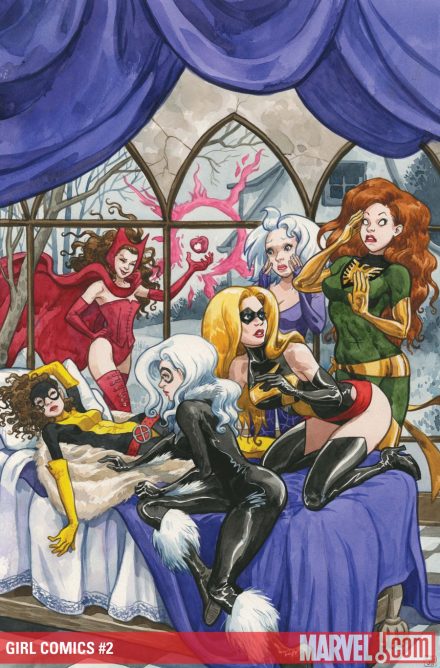 Girl Comics #2 (of 3).  Various Writers, Various Artists.  Jill Thompson (cover). Marvel.  48 pages.  $4.99.

A little bit better than the first issue…but like all anthologies it has its weak stories and its strong stories.  The art in this issue is particularly strong with a long piece pencilled by Jill Thompson, one by Colleen Coover, and one by Faith Erin Hicks.  There were no pieces that I loved more than Lucy Knisley's Doc Ock piece from Girl Comics #1, but overall it was a stronger issue. BUY.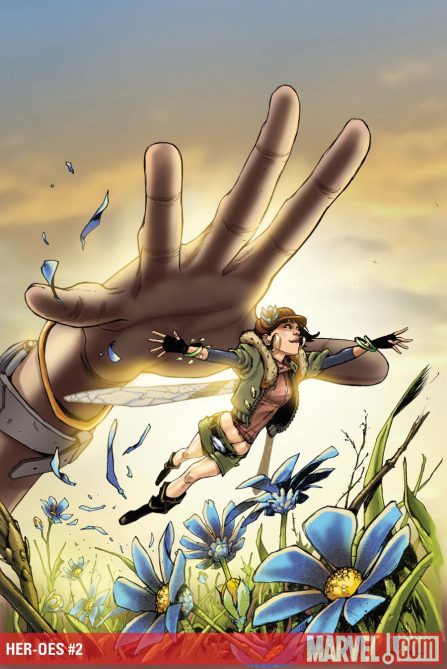 Her-Oes #2. (of 4).  Grace Randolph (writer). Craig Rosseau and Veronica Gandini (art).  Marvel.  32 pages. $2.99.

A nice second entry in this mini-series, the story is moving a little slowly for it to be done easily in 4 issues, but the characters are all really well represented both visually and through the writing.  It's geared pretty young and certainly more toward teen and pre-teen girls than adult women, but is still very female positive and worth a look.  BUY.
Rescue #1 (one shot).  Kelly Sue DeConnick (writer).  Andrea Mutti, Jose Villarrubia (art).  Marvel.  32 pages. $3.99.

While I liked Kelly Sue DeConnick's writing in this book (she's proving herself to have a nice strong voice, as her SIF one shot was also strong), overall I found this story a bit frustrating.  The story had a real filler feeling to it – like I was reading the missing epilogue to another Iron Man story that I didn't read.  Also, why does the Iron Man "girl suit" have to have boobs?  Really?  Anyway, I'd normally recommend a tradewait to see if the series improves, but since it's a one-shot, it has to be a SKIP.
The Walking Dead #72.  Robert Kirkman (writer). Charlie Adlard (art).  Image.  32 pages. $2.99.

In Robert Kirkman's post apocalyptic zombie tale, badass Michonne has not been getting much screen time of late, so this is a nice issue that gives her a bit of story time and further character development, and we also get a very brief flashback of her time before meeting the rest of the group.  Andrea also gets some good screen time in this issue.  Overall, a nice focus on the ladies of The Walking Dead this week.  BUY
X-Men: Pixie Strikes Back #4 (of 4). Kathryn Immonen (writer), Sara Pichelli and Christina Strain (art). Stuart Immonen (cover).  Marvel.  32 pages.  $3.99.

The art by Sara Pichelli on this mini-series has been lovely (as have the covers by Stuart Immonen) but the writing (and plot?) by Kathryn Immonen have been a bit convoluted and hard to follow.  Immonen's voice, especially from a teen perspective I think, is strong and on point, but she really needs to work on her storytelling clarity as this is not the first series of hers where I have to admit that I have real trouble following along.  And though Pichelli's art is beautiful, she could be doing clearer storytelling as well.  I'm going to give it a TRADEWAIT, but only if you're an X-Men or Pixie fan.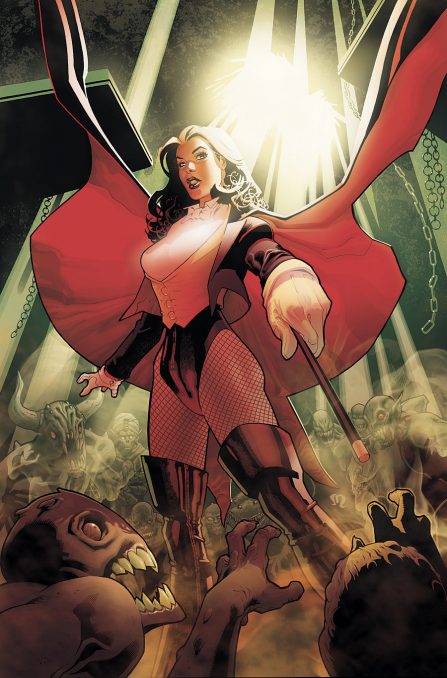 Zatanna #1. Paul Dini (writer). Stephane Roux, Karl Story, and John Kalisz (art).  DC.  32 pages.  $2.99.

The new Zatanna series starts off strong, with a nice set up for crime solving in San Francisco and a lot of potential.  All the elements are in place for this to be a good  series.  The art especially is quite strong in this first issue.  I don't love Zatanna's costume, it seems rather ridiculous and impractical (especially the stilettos which may work well on stage but seem cumbersome and problematic for "crime fighting") but since she's a magician and the costume looks fairly traditional I'll give it a pass.  BUY.
EDITED TO ADD:  Scans_Daily points out (and rightly so) that the first two pages of this Zatanna comic are SERIOUSLY screwed up…with a very suggestive rape-y scene that turns out to be "just part of the act".  Because I think it's a promising series, and I generally think Dini knows what he's doing with the Zatanna character, I'm going to keep it listed as a buy and just hope that this was a weird gross never to happen again misstep.  But it's in the running to be taken down to a SKIP if I see anything else like that again. 

Okay, that's it for this week.  Come back next week to find out if the Dazzler and White Queen one shots are worth a look and to see what Wonder Woman is  up to.

Comments are now closed.