The following is a selection of comics released this week (6/9/10)* that focus heavily on women in comics – whether that be characters, creators, or even readers.
The books are rated as BUY, TRADEWAIT, or SKIP.
*It should be noted that this list will focus on North American/English releases as that's mostly what I have access to.  Additionally, as I am in general unfamiliar with Manga, I will not be including Manga titles in my lists.  For some great reviews and discussion of Manga titles I urge you to check out Danielle Leigh on CSBG.
AVENGERS ACADEMY #1.  Christos Gage (writer).  Mike McKone (art).  Jeromy Cox (colors).  Marvel.  40 pages.  $3.99.  22-pages of story, a very weak 6-page character bio section, and a 2-page Marvel/Gage interview.

Unfortunately this was a bit of a let down to me and didn't live up to the preview pages (which I was really excited about).  The character work – and I know it's a lot of new characters to introduce and so that's challenging – but it's not very strong except for with Veil/Maddy and in that same vein I just think Gage tried to do too much in to short a time with the story.  McKone's art is lovely, but the storytelling/pacing/expressions are pretty weak.  Again, I thought the storytelling was really solid in the first 6-ish pages but it falls of considerably as the issue progresses.  Also…I talk about "swimsuit" costumes for female superheroes a lot here and on She Has No Head!, but nobody has Tigra beat in the "swimsuit category"…is this really necessary?  A string bikini is really her costume?  Seems ridiculous and dated and…did I say ridiculous?  It's nice to see all three new female leads appropriately dressed, but it sucks that their teacher looks like she's headed to a beach.  Anyway, I was much less excited about this today than I was last week.  Bummer.  I'm still going to give it a few more issues to improve, but for now I can't rank it any higher than a TRADEWAIT.
BATGIRL #11.  Bryan Q. Miller (writer).  Lee Garbett & Pere Perez (pencils). Walden Wong & Pere Perez (inks). Guy Major (colors). Stanley Lau (cover).  DC.  32 pages. $2.99.
I don't really like this book, but I know that part of that is just because I continue to not like Steph Brown as Batgirl (in part out of blind loyalty to Cass), but even I can admit that Miller has done a pretty great job with this title, really finding Steph's voice and making her much more palatable for some (like me) and really giving her voice and a starring role, as many of her fans have been clamoring for for years.  I also think Garbett's pencils have improved (this was certainly the best drawn issue I've seen yet) which may also be a credit to Perez.  The story here is very female focused with Batgirl, Oracle and Wendy taking center stage.  It's not for me, but I can't deny that it's a solid female positive book overall with a strong female lead and little to no objectification lying around.  I'm tempted to say tradwait, but on a book like this, you have to support it, or it will never last, so I'm recommending BUY.
THE GUILD #3 (of 3).  Felicia Day (writer).  Jim Rugg (art).  Dan Jackson (colors).  Juan Ferreyra (cover).  Dark Horse Comics. 28 pages. $3.50.
I finally got my hands on the final issue of The Guild (why does it have to be hard?!).  This was a good little series, even though I did feel as if this last issue was a bit rushed, and three issues seemed a little light both for a complete story and for a worthwhile trade (hopefully the trade price will reflect the lack of pages).  Overall I really like what Day and Rugg did here, and though I thought the ending was a bit of a downer, in other ways it allowed the end to be "right" without being too "happily ever after" I suppose.  All in all a good little book, and high on the female friendly tip.  BUY, but if you missed it already, pick up the trade when it releases. 

HERALDS #2 (of 5).  Kathryn Immonen (writer).  Tonci Zonjic and James Harren (art).  Nathan Fairbairn and June Chung (colors).  Jelena Djurdjevic (cover).  Marvel.  32-pages. $2.99.
Again, sadly not as strong as the amazing first issue, but I loved that so much it would have been tough to top.  This was still solid, and probably the best thing I read this week.  The characters are still great, the story is progressing, and the jokes are still there.  The biggest problem is that in this issue Zonjic and Harren are sharing art duties and while I don't dislike Harren's work it's aggressively different than Zonjic's and thus makes for a pretty big jolt, which happens several times in the issue.  They tried to soften it by having Zonjic do the bulk of the Frankie/Nova story and Harren do the bulk of the "superheroines/"space stuff"" story, but it's still not that cohesive and a bit frustrating..doubly so when those two storylines intersect.  It was still the best book I read this week however, and it still features – in all sorts of glory – a ton of awesome female supes with no objectification to be seen.  BUY.
THOR & THE WARRIORS 4 #3 (of 4).  Alex Zalben (writer). Gurihiru (art). Colleen Coover (writer & artist) "The Twelve Labors Of The Babysitter". Marvel.  32 pages. $2.99.  2o-page story and 4-page back-up story.

I picked this up randomly last week and didn't realize it was new.  So this should have been on last week's list…and it would have been a HUGE BUY.  This was adorably cute, funny, fresh, and so fantastically illustrated I can't even begin to stop raving.  As an added bonus there is a Colleen Coover short story in the back that is equally funny and cute.  If you have missed early issues of this I recommend hunting them down, or finding the trade as soon as it's released, it's just a great little book judging by this issue.  BUY.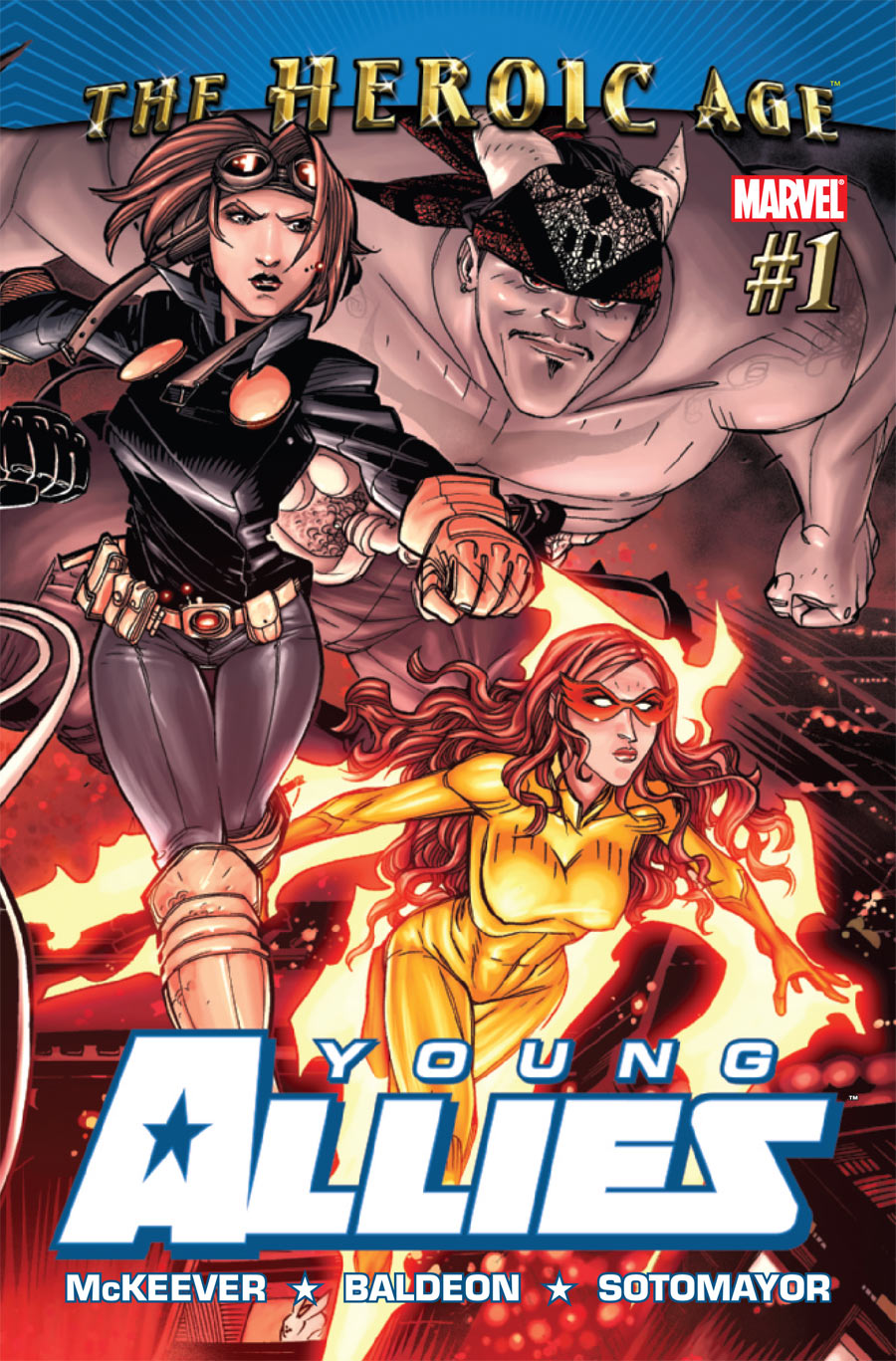 YOUNG ALLIES #1.  Sean McKeever (writer). David Baldeon (pencils). Sotocolor's N. Bowling (inks).  Chris Sotomayor (colors).  David Lafuente (cover).  Marvel. 40 pages. $3.99.  22-page story, 10-page highly detailed character bios (that put the ones in Avengers Academy to shame).

Unfortunately, this was a disappointment, not unlike Avengers Academy.  I saw this preview last week and was pretty sure I'd be into it, but alas, the first six or so pages deliver more and better than the last 15.  I'm not going to write it off entirely and especially from a female positive perspective it's got some potential (including female characters Nomad, Firestar, and Arana), but so far I'm not wildly impressed.  I'm wondering if maybe there's something in McKeever's writing that is not speaking to me (as I didn't like his Firestar one-shot that came out recently either)…but I can't put my finger on what the problem might be.  Anyway, it's a tentative TRADEWAIT…hovering on skip.
Comments are now closed.