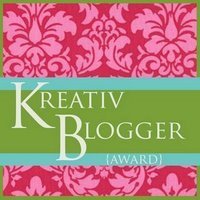 Wow.  Thank you so much to Nevermore999 at Adventures of Comic Book Girl for nominating me for a Kreative Blogger award.  I'm totally honored…also it's my first blogging award of any kind…so I'm feeling all extra gushy.  Nevermore and I get along really well…so long as we're not talking about Stephanie Brown…and I'm flattered that she could look past that and nominate me anyway.

Thank you so much!
So it's time for me to also pay it forward, the rules for accepting the award are as follows:
1) Copy the award logo and place it on your blog.
2) Link to the person who has nominated you for the award.
3) You must thank the person who has given you the award.
Done, done, and done!
4) Nominate 7 other Kreativ Bloggers.
2) Post Links to the 7 blogs you nominate.
3) Leave a comment on each of the blogs to let them know they have been nominated.

This was hard because there are a lot of great blogs out there due some recognition, if I didn't pick you please don't be offended, I tried for the most part to pick blogs that are comics and/or feminist related as that's where my tastes are these days…
1.  5 Minute Marvels.  I've pimped this blog out for good reason on multiple occasions and with good reason – it's just great.  A wonderful experiment of a dad (Tim Miner) drawing superheroes with his two daughters (Grace 6, and Cate 5) every night before bed, which has become an awesome blog with tons of industry professionals turning in original work for the blog.  Great fun.
2.  Written World.  Despite the fact that I know next to nothing (and care very little) about all things Green Lantern, I still find Ragnall's blog constantly insightful.  She makes a good and passionate argument for nearly every subject she tackles and I always learn something.  She's also really good at not taking any shit…which is something I'm working on…so it's good to learn from the masters.
3.  Retconning My Brain.  Retconning doesn't update as frequently as I'd like…but it's always insightful and she covers a lot of the same areas that I'm really interested in – superheroes and gender.  She often goes outside of superheroes to envelope media in a larger sense, but she always brings it back around to comics.  I don't always agree with everything, but she convinces me sometimes even when I didn't know I was up for convincing, and that's the mark of a great blogger.
4.  The Dairi Burger.  I discovered The Dairi Burger's hilariously scathing recaps of Sweet Valley High books one day a few years ago and proceeded to waste all day laughing hysterically…while I was supposed to be working.  If you can spare losing an entire day to the internet, I urge you to head on over and do so.
5.  Tiny Heroes.  Tiny Heroes is a great little blog that has started an intriguing review series (mostly of comics and television thus far) via a modified Bechdel Test (i.e. a Bechdel test for Women, for Men, and for Race) and her results are interesting and sometimes surprising.  It's a great idea that really makes you think twice about the materials you're ingesting.  Though she intended the experiment to go for only 30 days, I for one, hope she keeps it going.
6.  Digital Femme.  I feel like I always get some great and much needed perspective from Cheryl Lynn's blog Digital Femme.  She's got a rawness and honesty in her writing that I really relate to…up to and including her most recent post (which I hope will not be her last) in which she simply quoted some DC bullshit and said "I quit".  I hear you Cheryl, I hear you, but if we quit, they totally win.  Come back!
7.  AudioShocker.  With tons of podcasts by Nick and Neal (and at least one weekly with Nick Marino and artist Ross Campbell), these podcasts have become fun must haves for me.  There are also plenty of other cool things going on like Project Basement.
Done, done, and done!
7) Name 7 things about yourself that people might find interesting.
Oop.  I'm pretty uninteresting but I'll give it a whirl.
1.  I came to comics pretty late (about 16 years old) and via the 1990's X-Men Cartoon which my brother Scott and I loved like CRAZY.  Rogue was the very first X-man I ever saw and to this day she remains one of my favs, though I would love it if the artists responsible for her representation these days would zip her fucking shirt up.
2.  I transferred to the Savannah College of Art & Design after my sophomore year at the University of Arizona studying graphic design, so that I could instead study comics.  As a result I have a mostly worthless degree (no offense SCAD) in sequential art.
3.  My first (and currently only) published short fiction piece is called I HATE THE FRENCH.  I do have a fair amount of published poetry though.
4.  I've spent the last year revising my first novel with an exceptional agent.  It's about two teenage girls with superpowers.  Things are finally starting to move forward…and I hope to have good publishing news soon!
5.  I write a column for CBR's Comics Should Be Good blog called She Has No Head! Some of you probably already know that…so I'll add that the title of the column was inspired by my reaction to this image (among many others).
6.  My boyfriend and I have long been wanting to adopt a kitten.  There are a handful of reasons why we can't right now, but when we do, his name will be Neil Hughes (said with a British accent) and if it's up to me Neil Hughes will be either stripey grey or stripey orange…if it's up to my boyfriend Neil Hughes will be solid grey.  I will win.  Bet on it.
7.  I just launched my website today.  Nobody even knows yet…except you guys.  There are excerpts from a couple short stories, a bio and bibliography, a news and development section, a section of artwork, including (if you ever liked my Rabid Lamb Comic Strip from 2007 – 2008 – or want to like it) a nice collection of the best of Rabid Lamb in an easy to flip through slideshow. Also, today is my birthday.  Woo!
Whew.  that was harder that it seemed.
Comments are now closed.