Some awesome stuff has happened over the last few days…I'm going to pretend it's all in honor of my birthday…some of it straight up is…the rest is a stretch…

1. Tara O'Connor, writer and artist extraordinare (and aka gingercurls) did an AWESOME original sketch for my birthday of Rogue with her costume nice and zipped up…something I'm sure most of you are aware is a serious pet peeve of mine.  Thank you Tara!  Check it out!  FYI – you can commission original work from Tara here.
2.  There's been some serious movement on my book…the revision is locked and we're preparing to sub to publishers. Slow and steady wins the race let's hope, but I do hope to have some solid updates soon.
3.  I did a fun birthday bit on She Has No Head! yesterday.  And already Matt Southworth is helping my wishes come to fruition.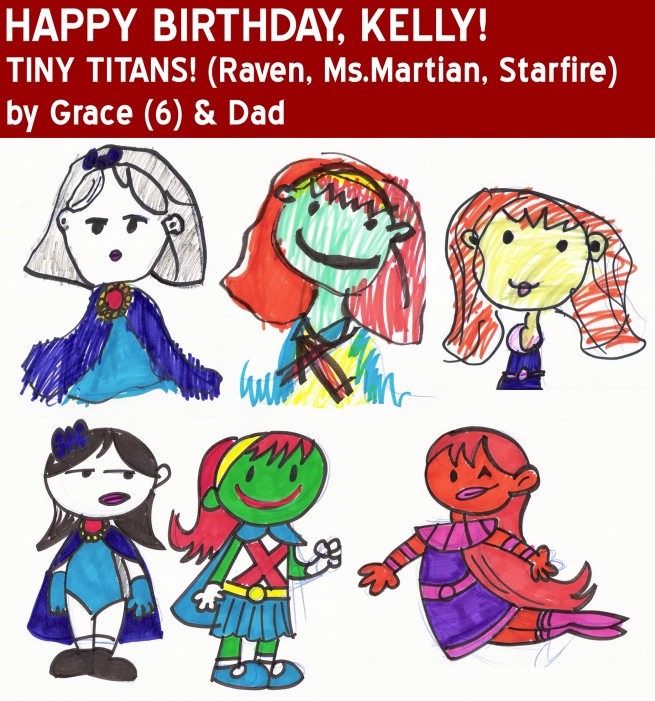 4.  5 Minute Marvels did a special "Kelly Birthday Post" drawing of the Tiny Titans – they look awesome. Thanks guys!
5.  I also got a fantastic birthday sketch from my artist friend Ross Campbell…but I can't show you guys that one yet as it relates to my novel.  Perhaps I'll post a teaser as things start to develop on that front. 

6.  There were a few of my favorite things…namely…comics, cake, and champagne (all c's…weird) to be had at my house…not to mention the beginnings of Season 5 of The Wire since the weather was hideously gross and I had no desire to leave the house…but really…what could be better than all of that?
All in all…not too damn bad.  Thanks everyone for the birthday wishes – and presents!
Comments are now closed.