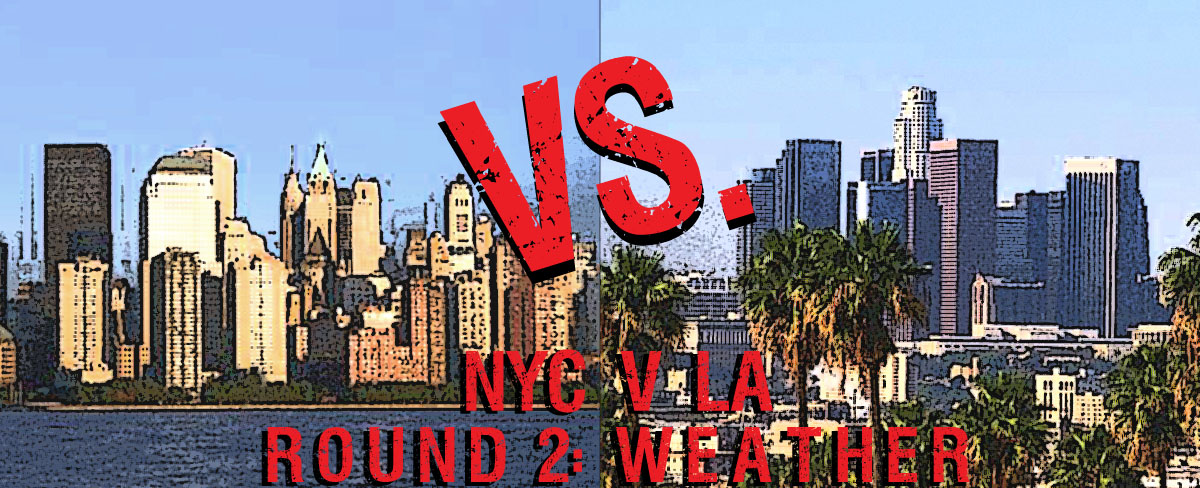 If you want to know what this is all about…go here.
Disclaimer:
So I thought I'd do a pros and cons for each of the cities (NYC and LA) based on 15 categories of my choosing – i.e the kind of things that are important to me about a place that I chose to live. For example, since I don't have any children, so you won't see "education" on the list, but I do love to eat sandwiches, so "food" will definitely be on the list.
Keep in mind these are MY pros and cons…pros and cons that I have come to after living in LA for five years (2000 – 2005) and then living in New York for five years (2005 – 2010).  This is intended to be a fun (and funny) list, and is not to be taken seriously, but I hope some of you, especially those of you who have lived in both places (or experienced them) will enjoy it. Come back tomorrow for Round 3.
02. WEATHER
On the surface this seems like an easy one, as it's beautiful in Los Angeles for about 360 of 365 days in a year, but living in New York did make me remember how much I missed actual seasons.
It's wonderful for fall to arrive and kill summer with its lovely breezy death blows.  And spring is all the more rewarding to see and feel on your skin after a long winter.  And I actually don't mind winter.  It's a nice chance to wear all those cute clothes and there's something cozy and deliciously romantic to me about winter in New York (although it feels less so in late February and March, when you're really ready for winter to be over)
But summer.
Summer is what loses this battle for New York.
If New York weather was 9 months of spring/fall and 3 months of winter, I think I'd give it to New York, even though some of those winter days I know I'd be wishing for sunny days and balmy LA breezes.
But there's maybe nothing I hate more than summer in New York.  Hot, sticky, and miserable.  It's three plus months of misery and I catch myself spending much of the year dreading those coming months.  Advantage:  LA