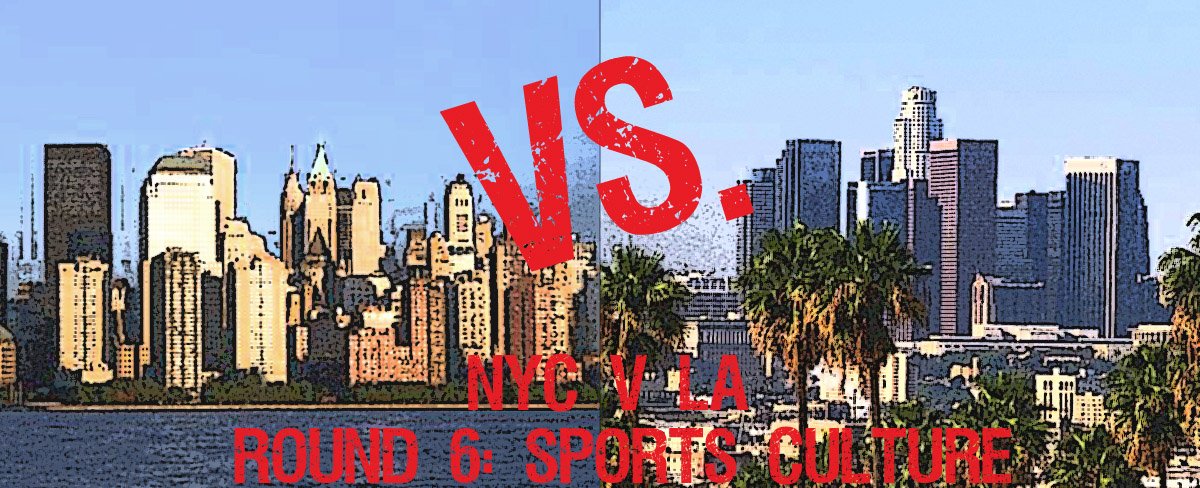 If you want to read what this series of posts is all about, go here.
Disclaimer:
So I thought I'd do a pros and cons for each of the cities (NYC and LA) based on 15 categories of my choosing – i.e the kind of things that are important to me about a place that I chose to live. For example, since I don't have any children, so you won't see "education" on the list, but I do love to eat sandwiches, so "food" will definitely be on the list.
Keep in mind these are MY pros and cons…pros and cons that I have come to after living in LA for five years (2000 – 2005) and then living in New York for five years (2005 – 2010).  This is intended to be a fun (and funny) list, and is not to be taken seriously, but I hope some of you, especially those of you who have lived in both places (or experienced them) will enjoy it. Come back tomorrow for Round 7.
06.  SPORTS CULTURE
***Unhappy with the direction these lists are headed, Adam has taken over for Round 6***
In tackling the issue of sports culture, Kelly thought it would be wise to draft my services.  While I am a big sports fan, and an educated sports fan, I am not a fan of any sports team in New York City or Los Angeles.  With that out of the way what evidence supports each city's claim to the crown of "Best (or better) Sports Culture"?
To the naked eye New York City, with it's two football teams(Giants, Jets… who actually play in New Jersey), soon to be two basketball teams (Knicks, Nets), two baseball teams (Yankees, Mets), hockey team (Rangers), as well as hosting the US Open and countless other sporting events that I'm forgetting, wins the city battle in a landslide.
However, Los Angeles, with their dynastic basketball team (Lakers) and the high profile fans that support them (Jack Nicholson!), make a cosmetic push that keeps them in the conversation.  Los Angeles also has a rich baseball history (Dodgers… originally from Brooklyn, and the Angels), a hockey team (the Kings…full disclosure… I don't like hockey, or know much about it), and… oh… they have another basketball team (Clippers) and they used to have two football teams.  That is something.  LA does dominate in college sports. Now this suddenly looks like a landslide.
How about the fans?  What is more important to a sports culture than the fan.  Los Angeles has the big stars (see above) and the beautiful people.  Seeing a Lakers' game, with the crowd on their feet, is a sight to behold.  The Clippers have a loyal fan base, in spite of their perpetual losing ways.  Loyalty is good.  What about New York?
Simply put, and I'm not a fan of the New York teams, and I can still see they have some of the most passionate, knowledgeable fans in the country.  Listen to a sports talk radio station in NYC and you will hear in depth analysis of last night's long relief pitching in the Yankee game from a guy who lays pipe for a living.  It is impressive.  Baseball is the true pastime in New York, as even the casual sports fan, the one seen at that super bowl party who doesn't know how many points a TD scores, watches games every week, even crappy games against teams without the Yankee payroll.  The Knicks, who have been terrible for years now, fill up the stands with die hard fans right off the bus at Port Authority, fans who know what True Shooting Percentage is and what Wilson Chandler's +/- is.  That is a real fan.  I know, because I'm a real fan of my teams… none of which are in New York or Los Angeles.  In fact I hate the Lakers, and the Knicks, and the Giants, and especially the Yankees but I can stand up and recognize that New York has better sports culture than Los Angeles.
Besides, why would you want to be indoors when it's so nice out.  We should drive down to the Santa Monica Pier and ride the Ferris Wheel.  Advantage: NYC
Comments are now closed.