So we've got a tie this week, mostly cause I just love me some Emma Frost and Chris Bachalo.  First is this great splash page panel by Daniel Acuna of Luke Cage (POWERMAN!) and his wife Jessica Jones (POWERWOMAN?) having dinner in New Avengers #8.
I love it.  It's really fun and smart and has great attention to detail from the clothing of our heroes, to the one slightly falling sock of our waitress…it's just damn fine looking comics.  And really, this scene goes on for several pages and with the exception of one very weird Jessica Jones expression panel it's pretty fantastic.  I miss Stuart Immonen like crazy on this book already and am horribly disappointed that he's no longer on the book…but Acuna is a good replacement if I have to have one.  I'm really bummed that I have to drop the book when Deodato (and Chaykin?) come on board…but maybe Acuna will stay?  Maybe I can keep reading?  In fairness to Deodato, I thought his cover to New Avengers #8 was pretty good, and very restrained in his depiction of Jones…which is usually where he loses me (his depiction of women).
But I couldn't resist Chris Bachalo's great cartoon-y fun take on the X-Men and especially Emma Frost in this panel from X-Men #7. Apologies to Mr. Bachalo for the liberties I took (I had to crop a bit as it was an unwieldy shape – also the crease is terrible – double sorry!) but look past it please to the beautiful extremely detailed personality filled artwork there.  The combination of lights and darks, the highly complex detailed work, the great composition, character design and acting.  FABULOUS.  Also, Emma, you so funny. 

And now for the fun stuff…
Apparently Emma's clothing is SO CRAZY all the damn time, that even though Bachalo has made an effort to put Emma in pants (and thank you for that Mr. Bachalo) colorists DO NOT KNOW WHAT TO DO WITH SOMETHING AS SIMPLE AS PANTS.
They probably went to color it and were like…"No…just regular pants?  That can't be right…This is EMMA FROST!  I bet it's some kind of weird underwear thigh-high boots situation…!"
And that is how you end up with something that looks like this: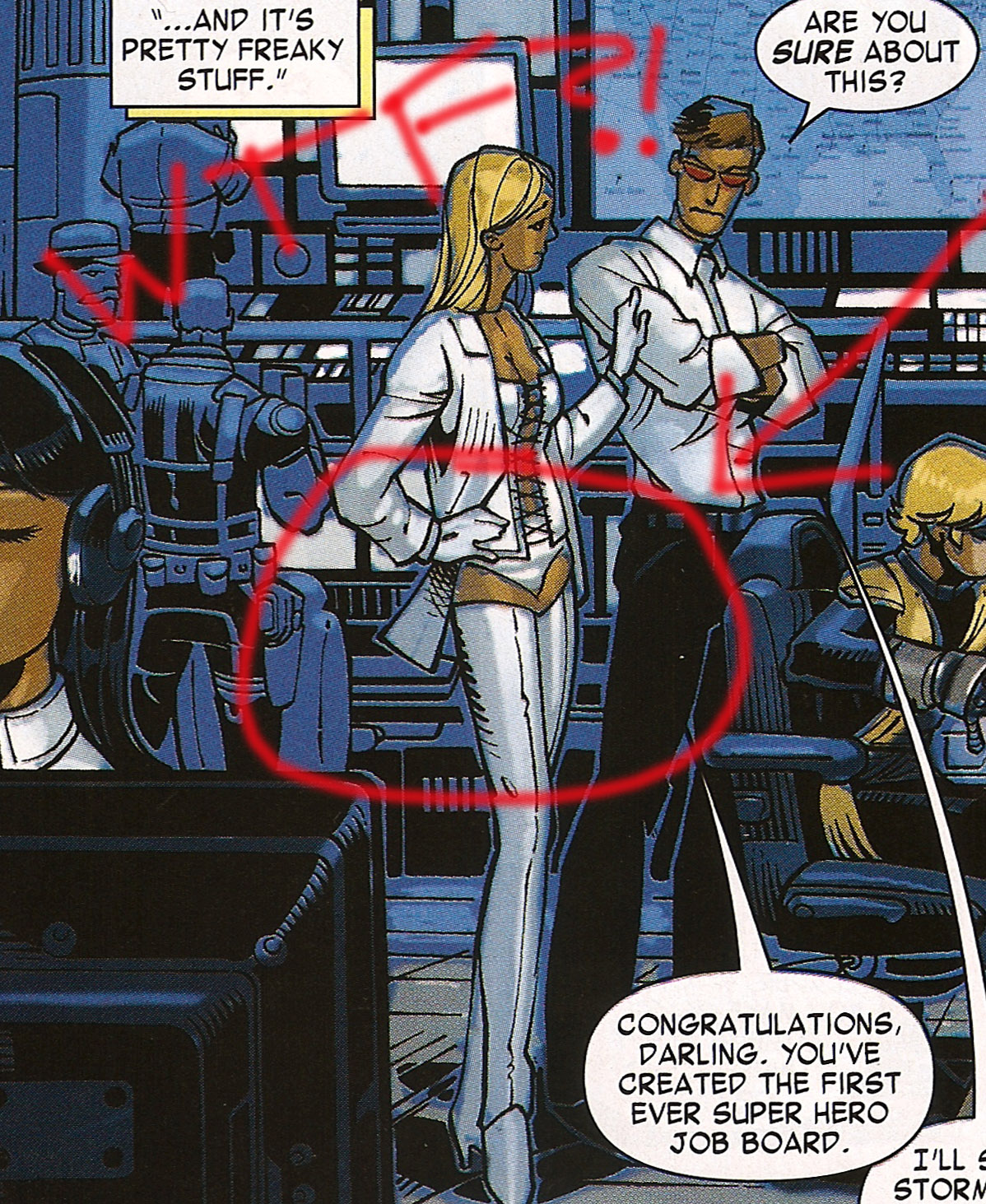 Yeah.  That's just wrong.  Even for Emma.
Tags: comics!, Panel Of The Week
Comments are now closed.