Here are the "rules".
And if you'd like to see the full July 2011 Marvel solicits head over to CBR.
That's right, back by popular demand, it's the return of DRUNK COVER SOLICITS IN THREE SENTENCES OR LESS!  As an extra special bonus, I'm also sick an on a significant amount of Nyquil…should be fun!
If you like your cover solicits covered in Flashpoint spooge…you've come to the right place…let's get started!
DC RETRO COVERS.  This annoys the shit out of me.  So for Batman we have him being a brooding intimidating rooftop badass.  For Flash we have him running real fast (you can tell cause it has speed lines!).  For Green Lantern we have him flying around and showing off his fancy ring.  For Superman we have him powerfully bursting through a wall (or whatever).  And for Wonder Woman we have her standing helplessly with fear in her eyes in front of a man pointing a gun at her?  SERIOUSLY COMICS?!  FUCK YOU!!!!!!!
Oh this is going to go well tonight…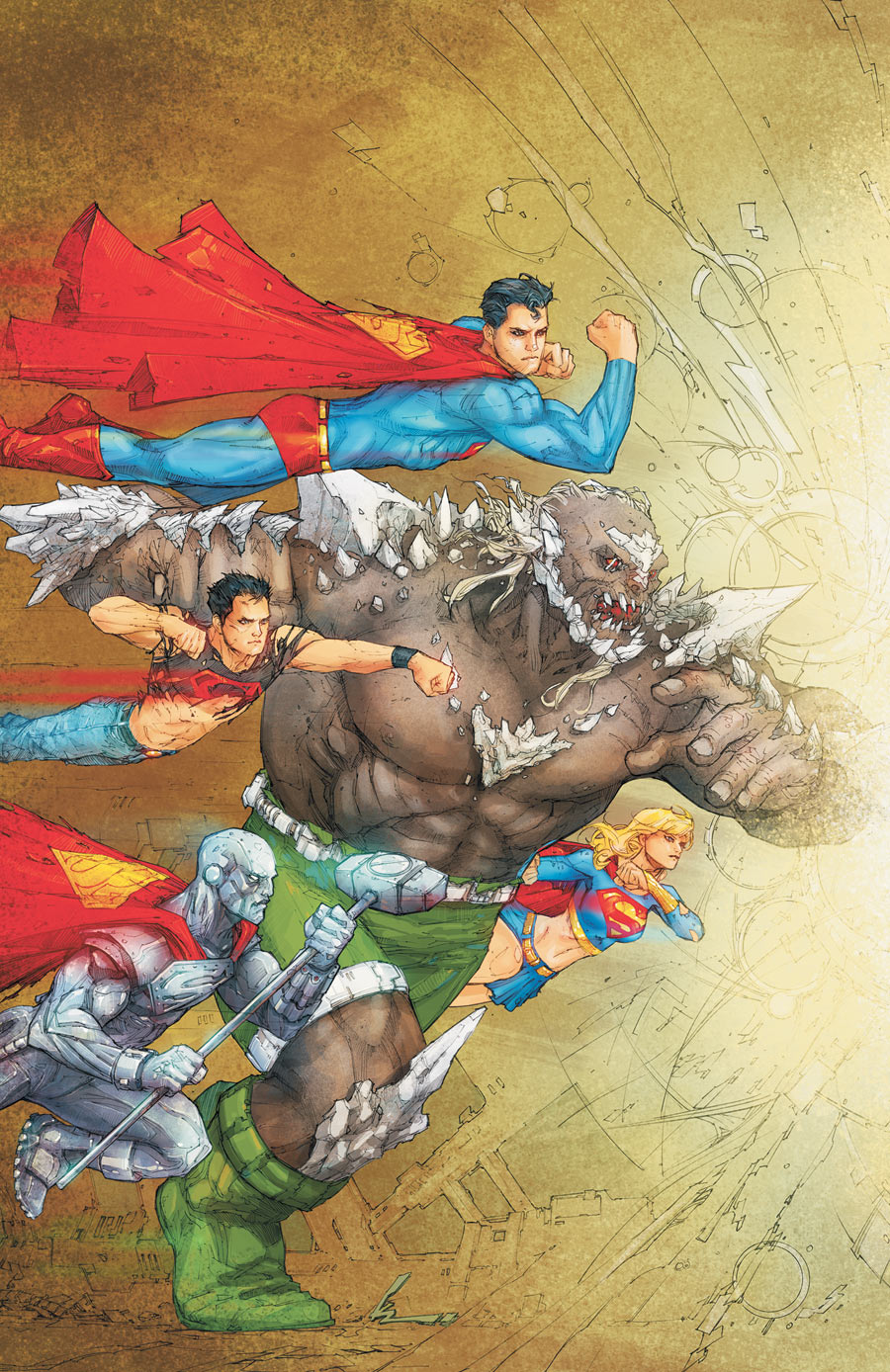 ACTION COMICS 903.  I kind of like this artist's style, as I keep noticing it.  But this cover is not so great.  Its got a traditional no-background background which I hate.  Plus, is it just me or does Superman's costume look like it's made of chiffon it's so damn thin?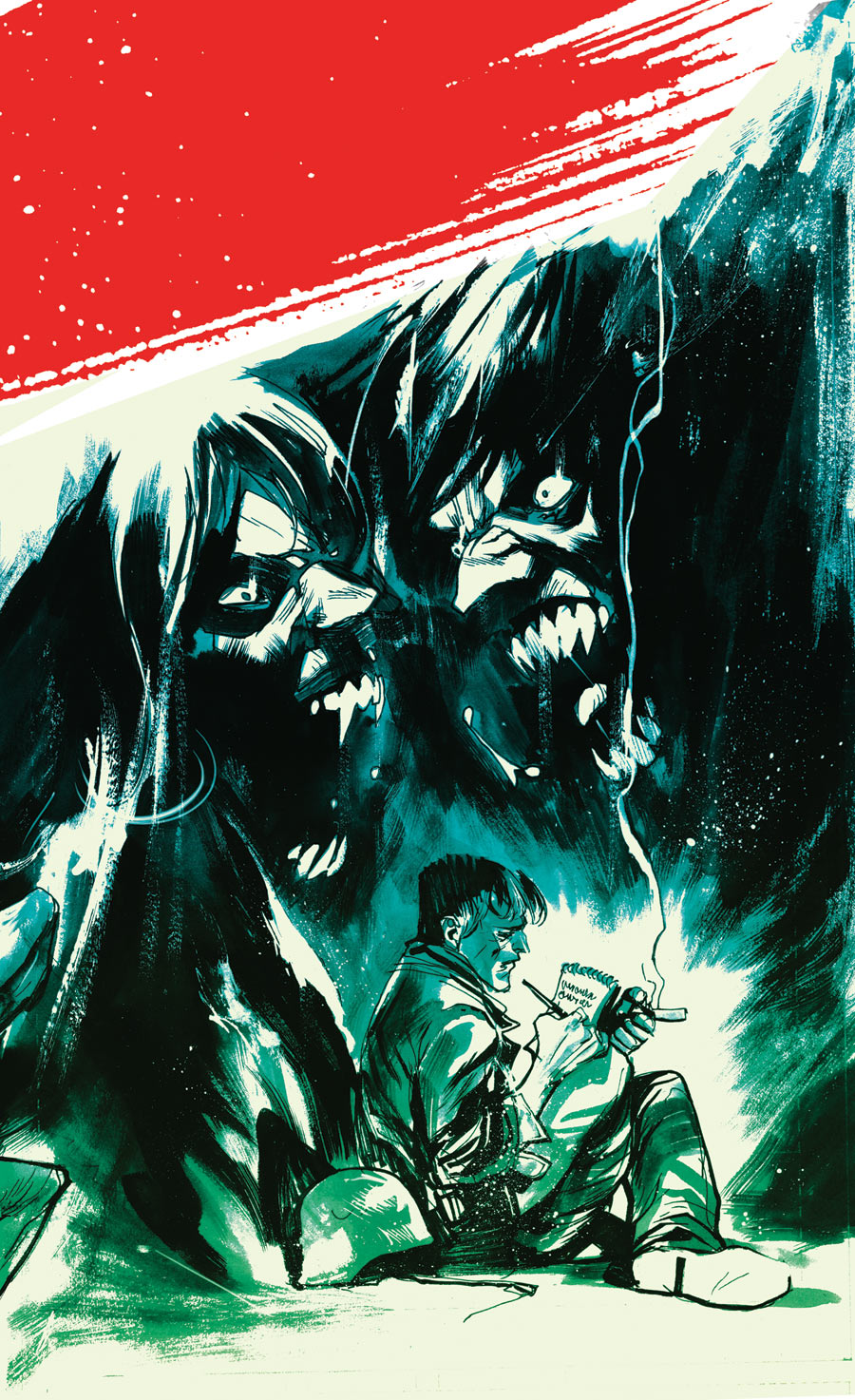 AMERICAN VAMPIRE 17.  Nice color choices as always.  But that's about all that wows me here.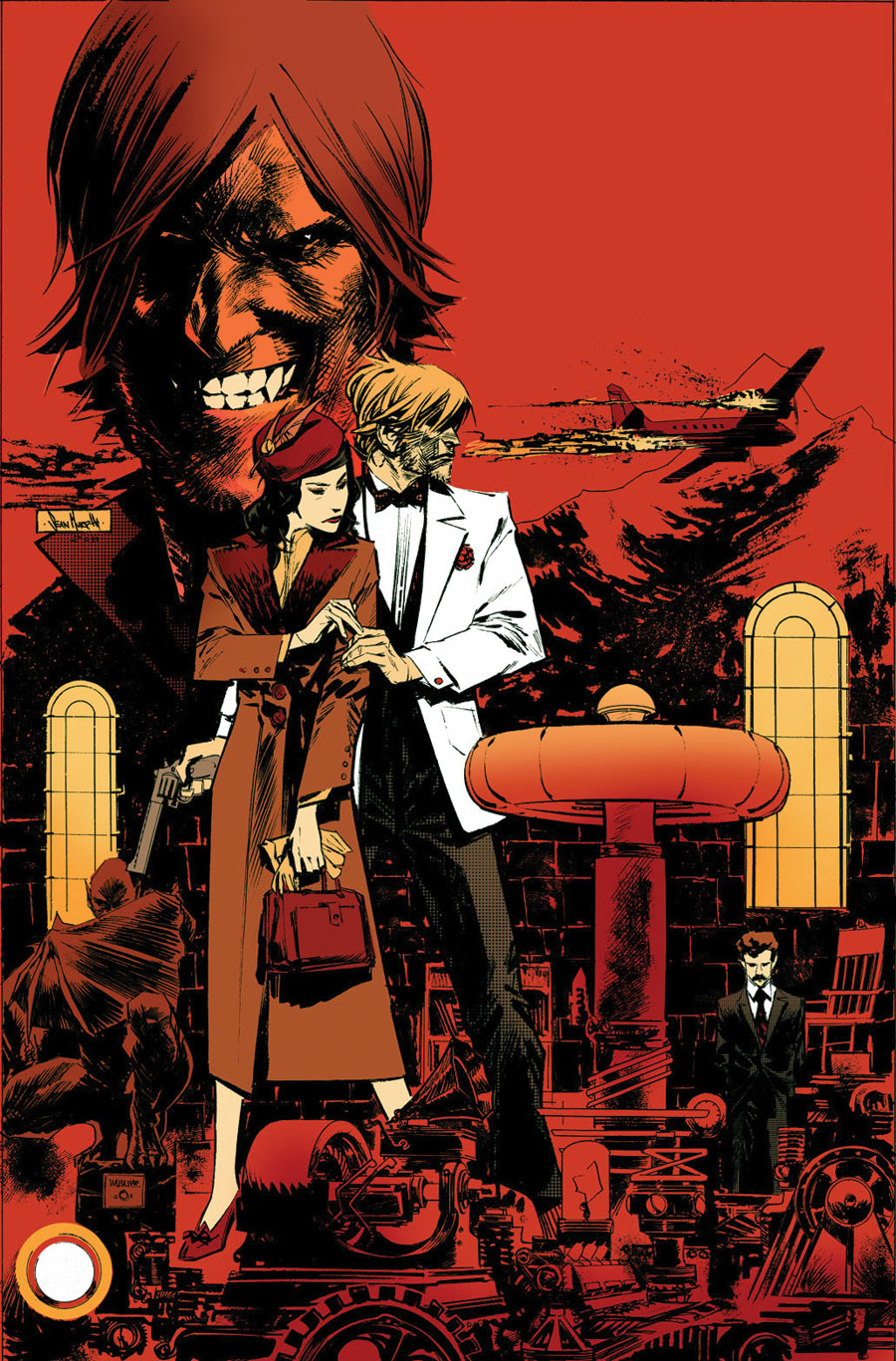 AMERICAN VAMPIRE SURVIVAL OF THE FITTEST 2.  I don't really like covers like this where artists pile on a million elements almost like a collage.  But this one works pretty well, thanks to Murphy's skill, and the color choices.  I'd eliminate the giant head though.  Both cause I hate giant float-y heads and because I think the image overall would actually be more interesting without it.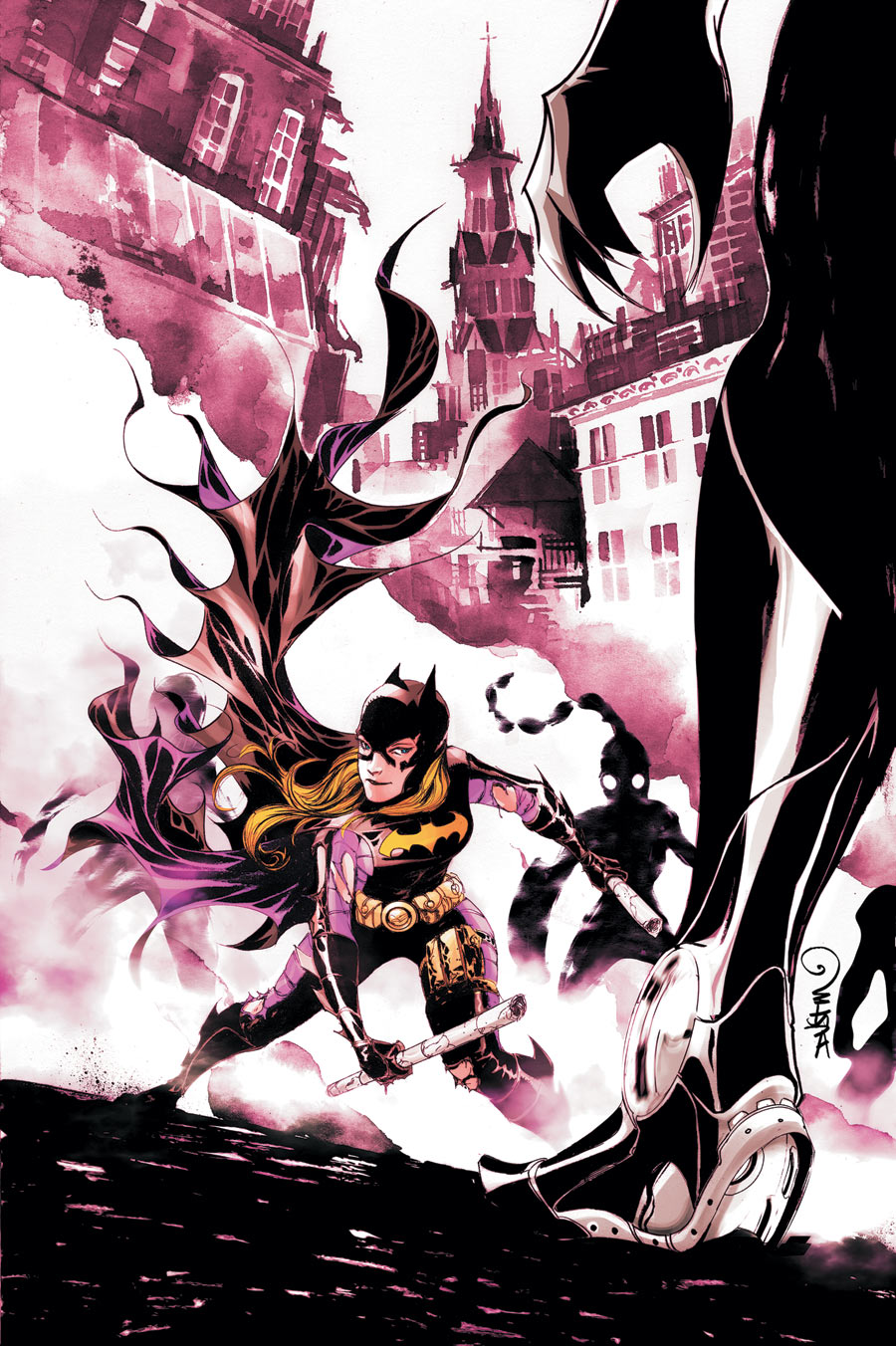 BATGIRL 23.  PURPLE OVERLOAD.  ARGH.  That said, Steph's got great attitude here, and the watercolor look of it is awesome, as always with Nguyen's stuff.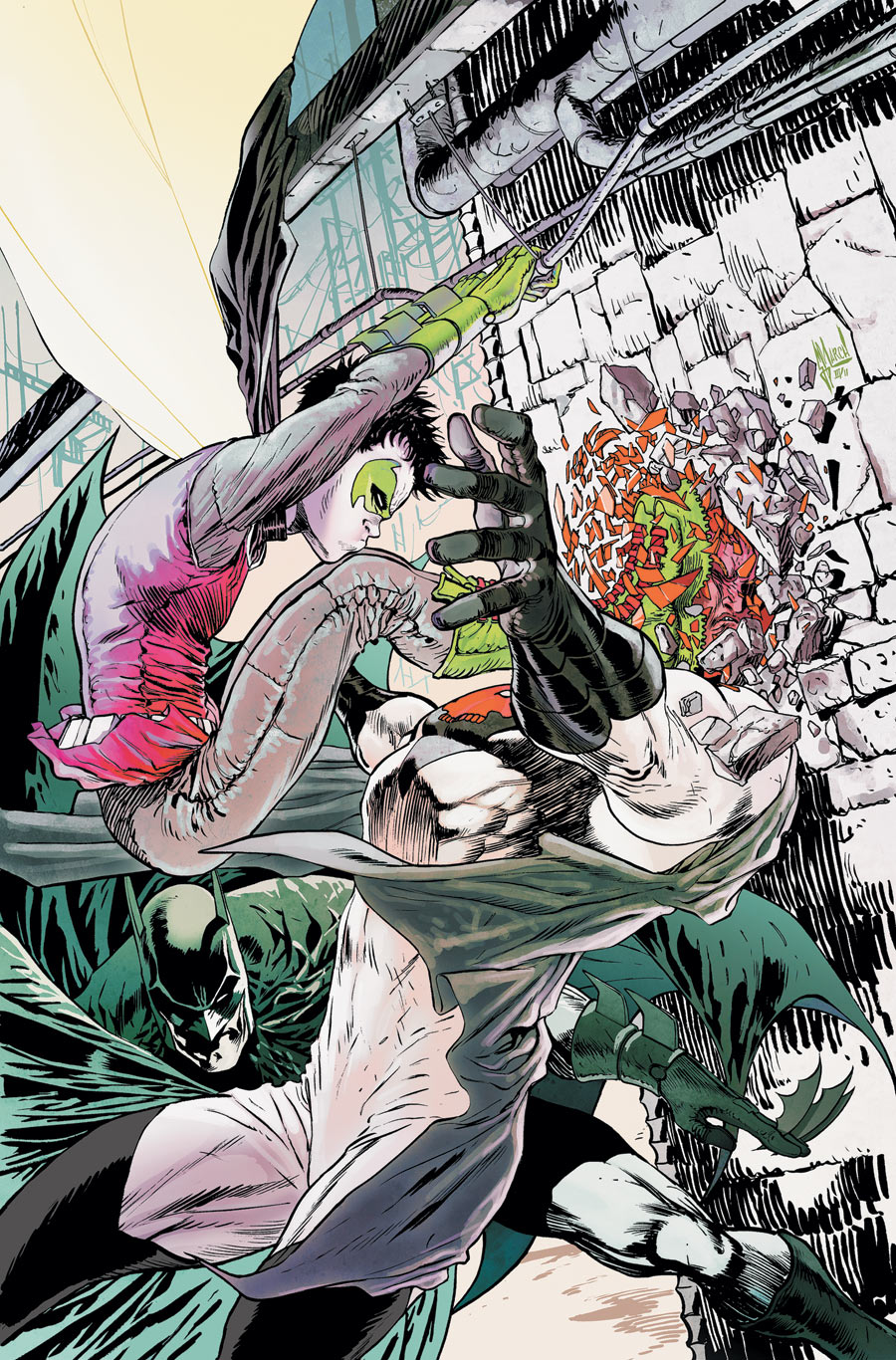 BATMAN & ROBIN 25.  There's really so much to hate here, but all I can see is how awesome Damian is.  His tiny little grouchy violent self.  Love Damian.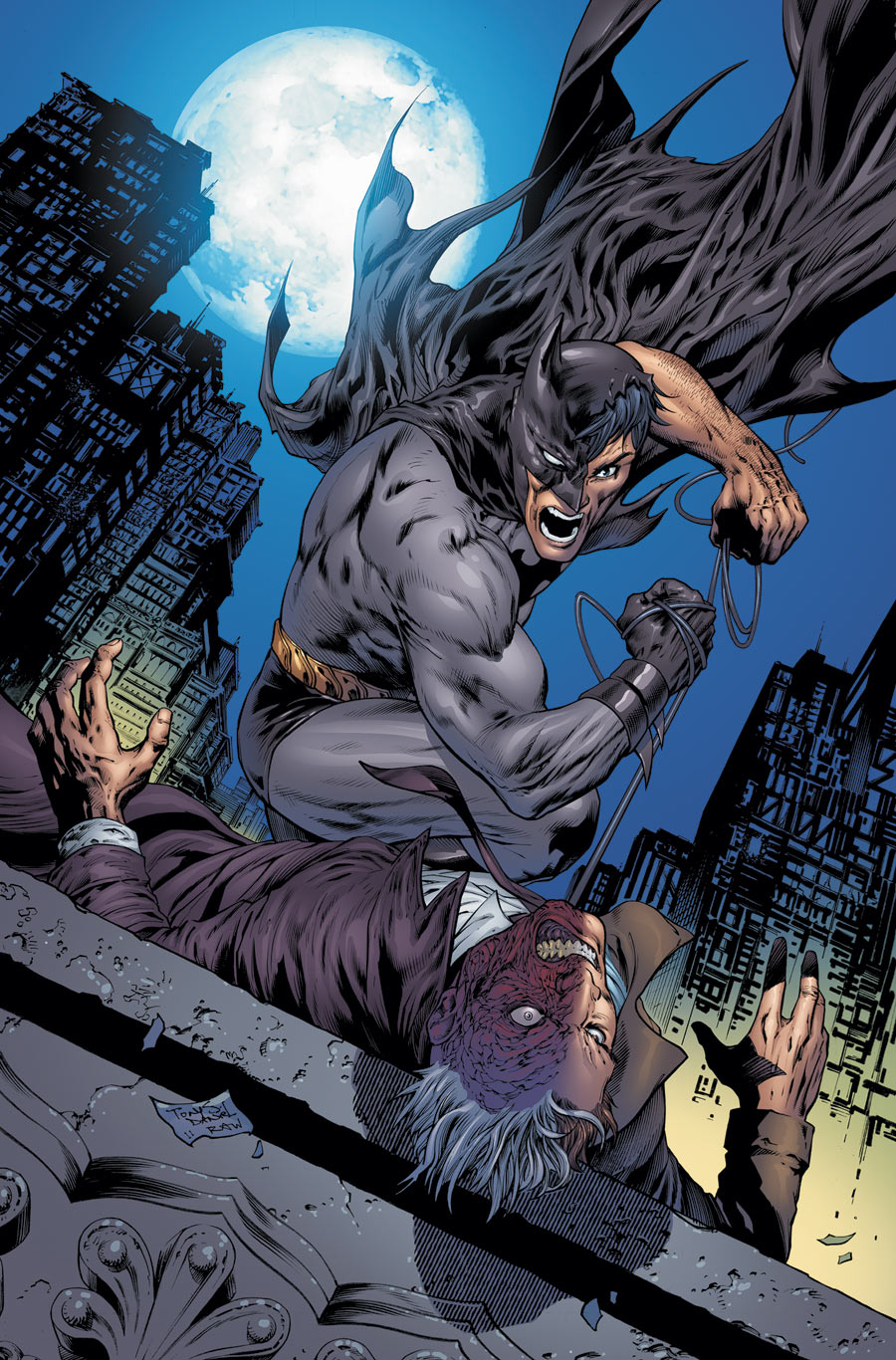 BATMAN 712.  Everything about this sucks.  I don't like to make a habit of calling out artists specifically since art is so subjective and since we can all have a bad day (except for the Greg Lands, Greg Horns, etc. who should be run out of town with pitchforks as far as I'm concerned) but with Tony Daniel I just have to say…WTF comics?  How is this dude, who drew some of the most hideous looking issues of X-Force I ever had the unfortunate experience of reading, the writer AND artist for BATMAN.  I mean I know there are a million Bat-titles right now so sometimes we forget that the actual REAL Batman book should be kind of great and a little bit sacred, but let me just say it again, TONY DANIEL IS DRAWING AND WRITING BATMAN.  HOW IS THAT POSSIBLE?  Who does this dude have pictures of with whores and giant mountains of coke?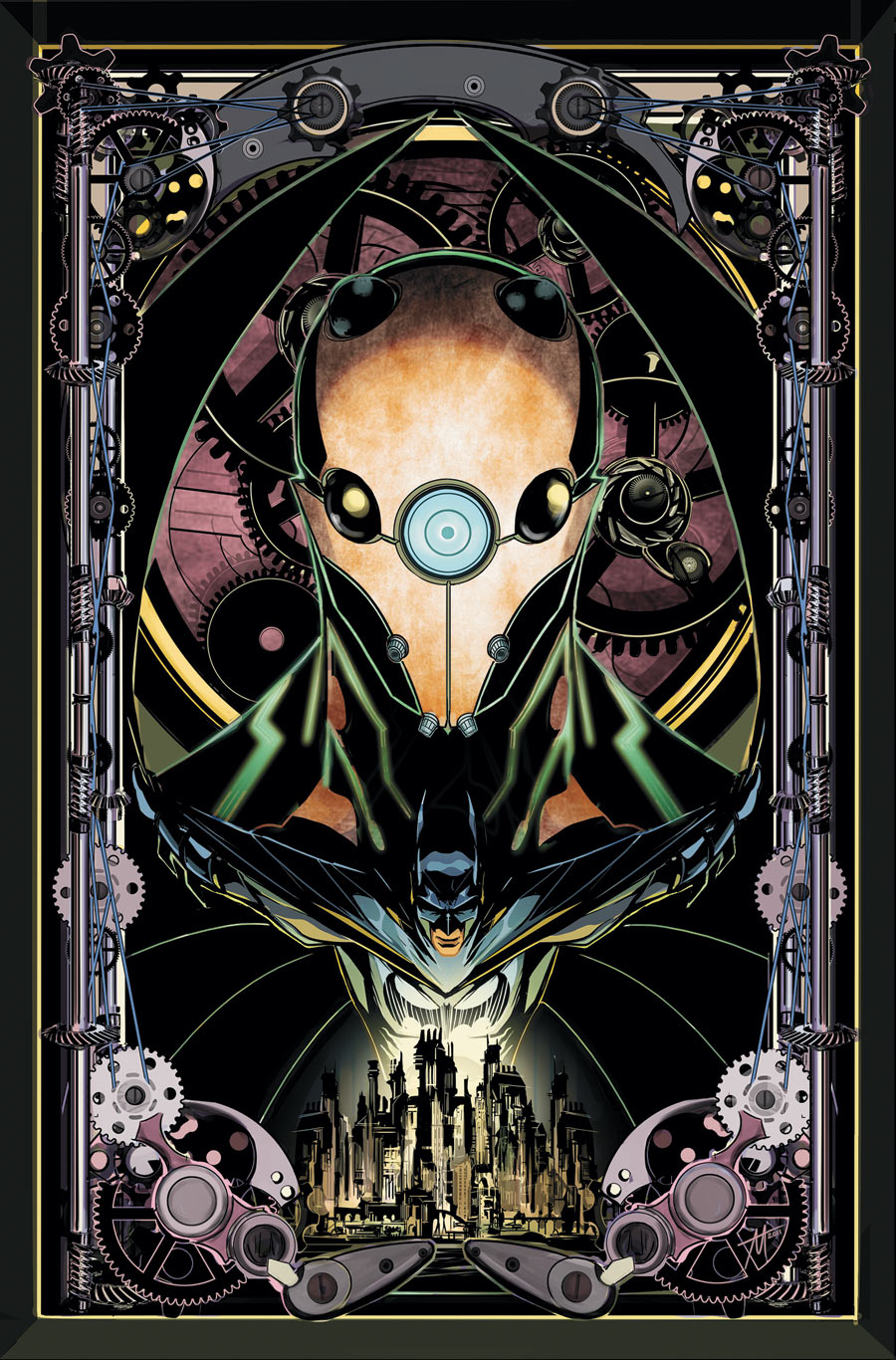 BATMAN: GATES OF GOTHAM #3.  Still looking awesome. Even more awesome (awesomer?) now that I've realized Scott Snyder is involved, and that CASS CAIN will be in EVERY. SINGLE. ISSUE.  So excited, so nervous.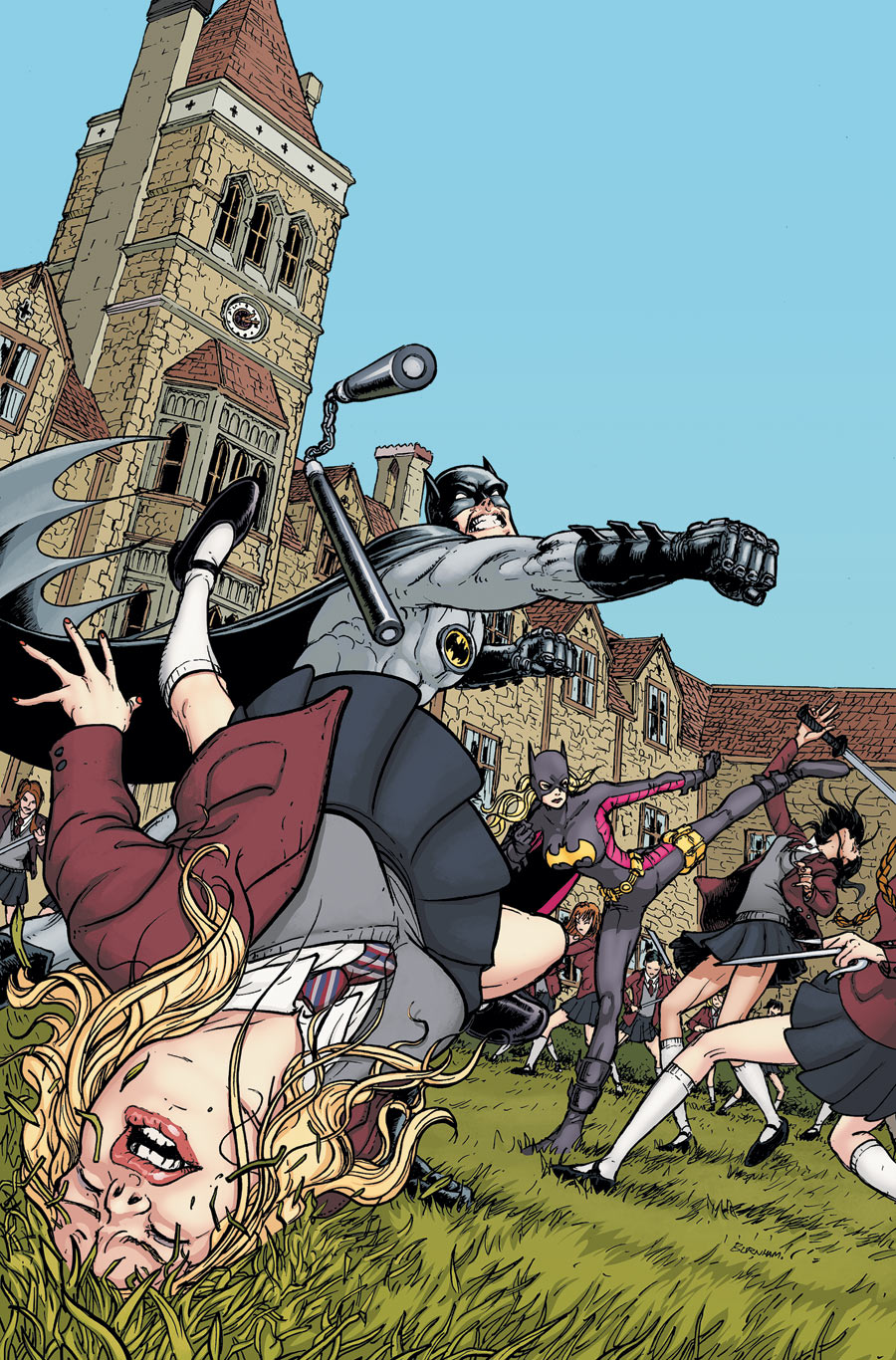 BATMAN INC 9.  So there's actually a lot that's great about this, including the fact that it's pretty fun to see Batman beating up Catholic School Girls.  HOWEVER.  Can everyone just take a moment to look at the size of Stephanie's freaking chest?!  Those tits are CONSIDERABLY bigger than her head (or her hips…or her thighs).  This is a fairly small/flat chested character and suddenly she's walking around with like double F size tits?  Is the costume inflatable?  WHAT IS GOING ON?!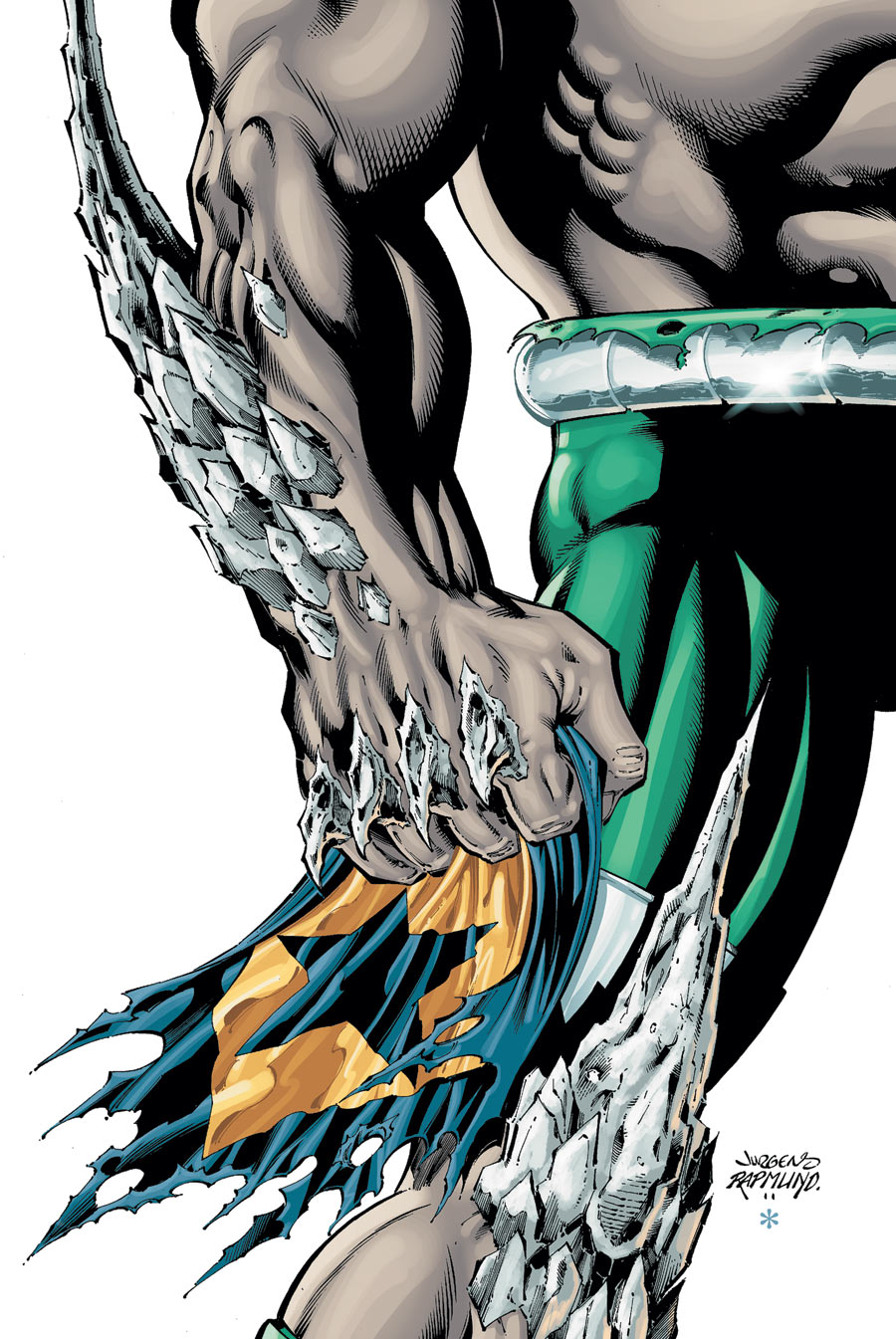 BOOSTER GOLD 46.  This is just hooooooorrrrrriiiiiibbllleee. (say it with a French accent…it makes it cooler).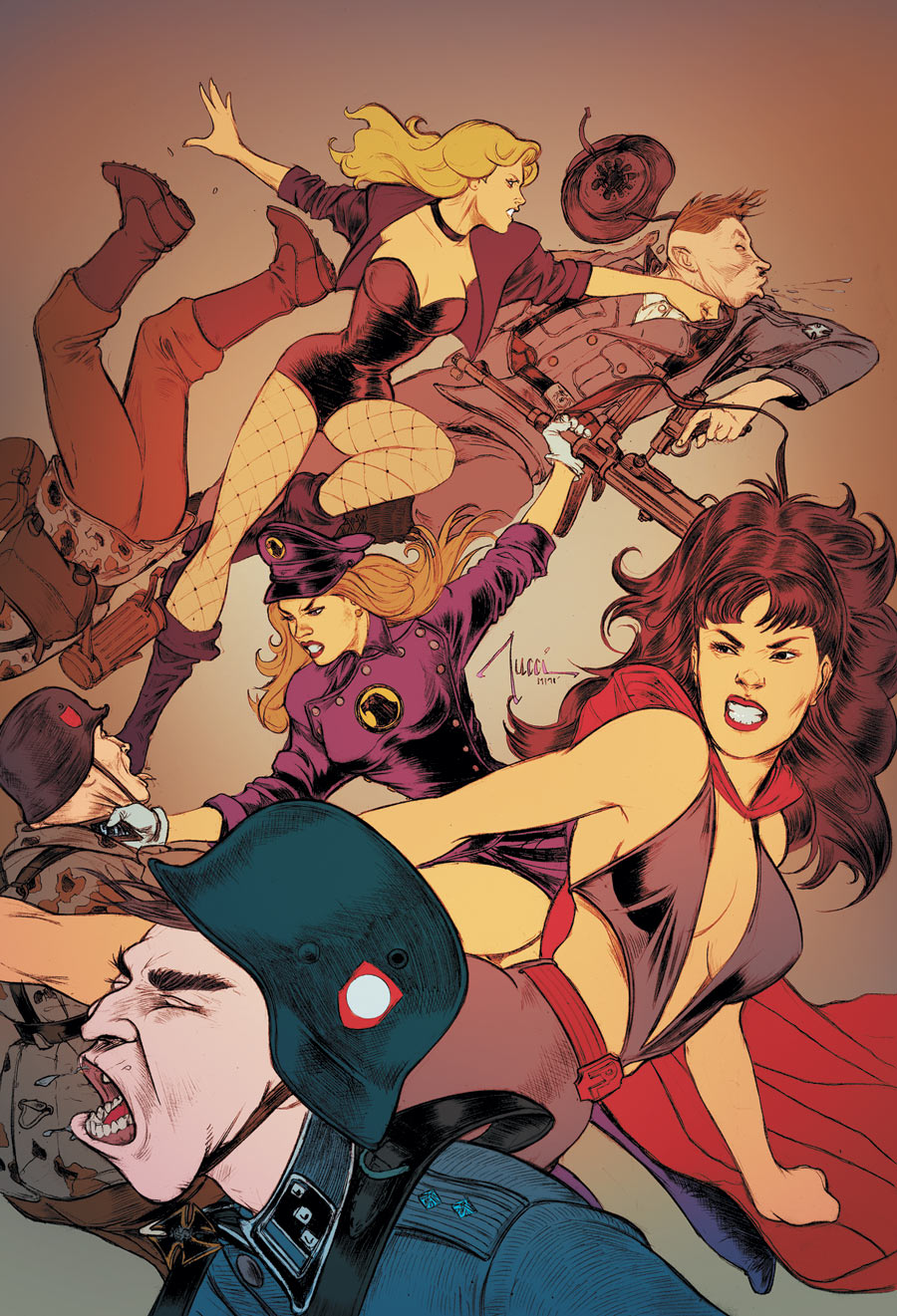 BIRDS OF PREY 14.  Well, I'm pissed that it's two issues in and Saiz is already apparently taking a break, but this Tucci cover is kinda cool.  You notice how in the hands of a reasonable artist, even an unreasonable costume (Phantom Lady) is not quite so ridiculous?  Yeah.  It also looks less ridiculous because Lady Blackhawk and Black Canary's costumes have a bit of restraint here as well.  Context people.  I'm not just talking out of my ass with this stuff.  Well, I sorta am today, but not usually!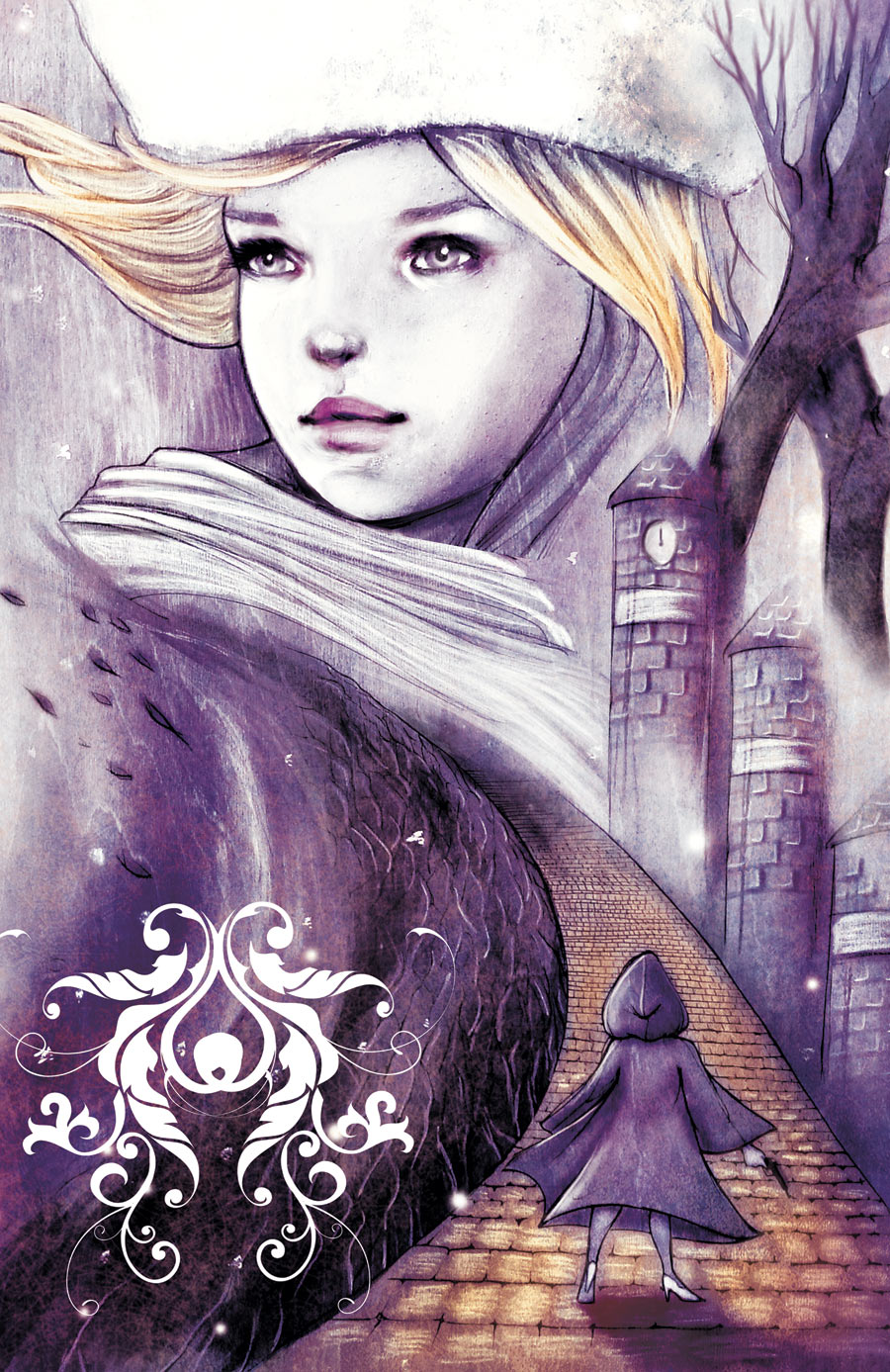 CINDERELLA: FABLES ARE FOREVER 6.  Eh. I like the floating head (surprise, surprise!  I like to keep you people on your toes!) but not much else.  It's kind of flat and dead…although the pretty design work in white is nice.  It's still hands and feet better than the issue #1 cover though, so there's that!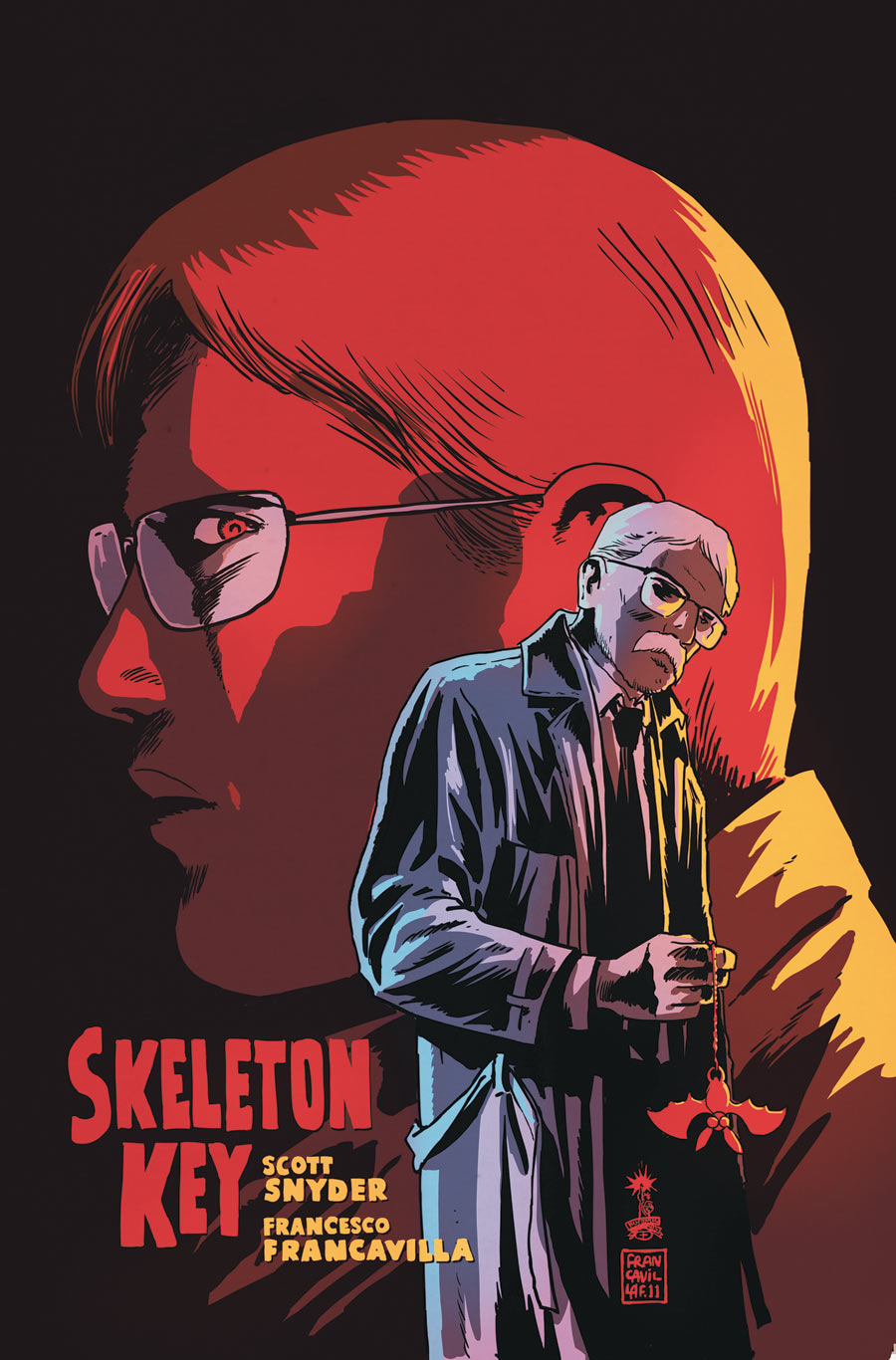 DETECTIVE COMICS 879.  Amazing.  Snyder and Francavilla are killing it on Detective Comics right now…I'm kind of surprised that this story is still going to be going on in July…but it's the best comic I'm reading right now, so if that's true, I'll take it.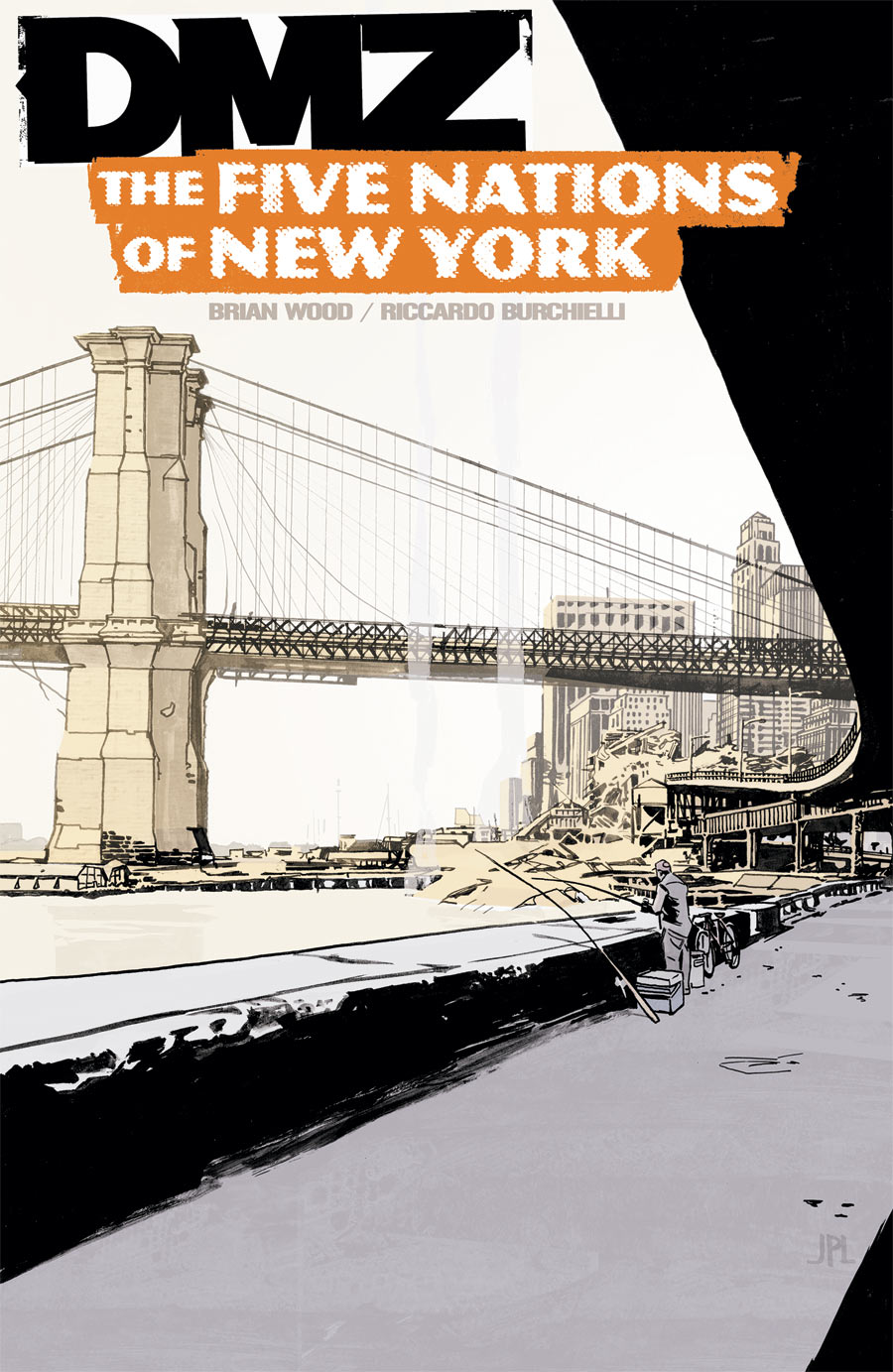 DMZ 67.  Very nice.  Destroyed "apocalyptic" New York scenes never fail to impress me.  There's just something so powerful about that imagery.  And it's done here with such a subtle almost casual hand.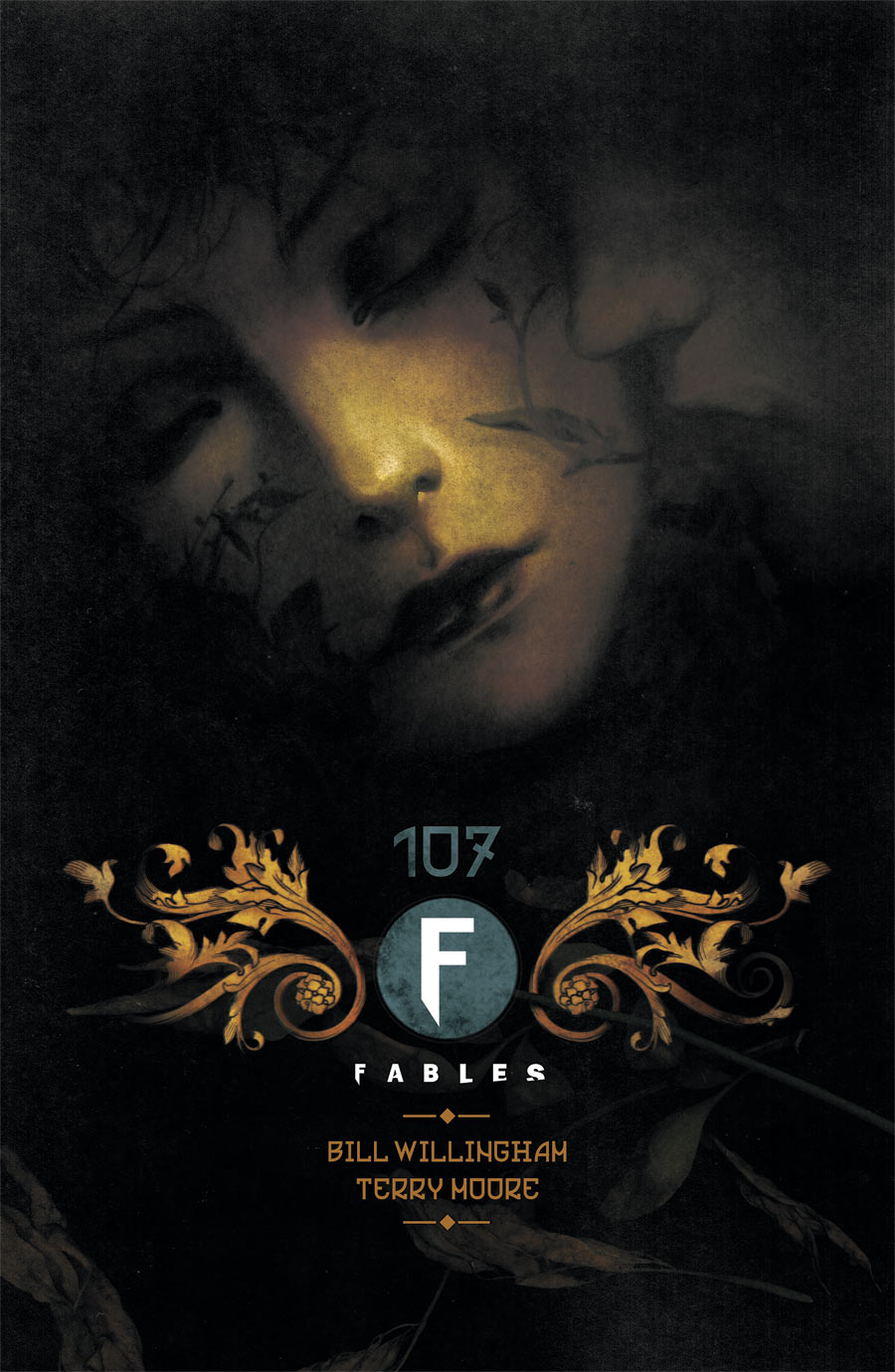 FABLES 107.  A very different look for Fables, but I'm into it.  Of course they've got the always brilliant text integration that makes it feel like a complete image, rather than just some text slapped onto something.  Cool to see Terry Moore will be drawing this.  And the solicit text suggests (as does the image) that it's about Sleeping Beauty (woo!) although it sounds as if it will turn out to be about The Snow Queen.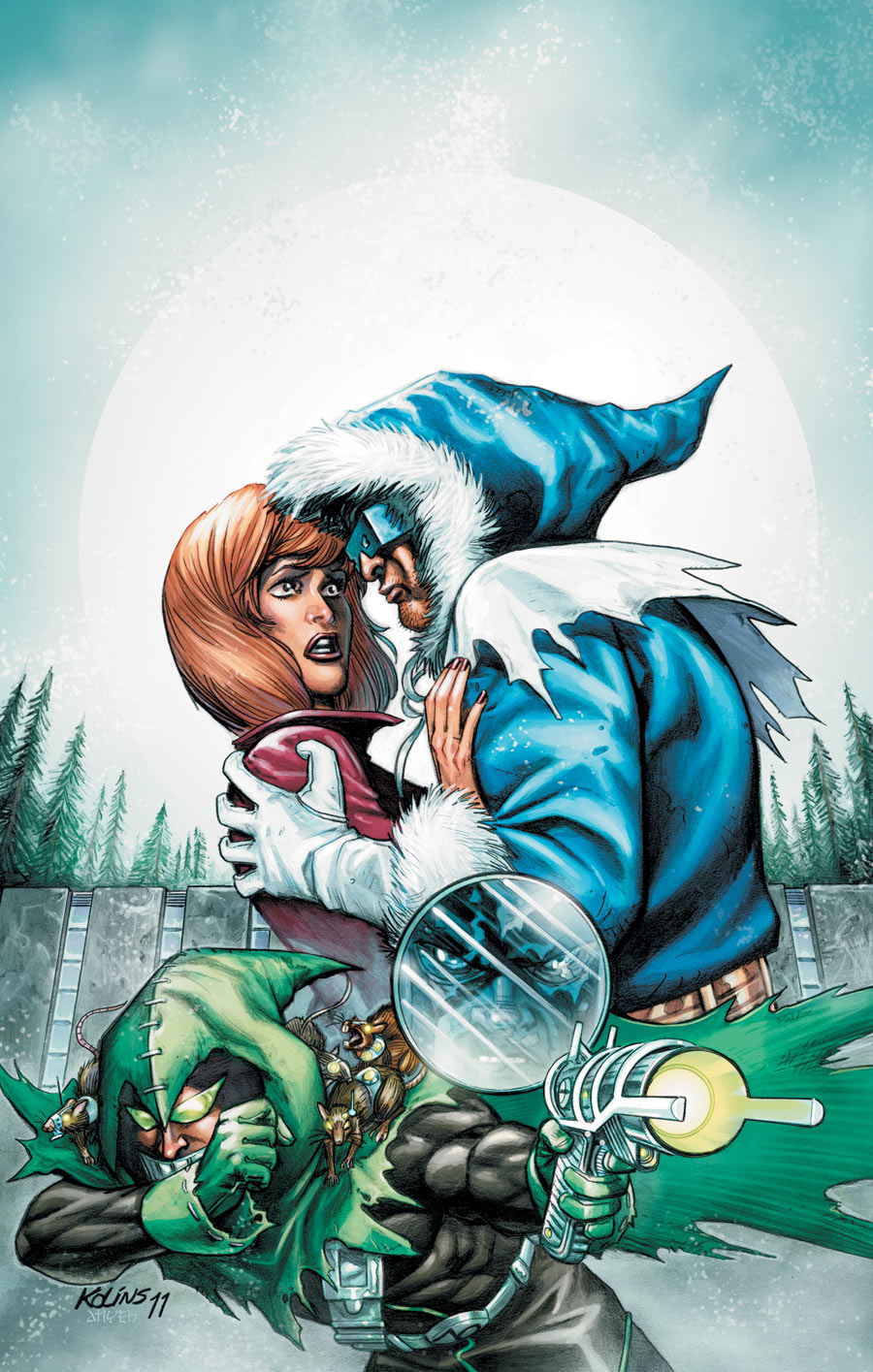 FLASHPOINT: CITIZEN COLD 2.  HAHAHAHAA!  Are they serious with this?  Look at that dude's pursed lips?!  And her horrified expression…I'm with you lady.  Also…is the guy on the bottom crawling with fucking rats?!?!  JESUS CHRIST ON A BIKE.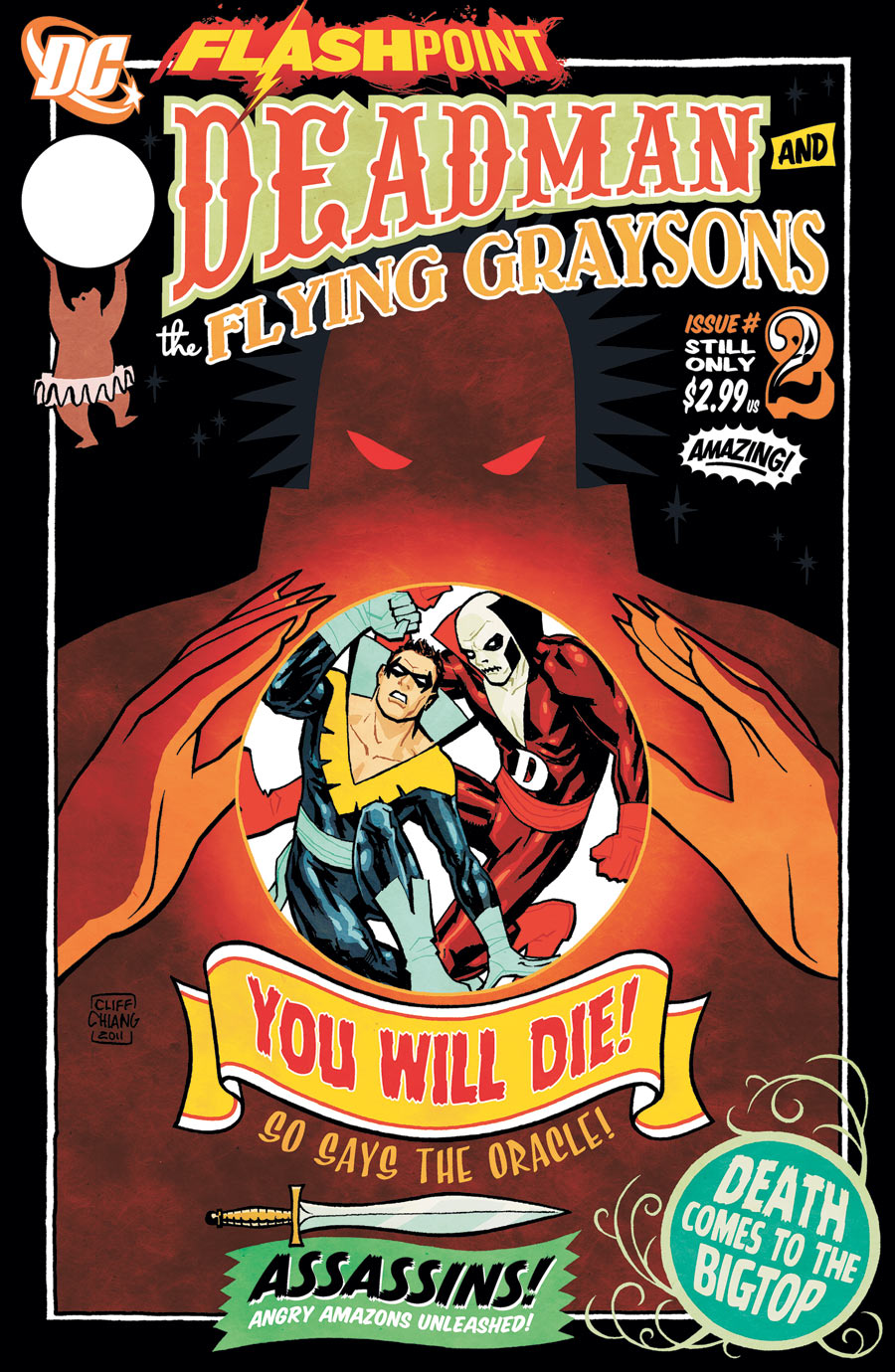 FLAHSPOINT: DEADMAN AND THE FLYING GRAYSONS 2.  Beautiful Cliff Chiang cover, no surprise there.  Too bad we have to have that annoying "Assassins! Angry Amazons Unleased!" banner.  Booo!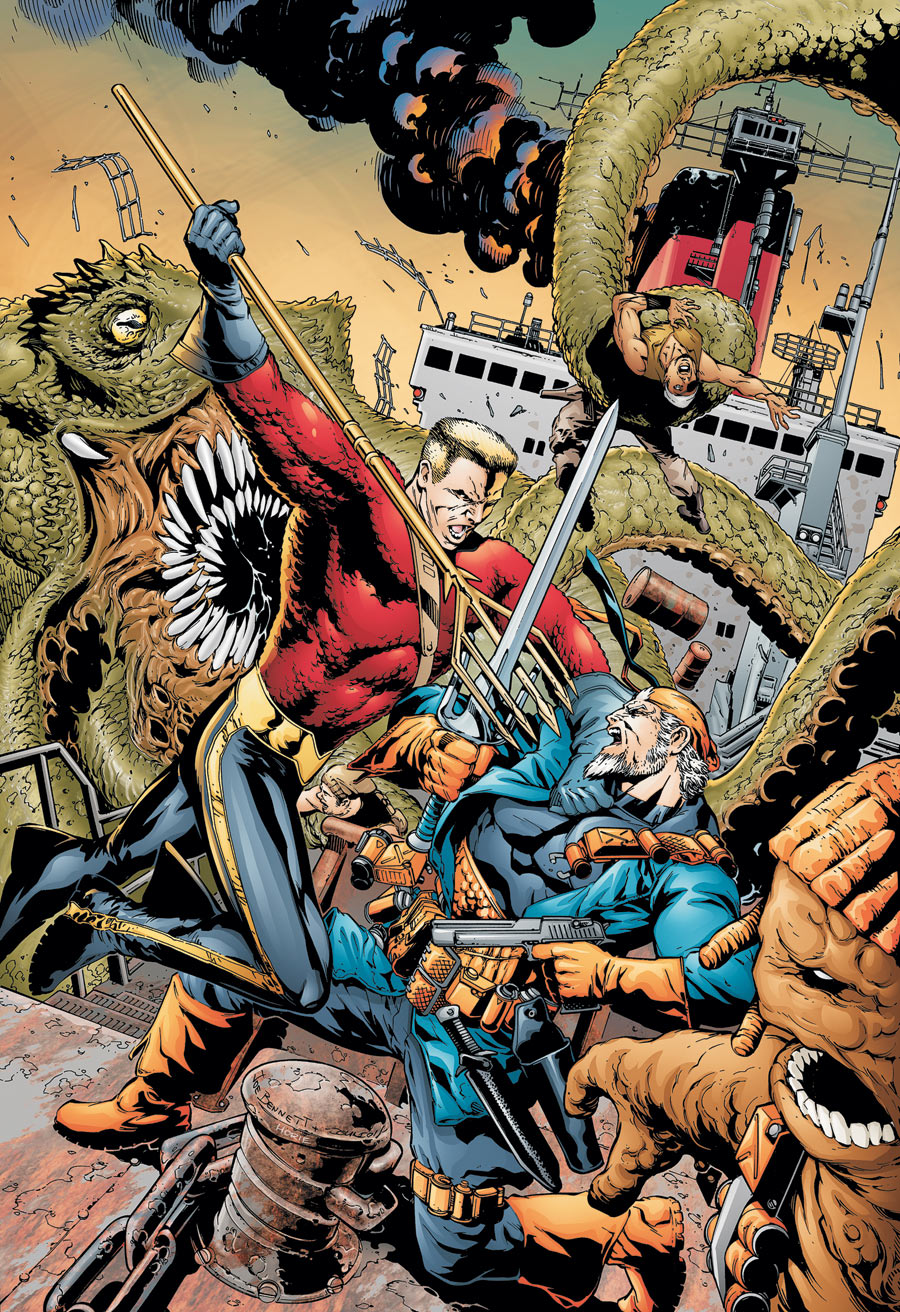 FLASHPOINT: DEATHSTROKE AND THE CURSE OF THE RAVAGER 2.  Is that thing behind Aquaman supposed to be that thing in the desert that Lando almost gets eaten by in Jedi?  Tooootally looks like it.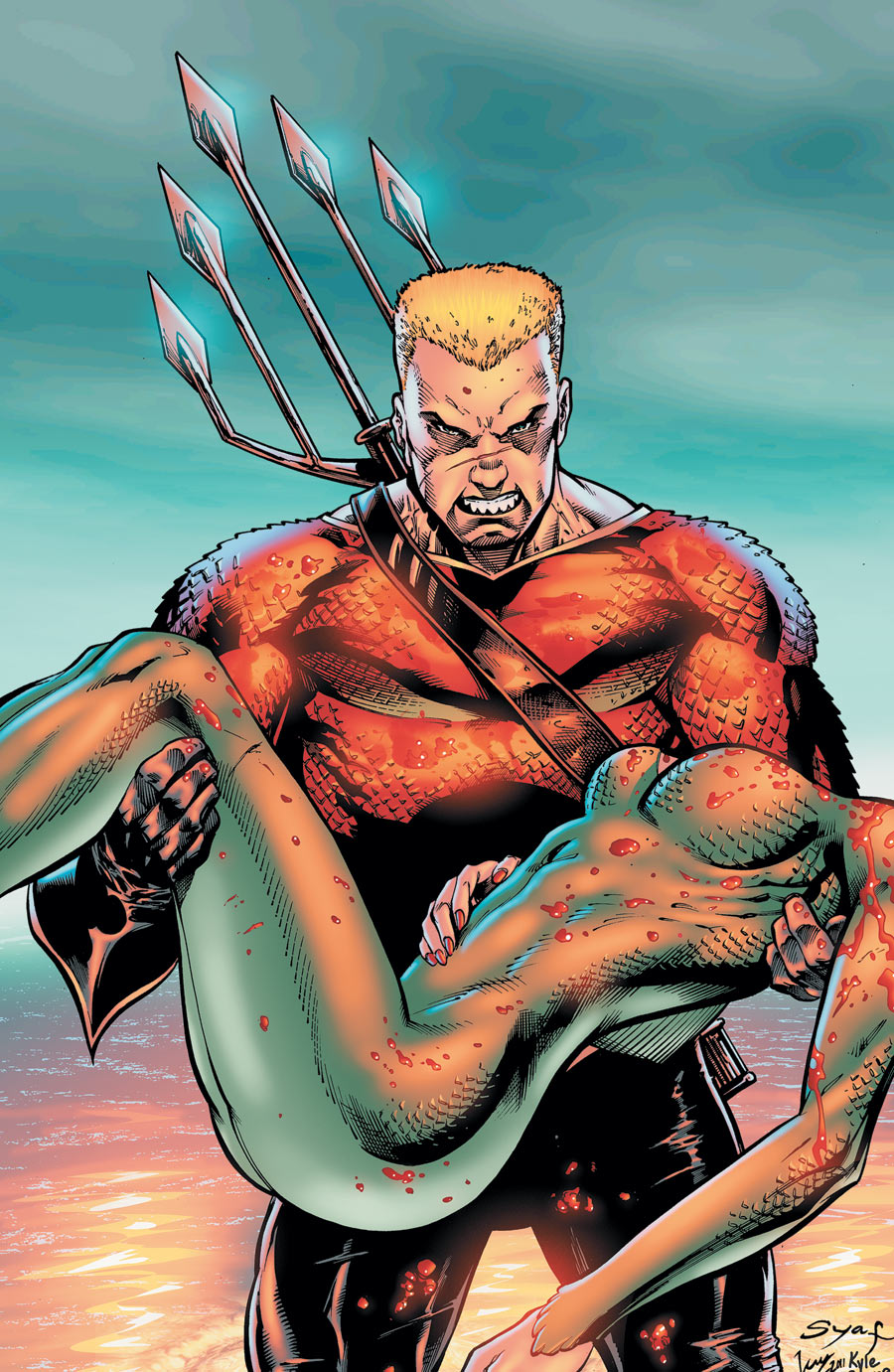 FLASHPOINT: EMPEROR AQUAMAN 2.  Ooh goody!  Say it with me now….SHE HAS NO MOTHERFUCKING HEAD!
C'mon comics.
Interesting fact:  Did you all know that I based my She Has No Head! column name on this image, which I went batshit crazy over?  Could have based it on this one though.  Good times comics.  Also, fuck you comics.
Man…this Nyquil Veuve combo is INTENSE.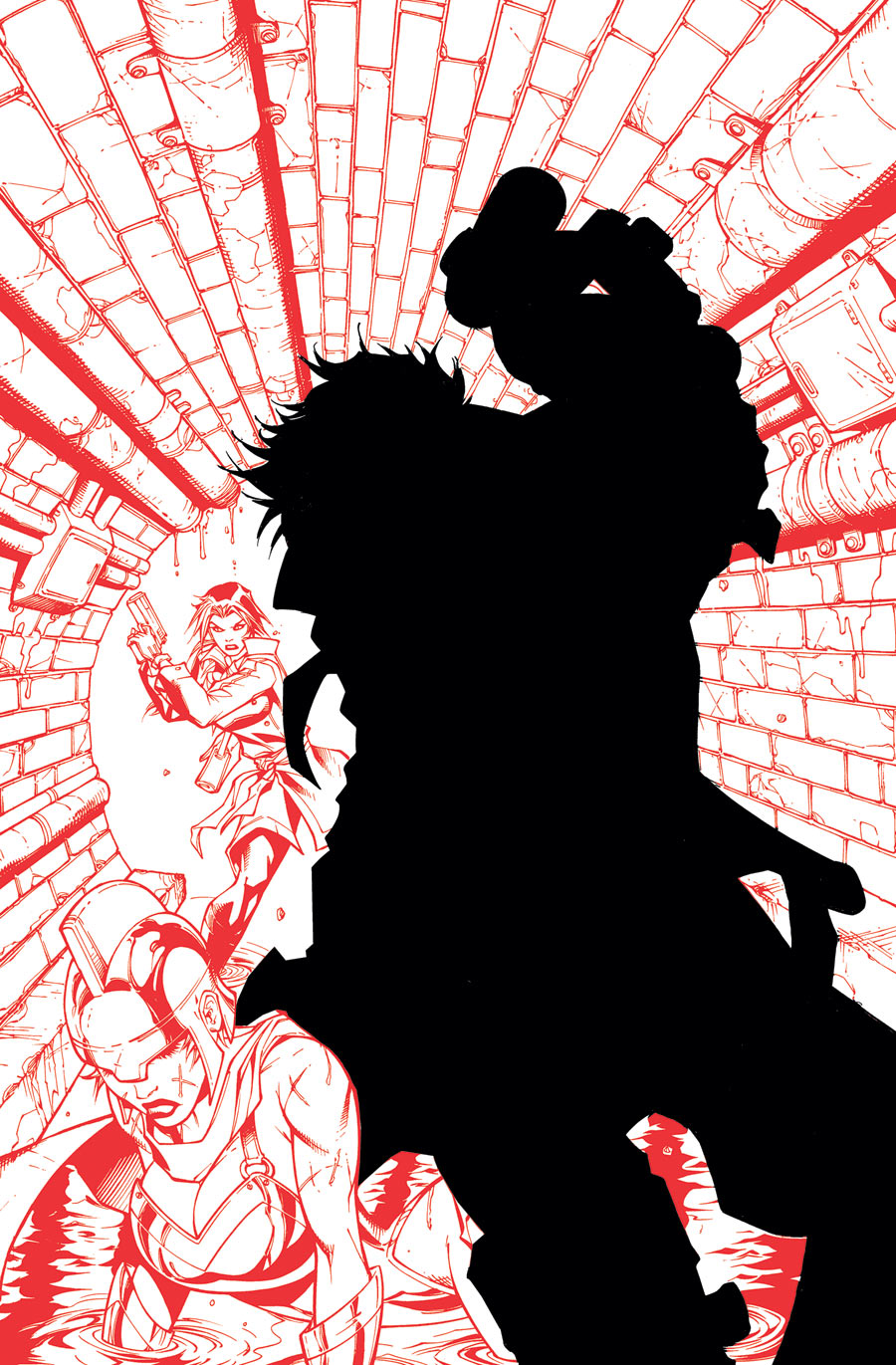 FLASHPOINT: LOIS LANE & THE RESISTANCE 2.  Bah. Sue and Maddy and I already well-covered this on 3 Chicks last week and Sue covered it well on her blog DC Women Kicking Ass as well, but to recap.  What the fuck?  A "beaten/defeated" Amazon in the foreground, all submissive and shit, but making sure to do her best "brokeback" impression (i.e. showing off both her magnificent tits and ass simultaneously), plus Lois, the apparent "star" of the book, so far in the background you can barely tell she's in the book.  Also, I'll bet you a million shrute bucks that the person blacked out in the foreground is a dude.  That said, at least blacking the figure out is the preferable way to hide a spoiler…rather than just NOT GIVING A CHARACTER A HEAD.
Also, since we're WAY over the 3 sentence limit already, let me just mention the size of that nameless Amazon's boobs…I mean seriously, look at them.  As a chick that walks around with double-d's, let me tell you, my double d's are not remotely larger than my goddamn head…so what size must those be to be larger than her head AND helmet?  Like a triple K?  What are we looking at here?   Meanwhile do you see the size of her waist?  Fuck this comic.  To think I had been excited at the idea of reading a Lois Lane comic for like the first time ever! Wrong again Kelly!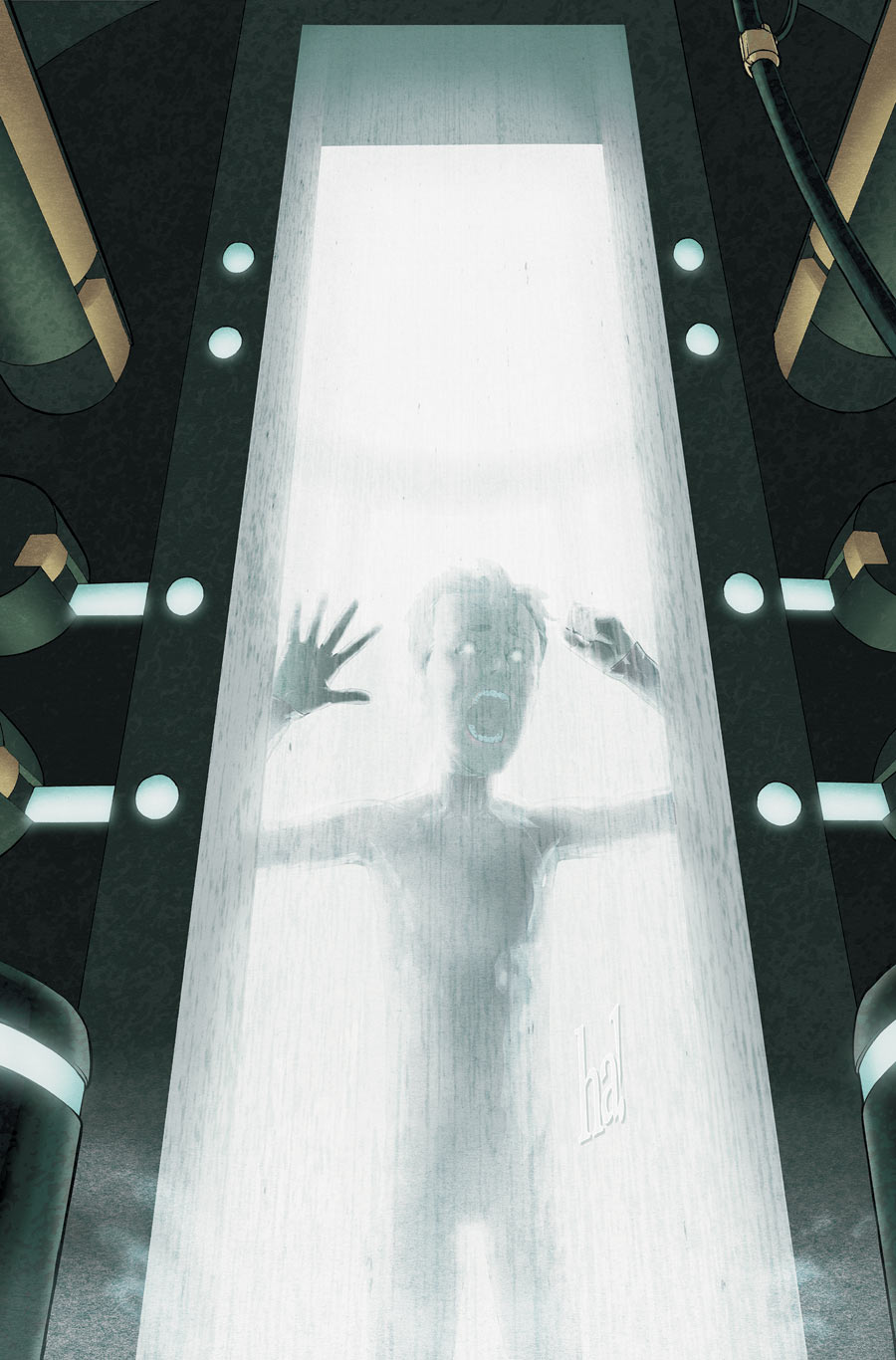 FLASHPOINT: PROJECT SUPERMAN 2.  Wow, this is definitely a case where the artist's signature is badly placed…especially considering the signature.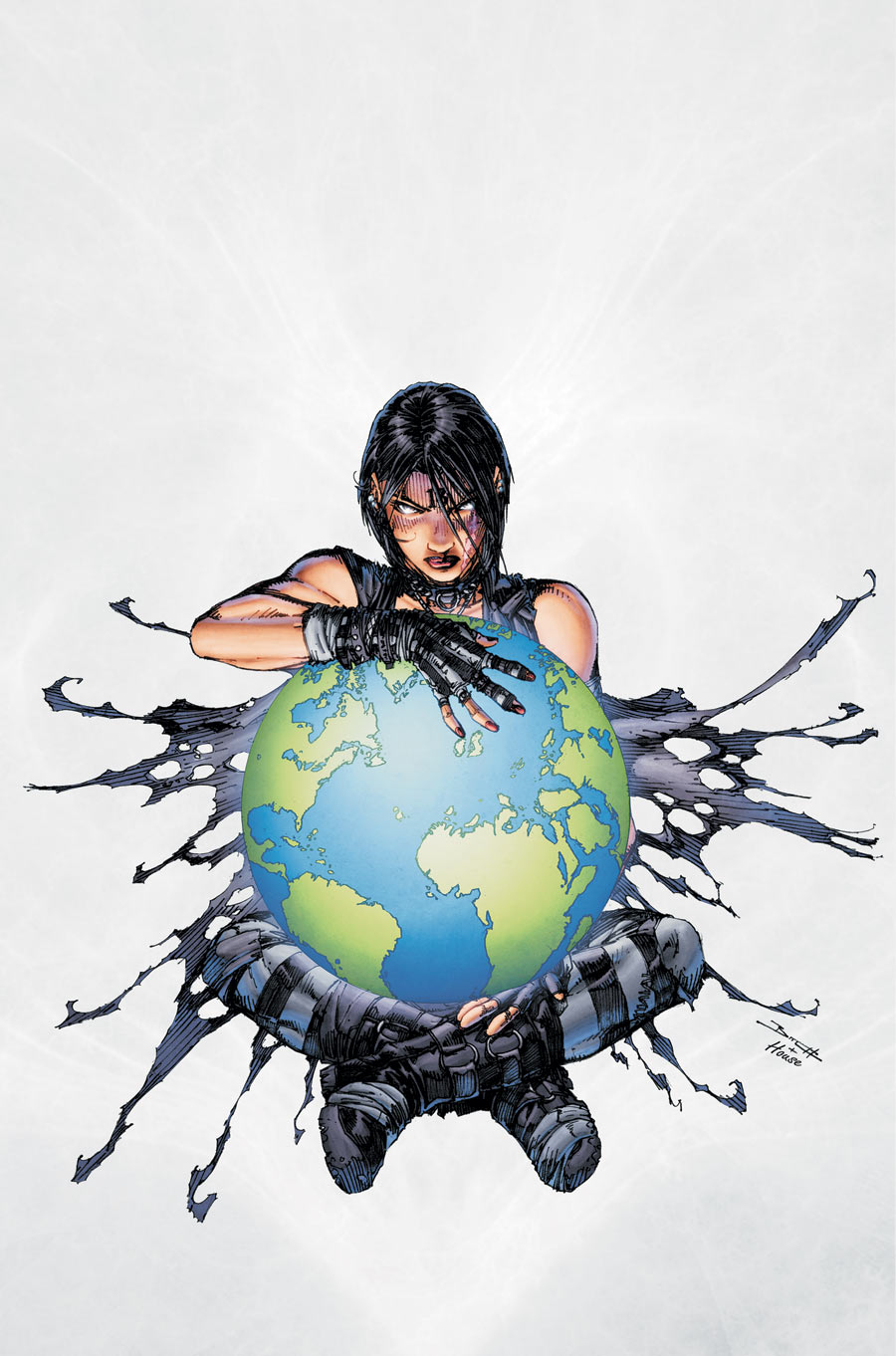 FLASHPOINT: THE WORLD OF FLASHPOINT 2.  I despise Brett Booth's art, but I'm excited for this book, hopefully he's not on interiors.  Love Traci 13.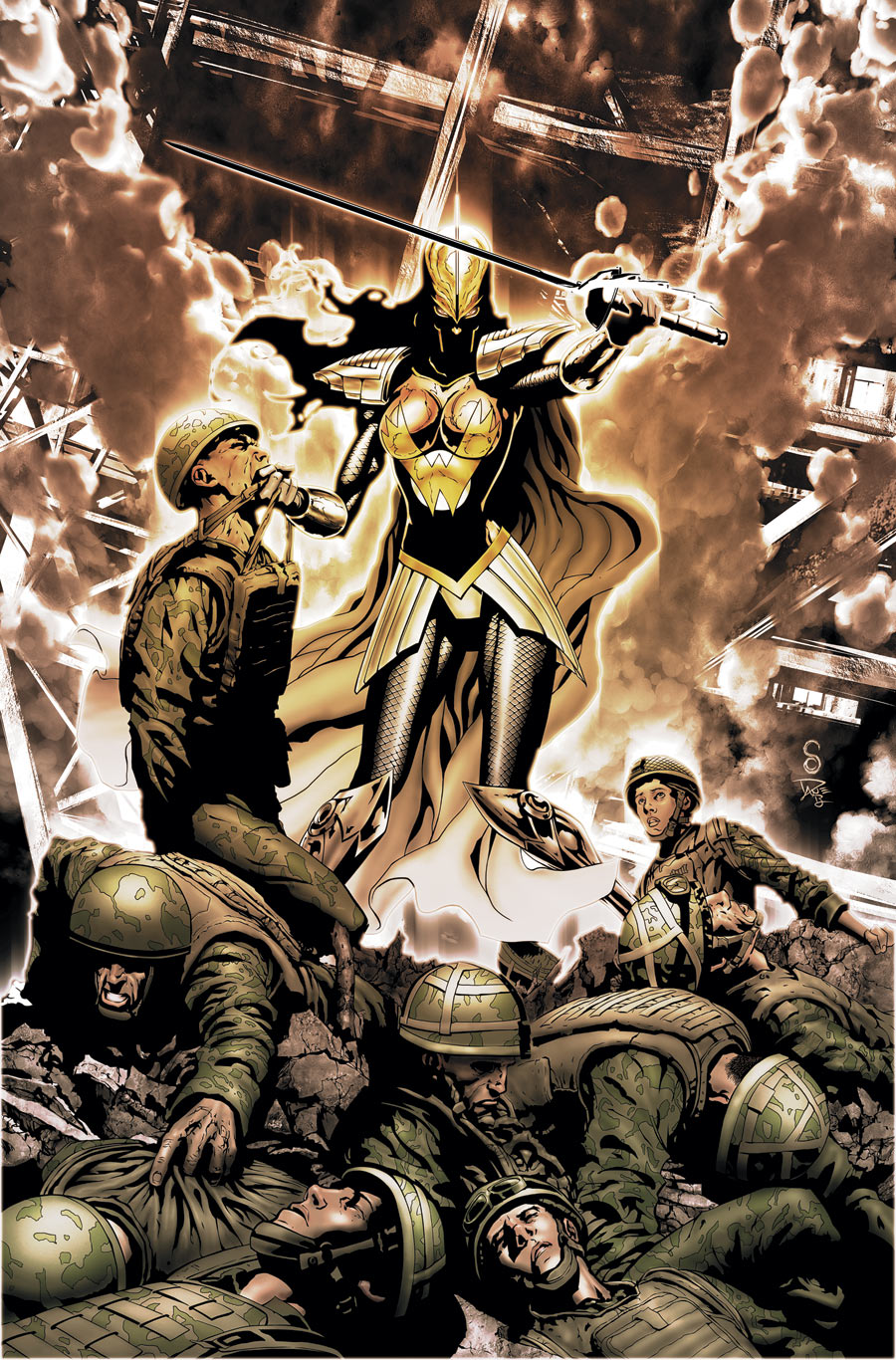 FLASHPOINT: WONDER WOMAN AND THE FURIES 2.  To think I was excited about a title called "Wonder Woman and the Furies" silly silly girl…when will I learn.  Diana's costume is pretty cool here…though it would be great if it didn't look like she had steel bowling balls strapped to her chest. Yeah, murdering soldiers, that's SO what Diana the "star sapphire character" is all about. Make up your minds dudes…is she all about love, hate…which is it?  You fools wouldn't know the real Wonder Woman if you tripped over her.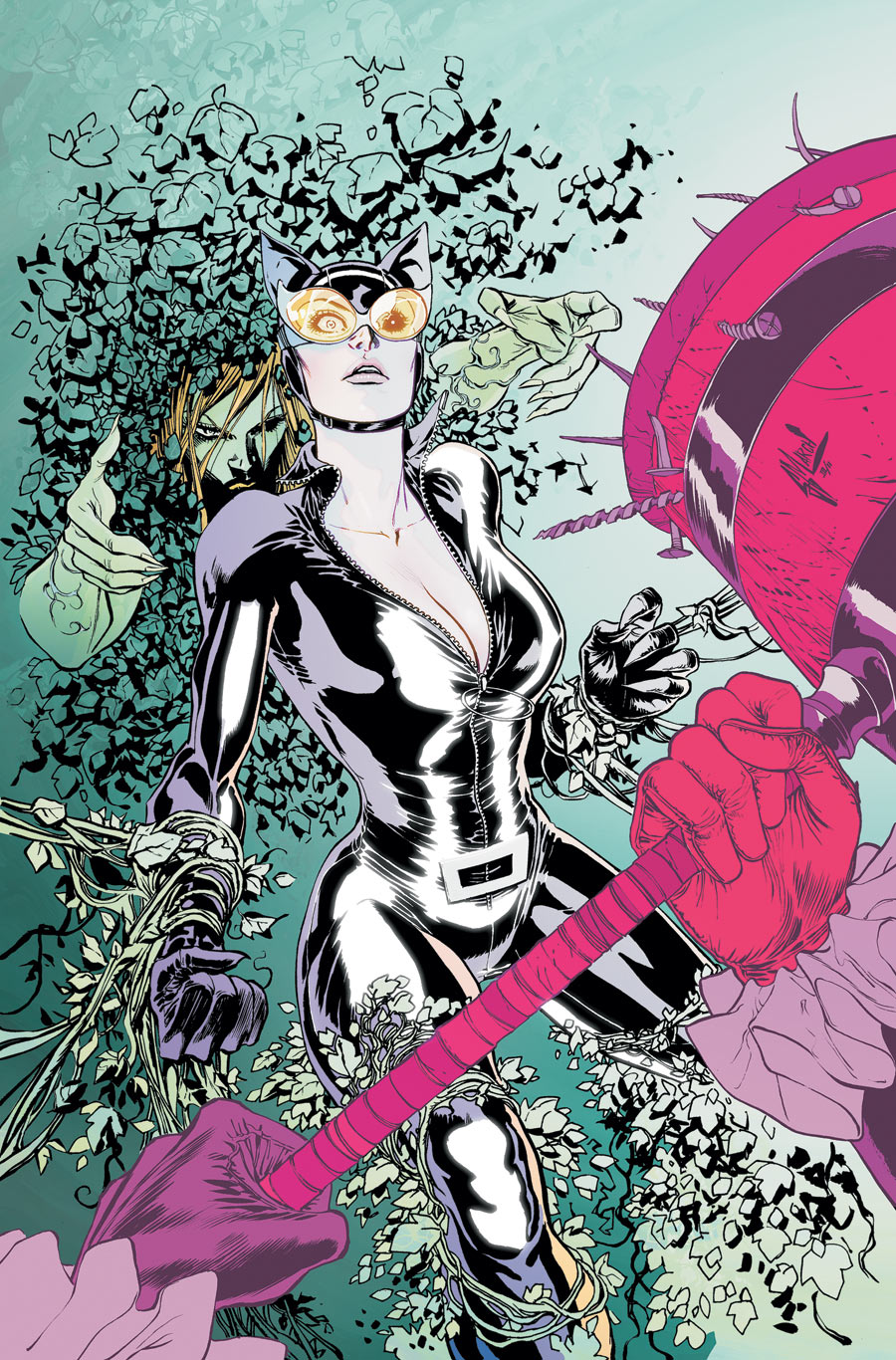 GOTHAM CITY SIRENS 25.  Despite the annoying March art, and the unzipped catsuit, which is apparently standard issue for every female comics character upon their creation, the stuff with Poison Ivy here is kinda cool.  I like how she's attacking Selina, and kind of coming out of nothing.  The foreground with Harley is pretty weak though.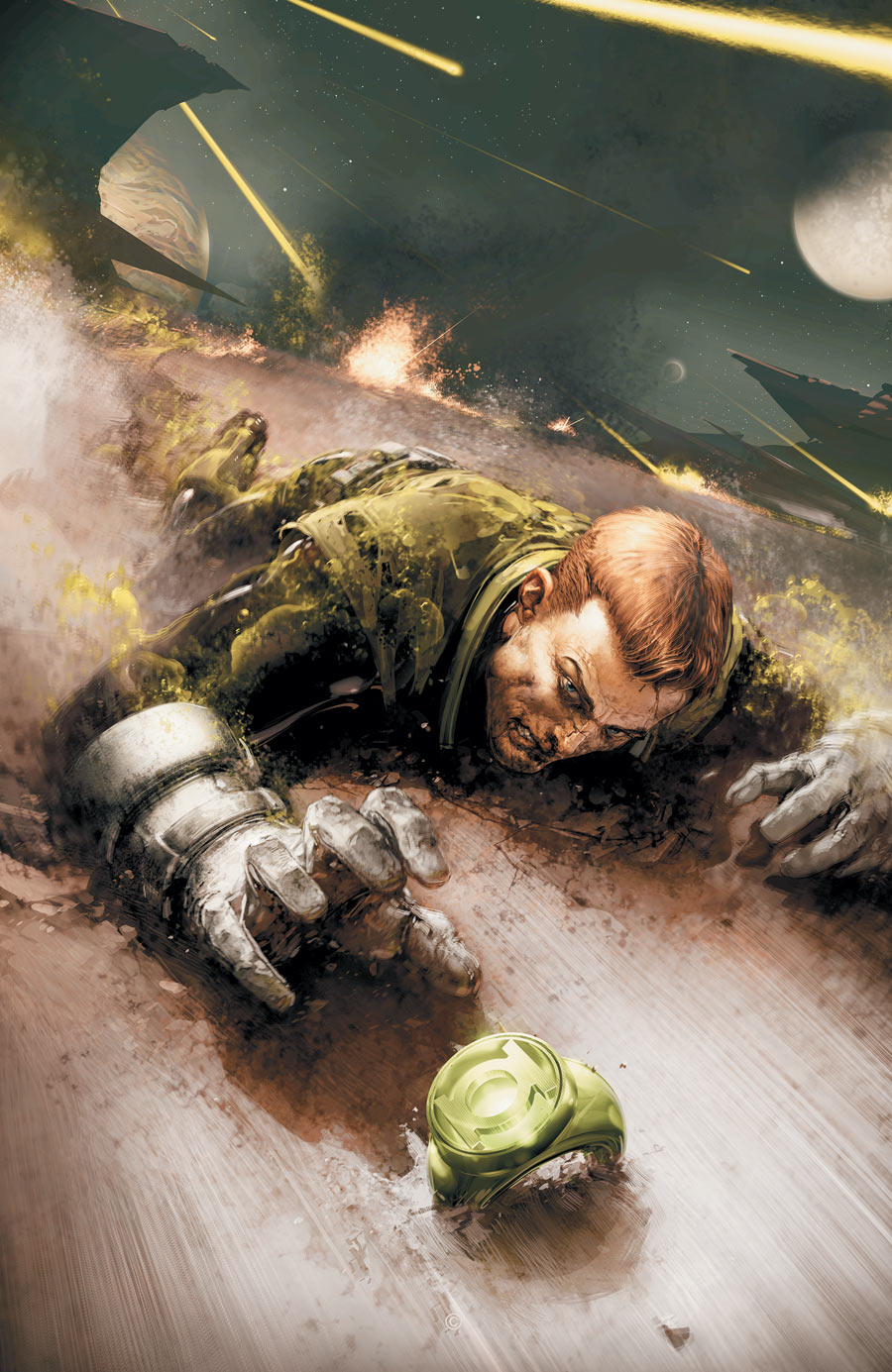 GREEN LANTERN EMERALD WARRIORS 12.  I mean, I know the size of the ring is probably like some penis size thing…but isn't it a LITTLE on the large size here?  I mean it looks like a goddamn bracelet.  And an ugly one at that.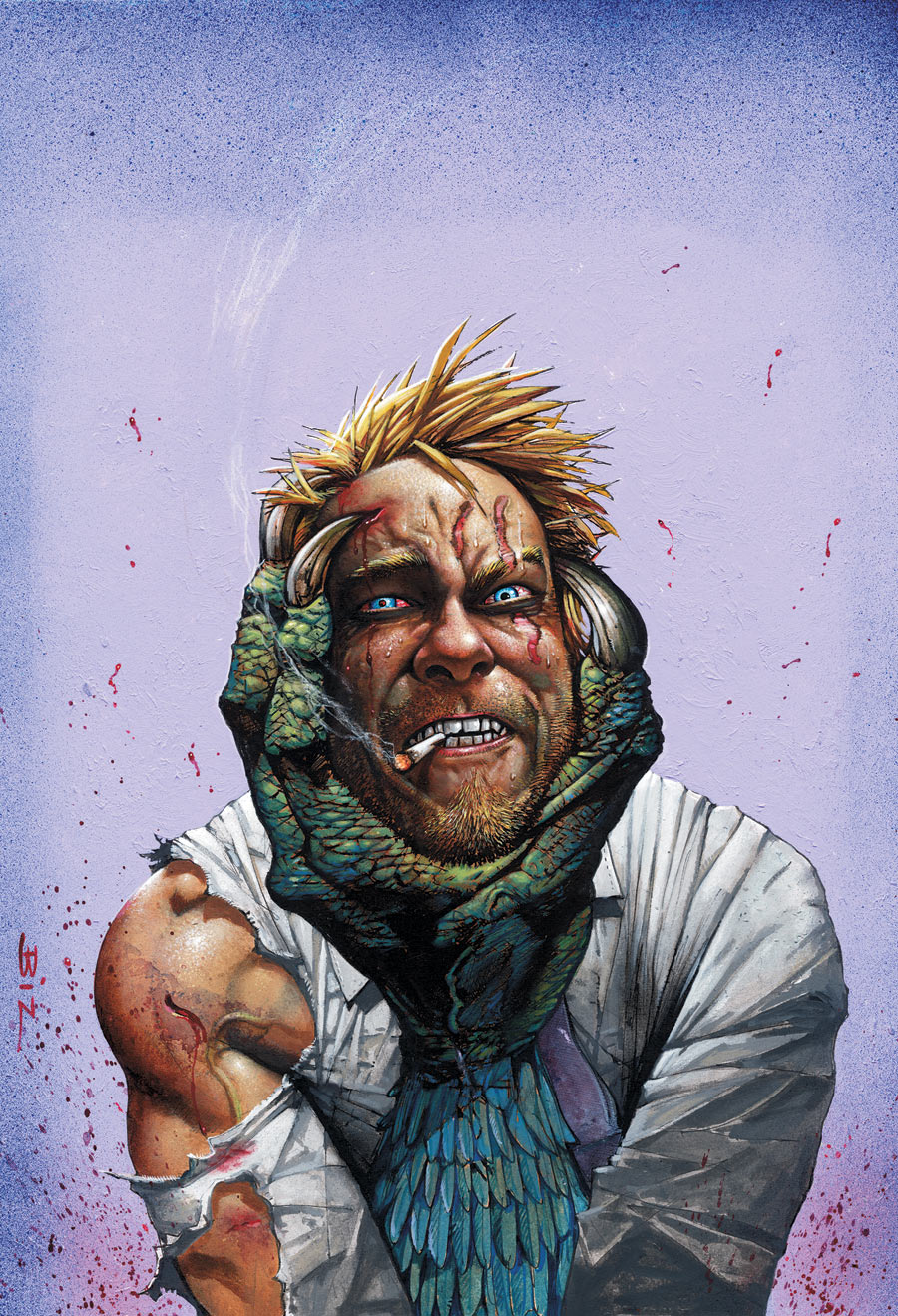 HELLBLAZER 281.  Awesome.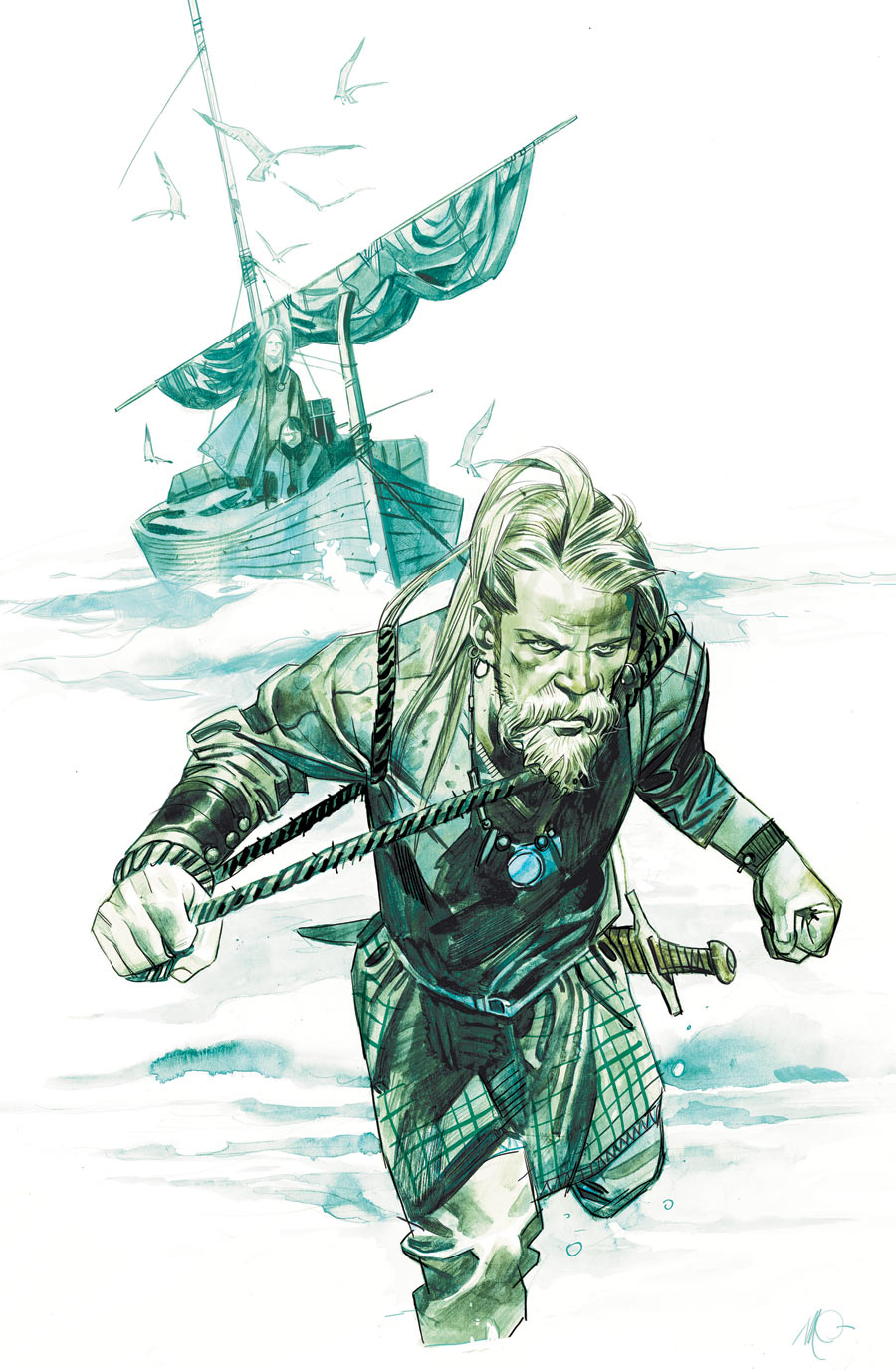 NORTHLANDERS 42.  Wow.  The color choices here are so great, it really works.  Love the white space too.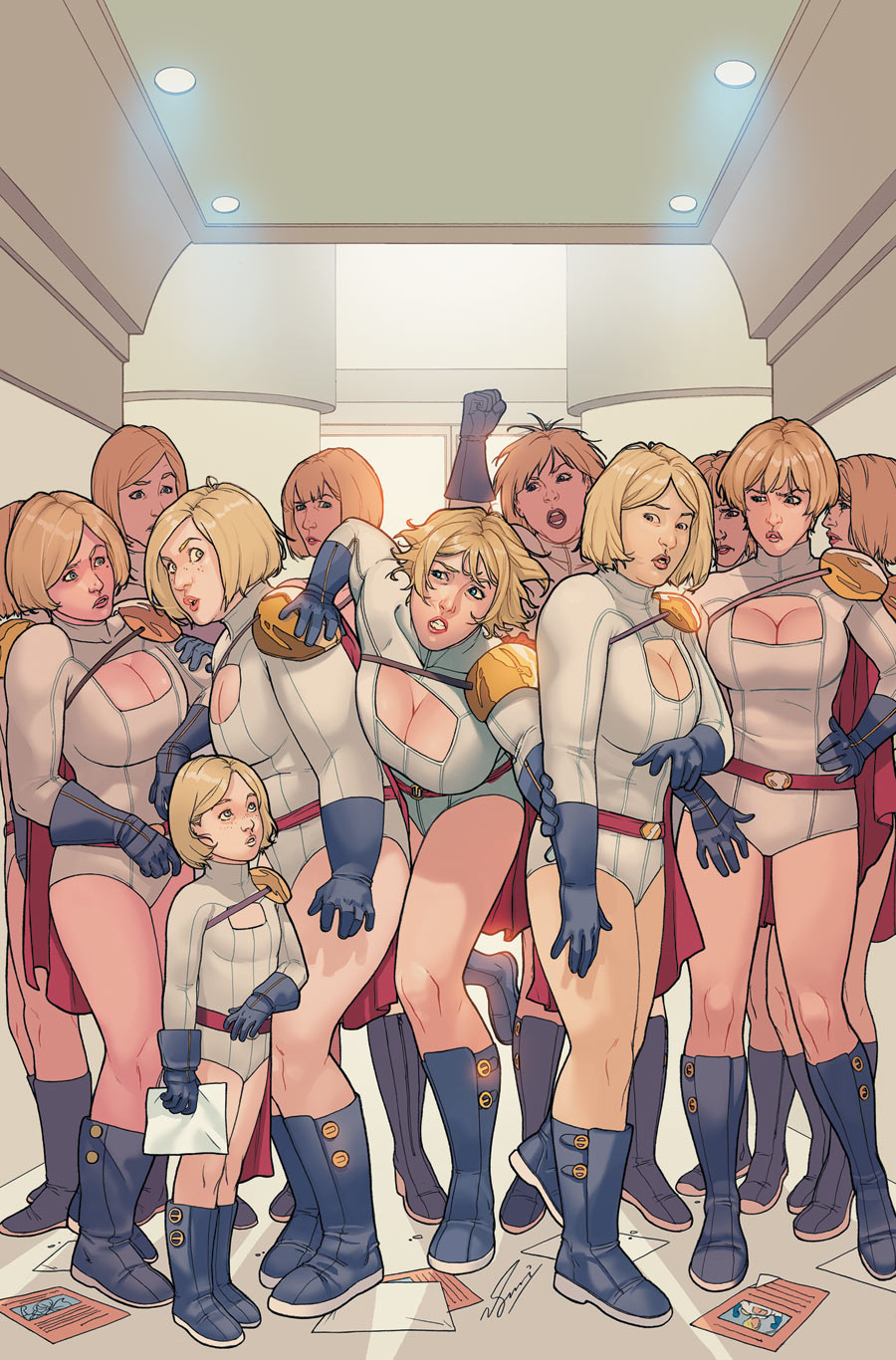 POWER GIRL 26.  This is actually pretty fantastic.  Especially the little girl Power Girl.  Adorable.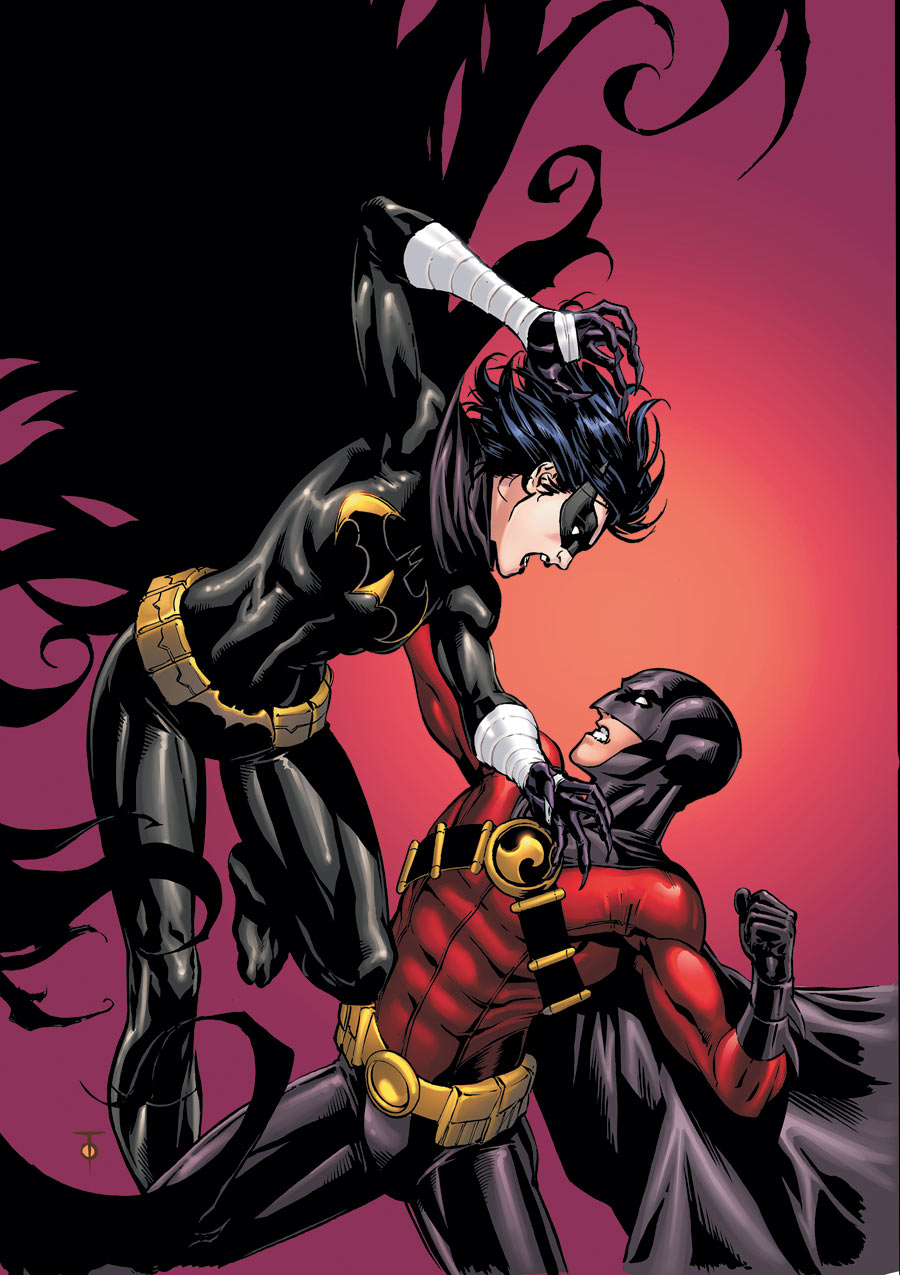 RED ROBIN 25.  Oh bite me Fabian Nicieza.  You wouldn't know Cass Cain if she kicked your sorry ass to kingdom come.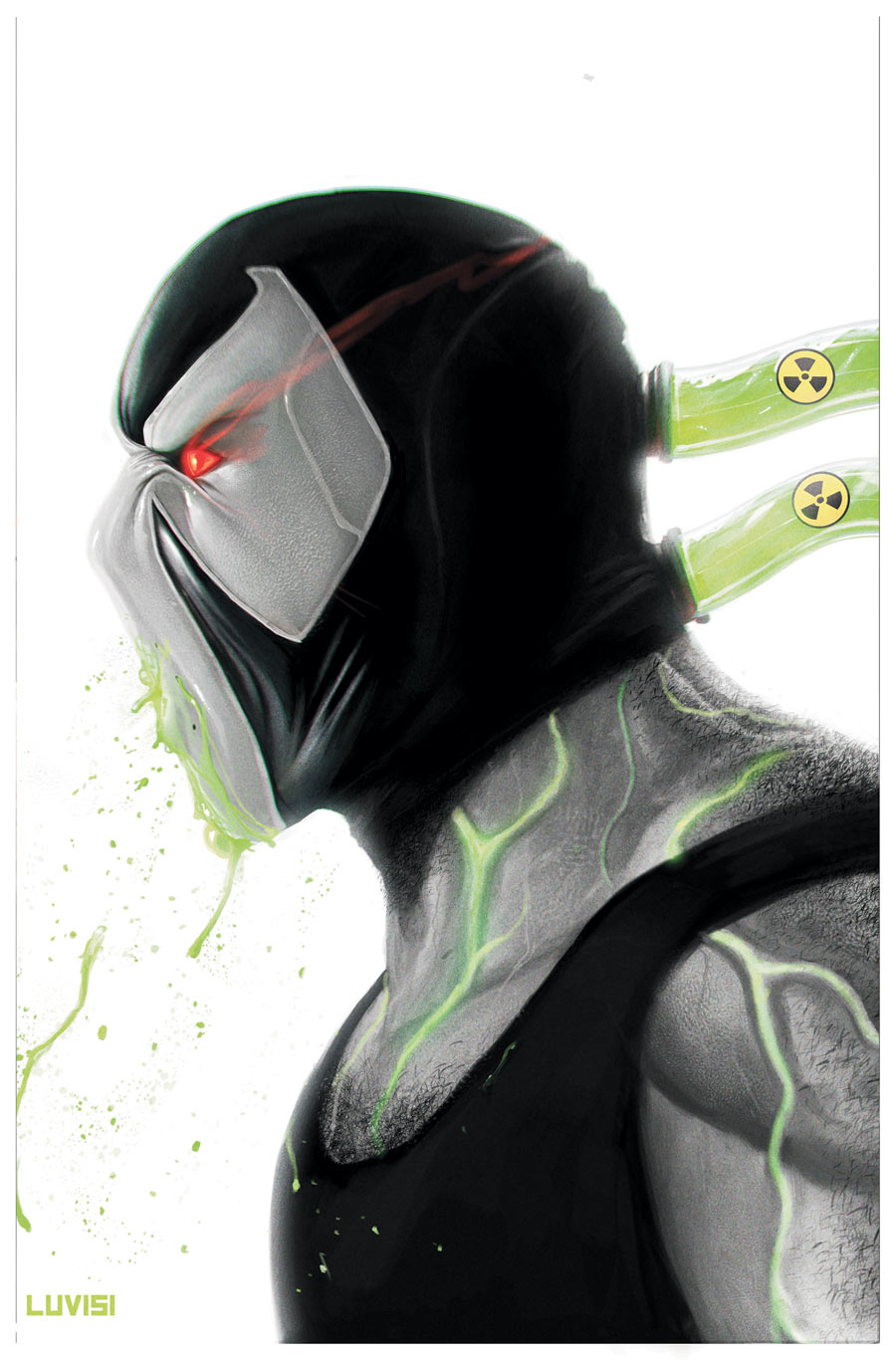 SECRET SIX 35.  Blech.  But pretty cool nonetheless.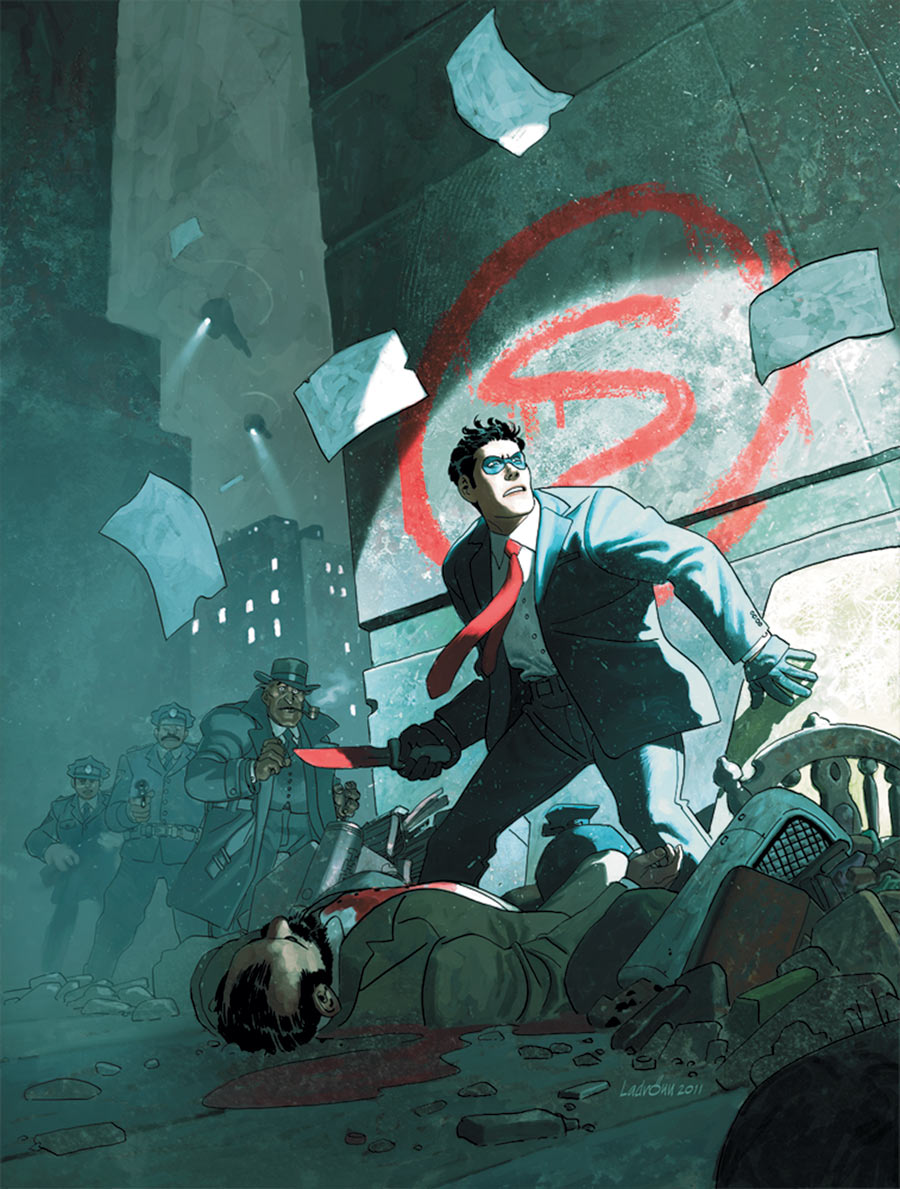 THE SPIRIT 16.  As usual with Spirit covers, it's the expression that really sells it.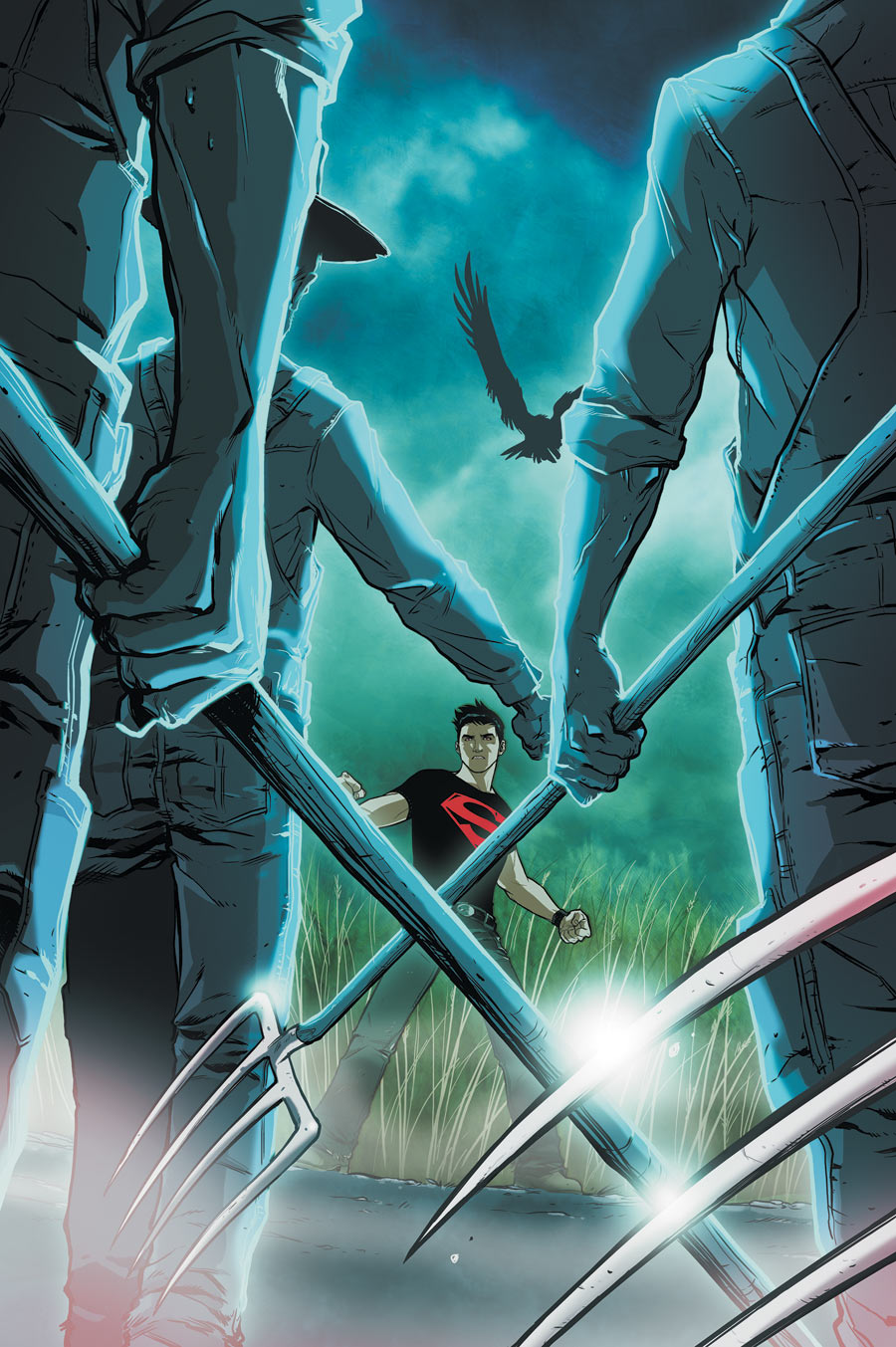 SUPERBOY 9.  This is pretty nice…I wonder if I'd like it better if the foreground was a little more stylized and darker…like shapes instead of distinct figures.  Still nice, the composition and colors are great.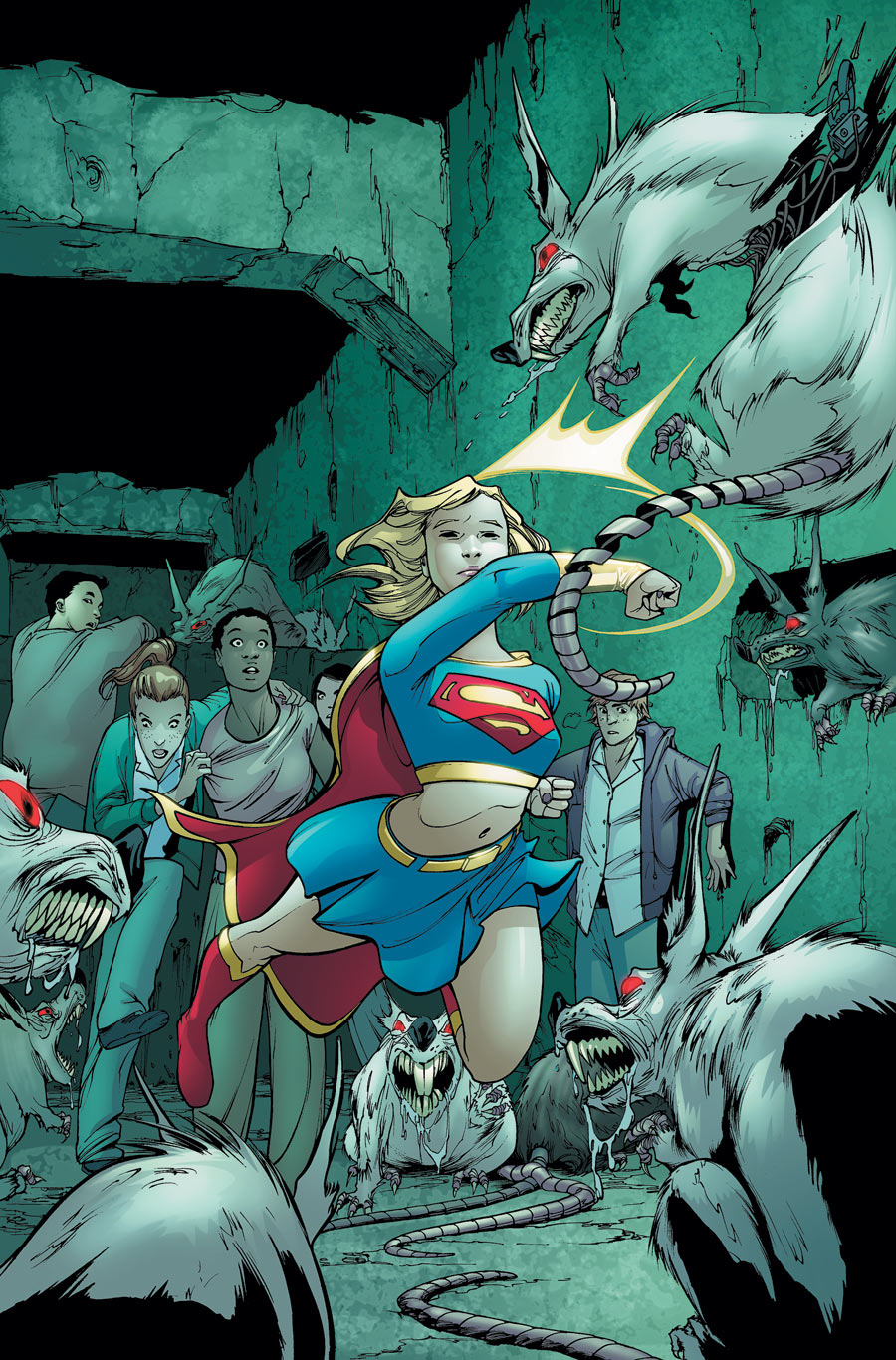 SUPERGIRL 66.  Oh Amy Reeder, how you rock.  Your Supergirl is so fantastic.  I mean, did she just punch a giant robot rat into pieces mid-air?  Awesome!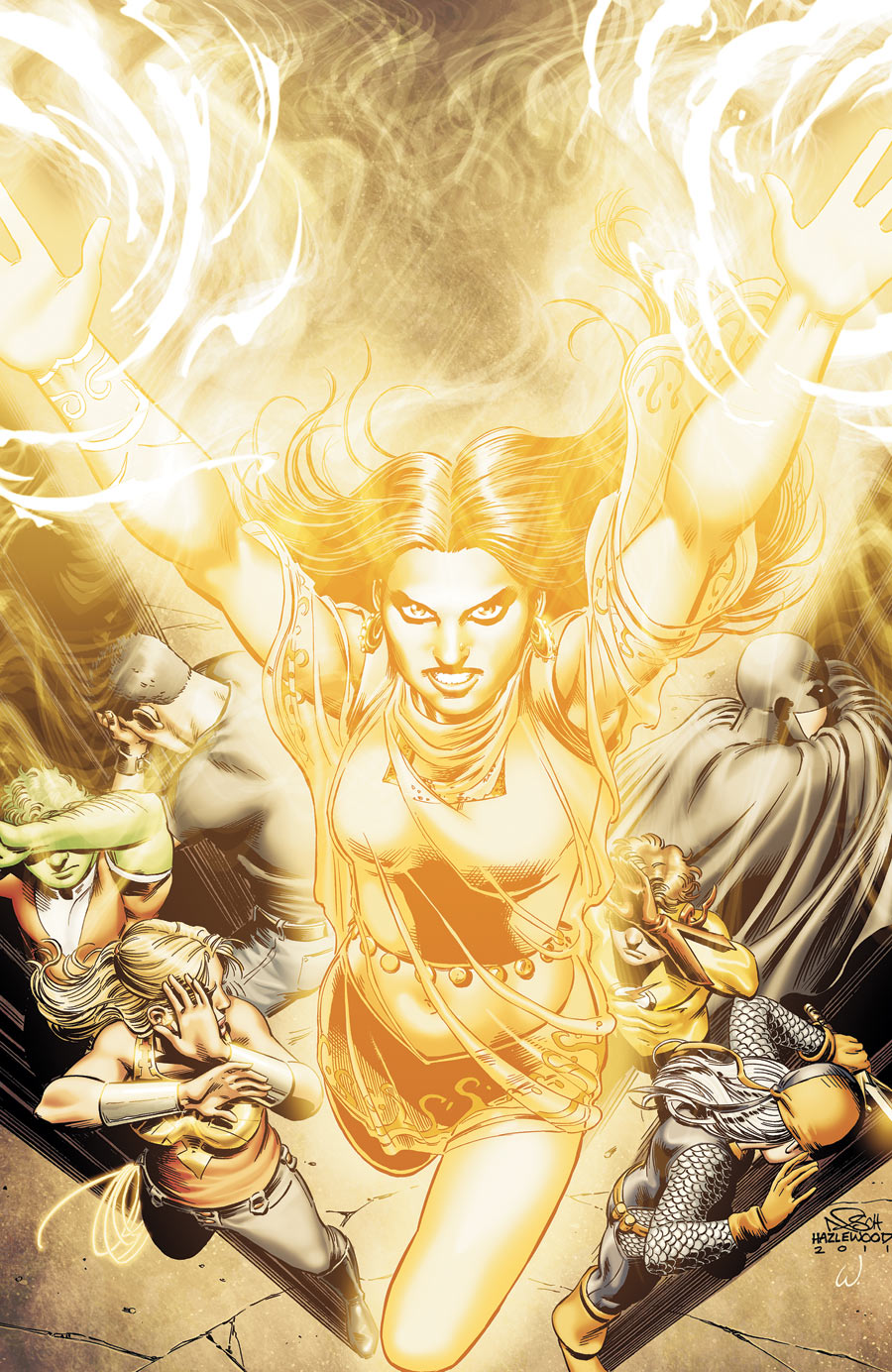 TEEN TITANS 97.  Wait, is Solstice bad already?  She looks totally bad here, no?
Oh wow…that was a surprising ending…there was lots to rage about…but then it just kind of petered out.  Oh well…onto the Marvel solicits where I'm sure I will find plenty more to fuel my drunken rage!!!!  Waitaminute…this is only "T"…surely there is more…where is Wonder Woman and Zatanna…?  HMMM.
Please pause for technical difficulties…
AHA! I found like five more…drunken rambling resumes…now!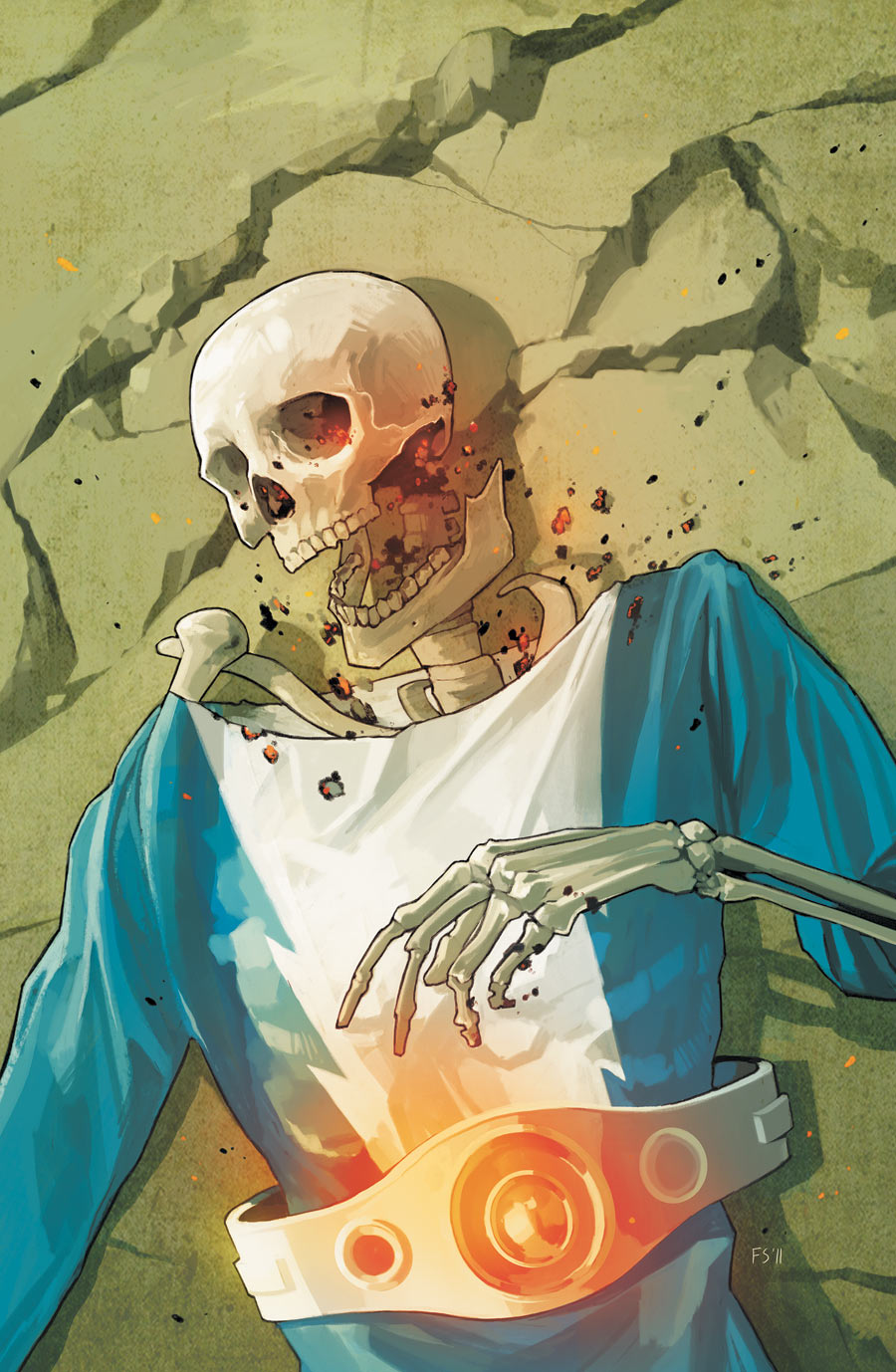 THUNDER AGENTS 9.  Cool.  Fiona Staples?  Yep.  No surprise then I guess that I dig it.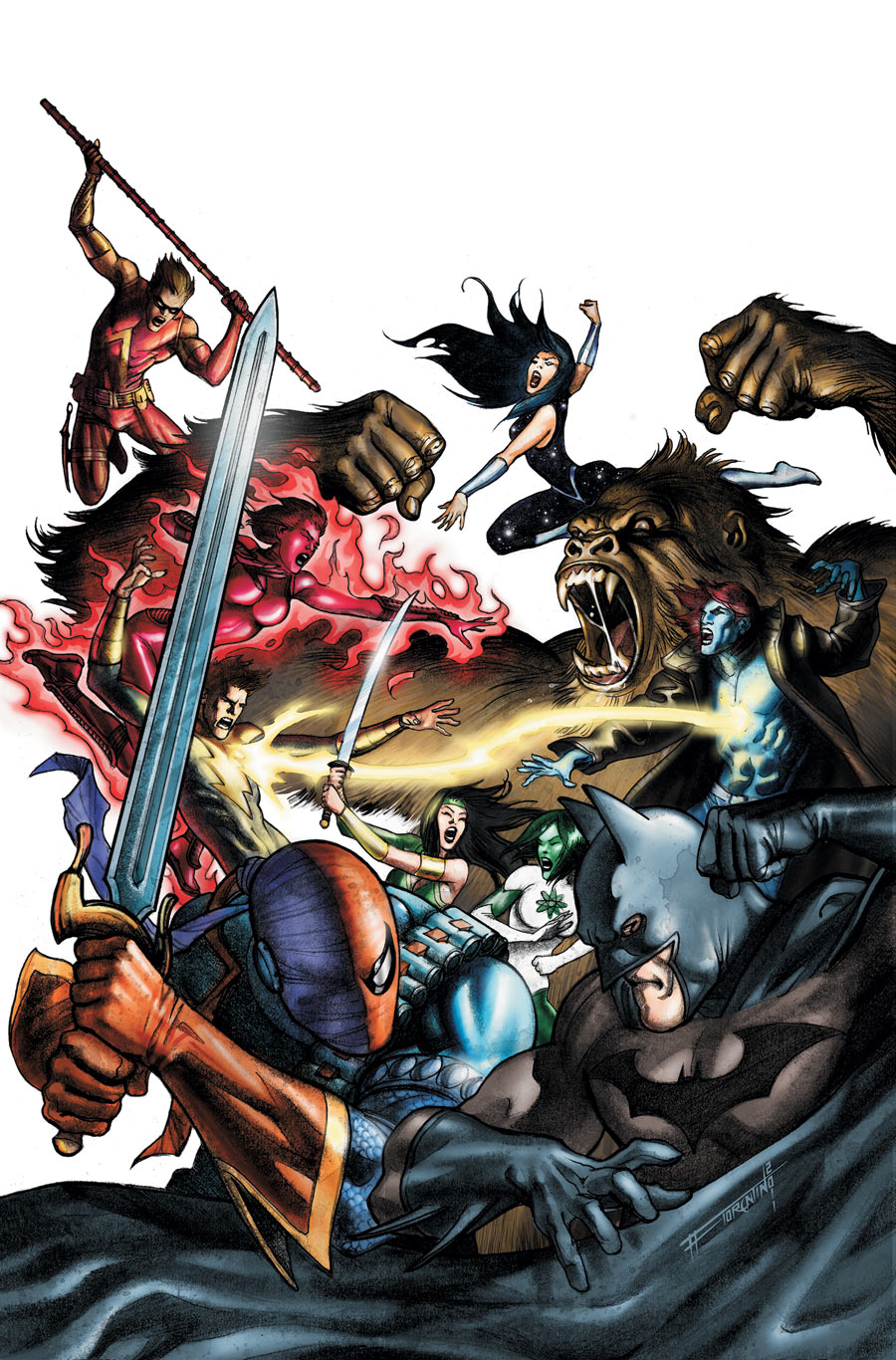 TITANS ANNUAL 2011 1.  For a 'jam everyone on the cover' cover this is pretty good.  Also, bonus points for a decent costume on Donna Troy.  You rarely see that.  This could be a collector's item!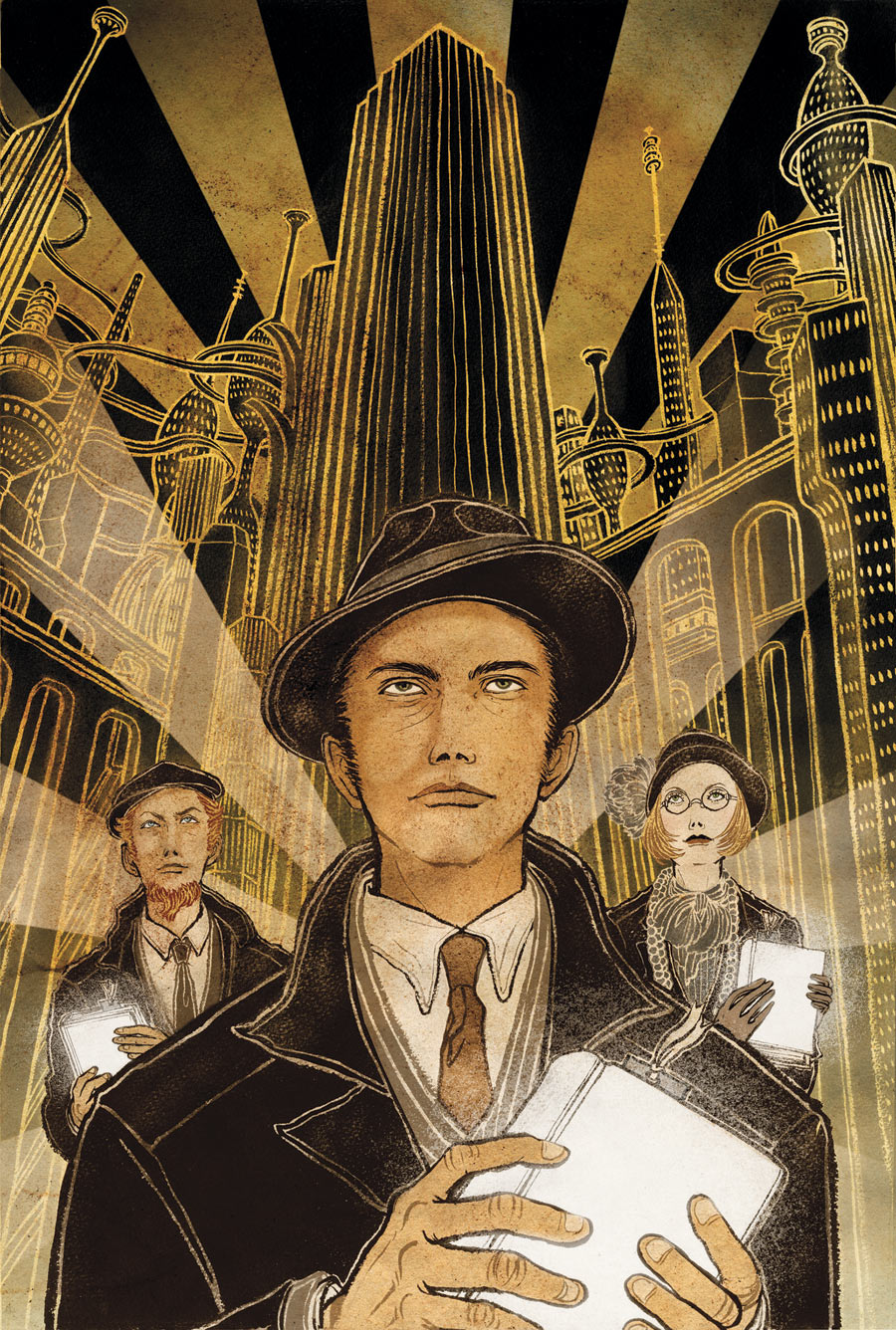 UNWRITTEN 27.  Gorgeous.  The colors on this are freaking fantastic.  Also the glowing white books are wonderful.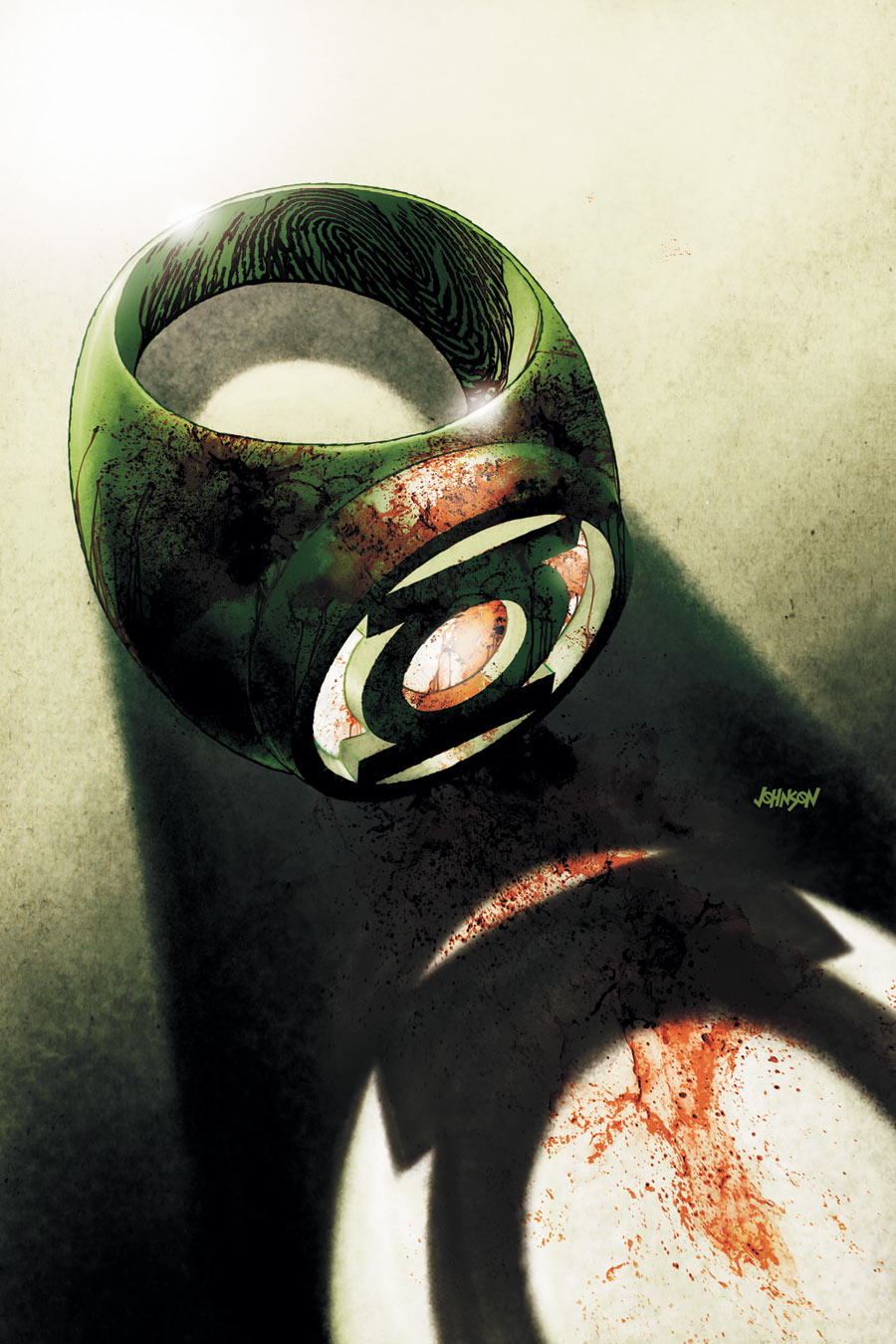 WAR OF THE GREEN LANTERNS: AFTERMATH 1.  I'm not all gaga over the ring…and the whole "lantern" thing has always seemed a bit silly to me, but this does a pretty good job of capturing the epic and iconic aspects of the ring.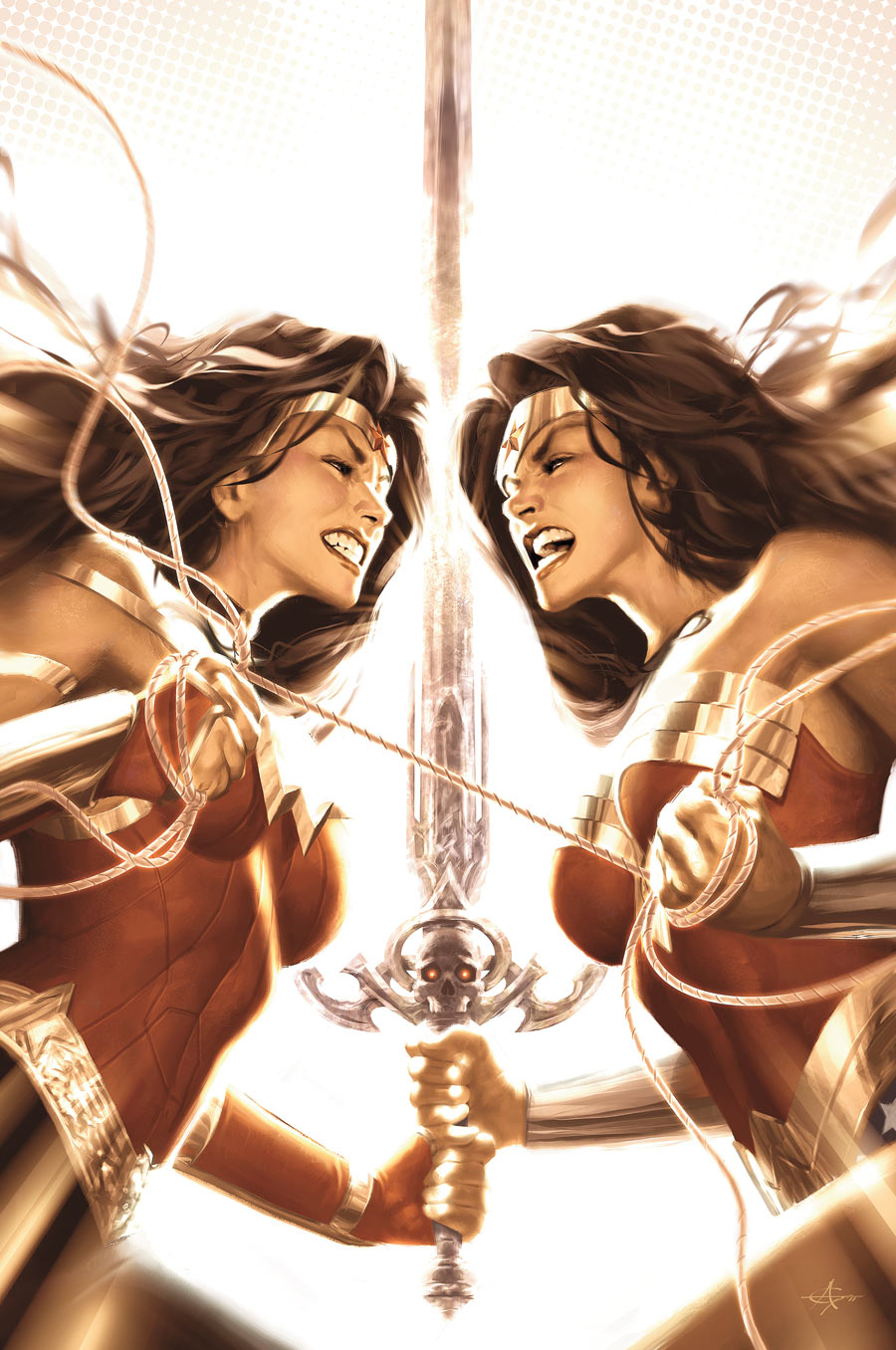 WONDER WOMAN 613.  Ugh. Make that Double UGH.  Ha! Puns!
I just…I mean, I know this isn't the first time we see a character fighting his or herself…but maybe I'm sick of seeing it with Wonder Woman (just this past month her cover was a bunch of Dianas fighting Dianas)…plus the whole Wonder Woman vs Lois Lane thing just came out as a "thing" that will be happening in Flashpoint.  Can we just stop constantly pitting these badass women against one another?  Also, I hate the art.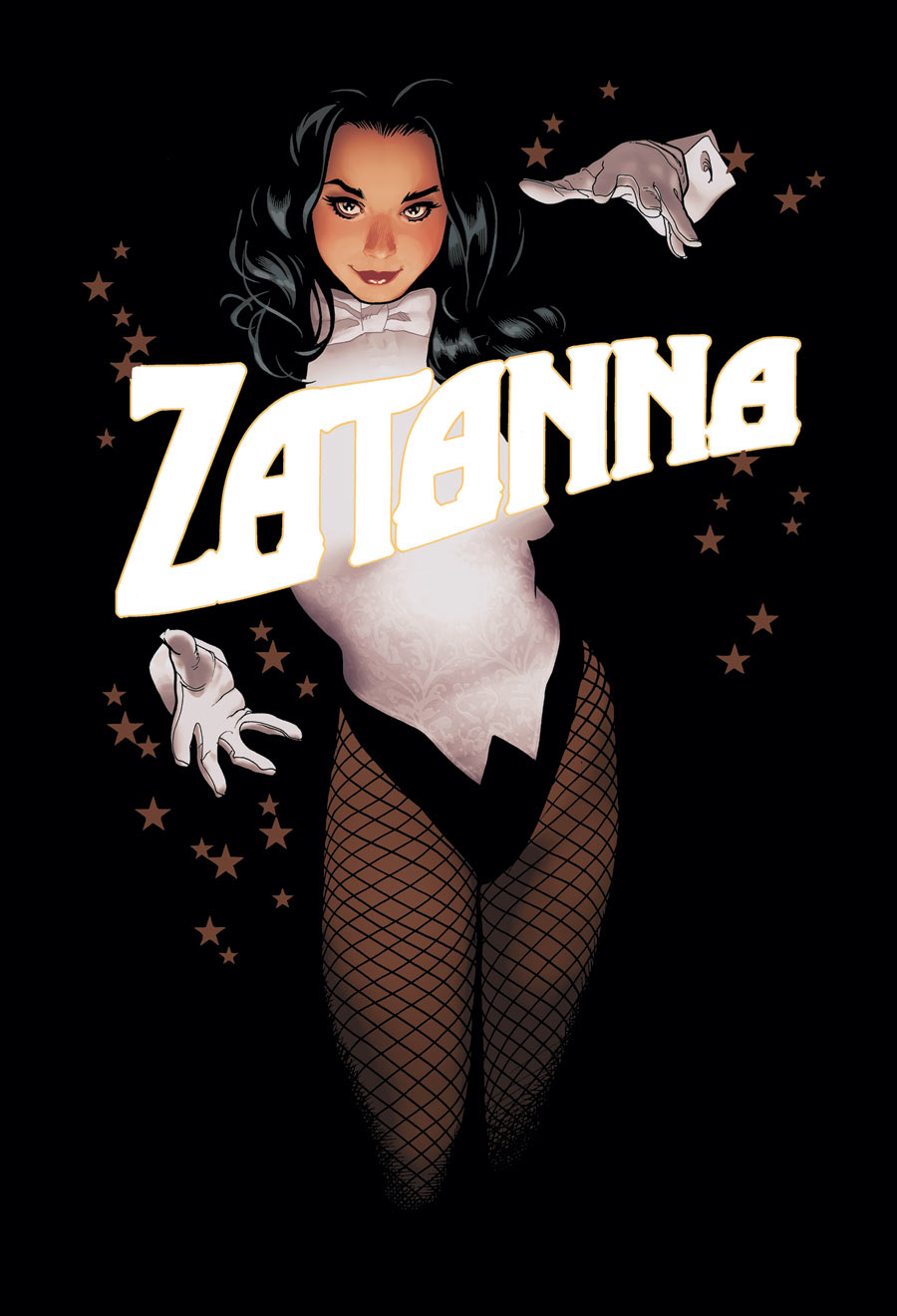 ZATANNA 15.  Wow. Fantastic.  Hughes is really outdoing himself on these last few Zatanna covers.  He's also being really restrained with the boobage (etc.) which I totally appreciate.  This is very sexy without feeling exploitative.  I love how she kinds of emerges out of the darkness.  It's awesome.
Well, that's a MUCH better way to end.  But still…onto Marvel Solicits!
Tags: comic covers, comics!, cover solicits in three sentences or less, juding a cover
Comments are now closed.