You are currently browsing the monthly archive for February 2012.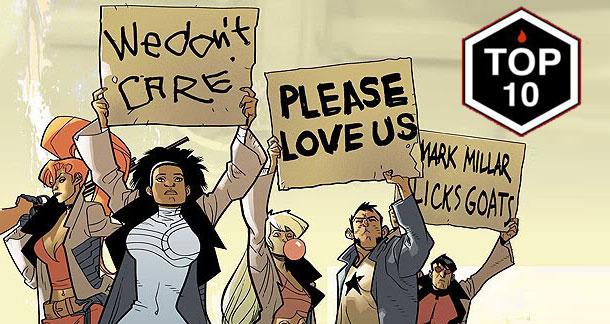 So, I've begun writing columns for Lit Reactor, a really great site for writers (and readers) that's full of wonderful columns, as well as resources for writers.  I'll be primarily writing about comics, tag teaming it with another columnist.  However, I'll also be writing a series of essays about my experiences with my novel and getting an agent, so for those of you interested in that aspect of my work, those pieces might be something a little different.
My first piece, titled 10 Graphic Novels For The Literary Minded went up today, so check it out now.  Next week will see the first installment of my essay about publication (or lack thereof!).  So follow Lit Reactor on twitter, and keep your eyes peeled for my pieces.
Thanks everyone!
A new 3 Chicks Review Comics is up!
In this episode we review two great Dark Horse books – Conan The Barbarian #1 by Brian Wood and Becky Cloonan and the new B.P.R.D. by Mignola, Arcudi, and Harren.  We also interview the lovely Faith Erin Hicks about her new book Friends With Boys.  Sue picks Chick of the Week and we both chat about a variety of things, including the craziness that came out of my last She Has No Head! column. Check it out!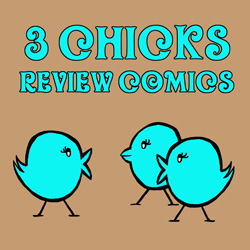 So here are a few CBR reviews I didn't link to from last week and this week.  Enjoy!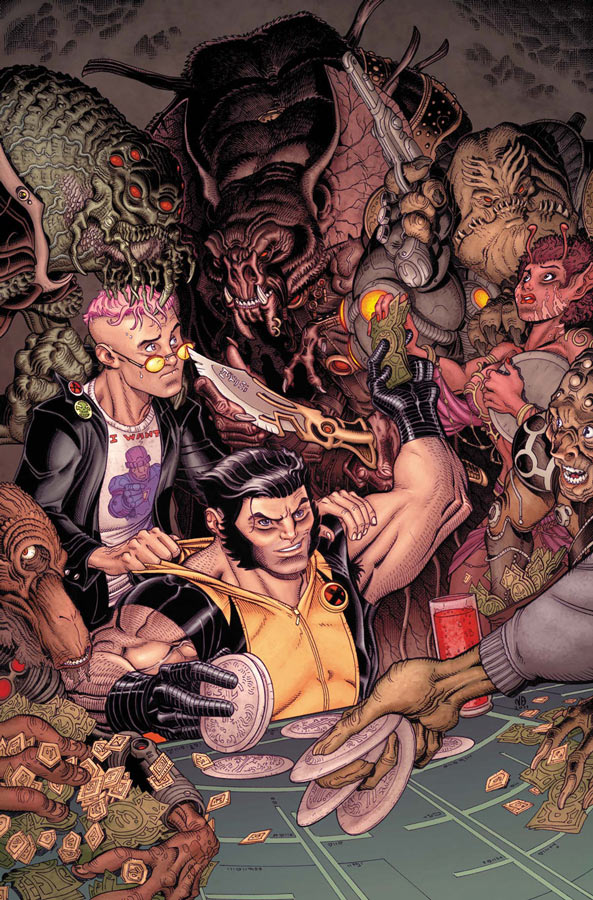 "Jason Aaron and Nick Bradshaw's "Wolverine & The X-Men" #6 continues this excellent series with the same high energy and confident storytelling we've seen in the first five issues.  Aaron has made his book an action packed and wild ride never skimping on character development. He does more with character in a few lines than most writers can do in pages. It's a deft skill to never sacrifice character development for plot while simultaneously never sacrificing plot for character development…"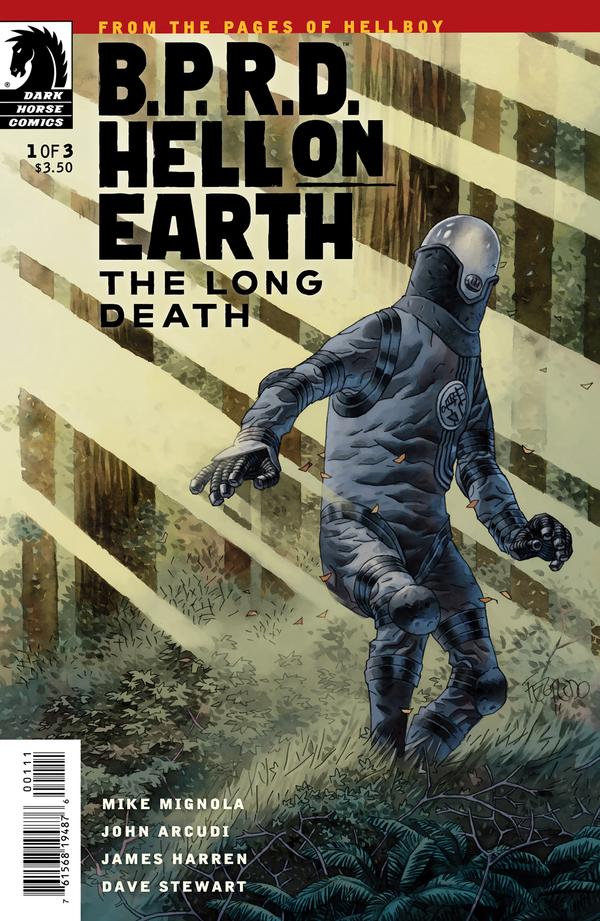 B.P.R.D. Hell On Earth: The Long Death #1
"B.P.R.D. Hell On Earth: The Long Death" #1 by Mike Mignola, John Arcudi and James Harren kicks off another fantastic mini-series with a story focused on Agent Johann Kraus. Like all Mignola's excellent books in the Hellboy universe, "The Long Death" stands nicely on its own for both veterans and new readers, making it a powerful beginning to a must-read mini…"
"Winter Soldier" #2 by Ed Brubaker and Butch Guice is a wonderful noir espionage mix with a breakneck pace. It's a story playing to both Brubaker and Guice's strengths as writer and artist and the result is an exciting new book for Marvel. Brubaker is at his best in this issue with effortlessly cool dark and dirty spy capers. James and Natasha fit the roles of espionage agents perfectly and Brubaker has a great handle on both their voices. The premise for the book plays to both Brubaker's and his characters' strengths and the concept is firing on all cylinders…"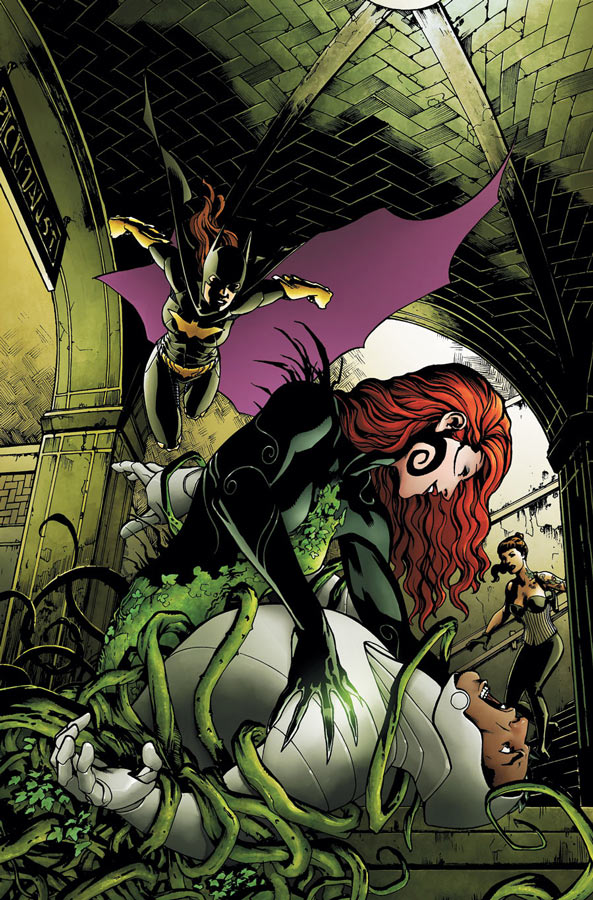 "Birds of Prey" #6 by Duane Swierczynski and Javier Pina is a good comic book but a step down from what we've seen for the past five issues. It's unfortunately timed, as this issue seems like the penultimate issue of the first arc.  Swierczynski's "Birds of Prey" has been a rollicking ride full of jumps forward and backward in time, tons of mystery, action and a beautiful amount of character development — including the introduction of a fantastic new hero in Starling. Unfortunately, this issue feels like a misstep as too much of the mystery is unloaded through info-dump talking heads. It's never ideal from a storytelling point of view and feels completely counter to everything Swierczynski has done thus far…"
Easy win last week for Ross Campbell's Glory #23 which is a thousand kinds of awesome:
Honorable mentions to both absolutely gorgeous covers of B.P.R.D. Hell On Earth: The Long Death #1, the first by Duncan Fegredo: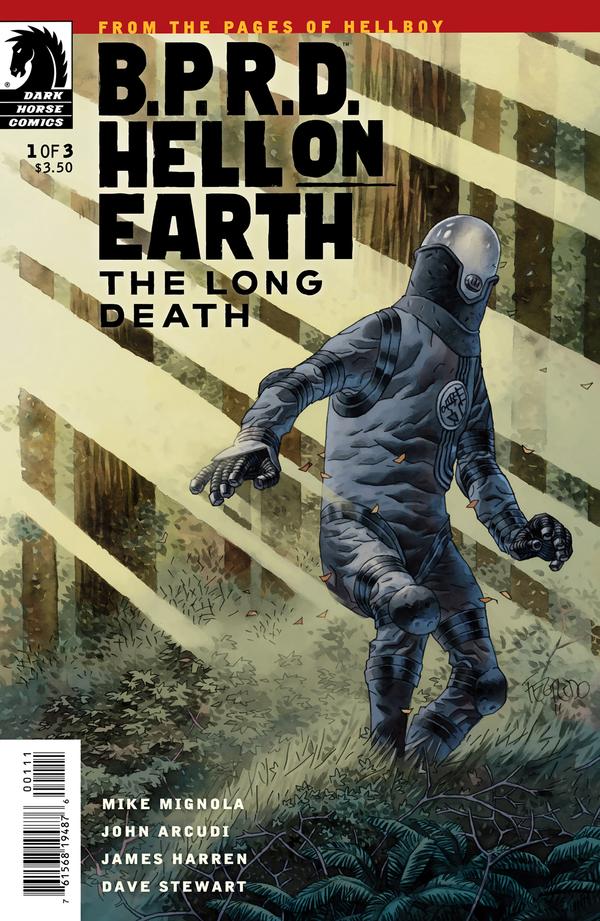 And the variant by Mike Mignola: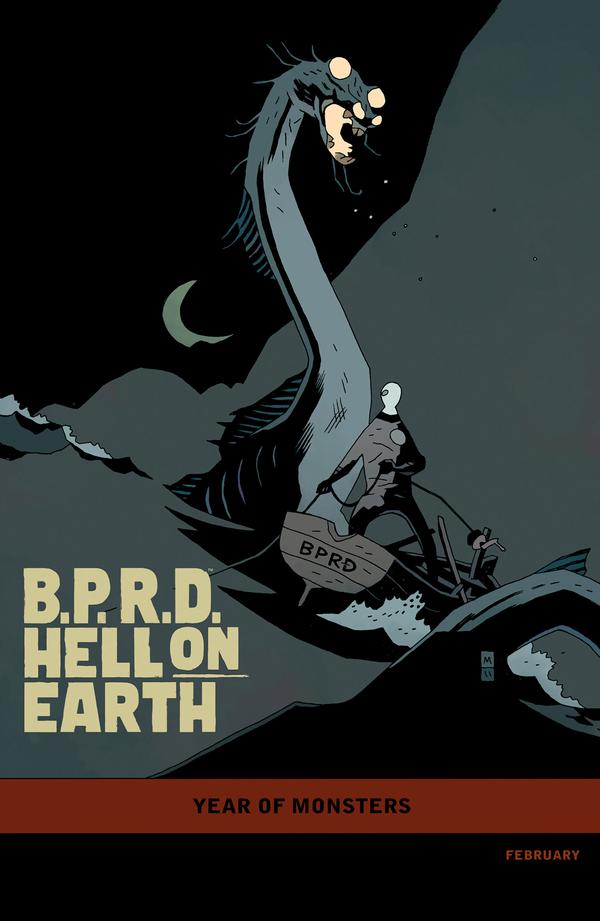 Additional Honorable Mention to Cliff Chiang's gorgeous Wonder Woman #6.  This is perhaps my favorite Chiang Wonder Woman yet!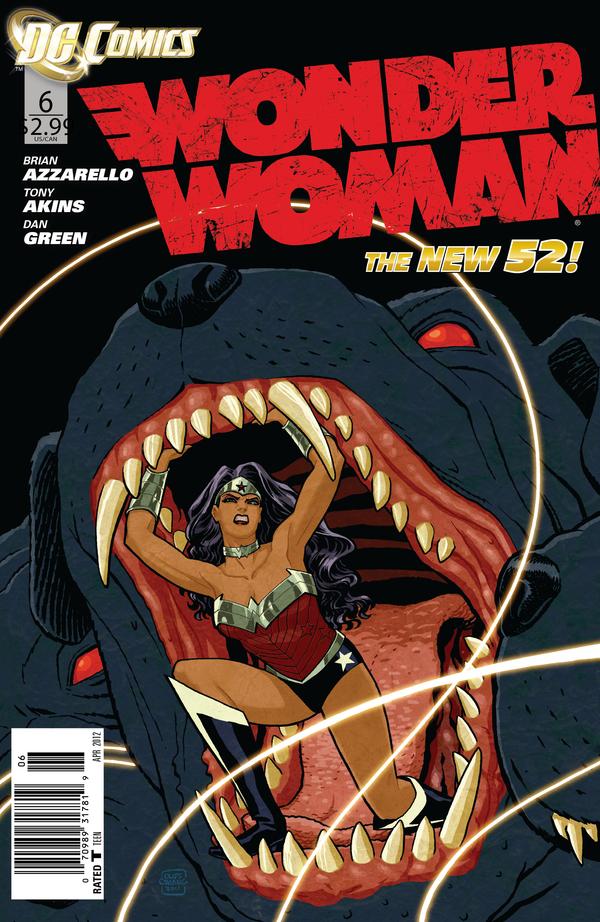 So in less than 48 hours my She Has No Head! – No, It's Not Equal column has generated 307 comments. Many of them supportive, many of them insightful.  And many of those are critical of the piece, which is good, or at least fine. I have nothing against an intelligent dialogue, whether it agrees with me or not.  What I DO have a problem with are people projecting their own shit onto me and onto a piece I've written.  As such, I've put up a response on the piece which you can find here (it's comment #311).  If you don't want to wade through the comments (and who can blame you for that) here's the comment in its entirety:
"All right. I've tried to stay out of these comments and I'm not going to fully engage, but at 307 comments in less than 48 hours, I think I've got to make a couple things clear.
Again I say, to those of you offering intelligent, insightful comments, critical or otherwise, thank you. And another hearty thanks for all the supportive comments – I have gotten a ton of email and retweets, twitter comments, etc., and they have been amazing.
As for the rest, I'm sorry but a lot of you are projecting things onto this column that simply are not there.
Nowhere in the piece do I say I'm offended.
In fact, the word offensive is only used once in the entire 2600 word piece and it's to say "NOT offensive". So that's you projecting offense onto me. Stop doing it.
Nowhere do I call creators, fans, or the industry at large misogynistic. Seriously, re-read the piece, do a search for the word, it's simply not there. Also, sexism and misogyny, not the same things. Look it up.
This piece is only intended to be an illustration of how the portrayals of men and women in comics are not equal. The piece is not intended to call out specific artists (it's a nearly industry wide problem, and far more people than just artists are responsible for what we see in comics). The piece also does not attempt to make suggestions about how to combat these things, it's simply to illustrate the problem and get people to acknowledge it. Judging by these comments, that in and of itself is a Herculean task that we are nowhere near being done with.
I go out of my way at least four times in the piece to be clear that art is personal and it's an individual's prerogative if they want to like what they see in comics, whether it's equal or not. I'm not passing judgment on anyone, in fact, I go out of my way to NOT do that. So if you are getting defensive and seeing something that's not there, I suggest you consider looking inward. I'm not doing it to you…but you may be doing it to yourself. And that is between you and well…you.
If you came here to say "it's just comics, it doesn't matter" get real with yourself. You read a 2600 word piece about this and then took the time to comment…it clearly matters to you. If it doesn't, you should exit stage left, cause you're apparently on the wrong website.
And to those of you echoing the refrain of "if you don't like it, stop reading, but stop complaining" I'd ask you to take your own advice. If you don't like what I have to say, stop reading, and also, stop complaining. See how fun that is?! Yeah, it's completely counter productive. You should absolutely be able to complain and say that you disagree with my opinion, the same way that I should be able to deconstruct what I see as inequality between the sexes in their visual representations in superhero comics. See how that works?
To the hilarious idea that I'm some kind of "johnny come lately to comics" now that it's "trendy". Please. Do your research. Your ignorance is painful to us all.
Also, I don't know what a swamp donkey is but it sounds awesome. Is it some kind of donkey alligator hybrid that lives in swamps? Badass.
Kelly"
So I posted a big piece today for She Has No Head! called "No, It's Not Equal", it's liable to cause a shitstorm, as these pieces seem to, so if you're a fan of my position on sexism and objectification in comics then please head on over and show your support in the comments!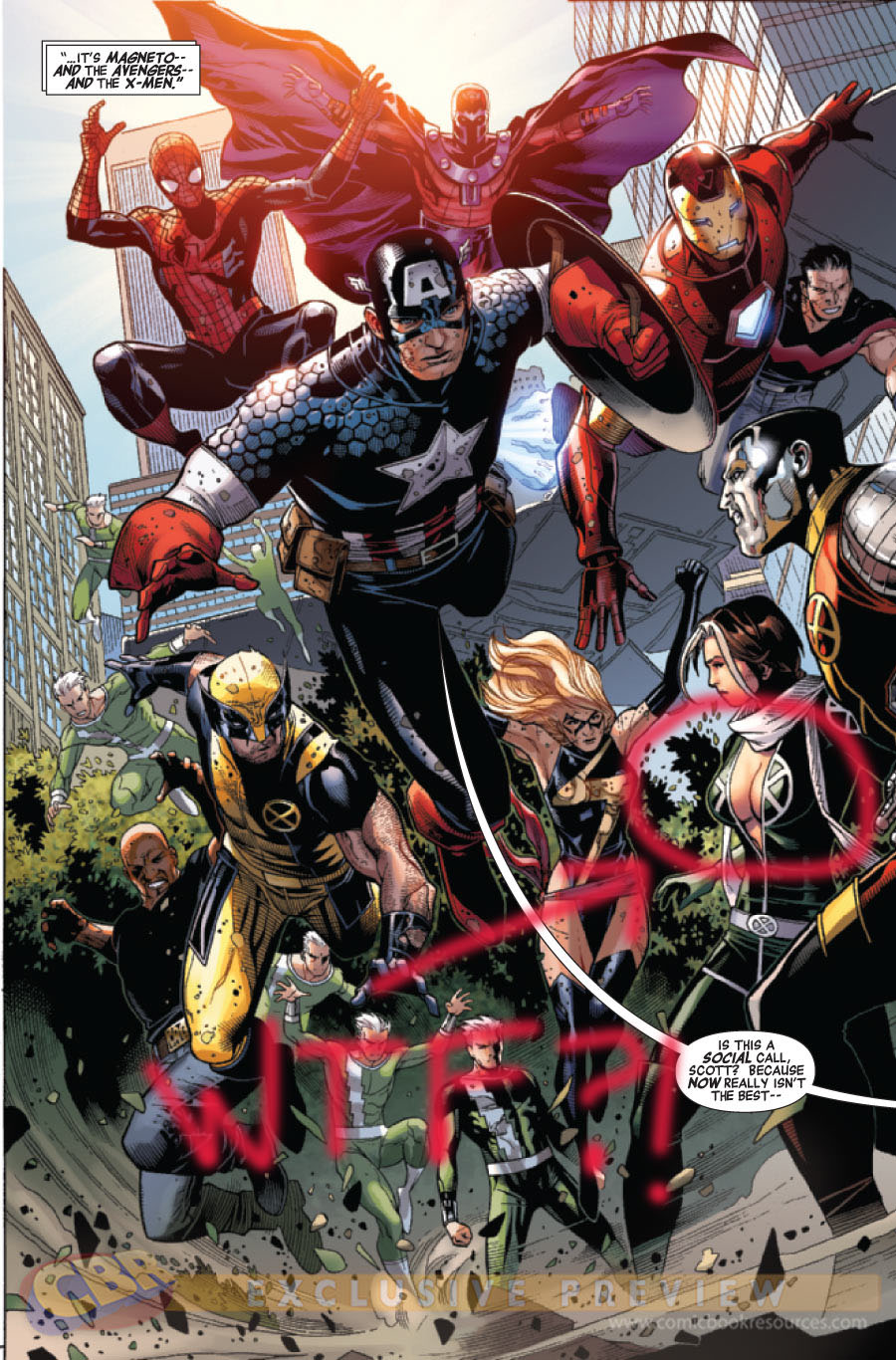 Here are the "rules".
If you'd like to see the full DC May Cover Solicits head on over to CBR.
So this is the month of owl goodness…or something. I never thought I could be sick of owls. But here we are.  I'm feeling kind of mean tonight…so…yeah, you've been warned!
Come one, come all, to our bi-monthly installment of DRUNK COVER SOLICITS IN THREE SENTENCES OR LESS!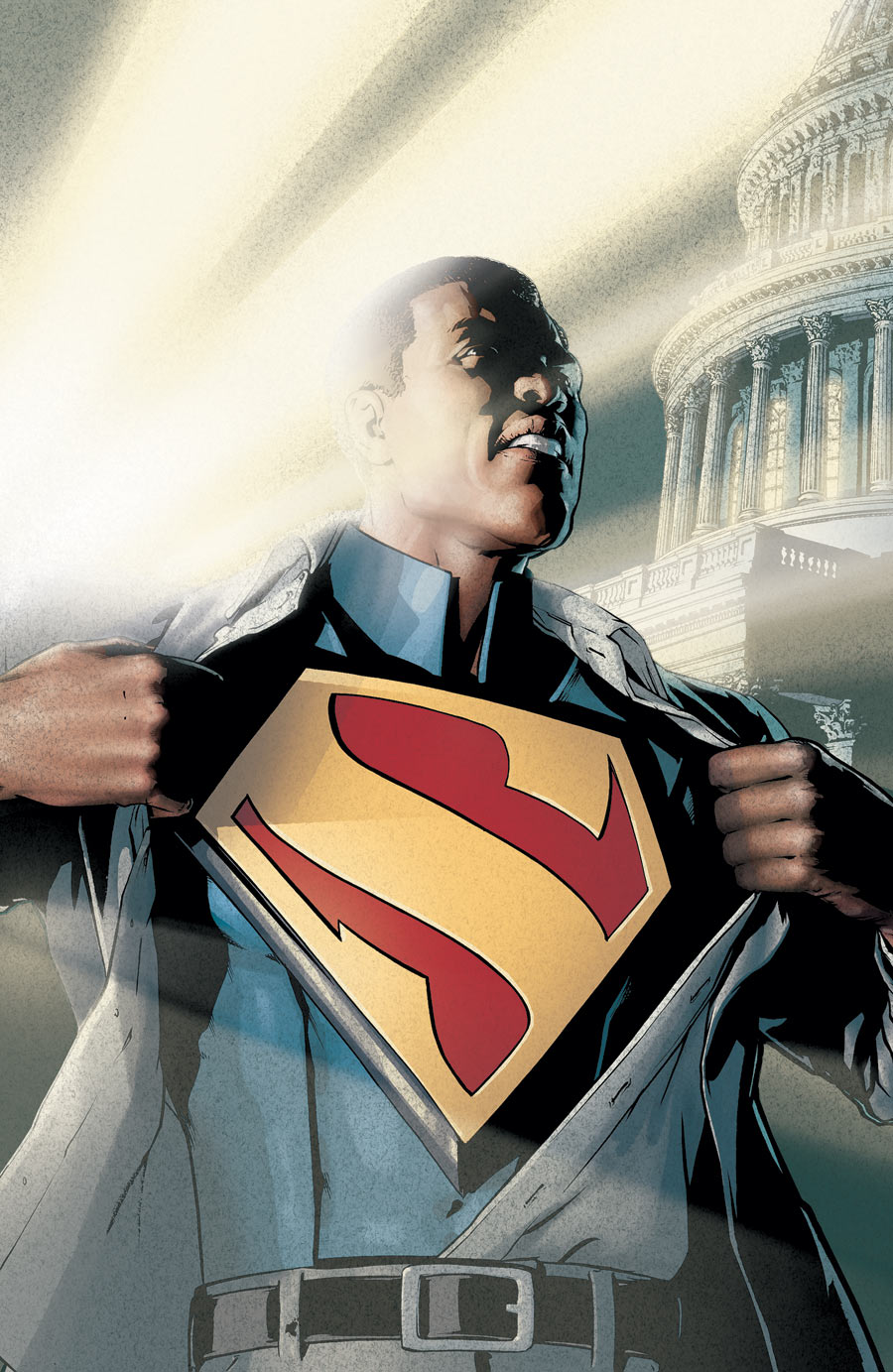 ACTION COMICS 9.  I was actually pretty excited by this image initially…cause it totally looks like an inspiring black Superman, right?  But reading the solicit I think this is a villain called SuperDoom.  Boo.  Huge disappointment.  According to commenter Brendan T., this is indeed an alternate reality black Superman…in which case I say SWEET.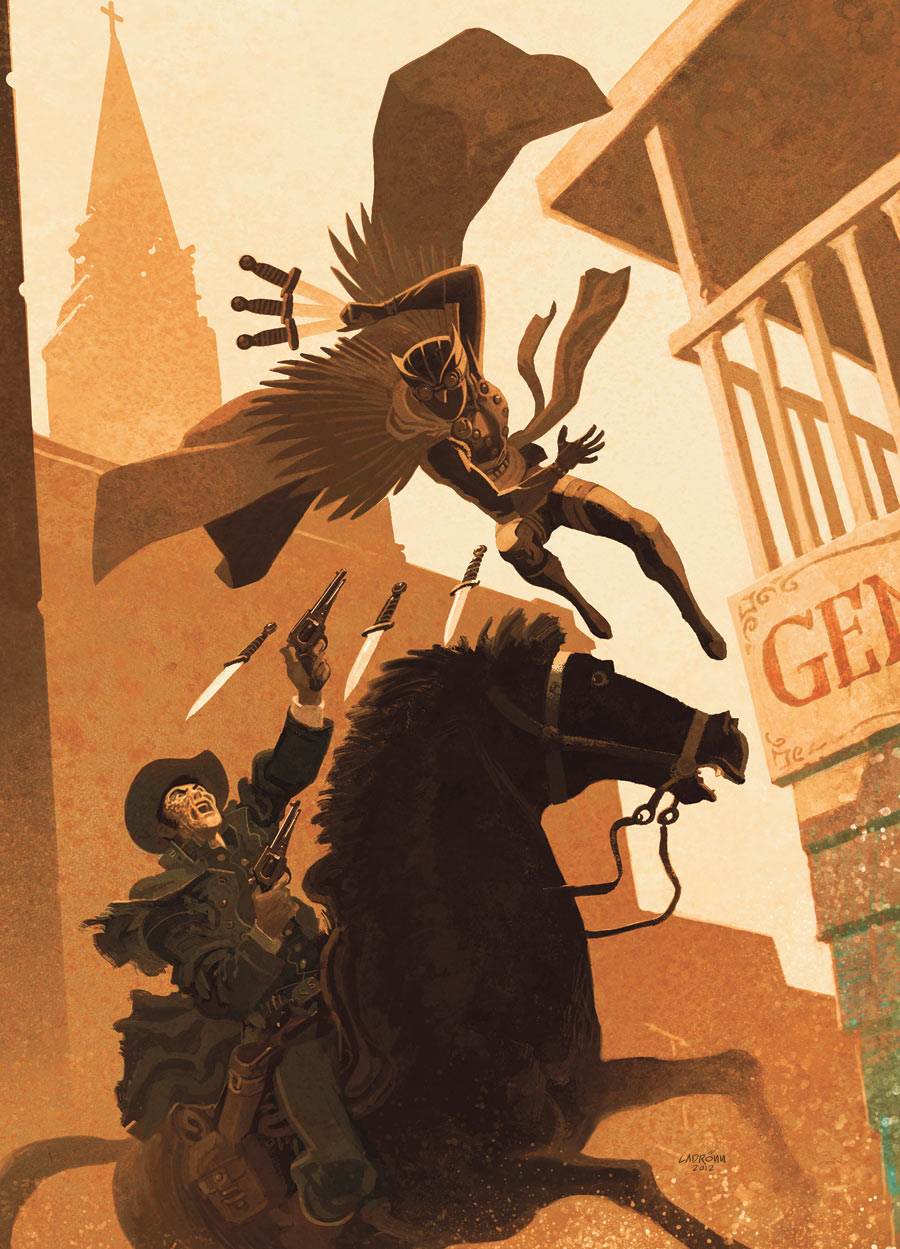 ALL-STAR WESTERN 9.  I still like the style of these covers and the colors are wonderful…but the way the owl dudette (dude?) is holding those huge knives is totally suspect.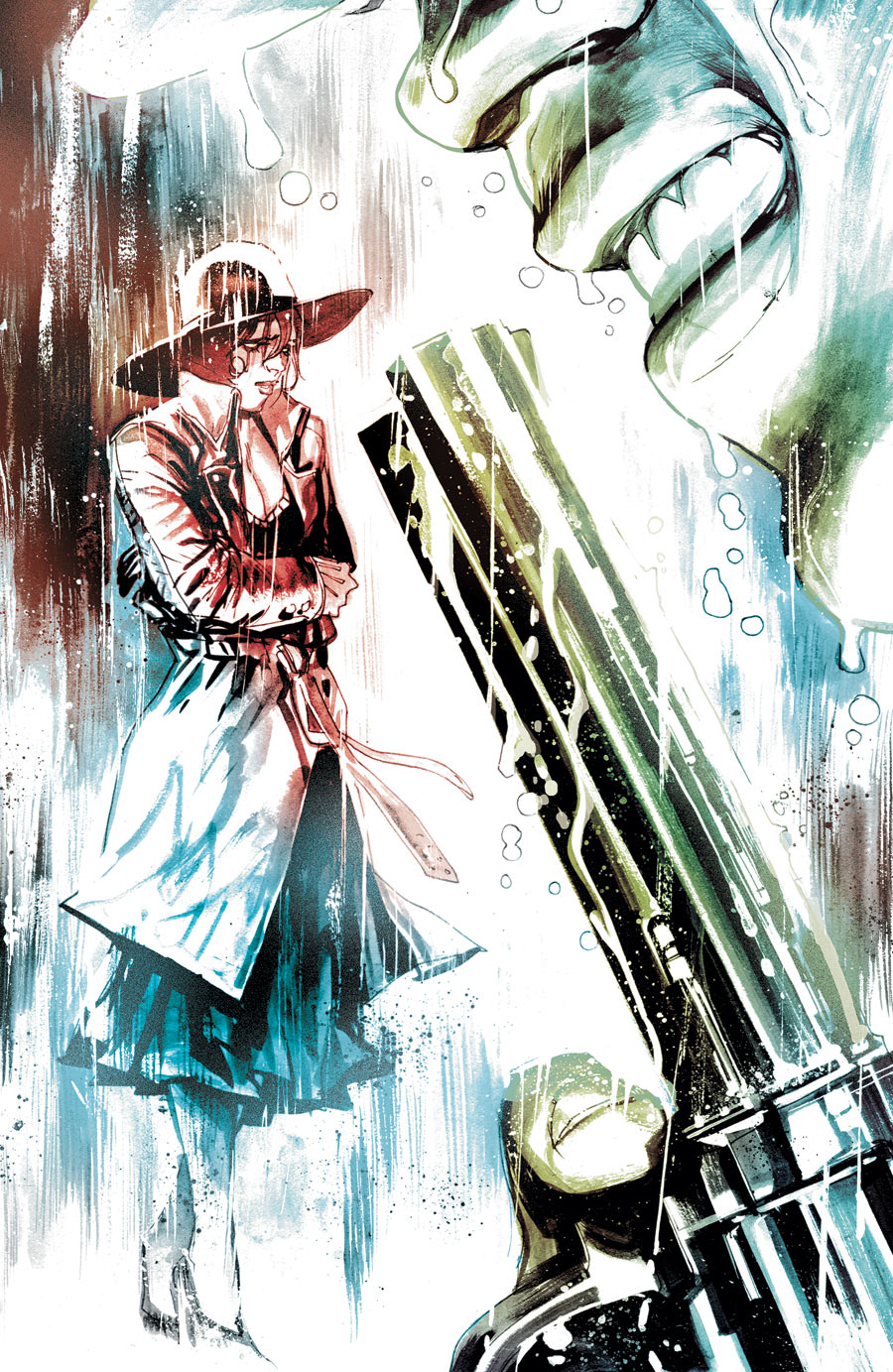 AMERICAN VAMPIRE 27.  The colors on this are just lovely.  Is this watercolor?  It kind of looks like watercolor…but kind of not.  The almost textures created are nice too.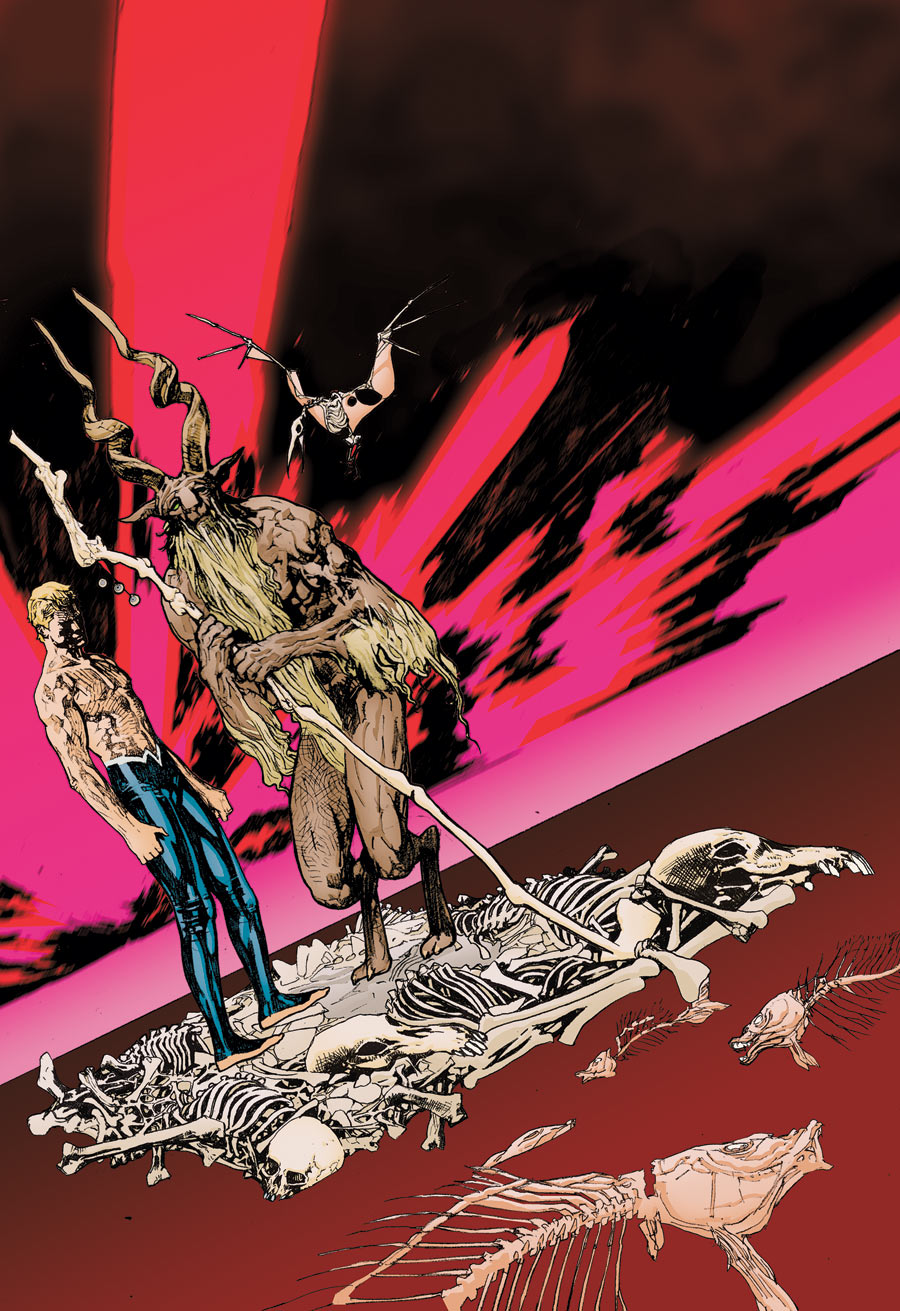 ANIMAL MAN 9.  Animal Man continues to pile on the disturbing shit.  I mean…they're on a raft of bones. BONES!  In a river of blood. BLOOD! I like it.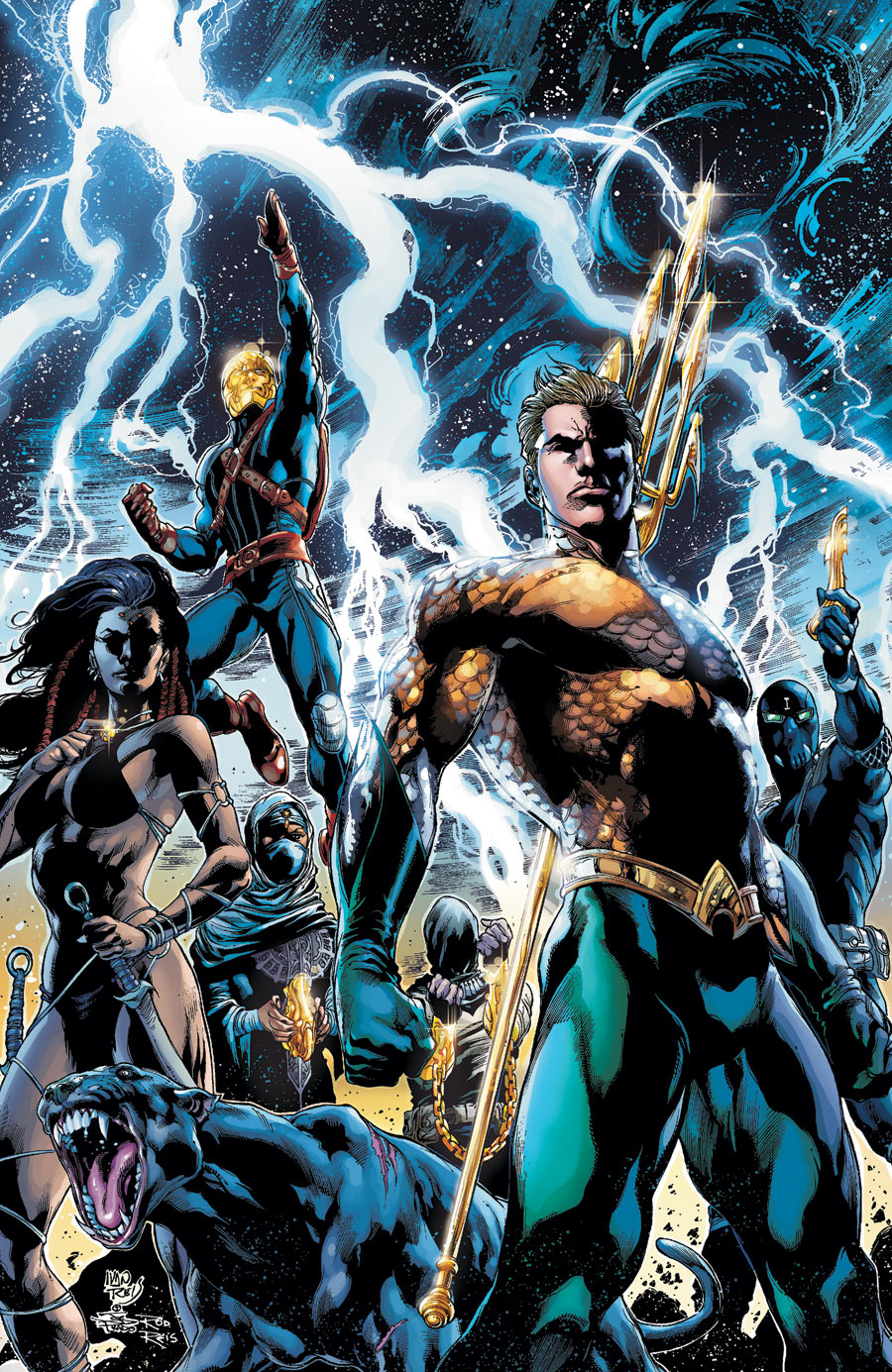 AQUAMAN 9.  I'm not sure I can fully explain why…but this comic cover kind of sums up everything I hate about comics really nicely.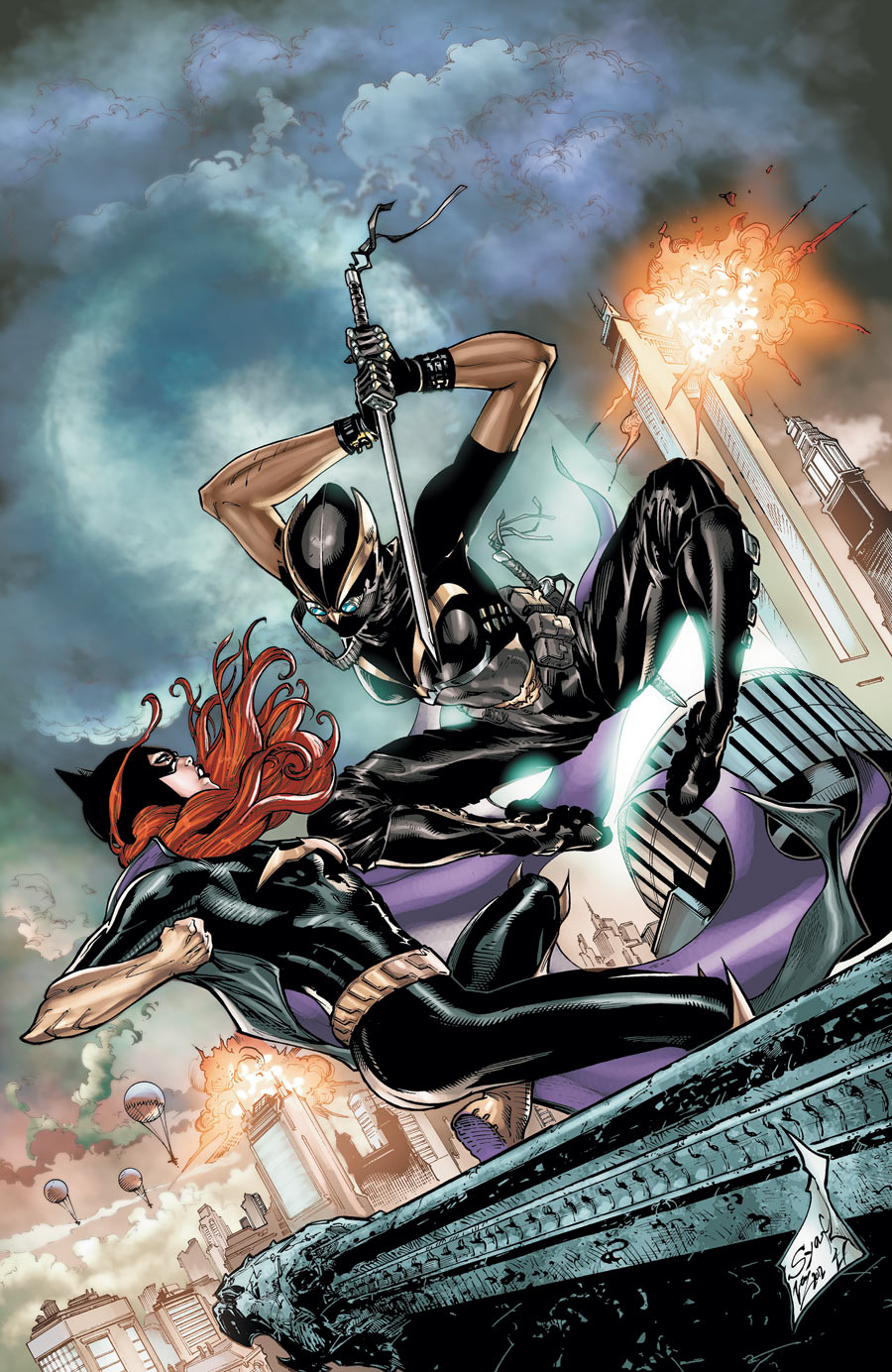 Batgirl 9.  Let's start with the good…this is the best Barbara/Batgirl has looked on a Syaf cover. Also, the tilted composition is nice and has good energy.
Now for the bad…has that Court of Owls character been crossbred with a spider…because JESUS H. CHRIST.   That anatomy and positioning is just so damn disturbing.
Also, I haven't been reading Batgirl, so maybe there's a good reason for it, but it kind of irritates me that the female superhero (Batgirl) has to fight the female Court of Owls character.  boo.
Some CBR Reviews from last week, and this week.  A lot of 4 stars in here!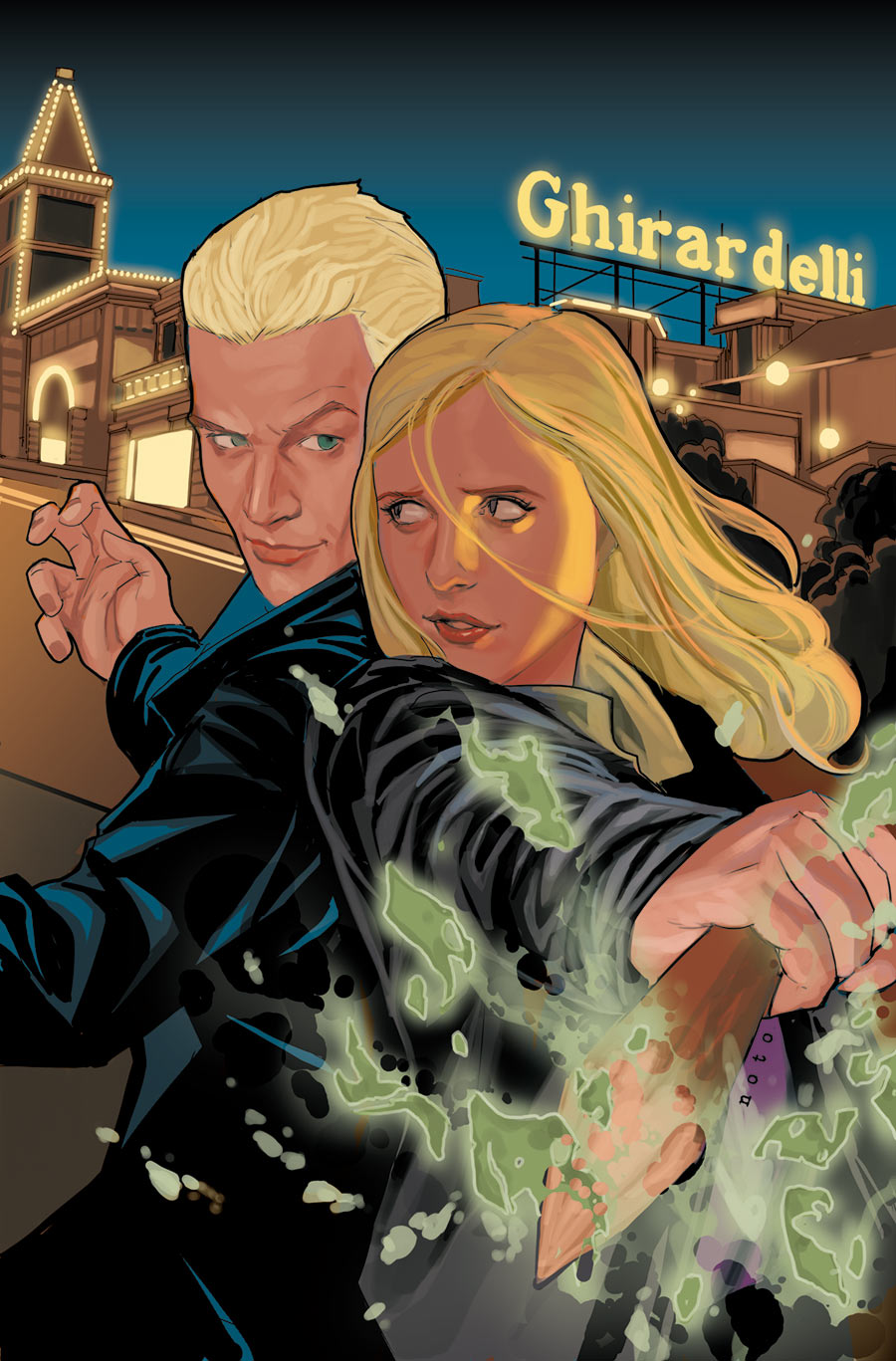 Buffy The Vampire Slayer: Season Nine #6
ALSO! I was quoted in an article on the latest issue of Buffy on The Guardian.  Check it out – so cool!
"Buffy The Vampire Slayer: Season Nine" #6 is a bold comic. Full stop.
The people in charge of this book — creators, editors and behind-the-scenes puppet masters (that's you, Joss Whedon) — deserve huge credit for tackling the sensitive and controversial subject of abortion with unflinching honesty and realism. Like many fans, I worried when Buffy was revealed to be pregnant in last month's issue. I worried that the creators would avoid the potentially polarizing "A-word" as even an option. Instead, they did exactly the opposite, attacking the topic head on and devoting an entire issue to Buffy considering all her options, including abortion…"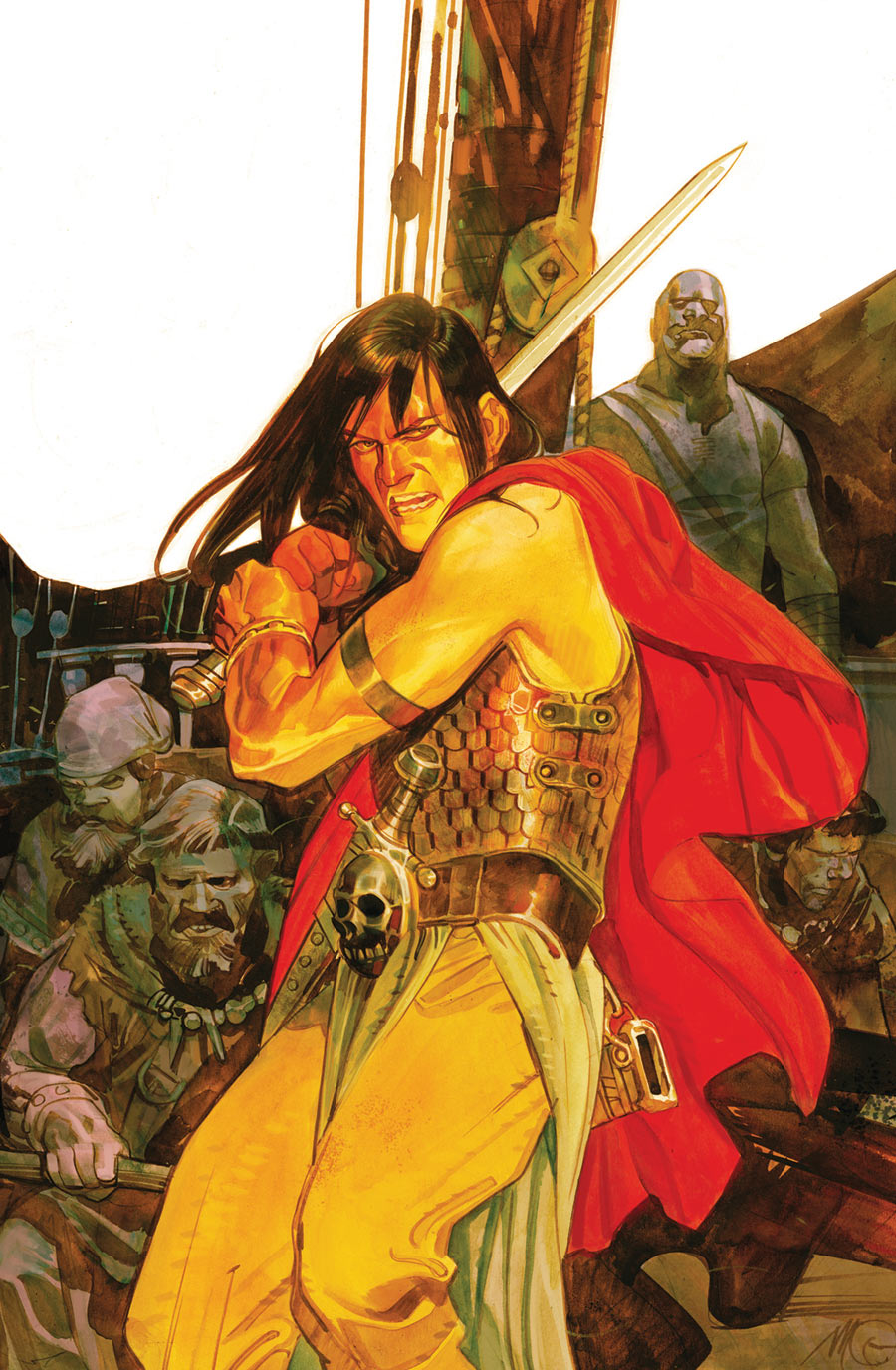 "My interest in reading a"Conan The Barbarian" comic is right around zero (despite secretly being a fan of the movies). However, when you tell me that comic is going to be written by Brian Wood and drawn by Becky Cloonan, I suddenly have a completely different idea of what that Conan The Barbarian story might be like. I was not disappointed…"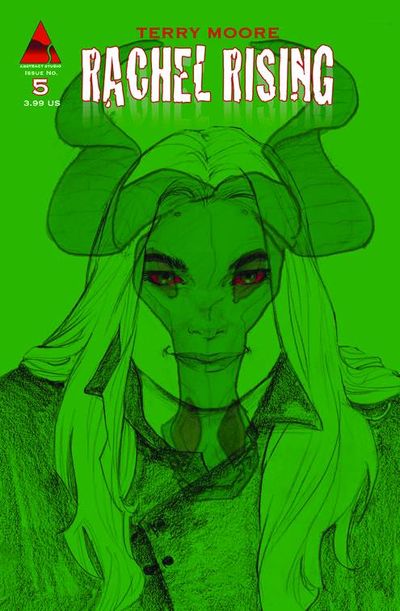 "Terry Moore continues to pile on the mysteries and body count in his latest comic "Rachel Rising," a dark horror-based story following a woman who may or may not be dead.  In this issue, Rachel spends some time with her Aunt Johnny, her best friend Jet, and Dr. Siemen, who has been invited to dinner because he signed the papers that got Rachel out of the morgue. Siemen is also the only person with an actual theory on Rachel: she's no longer Rachel but Ma Malai, a.k.a. The Angel of Death. Meanwhile, Zoe, the young girl who killed her sister and buried her in the same dry riverbed where Rachel woke up days ago, has been checked into a hospital and then assigned to a foster family with evil intentions…"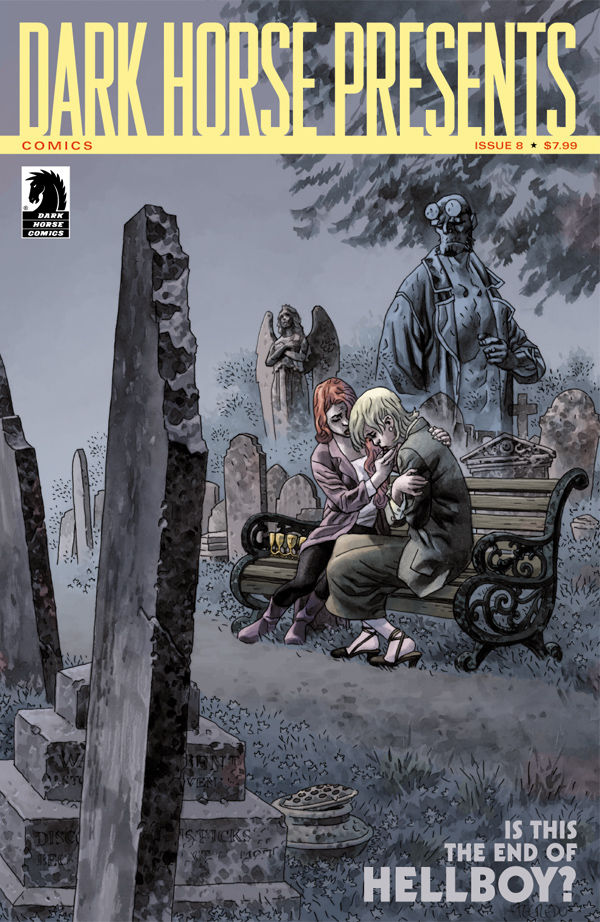 "A great anthology is worth its weight in gold, largely because any anthology is going to be a certain amount of hit and miss. With creators like Mike Mignola, Brian Wood, Evan Dorkin, Jill Thompson, Duncan Fegredo, Kristian Donaldson, and Dave Stewart involved in "Dark Horse Presents" #8, it's no surprise that this is issue is far more hit than miss.."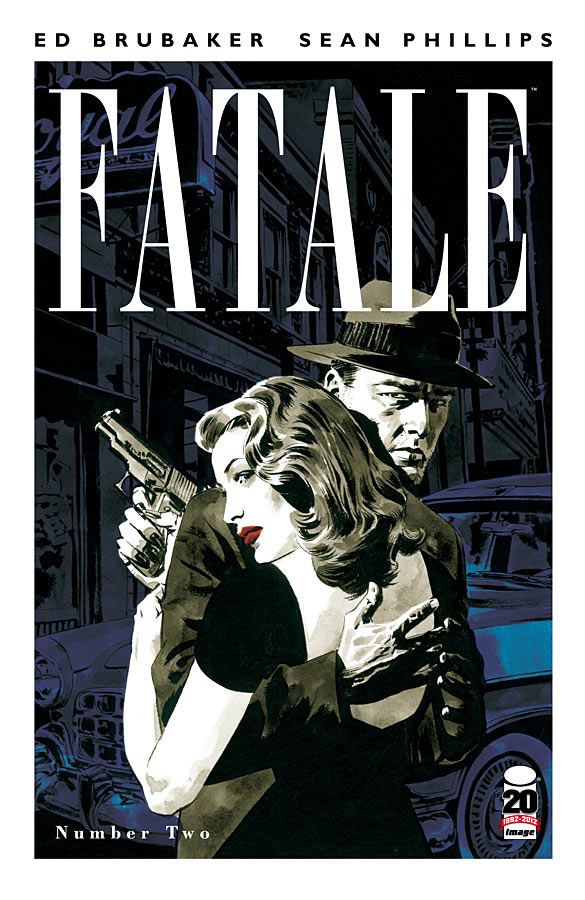 "Fatale" #2 is prettier and cooler than any single comic has a right to be. It's also smart and engrossing and oh so good. If only more comics could be as good as "Fatale". . .
In this issue, we learn more about the mysterious Josephine as the issue continues to take place in the past. We learn Josephine's connection to Nicolas' godfather, Dominic Raines, and the supernatural hints begin to come, including what allows Josephine to never age. The story of Josephine, Raines, Walter and the mysterious "Mr. Bishop" unfolds, like any great noir crime story, with delightfully dark complications. This issue ends on a great cliffhanger (that I will not spoil) which is just unexpected enough to keep you wanting more. Lots more…"
As always likes and retweets are much appreciated and you can read all my CBR Reviews thus far here!