Here are the "rules".
If you'd like to see the full DC June Cover Solicits head on over to CBR.
Oh tonight, I welcome you oh Veuve! Tonight some internet douchebags think I don't know what Feminism is, think the title "3 Chicks Review Comics" is offensive (WTF?! It's just a descriptor?!) and better yet, think Laura Hudson, Sue, and I are the same person…which as I said on twitter would make me UNMOTHERFUCKINGSTOPPABLE, so I kind of wish it was true. Alas, I am only little ole me. Ah internet, you so silly!
So once I get the drink in me I may be feeling particularly mean and vengeful…also it's already ready 2am and I'm just writing the intro, so let's BRING IT ON MOTHERFUCKERS!
Come one, come all, to our bi-monthly installment of DRUNK COVER SOLICITS IN THREE SENTENCES OR LESS!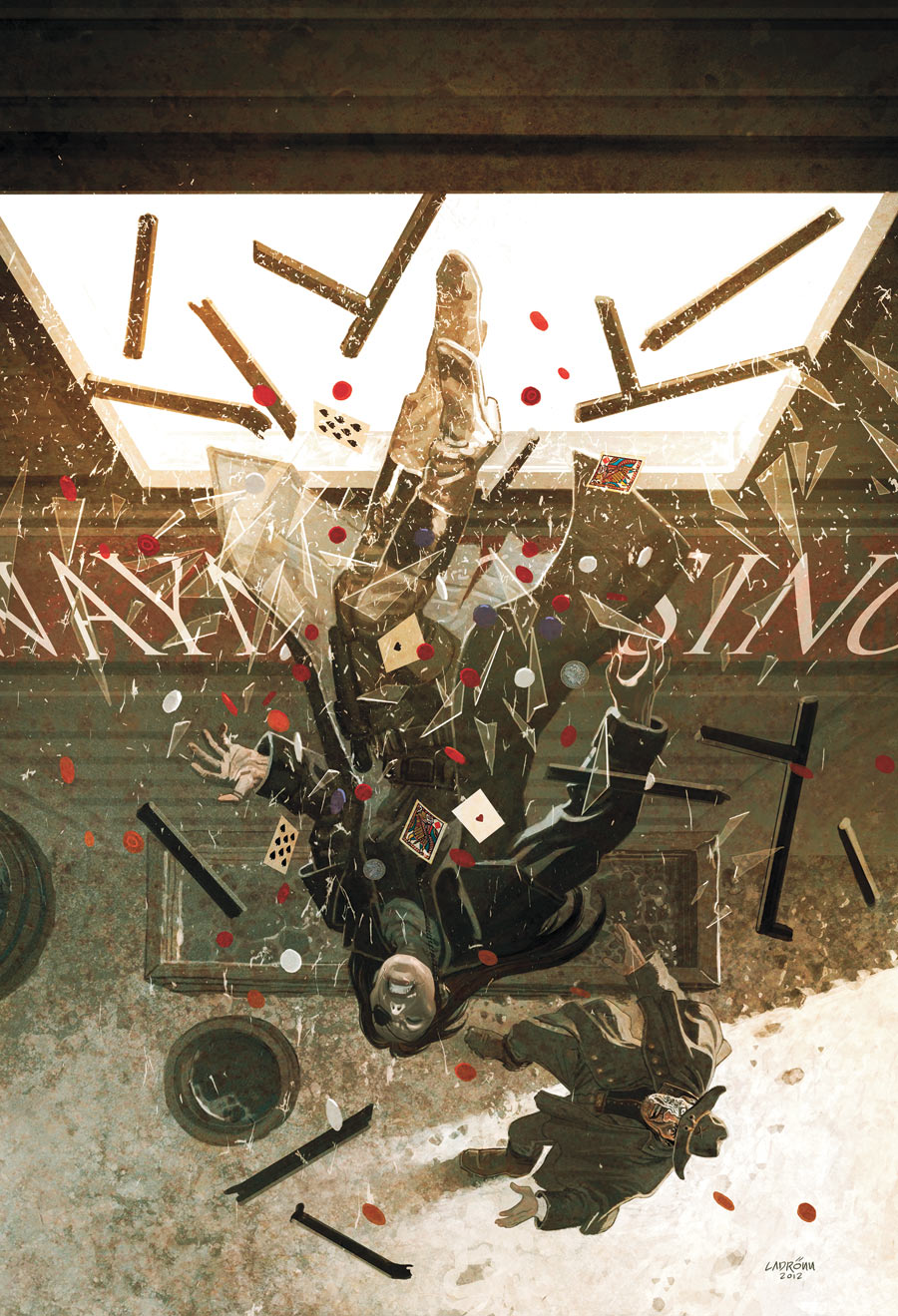 ALL STAR WESTERN 10.  These covers have been pretty goddamn good.  This is probably my second or third favorite among a really great selection of covers. The illustration work, the desaturated colors but also great lights and darks, the interesting perspective…all great!
AMERICAN VAMPIRE 28. Wonderful colors, dramatic darks and lights. And I love the abstraction in the background with the lights and cameras.  Feels very Sienkiewicz to me.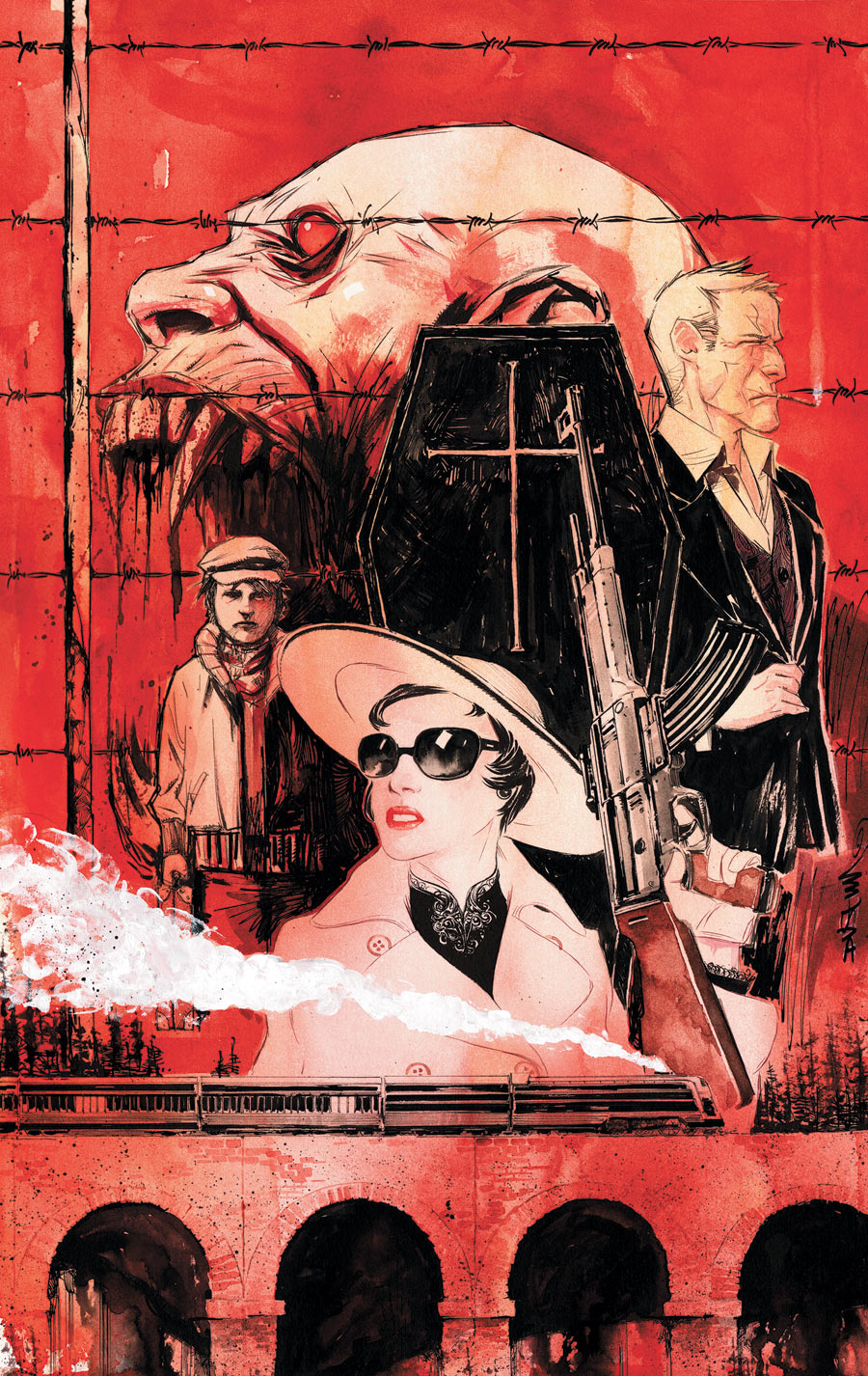 AMERICAN VAMPIRE: LORD OF NIGHTMARES 1. I don't usually like these kind of floating montage covers, but this has a nice almost monochromatic red wash that I like and the style of the lead female is unusual and a nice change.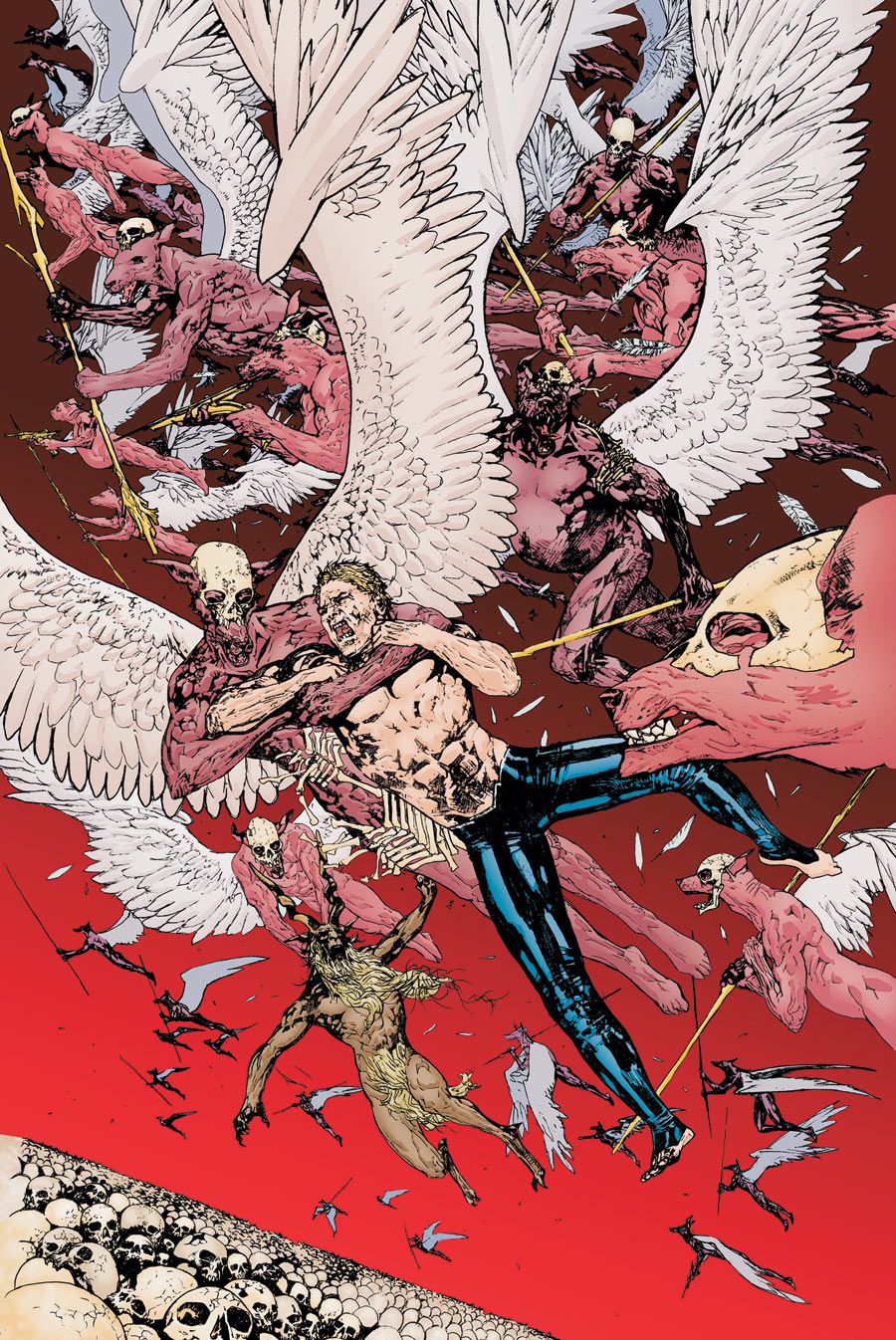 ANIMAL MAN 10. SWEET BABY JESUS*…no wonder Foreman felt like he needed to leave if he was going to be drawing seas of skulls, blood red skies, and fucked up naked angel monsters.
*I've been saying this (or thinking it) a lot lately thanks to reading "Mark Watches" obsessively – if you're a fan of Buffy and things that are awesome, you should drop everything you're doing and head over there now!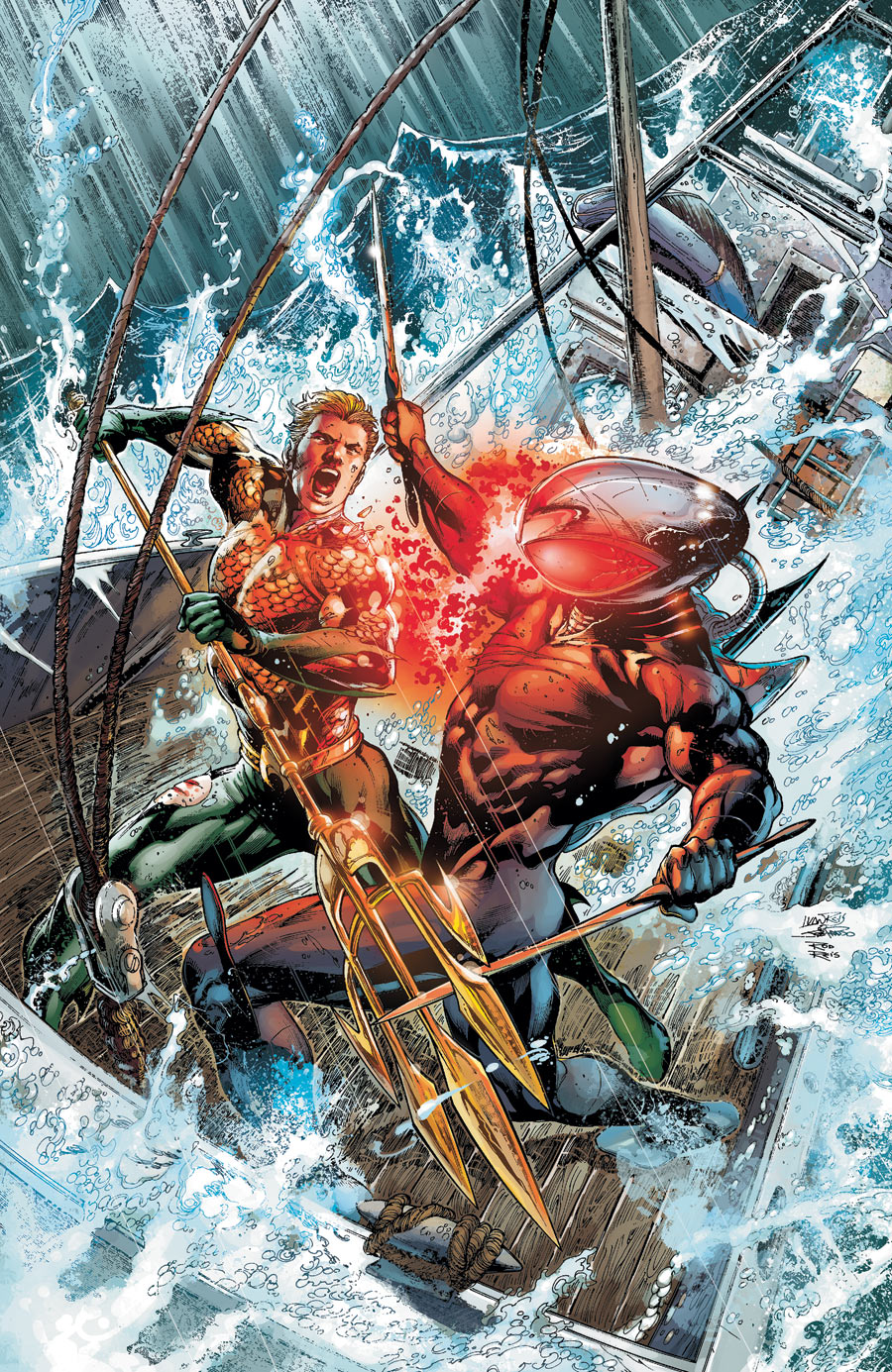 AQUAMAN 10.  Anyone else think Aquman is overcompensating for something with that super extreme trident? Yeeeeaaaaaah, me too.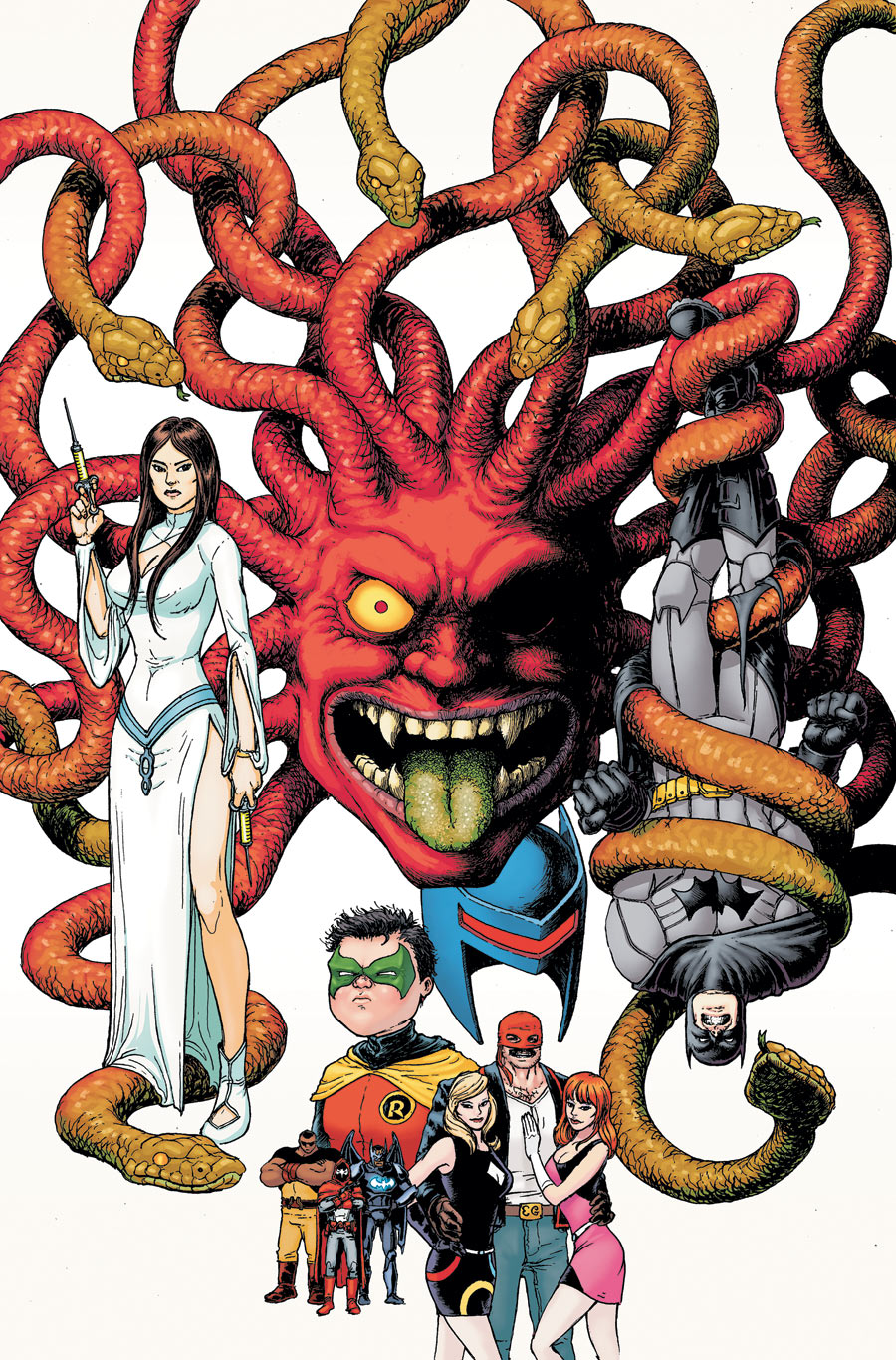 BATMAN INC. 2.  This is just so weird and fucked up I can't help but like it. But Damian does look like he's trying to take a poop.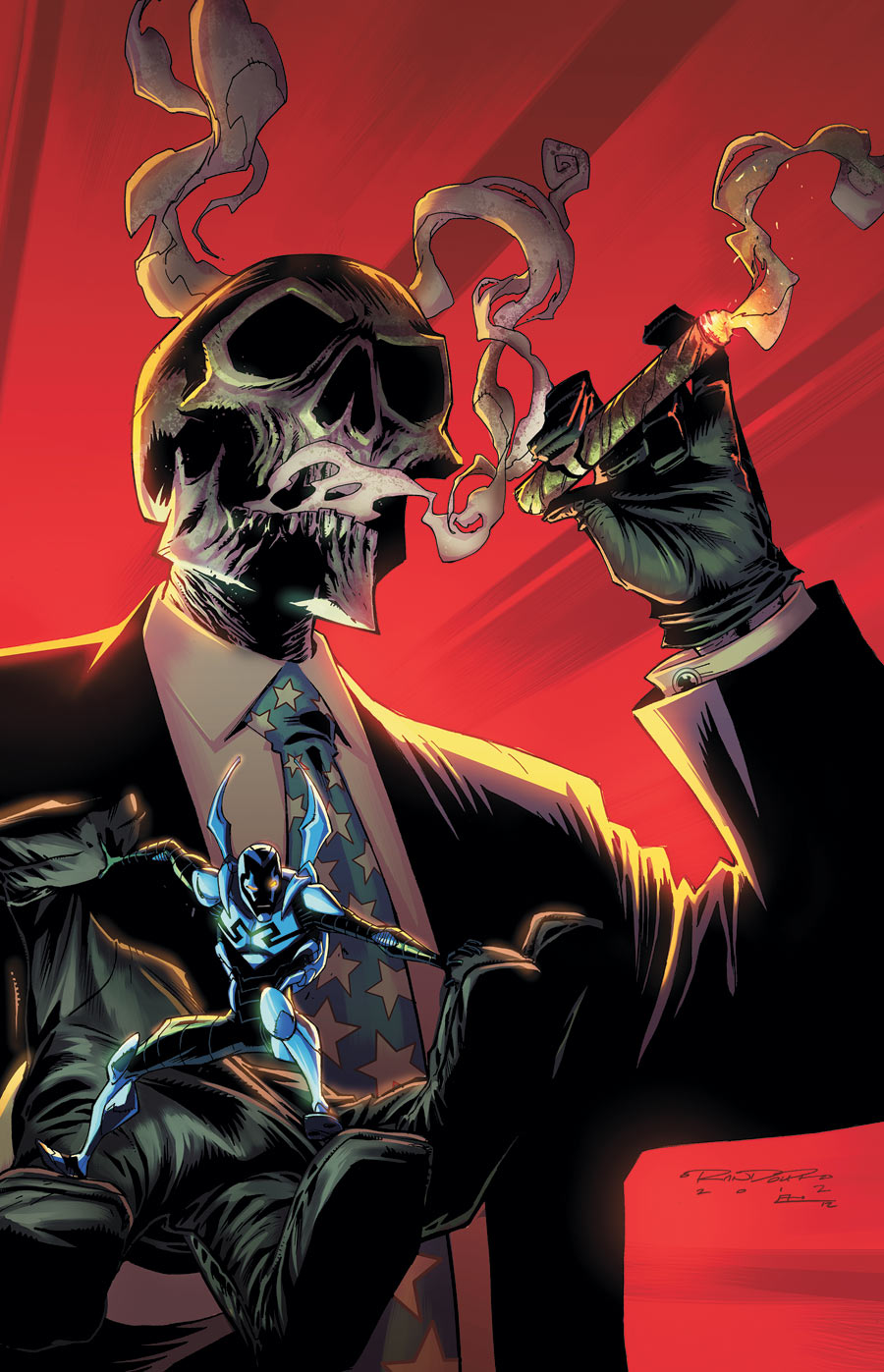 BLUE BEETLE 10.  The Blue Beetle part of this seems a little silly, but the Director Bones part is pretty damn awesome.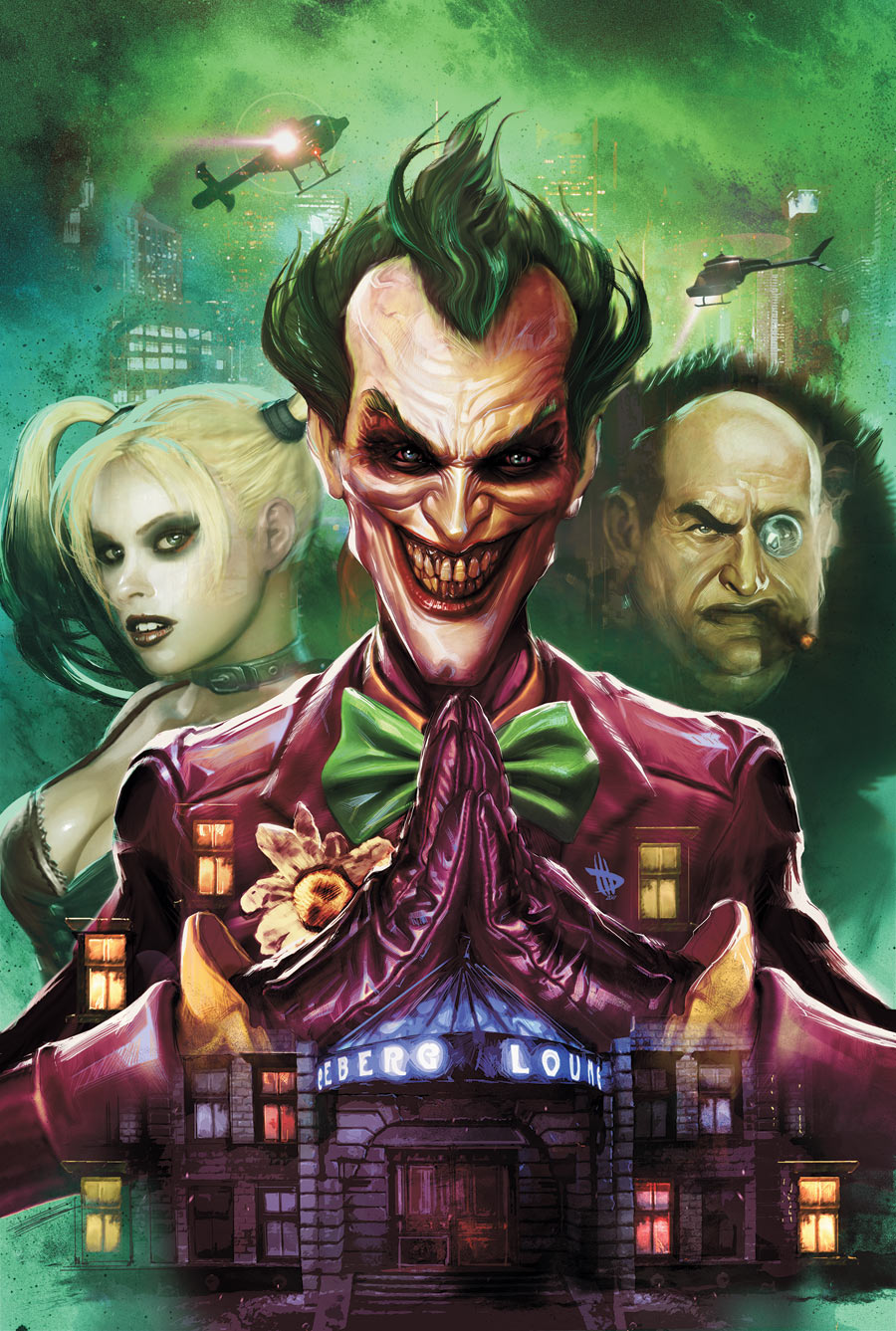 BATMAN: ARKHAM UNHINGED 3.  Hmmm. See above. The Joker part of this is pretty extreme and awesome. But the Penguin and Harley parts are pretty weak – they look far too realistic when paired with that Joker.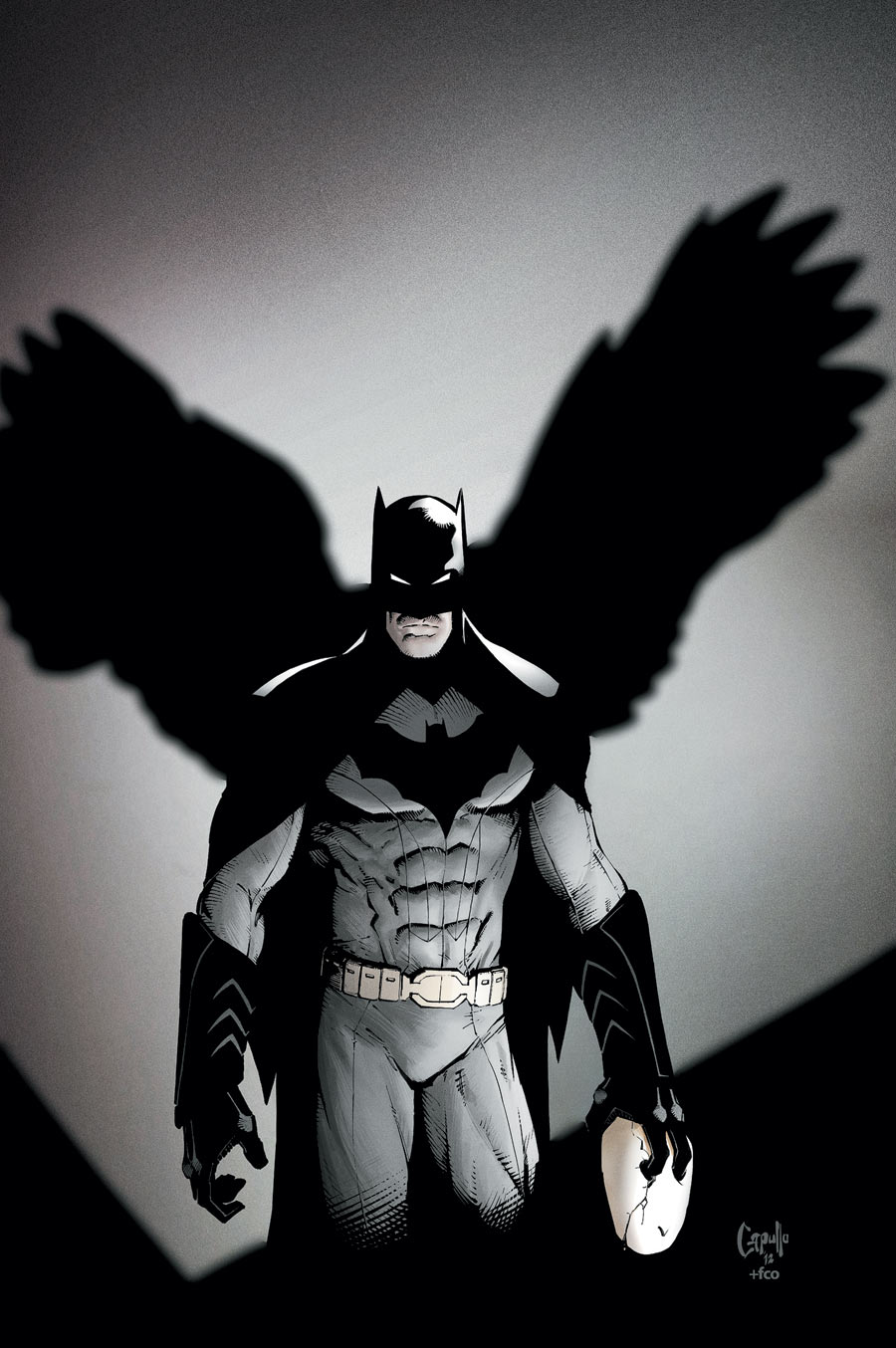 BATMAN 10. The simplicity and effectiveness of this is amazing. Love it. Capullo has been killing these covers.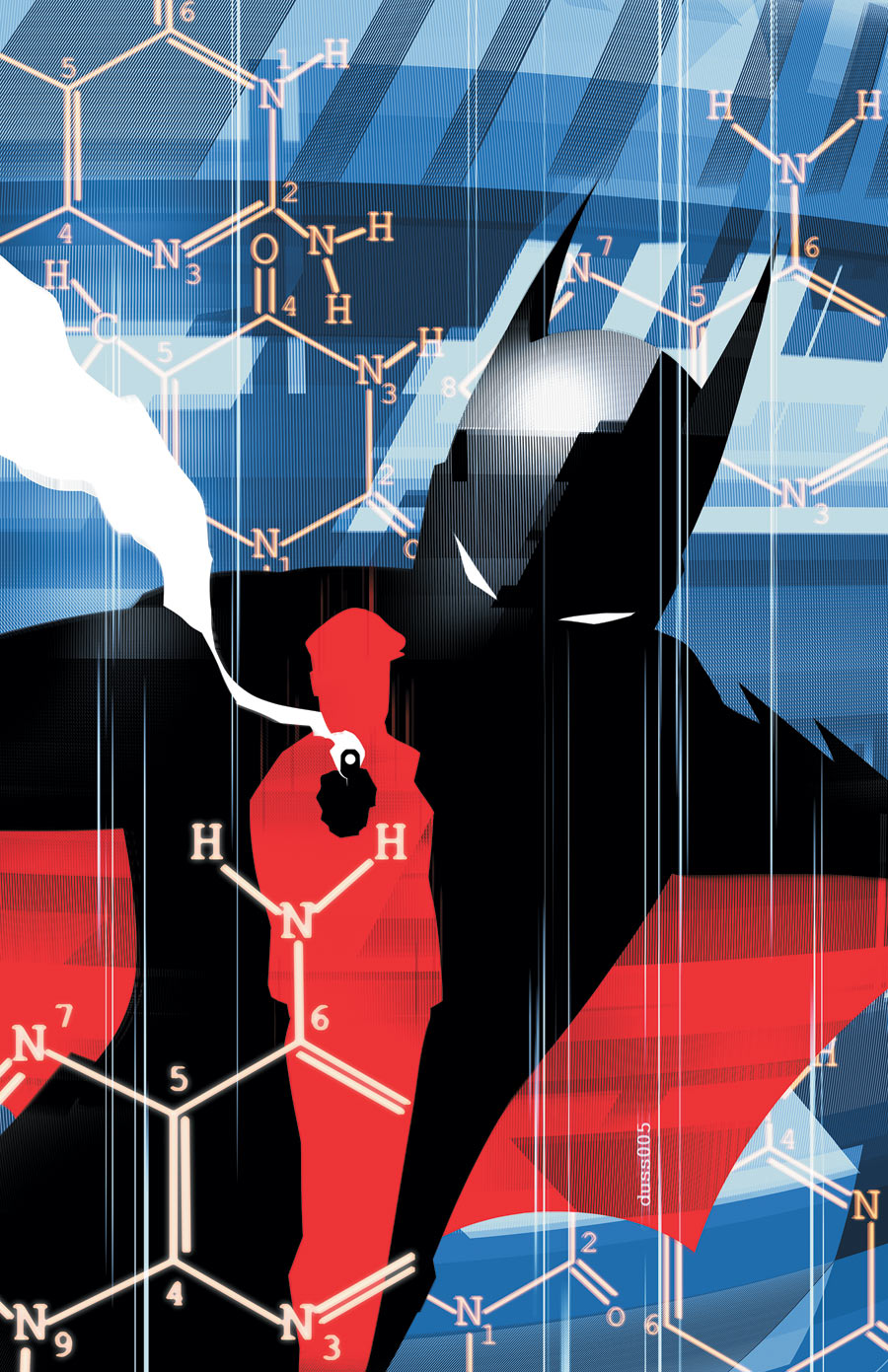 BATMAN BEYOND 5. There are just a few too elements on this cover for me, but I love the texture that makes it feel…digitized?  And the smart color palette is nice.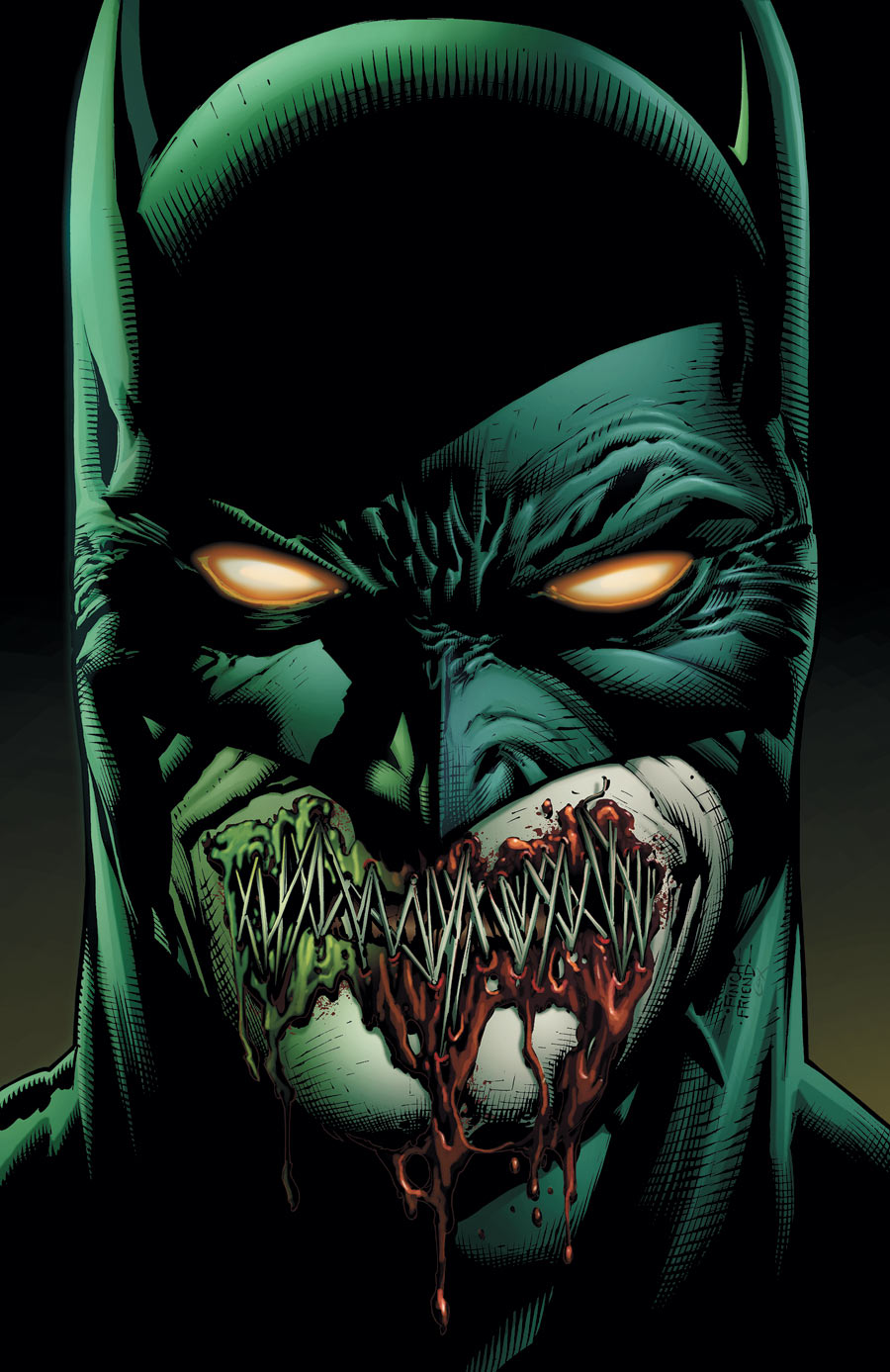 BATMAN: THE DARK KNIGHT 10. JESUSMOTHERFUCKINGCHRISTONABIKE. I WILL NEVER FUCKING SLEEP AGAIN. THANKS COMICS!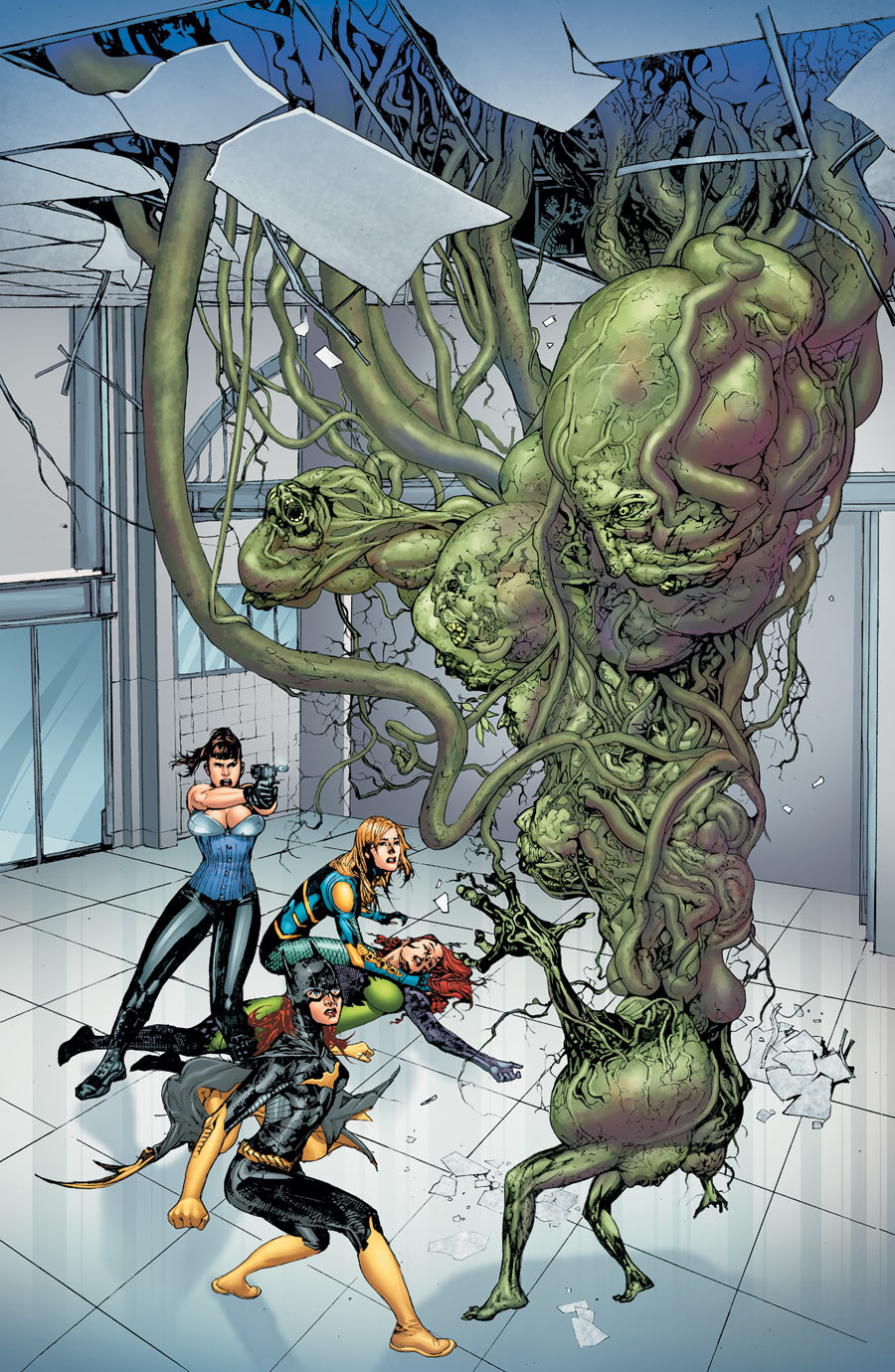 BIRDS OF PREY 10. Hrm. For starters that plant human creature thing is AWESOME. But what the F is going on with Starling's boobs? I'm not even sure I understand how she can raise her arms to shoot with boobs that big.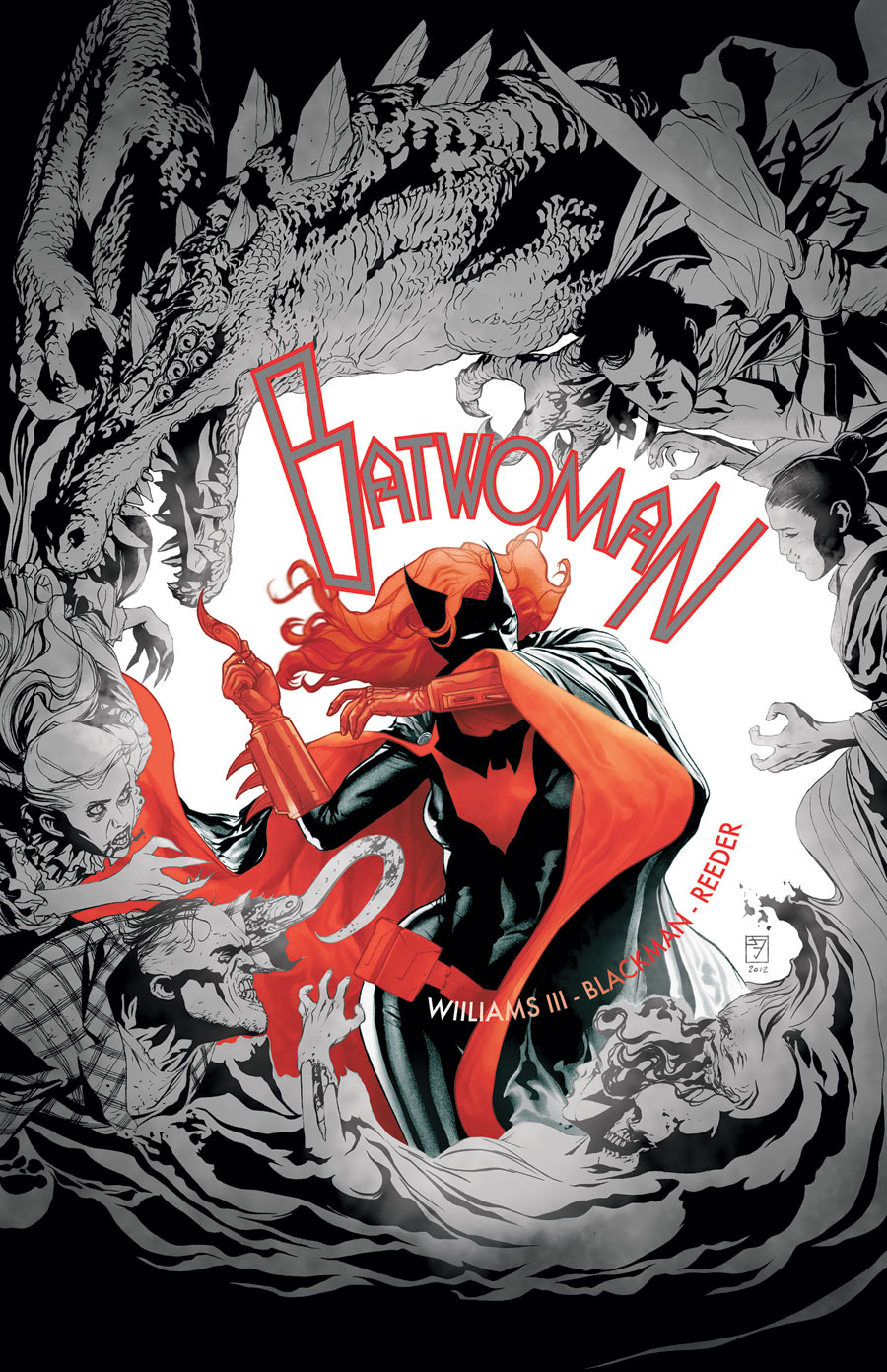 BATWOMAN 10. Let's face it, this is gorgeous. But I can't help feeling all squicky about Batwoman now given what's happened with Amy Reeder.  I haz sad. T_T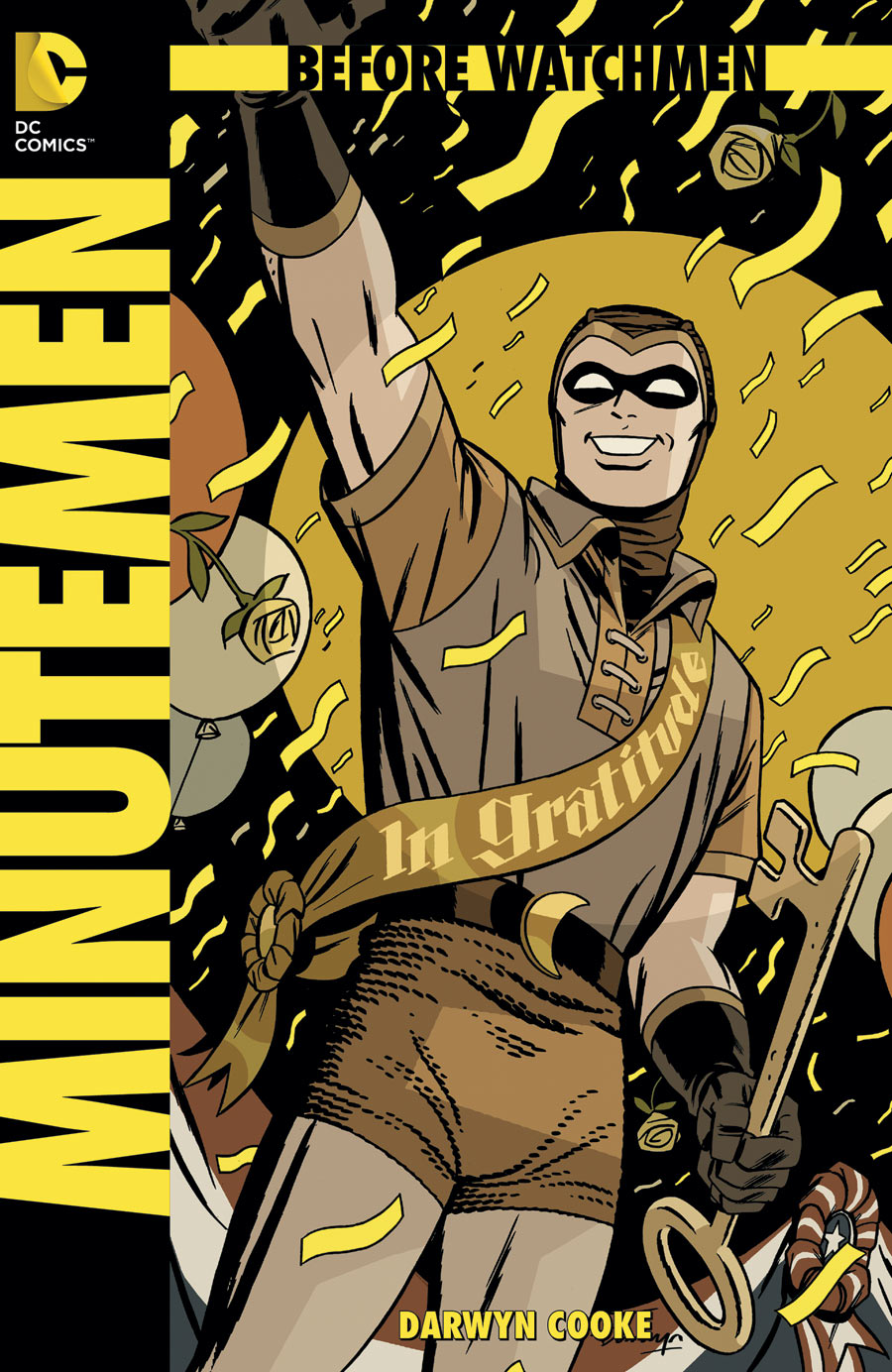 BEFORE WATCHMEN: MINUTEMEN 1. Well, of course this is very awesome because it's Cooke. But I just can't get on board with these. I haz more sad. T_T  T_T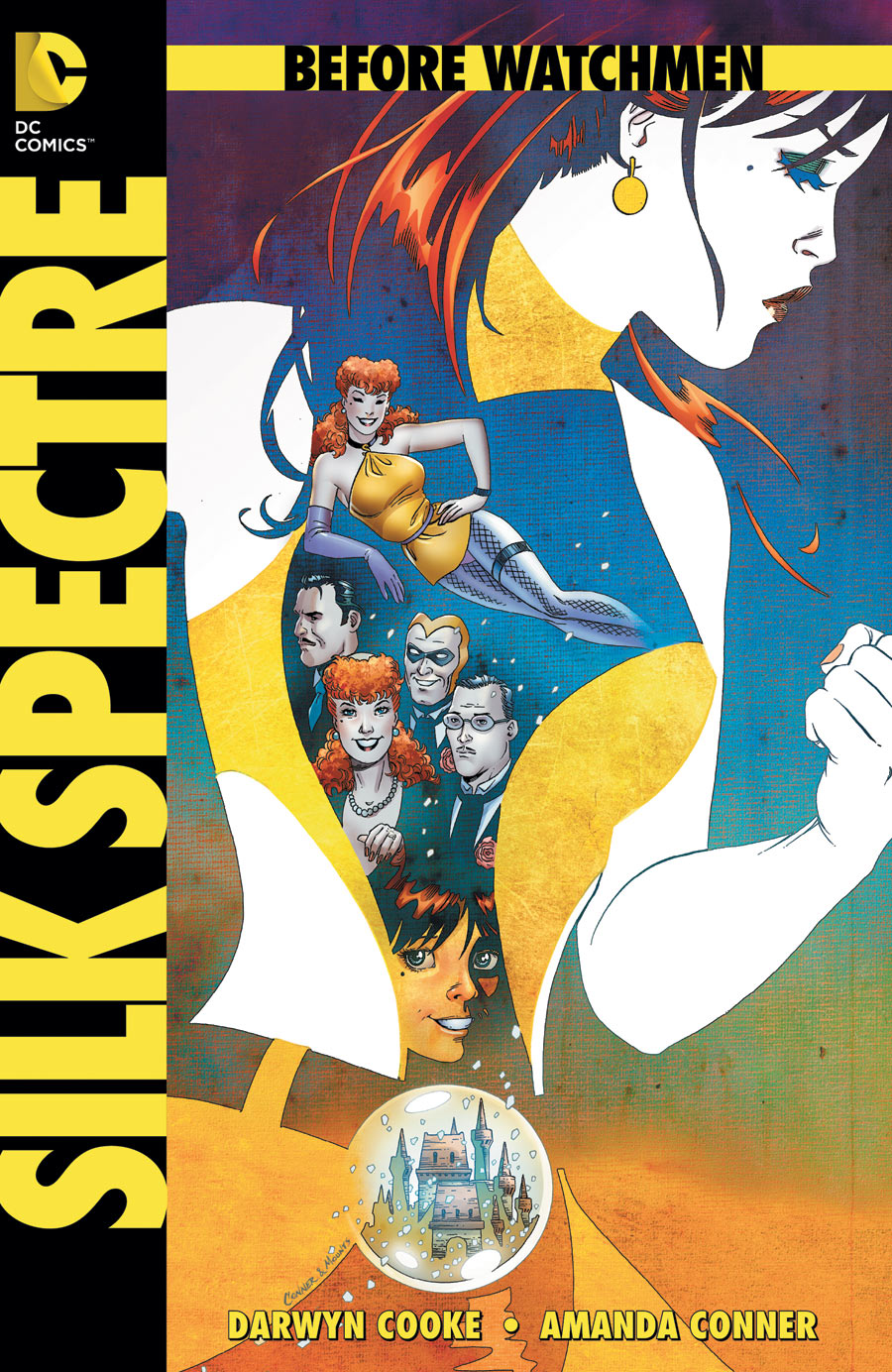 BEFORE WATCHMEN: SILK SPECTRE 1. Well, we all know how much I love Amanda Conner, but again, I can't get on board. Also, in truth, this style isn't really working for me, I don't know what the books are going to be like of course, but from what I know so far, tonally this art feels wrong to me.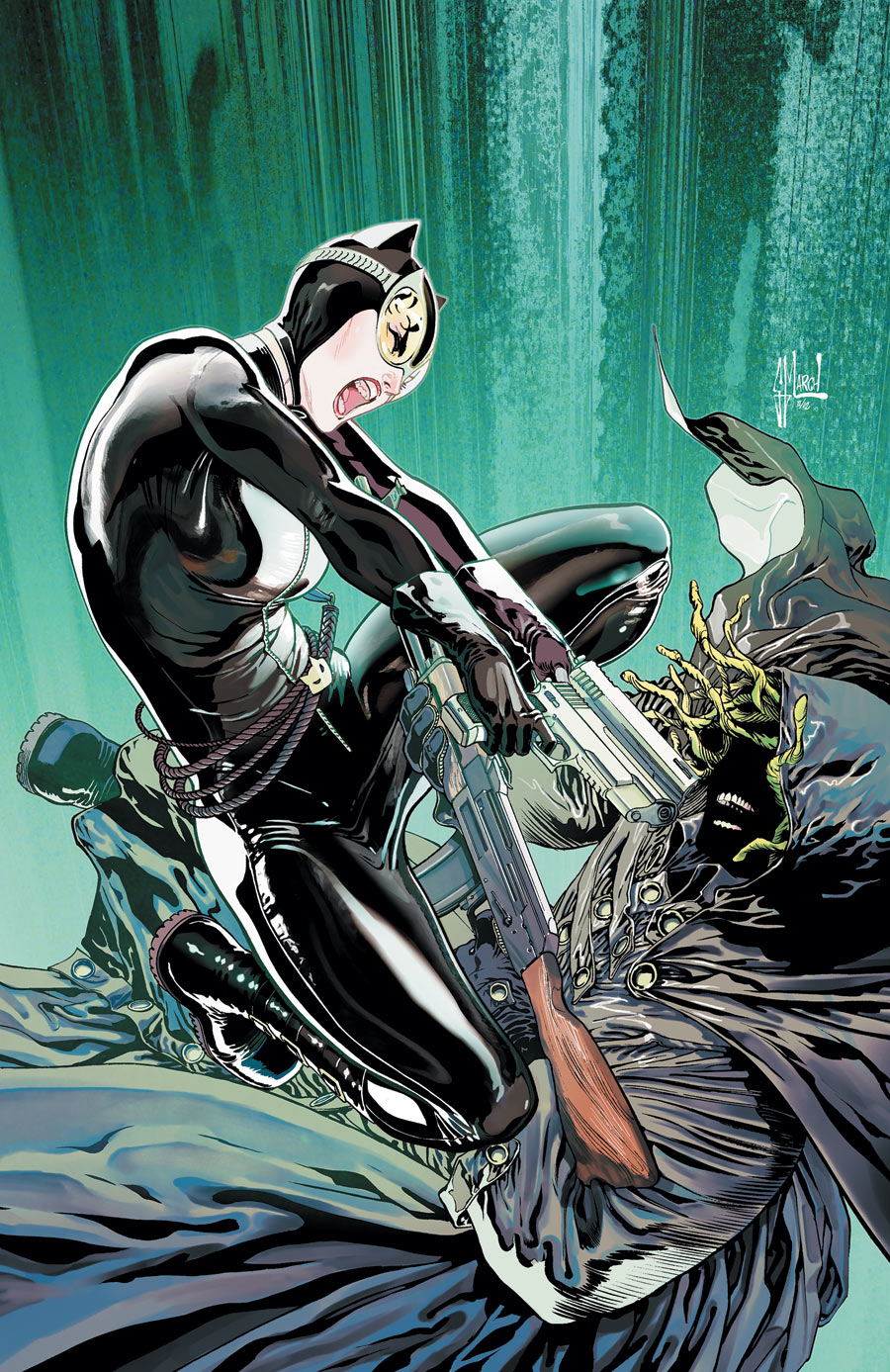 CATWOMAN 10. Points for flat boots, a zipped up top, and the fact that I can't see her crazy eyes. Negative points for just about everything else.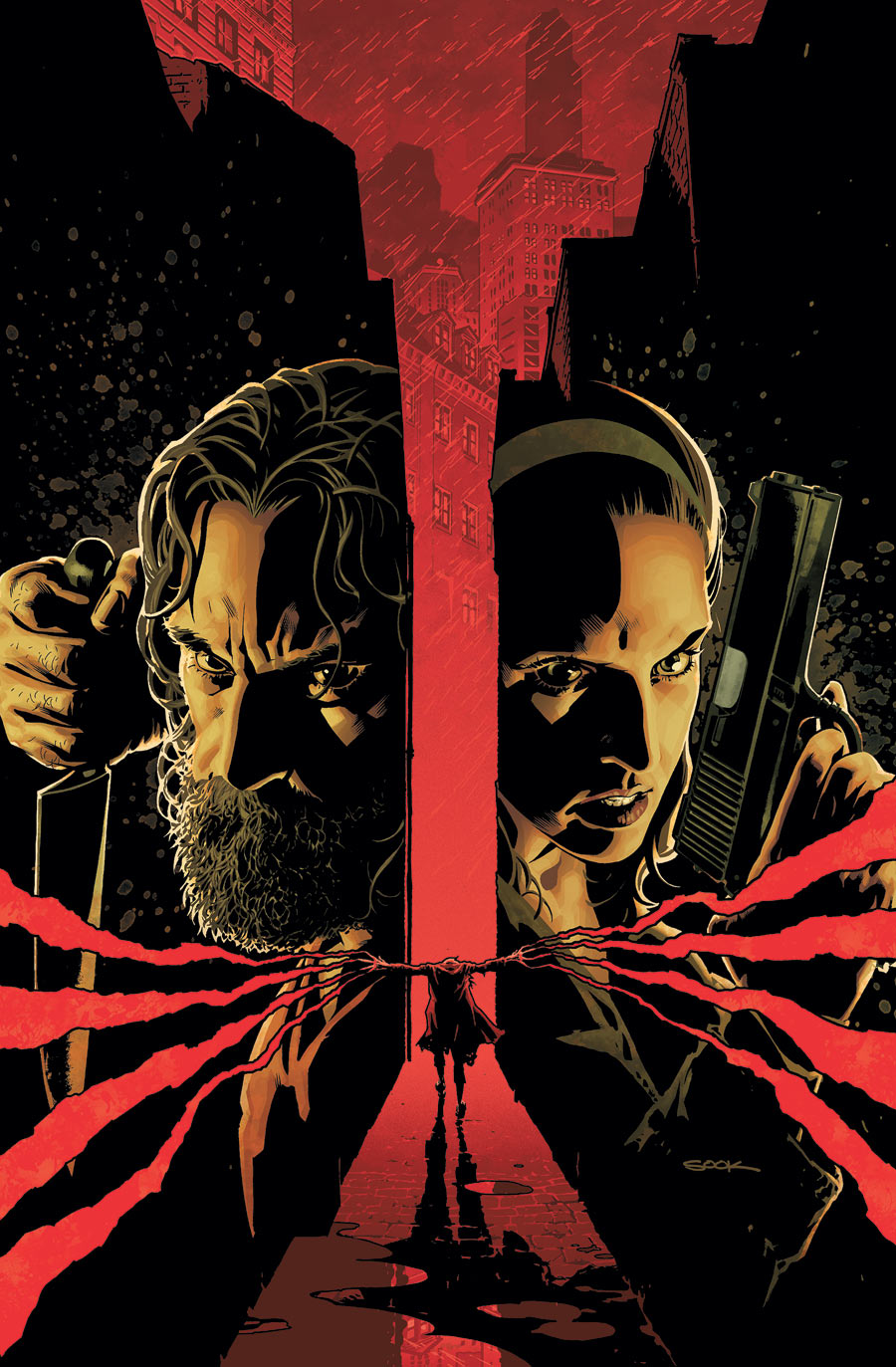 DC UNIVERSE PRESENTS 10. I'm usually a Sook uberfan, but this doesn't quite work for me. I think if the floating heads weren't there I'd fucking love this – just the buildings and the figure and the red?  Yeah, sometimes less is more, y'know?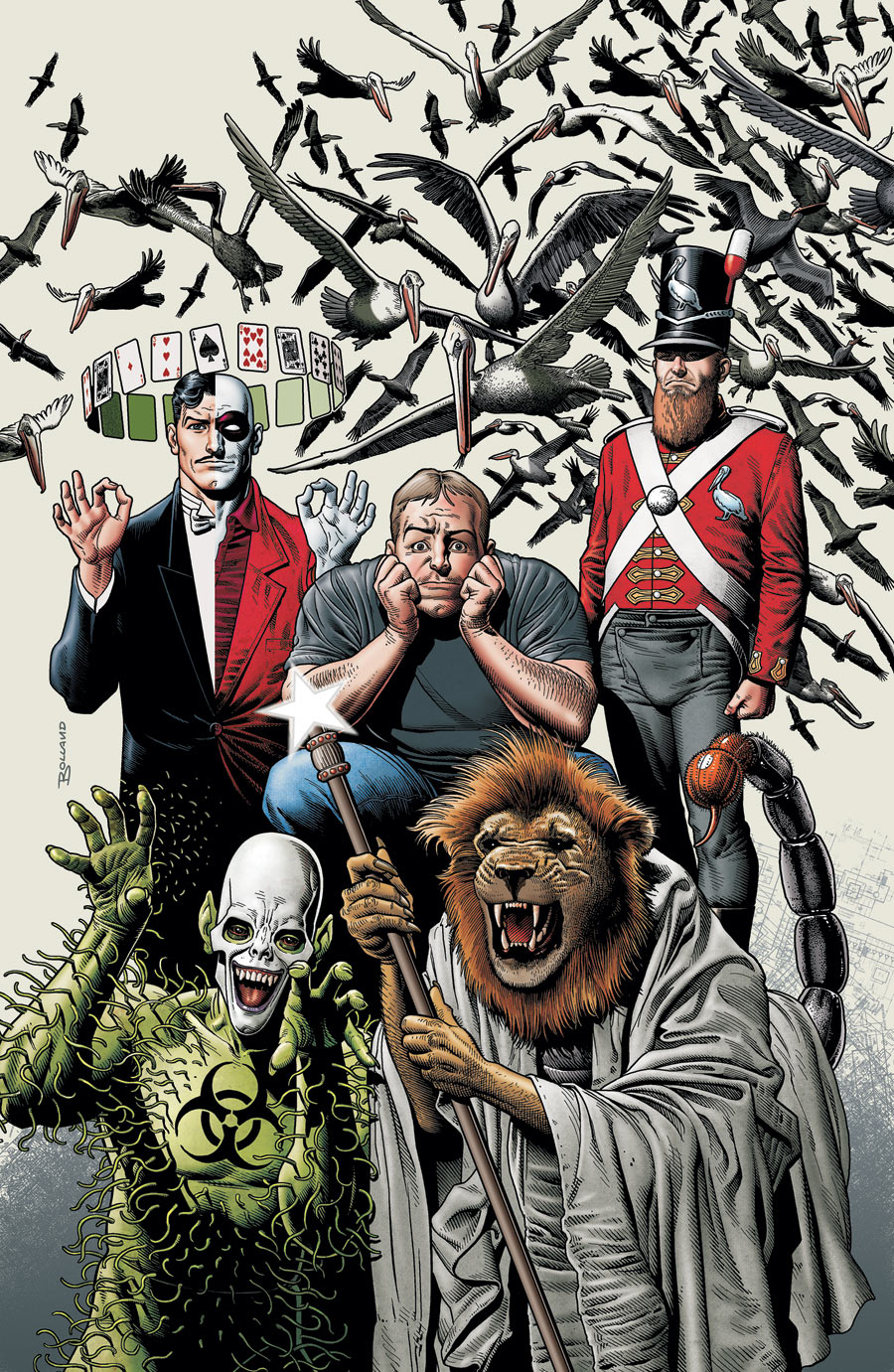 DIAL H 2. Wow. This looks batshit crazy insane.  I mean WTF IS GOING ON!??!?! I may have to check this out just out of sheer curiosity.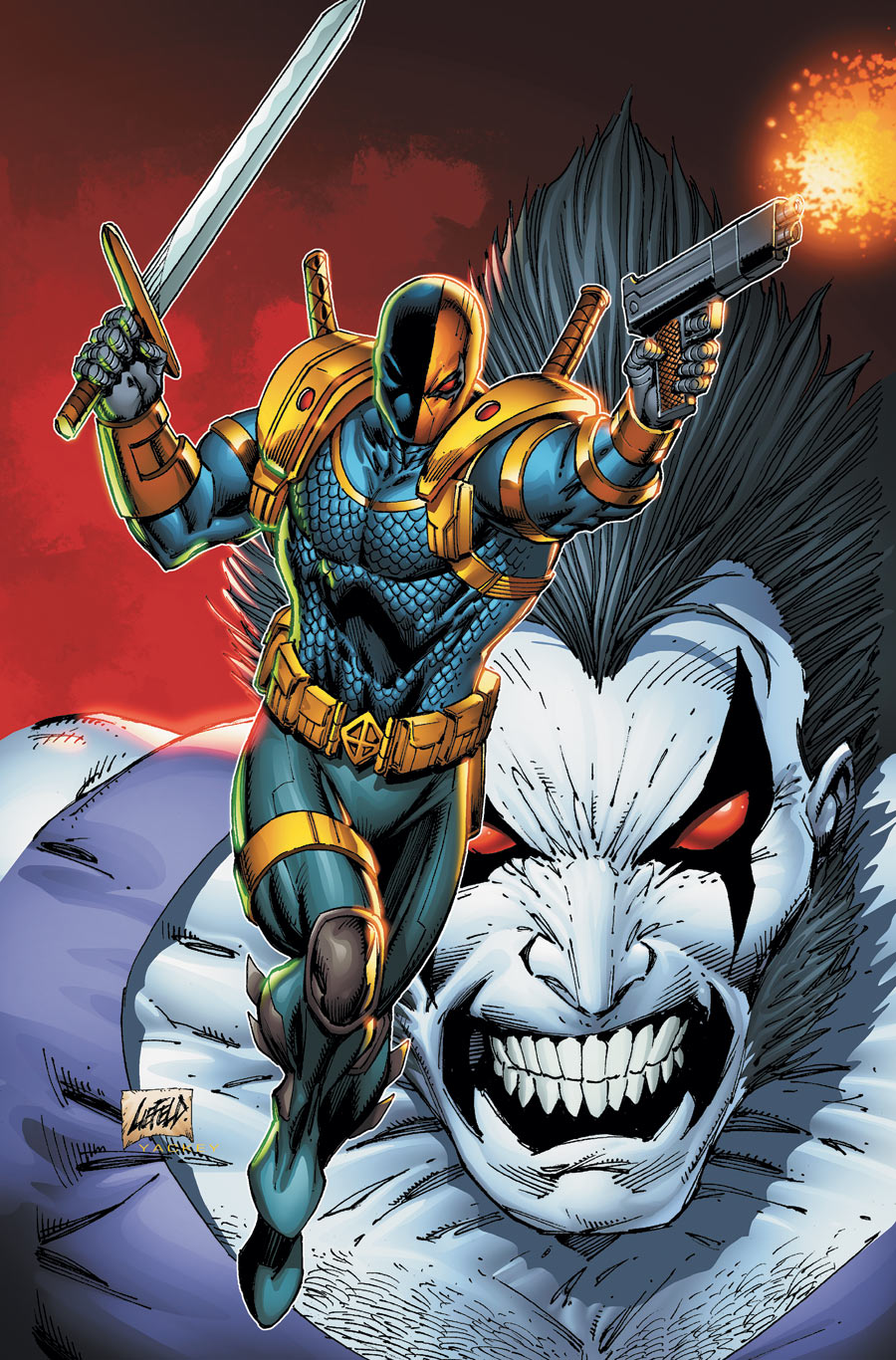 DEATHSTROKE 10.  Oh god. What to talk about here? So many options. The utter weirdness of Lobo has somehow been made even weirder. WHAT IS UP WITH HIS CHEST HAIR? AND HIS MUSCLES? I just…I just can't…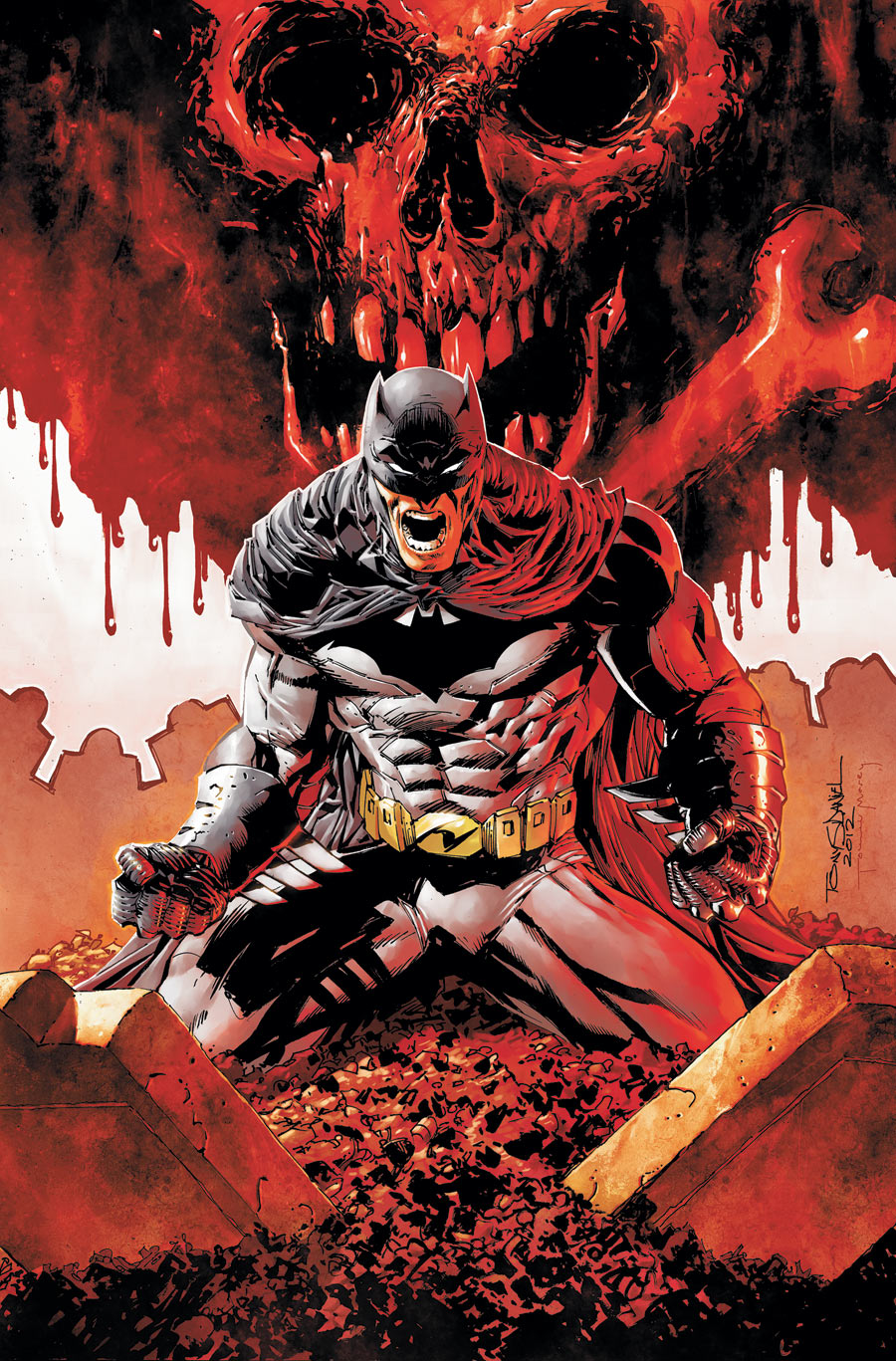 DETECTIVE COMICS 10. I am just not going to talk about that giant bloody wrench again. Moving on.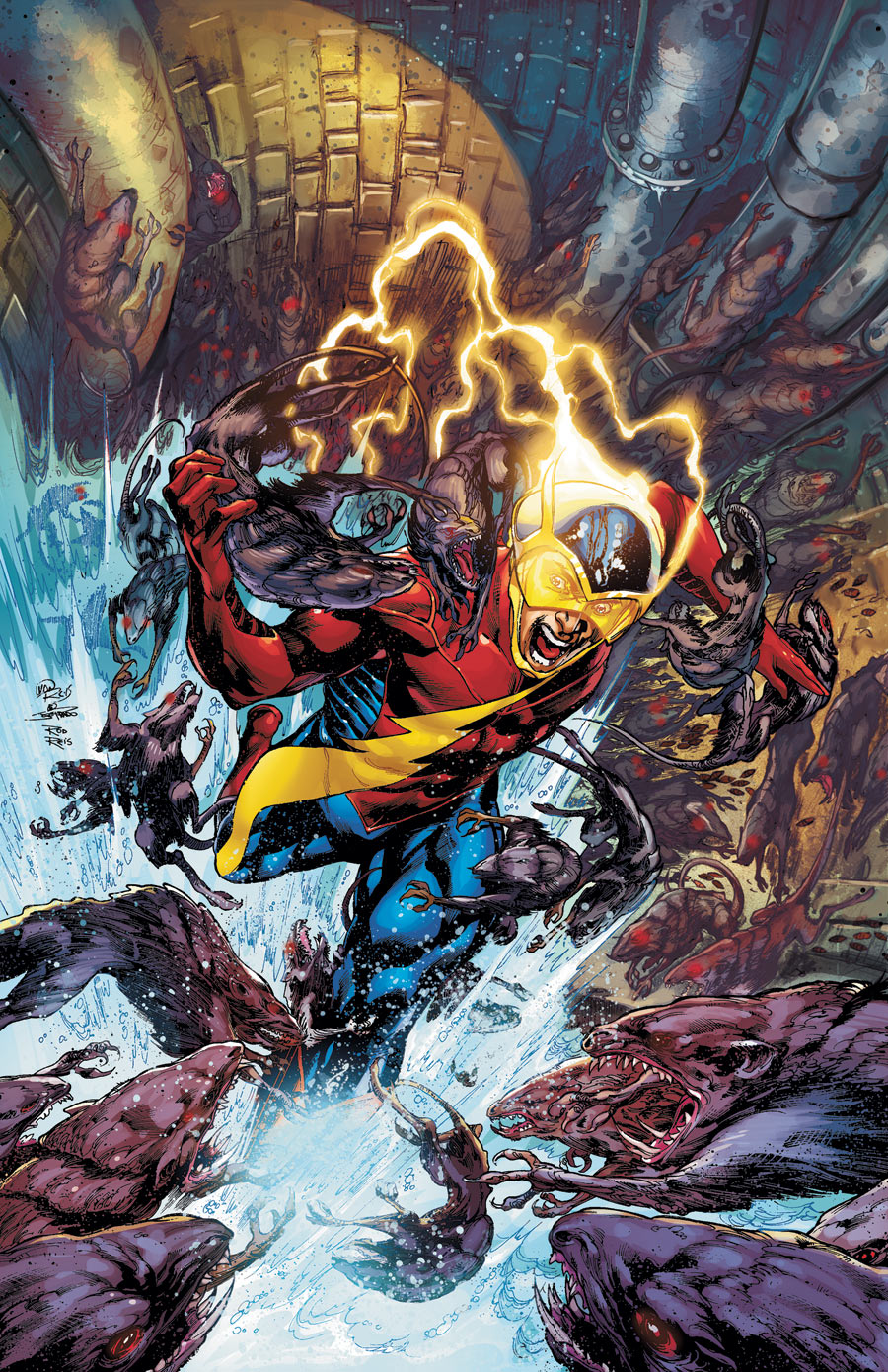 EARTH TWO 2.  OH MOTHER OF GOD. MUTANT RATS ARE SO SCARY. COULD THIS BE SCARIER? THEY'RE EVERYWHERE. GET OUT! GET OUT NOW!!!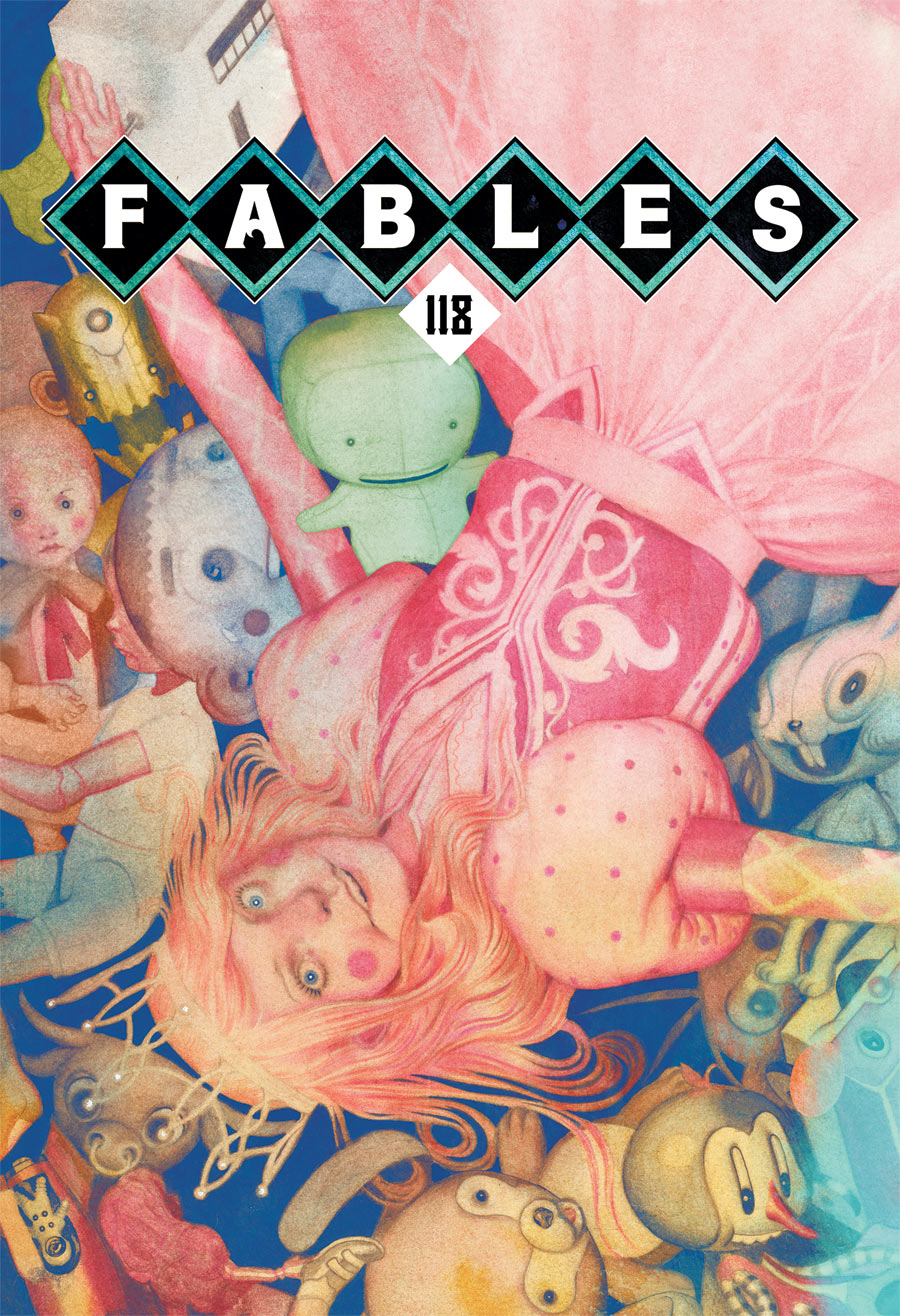 FABLES 118. This is alternately horrifying and adorable. I can't decide which. The bull and the little green thing are so cute I want to squeeze them until they die (um, that sounds bad), but Ozma (is that Ozma?) the penguin (is that a penguin?), the rabbit, and the doll are the shit nightmares are made of.  Spot on color choices too.
FAIREST 4.  Well this is damn sexy I must say. Really gorgeous. Great colors. His eyes are totes hypnotic.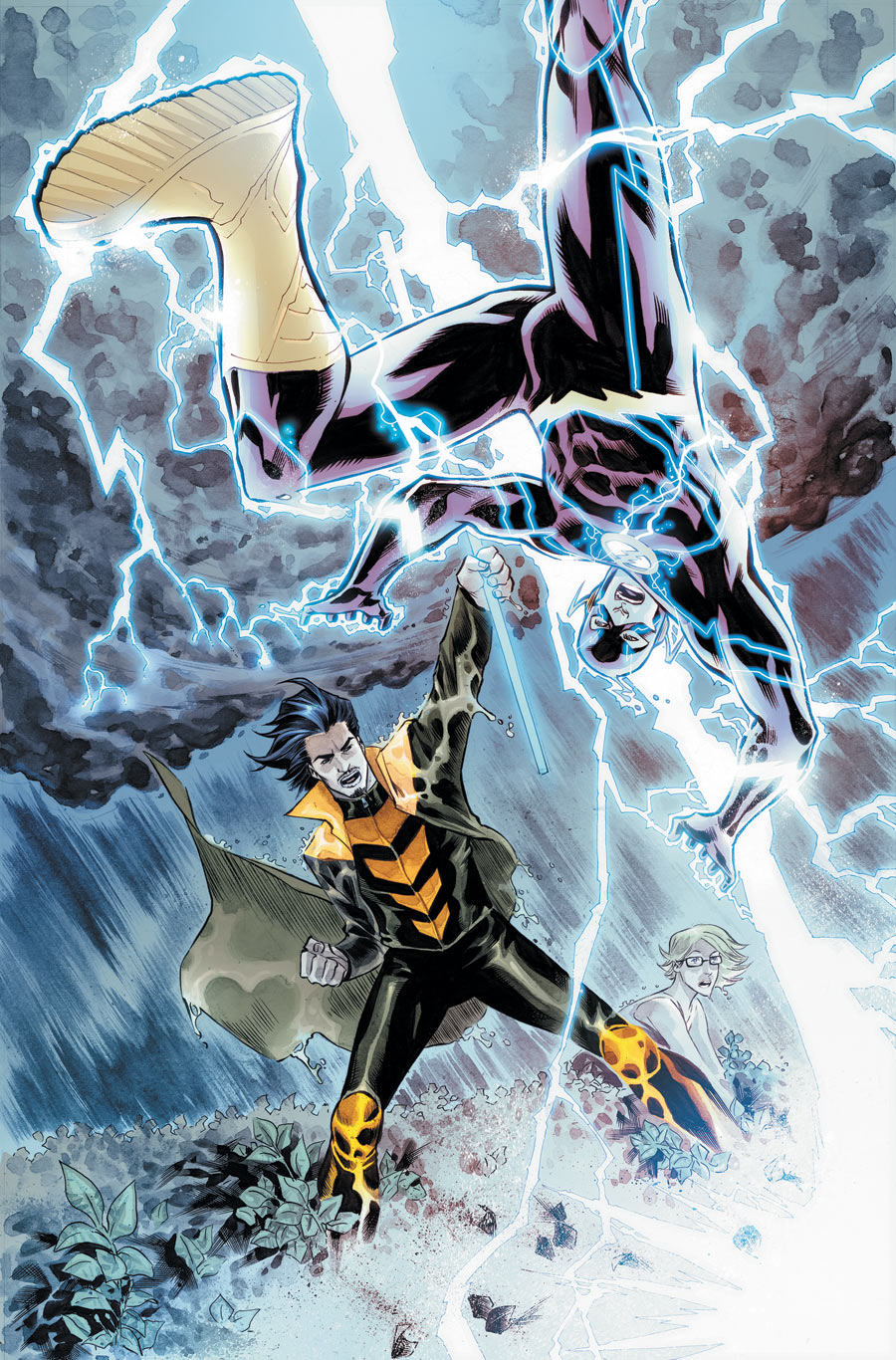 FLASH 10. Pretty cool, great colors and the composition is nice.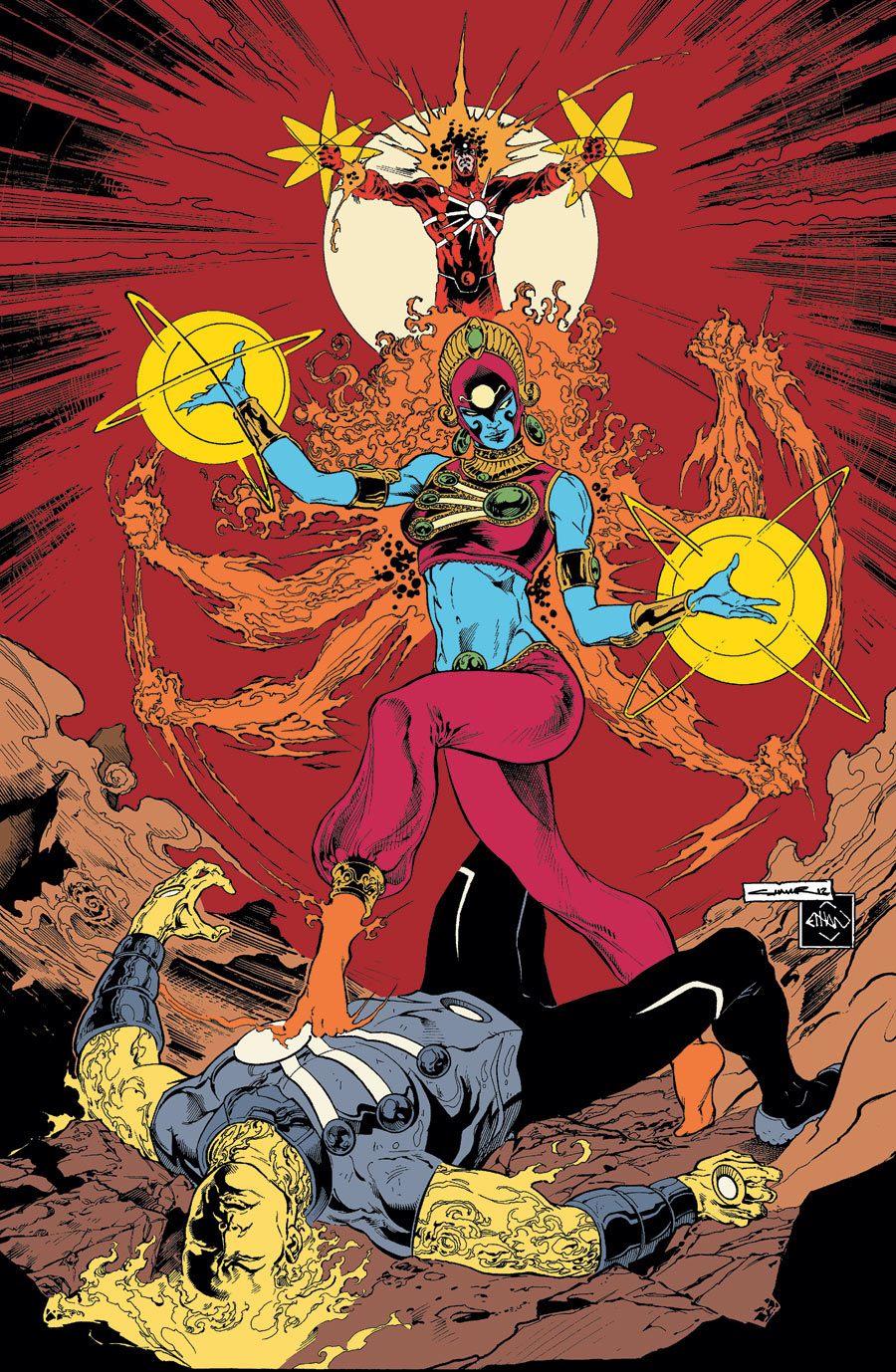 THE FURY OF FIRESTORM 10. Of all the weird ass shit going on here, I'm most weirded out by her one foot. WHAT IS GOING ON THERE?!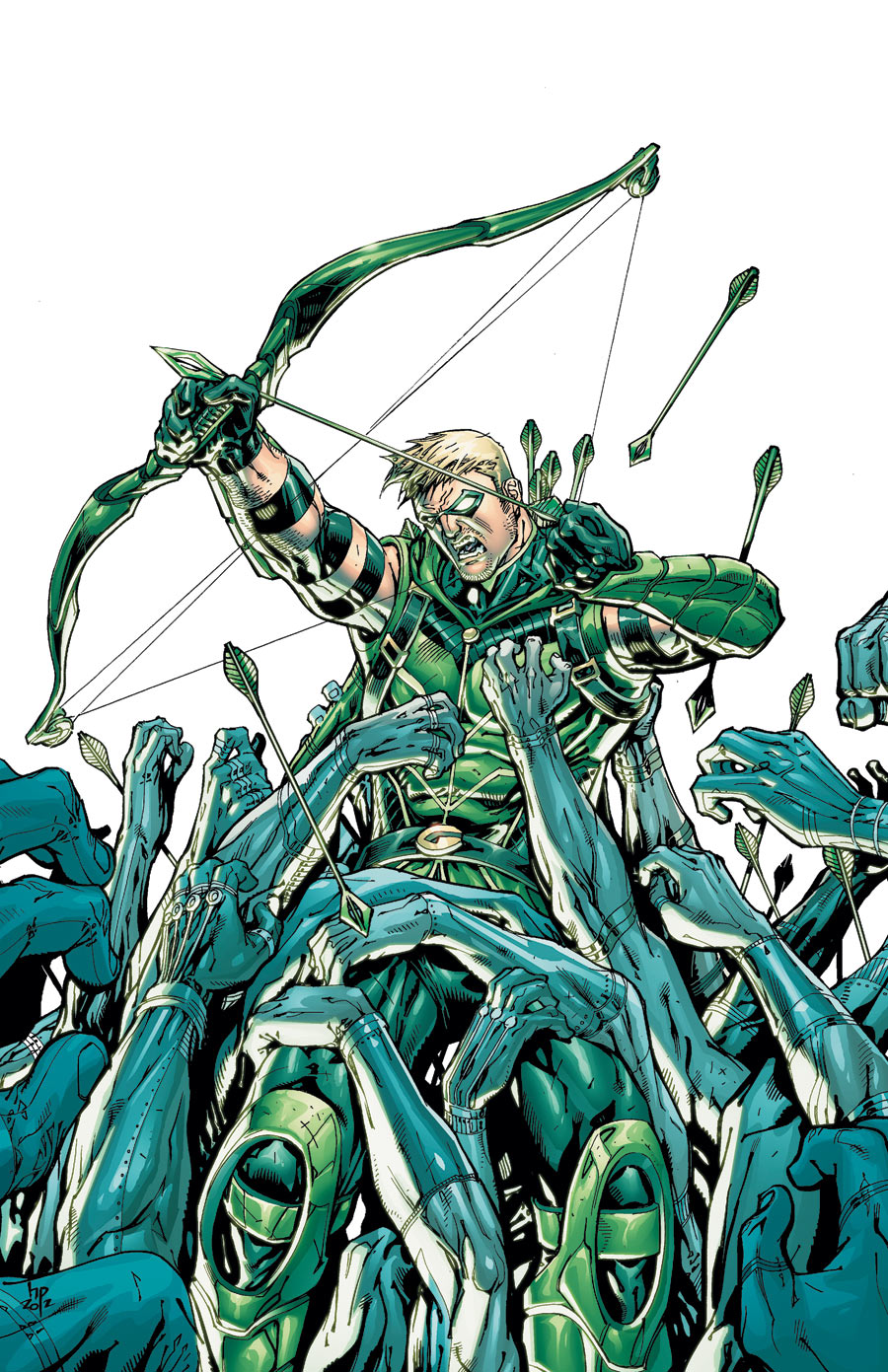 GREEN ARROW 10.  I wish there was more green and more fussiness on this cover. /sarcasm.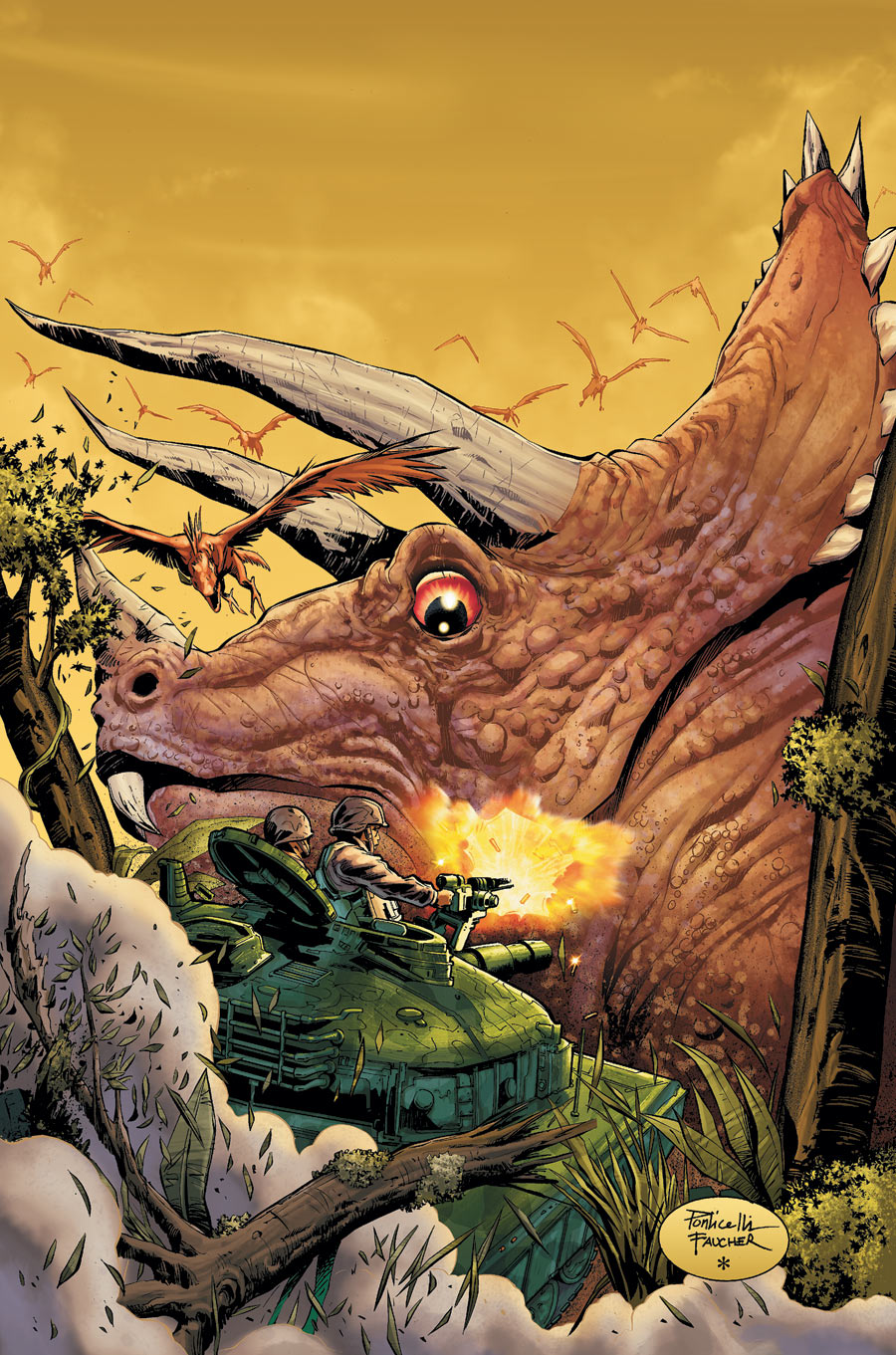 GI JOE COMBAT 2. Tell me that Triceratops' eye isn't saying "WHAT THE FUCK IS THIS SHIT?" Also, what's up with his front tooth?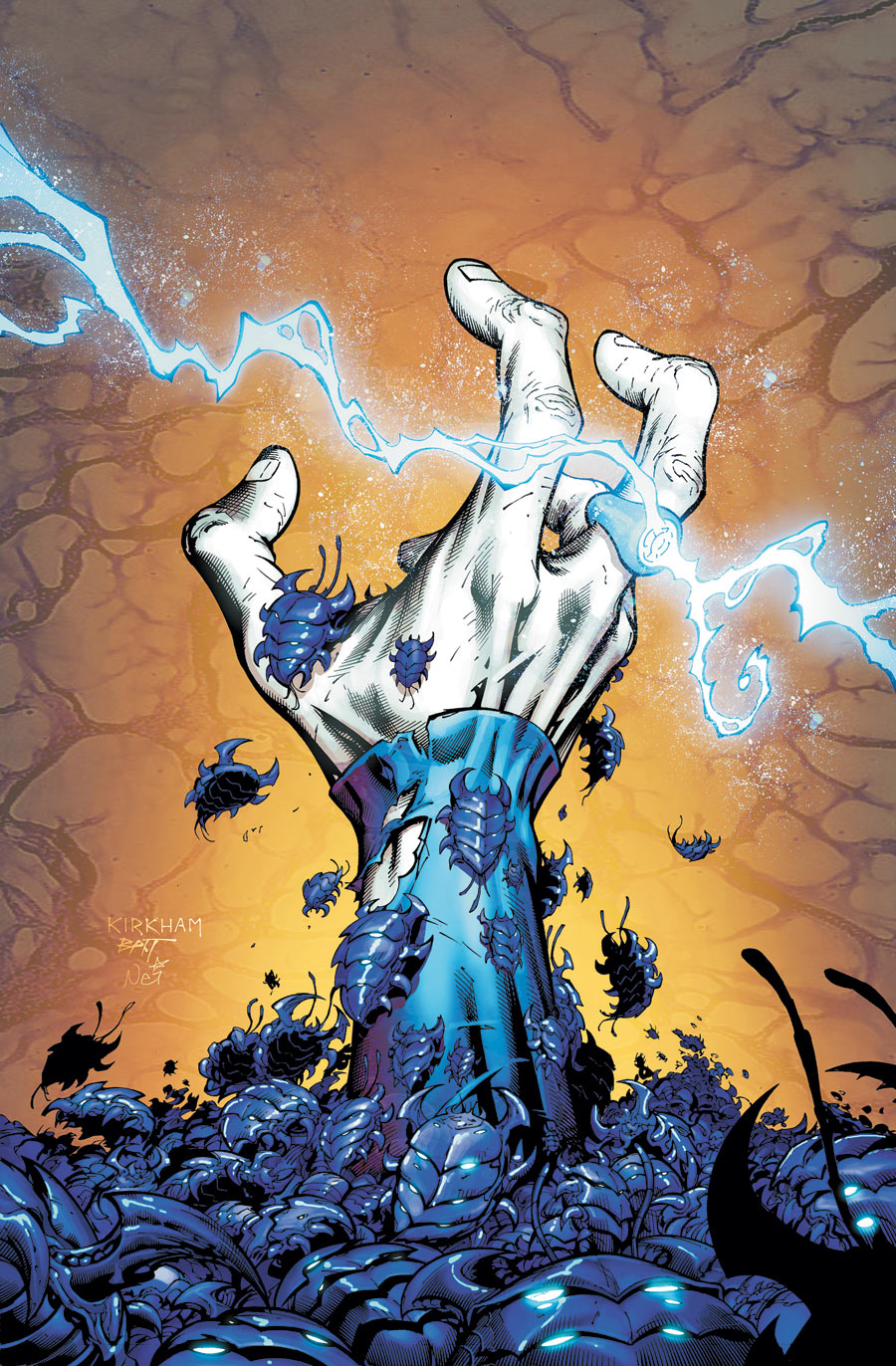 GREEN LANTERN: NEW GUARDIANS 10. Eh, pretty effective I guess in that it seems downright horrifying. I like that it's both complicated and simple at the same time.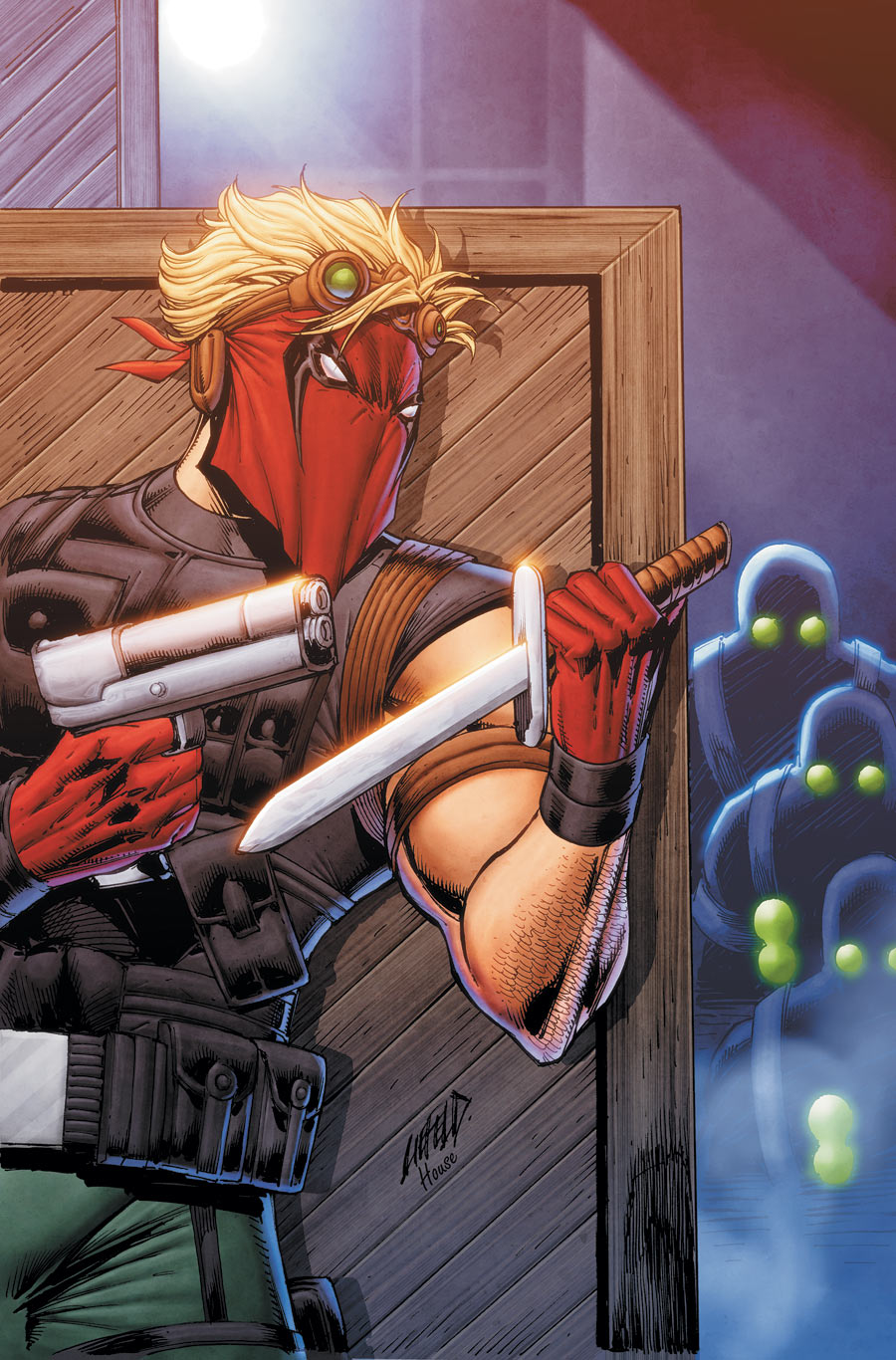 GRIFTER 10. So…we finally get a background from Liefeld and it's a giant crooked box? Yeah, that seems about right.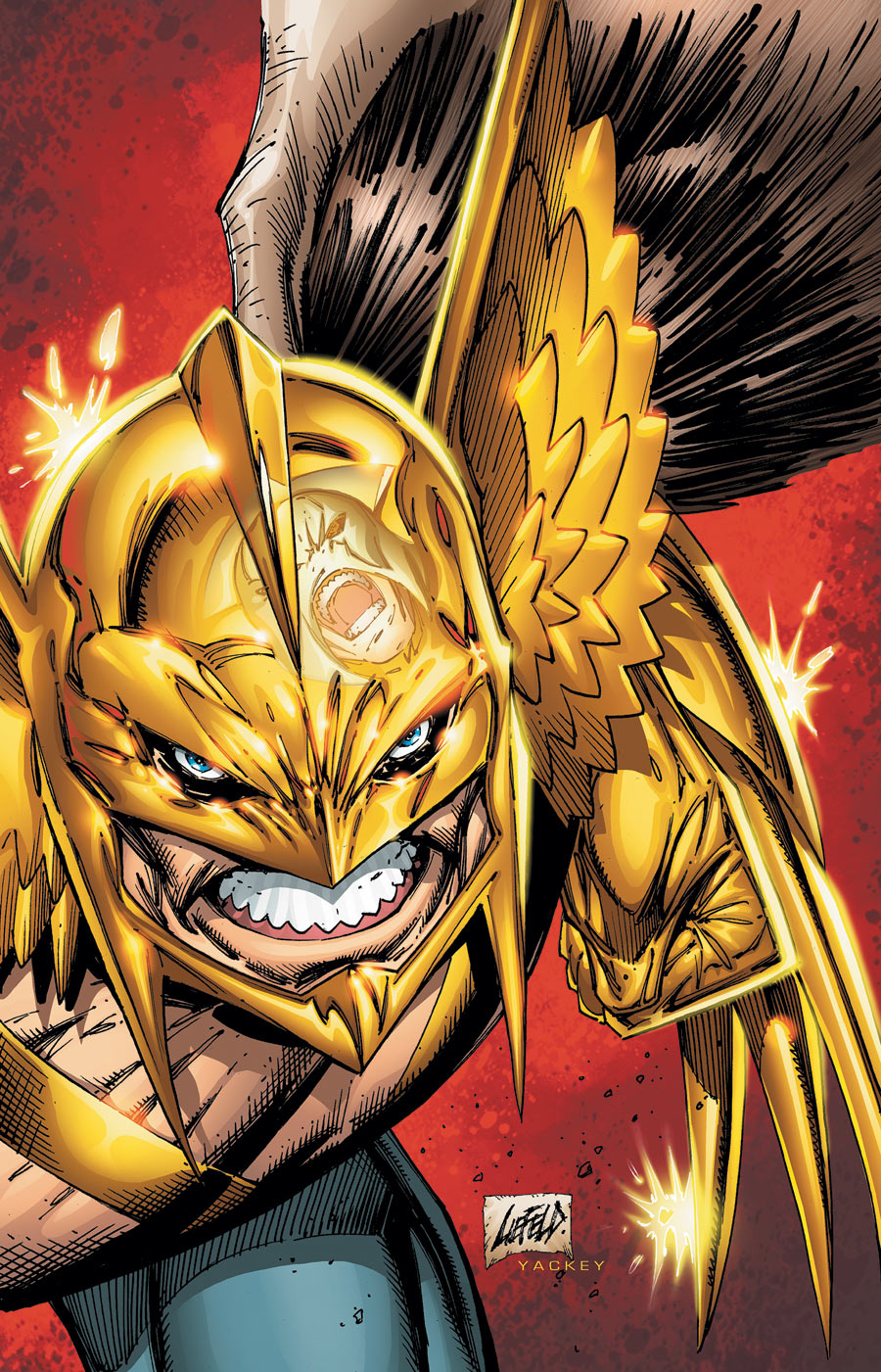 SAVAGE HAWKMAN 10. "SEE HOW MANY TEETH I HAVE?!?!  SEEEEEEEE!!!!!"
Also, WTF is up with his chest? Jesus.
And again with the totally phoned in wings.  Oy.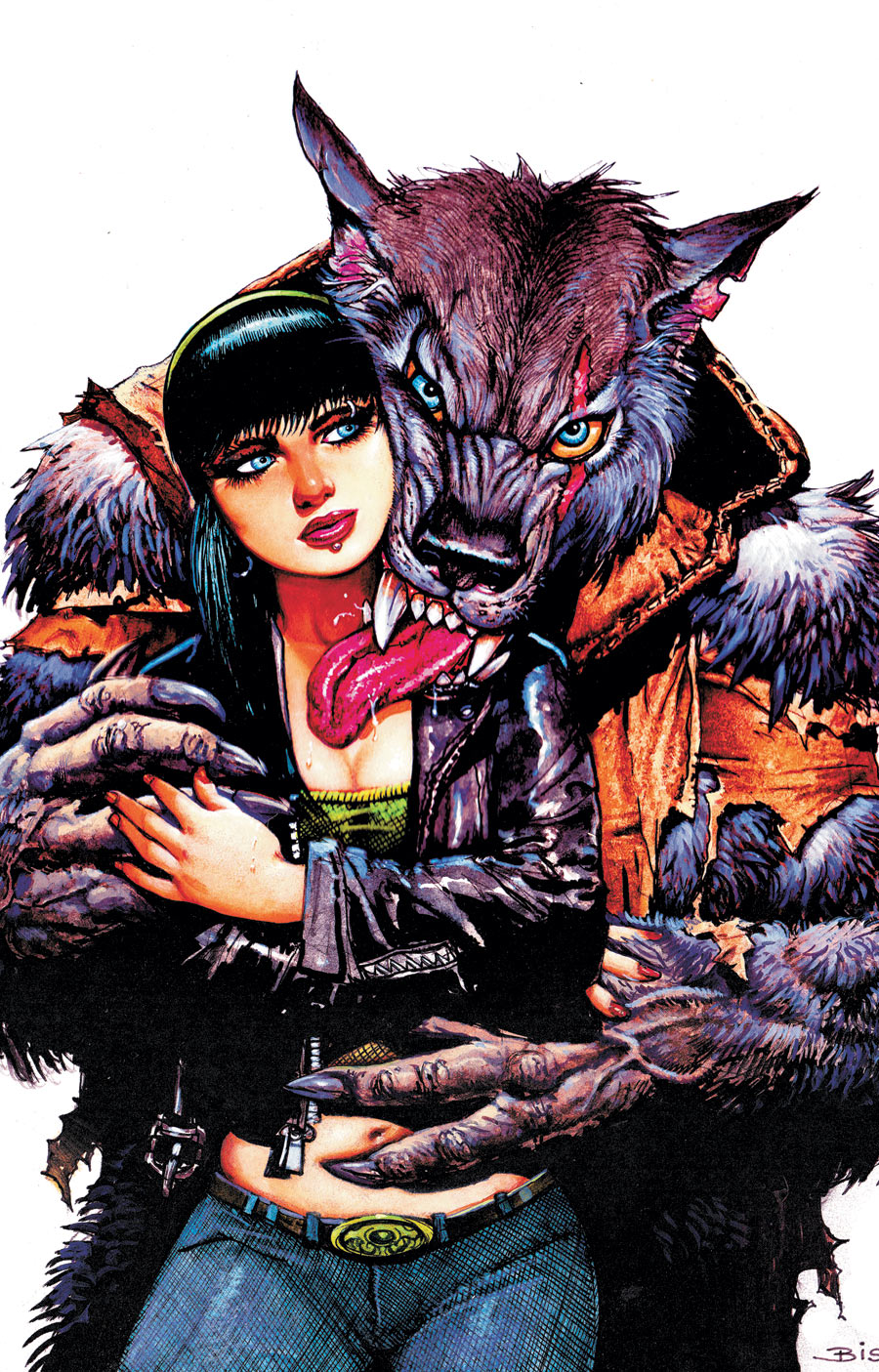 HELLBLAZER 292. Well this is 100 kinds of awesome. It's super fucked up and kinky, but fun and saucy and gorgeously illustrated. These Hellblazer covers have all been pretty fucking awesome in fact. Look at how her skin actually gives where the wolf is pressing into it? That is some amazing illustration work.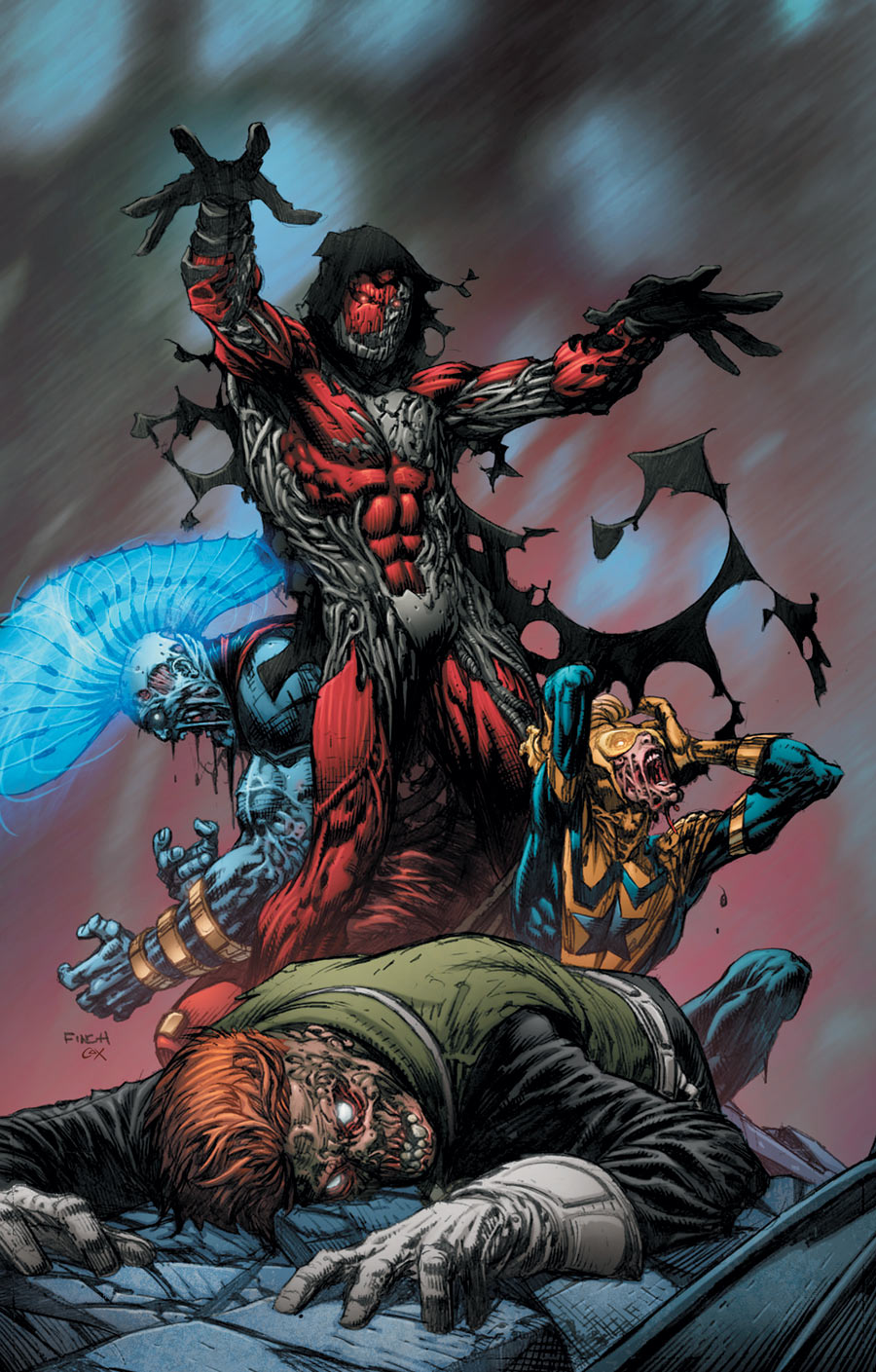 JUSTICE LEAGUE INTERNATIONAL 10. Even though this is all kinds of fucked up, the most bizarre thing here is still OMAC's weird ass mohawk. I HATE IT.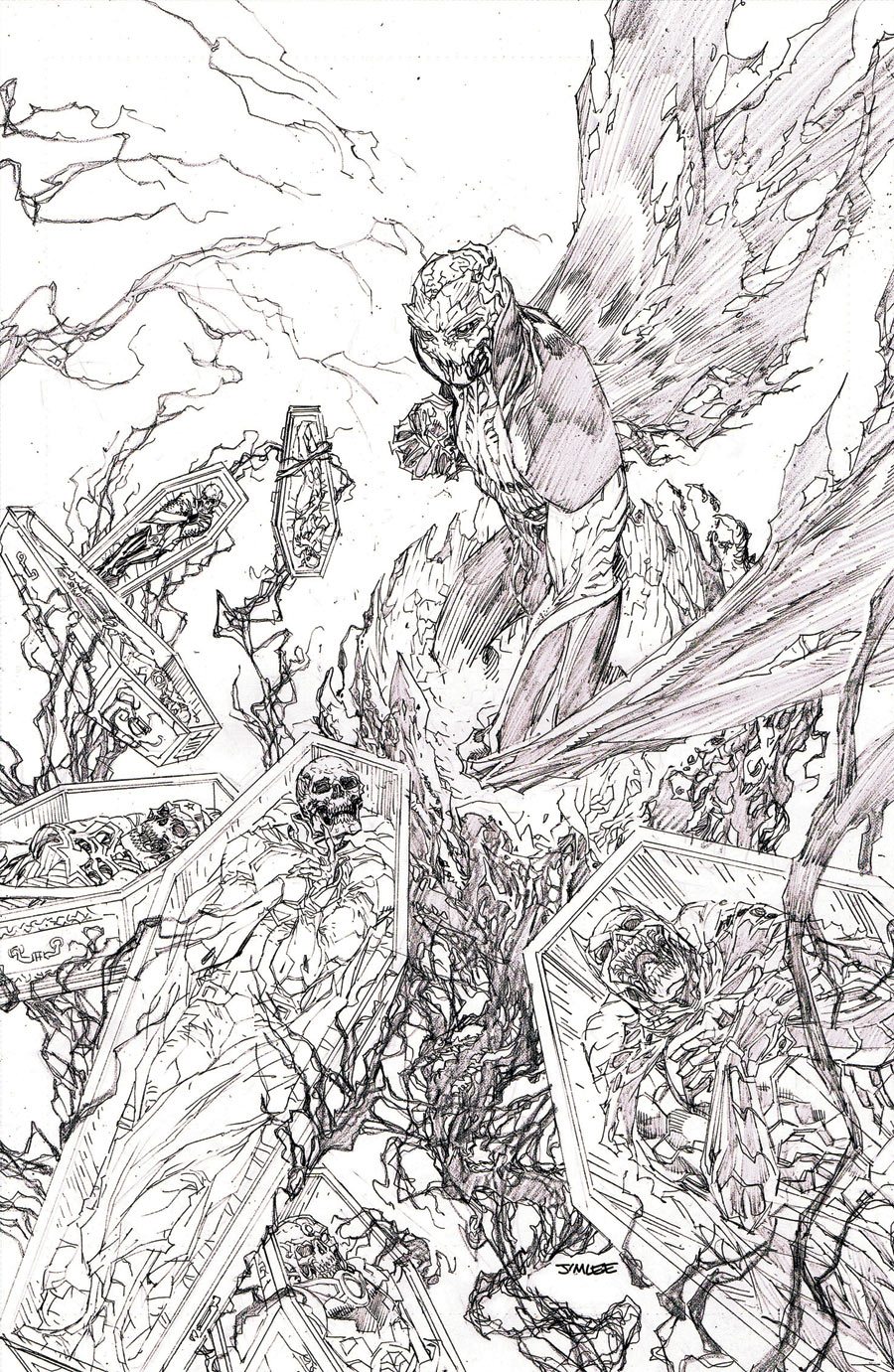 JUSTICE LEAGUE 10. You know what this needs?  MORE SHIT GOING ON.  JOKES! THESE ARE THE JOKES!
In all fairness, maybe it will look different with color, but it seems pretty damn fussy.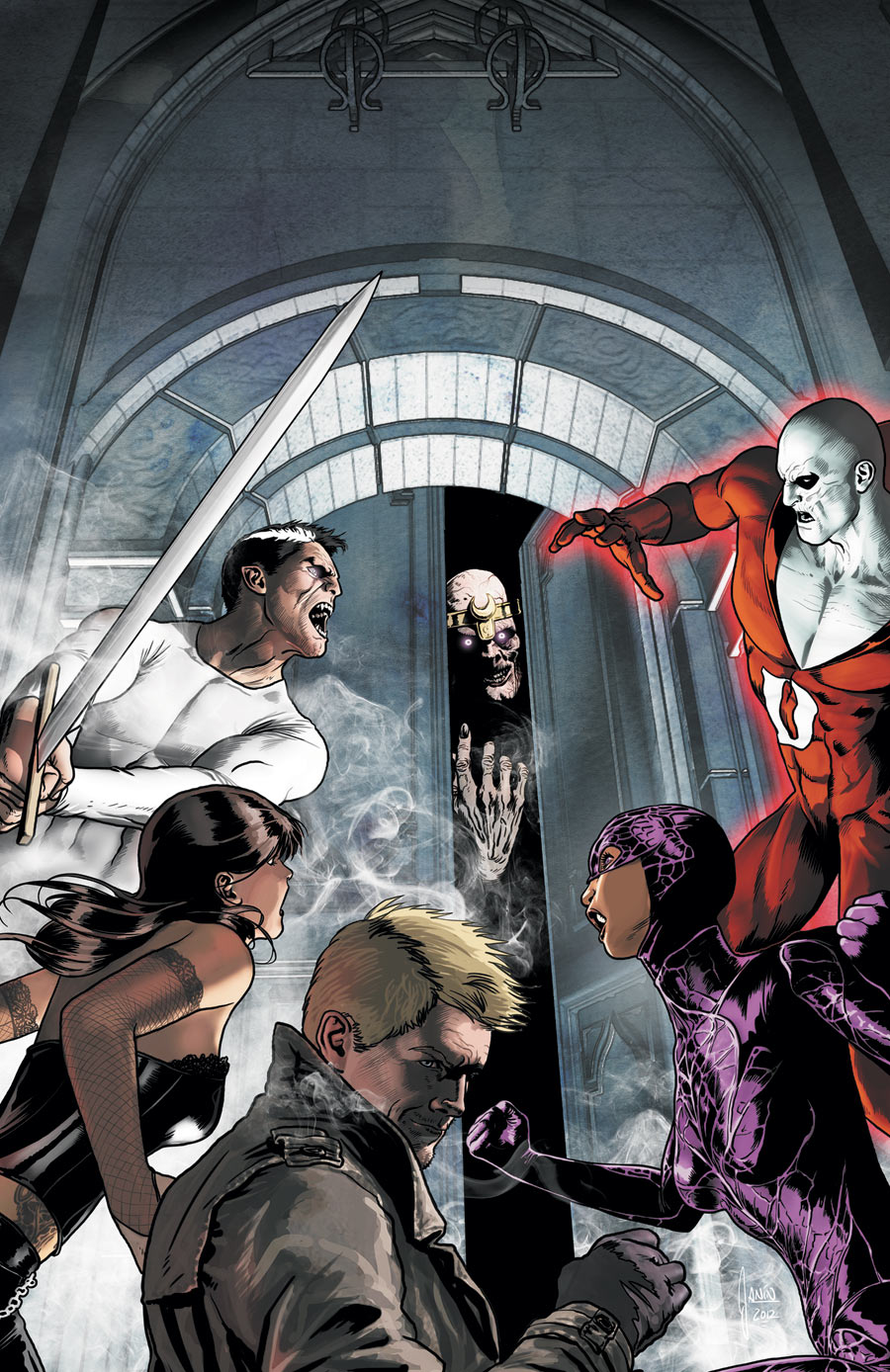 JUSTICE LEAGUE DARK 10. Nice work by Janin. Excited to see Black Orchid here.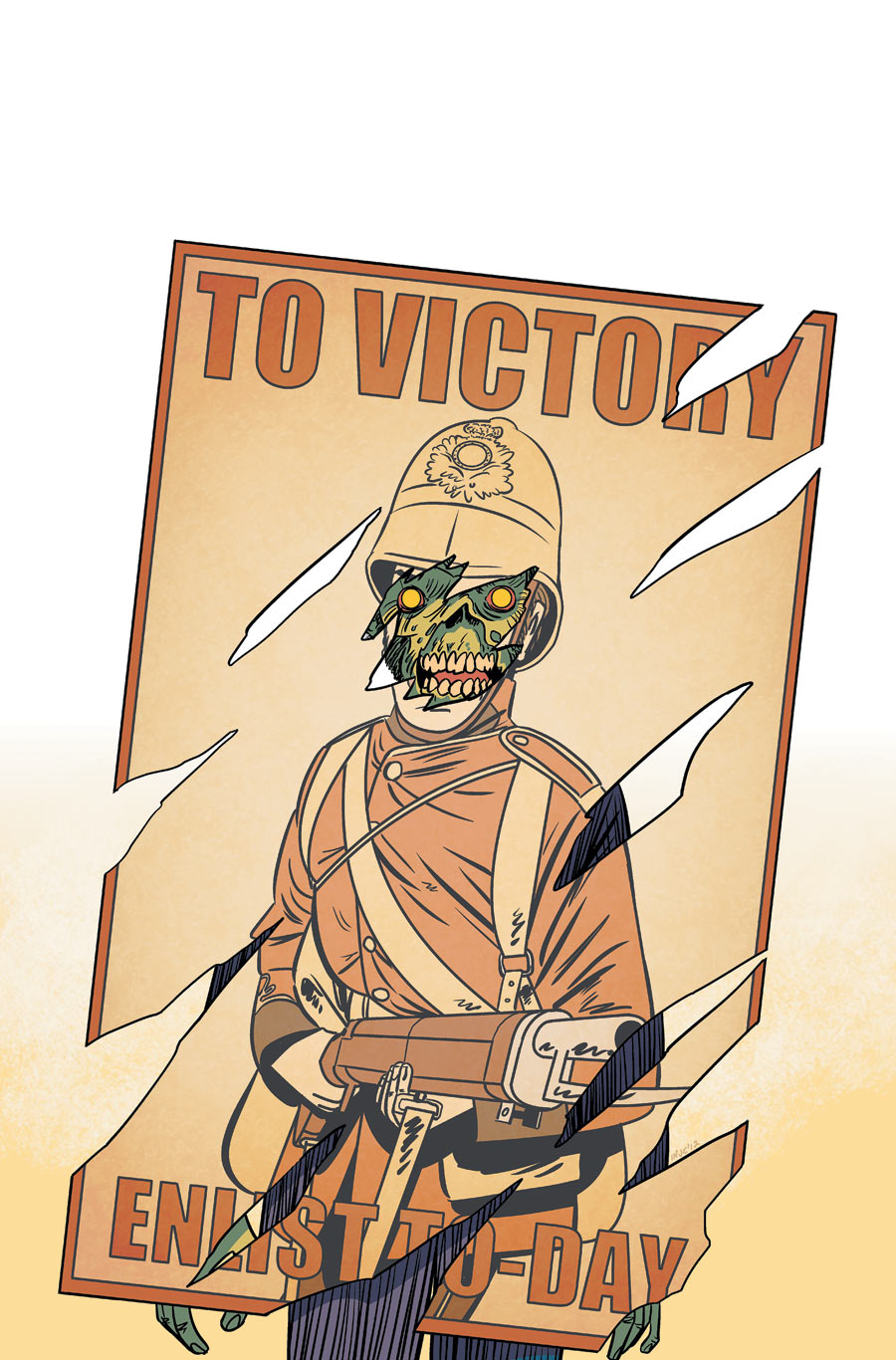 NEW DEADWARDIANS 4. Wow. Fantastic. So clever and effective. Great color choices too.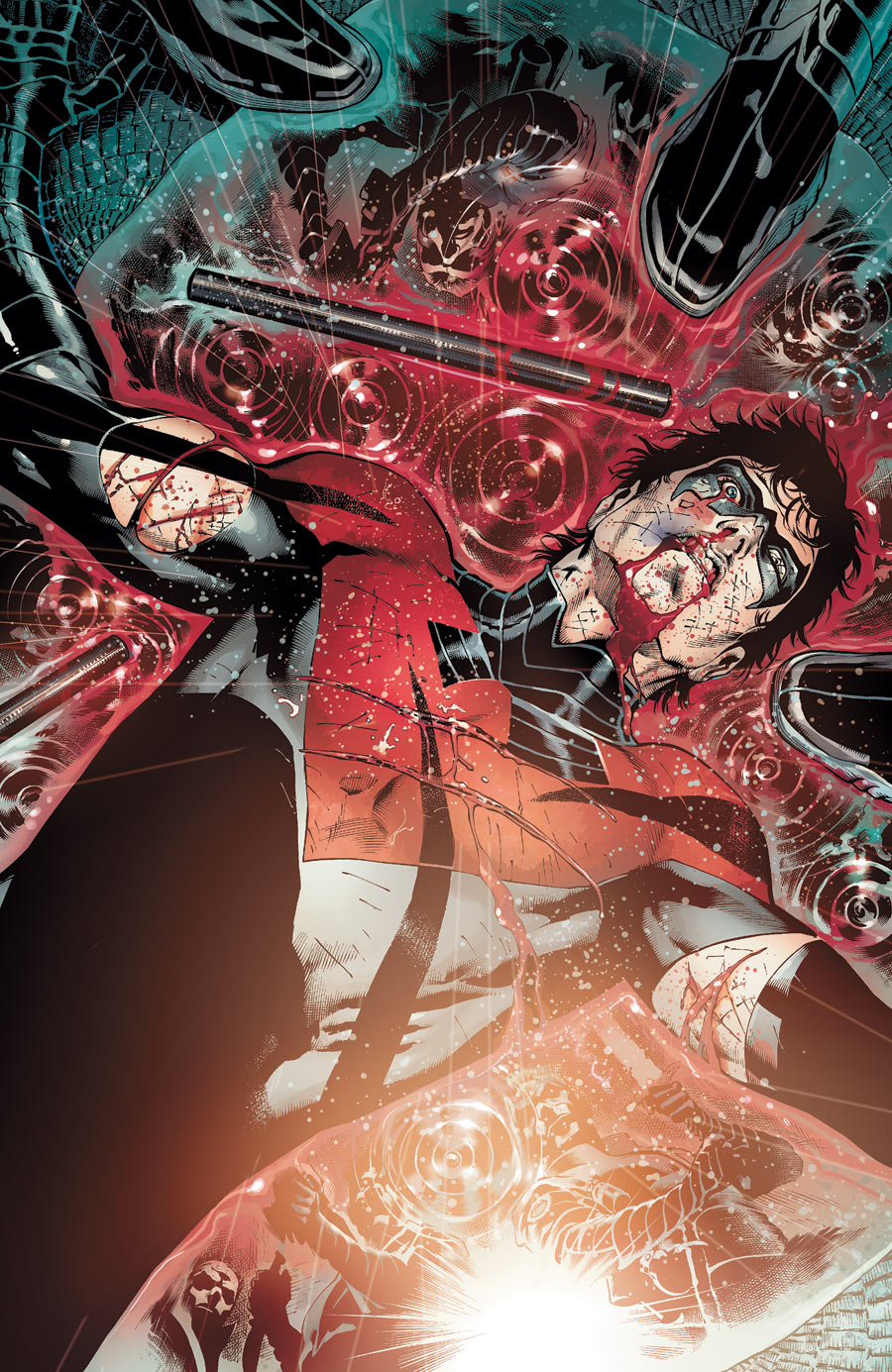 NIGHTWING 10. Well, I don't love the crazy violence of this (and of the new 52 in general – though  don't want to single Nightwing out for that – a lot of the books are guilty of it) but this is the best cover of the series yet. It feels really visceral and emotional. And it's just really well executed.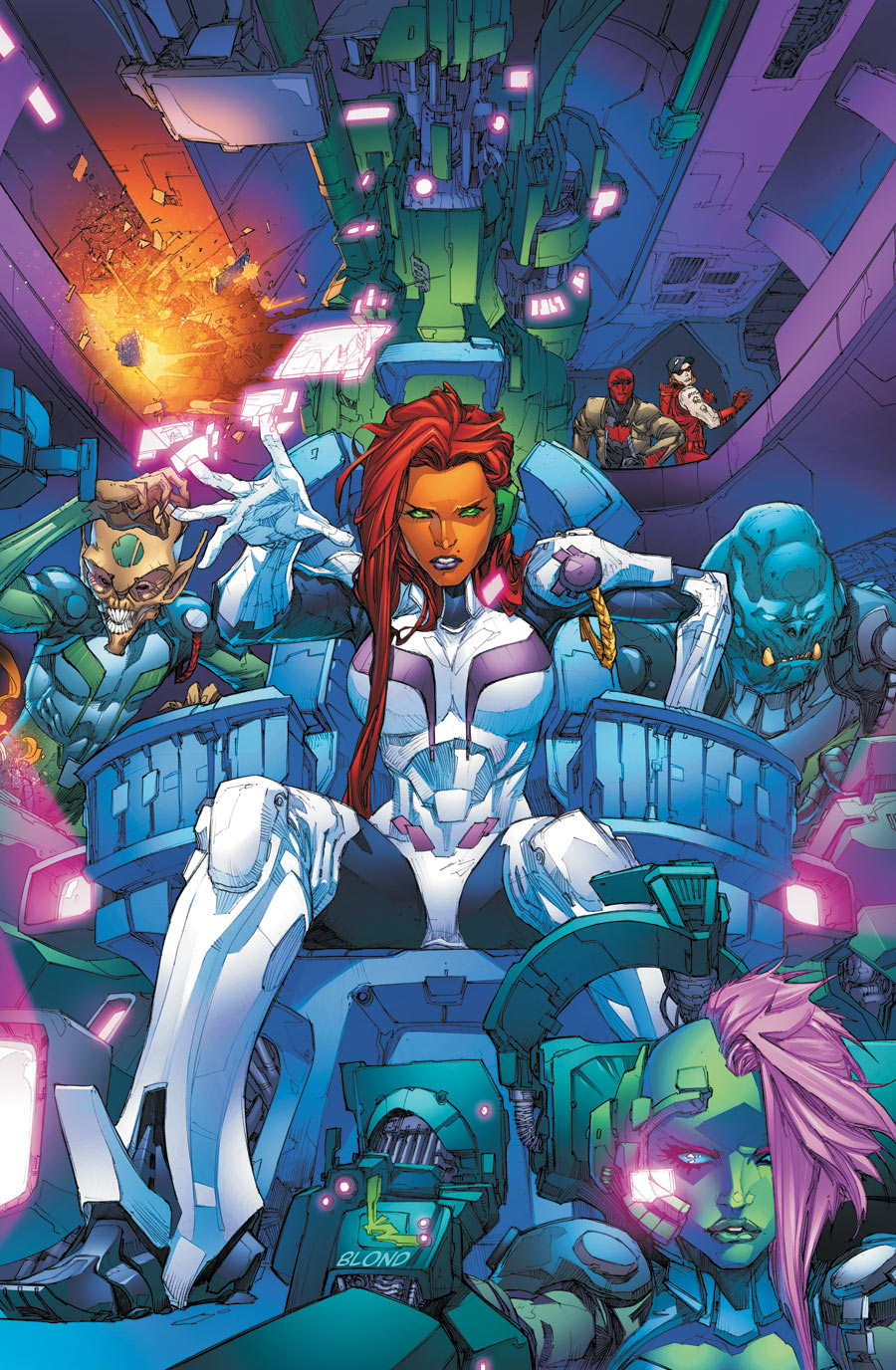 RED HOOD & THE OUTLAWS 10.  See now this cover isn't that bad (in some ways)…but the cover solicit text makes it just a joke:
"Red Hood learns that Starfire is one of the most respected and feared commanders in all of space! Who knew?"
GEE! I WONDER WHY THEY DIDN'T KNOW?!  I WONDER IF IT'S CAUSE SHE RUNS AROUND LOOKING AND ACTING LIKE A BLOW UP SEX DOLL THAT NOBODY TAKES SERIOUSLY. I WONDER!?!?!
It's sad though that even here she's pretty hyper sexualized. Her boobs in that armor are just out of control (and weird) and our line of sight is pointed directly at her crotch – legs spread wide. Sad, sad, sad.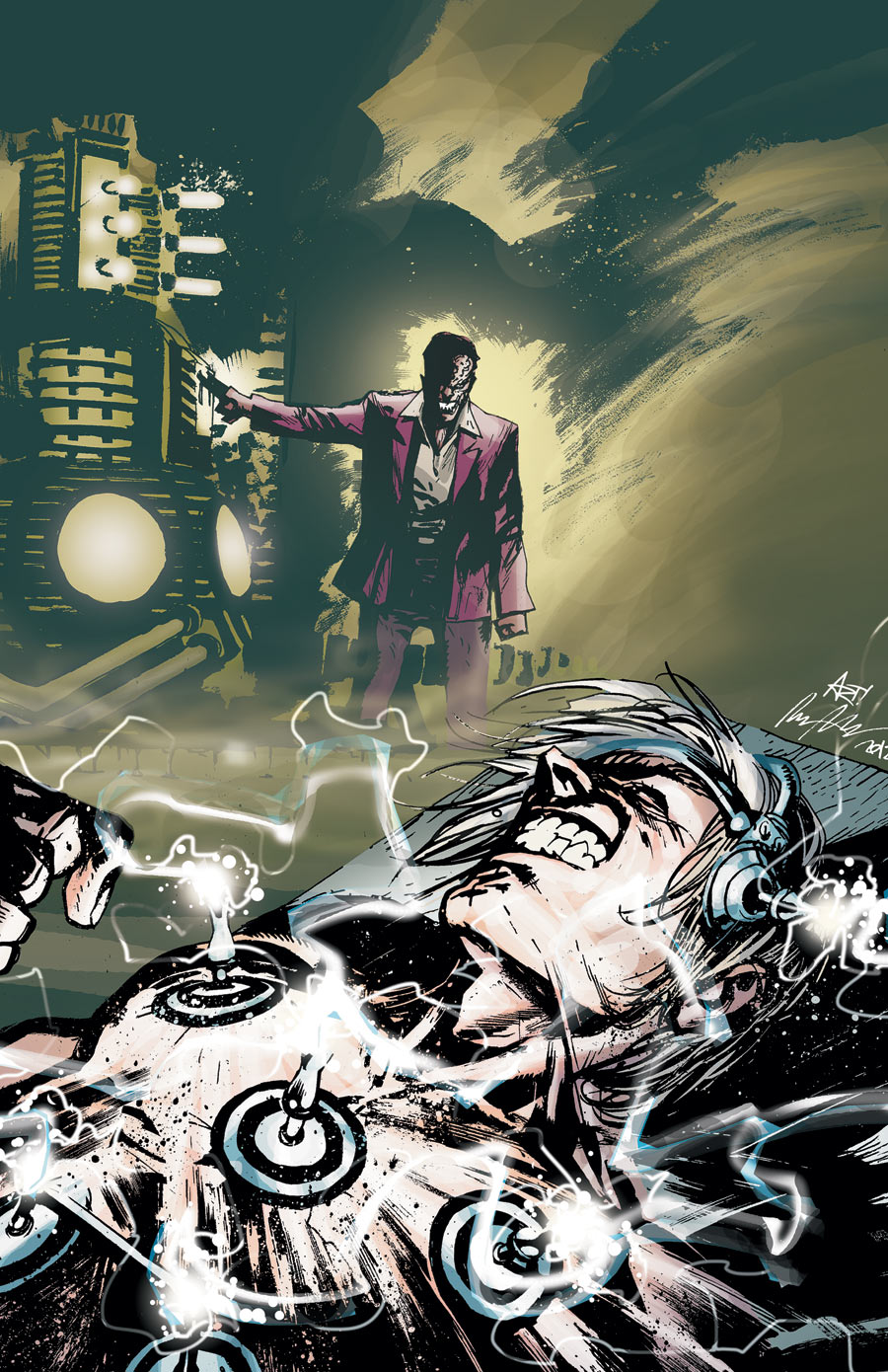 RESURRECTION MAN 10. This has nice energy and color to it. The expression and acting is really emotional and powerful.  I don't love the background though.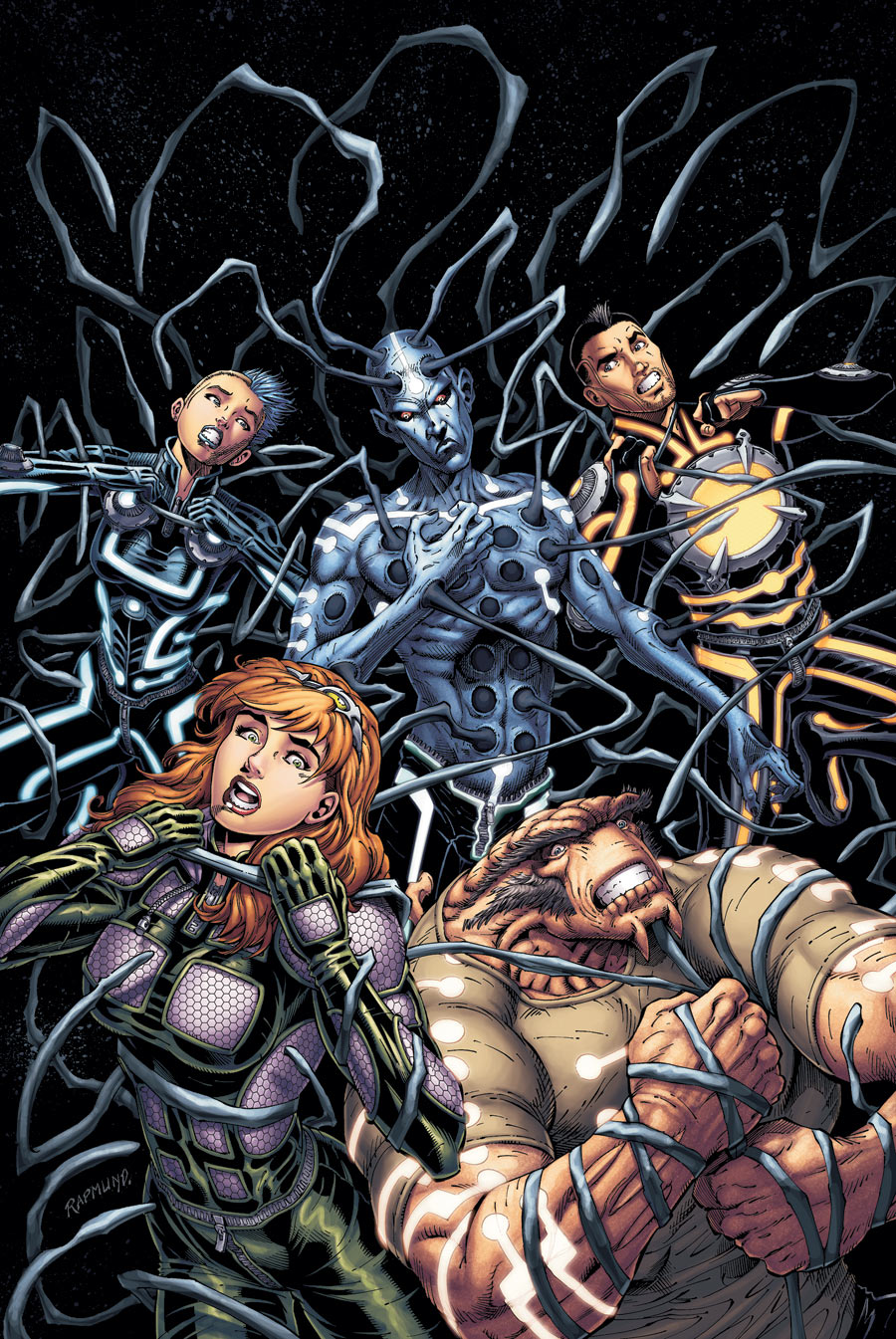 RAVAGERS 2. At least Fairchild has clothes? Yeah, that's all I got.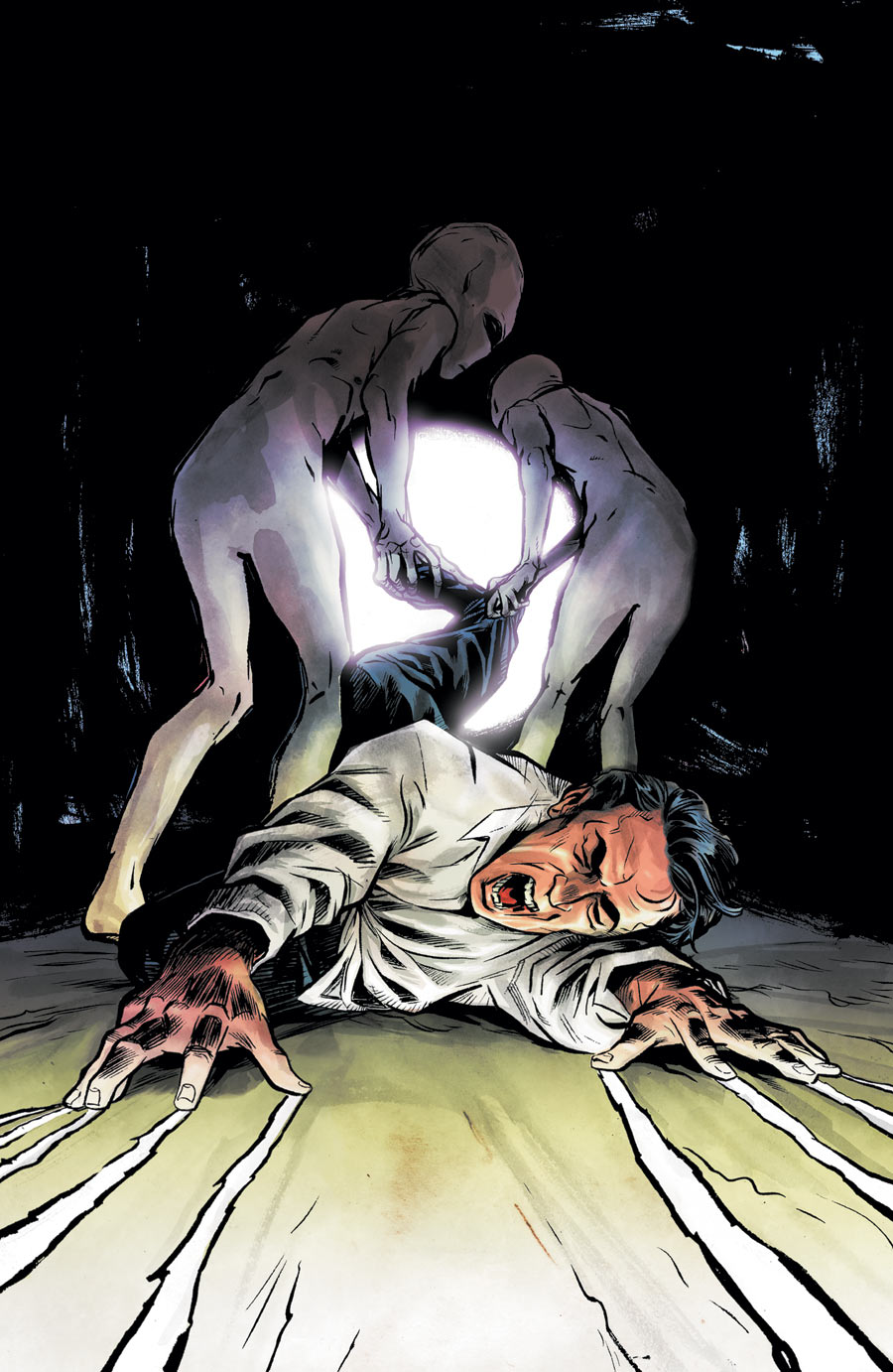 SAUCER COUNTRY 4. Fucking scary and smart ass cover. Nice.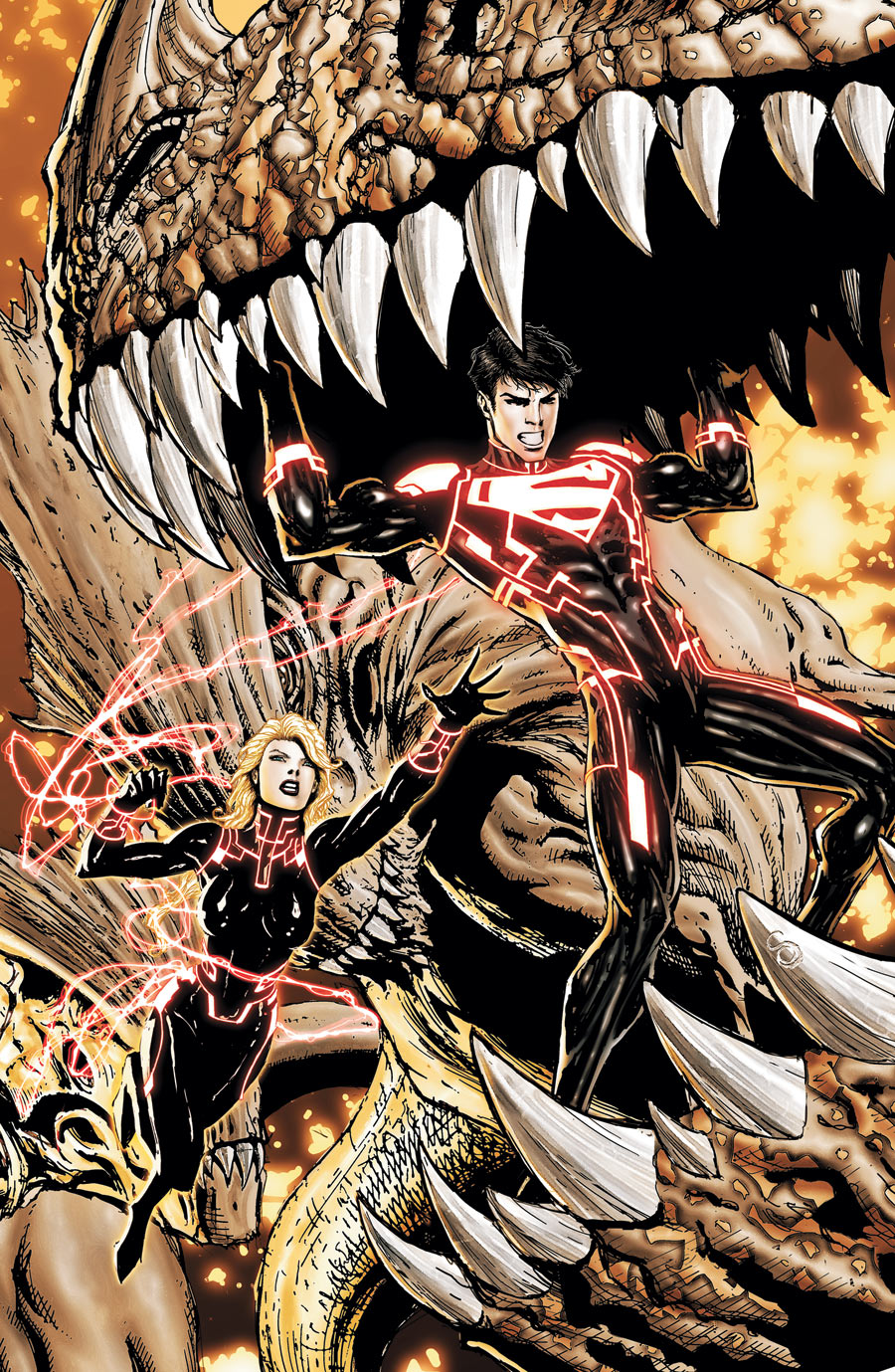 SUPERBOY 10. There's a lot of shit going on here, and I'm still not wild about the weird Tron shit, but I like some of the figure work…I don't know…maybe I'm going soft?
SCALPED 60. Going out with a bang, bitches.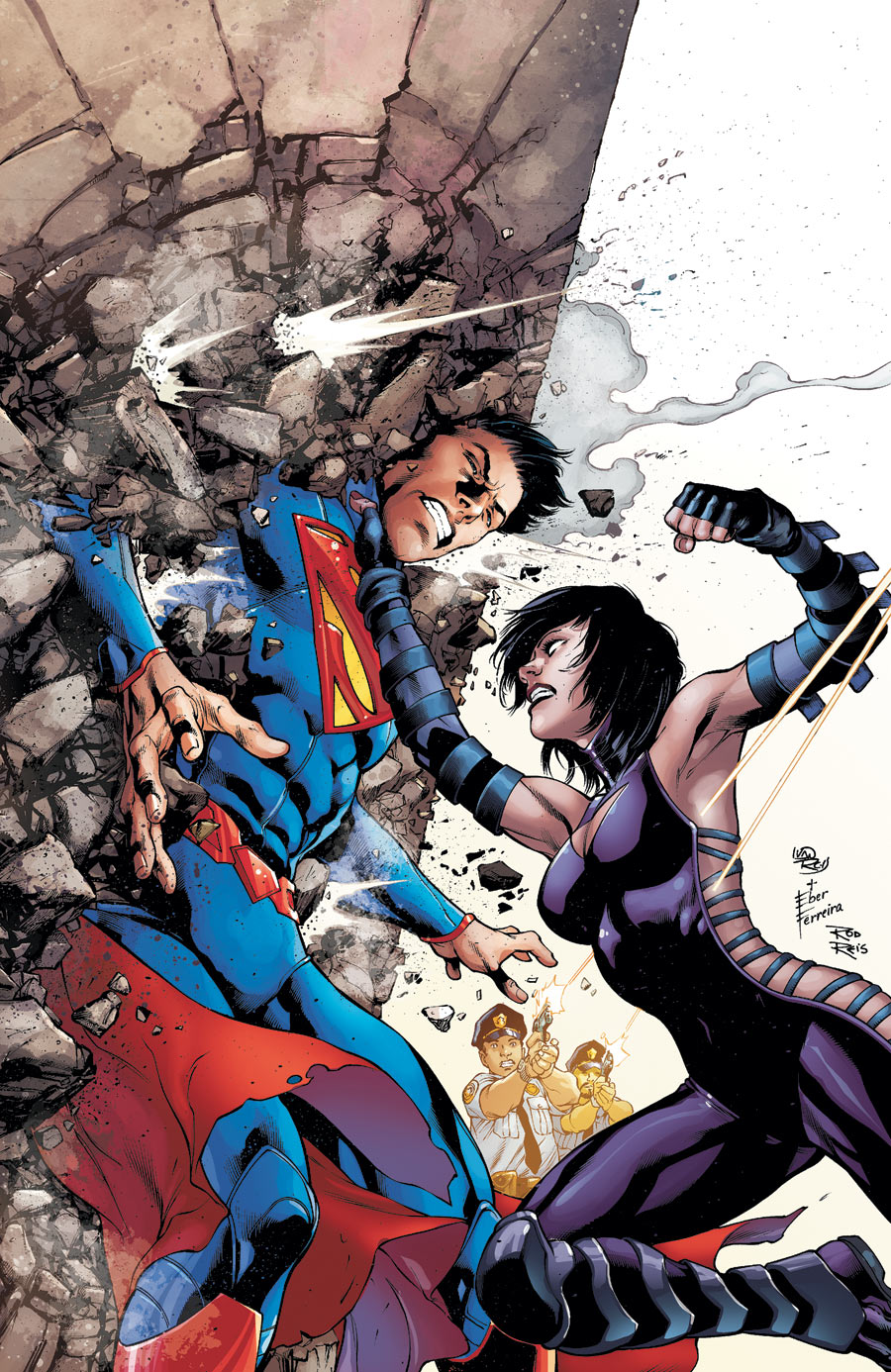 SUPERMAN 10. Annnnnnnd the winner for most impractical fucking outfit in the last 10 minutes?! This chick!  SERIOUSLY COMICS?! SERIOUSLY?
The thing that sucks the most is that the illustration work – especially on Superman – the composition, all of it is actually quite good…but that rigoddamndiculous costume just draws focus from everything that works about this.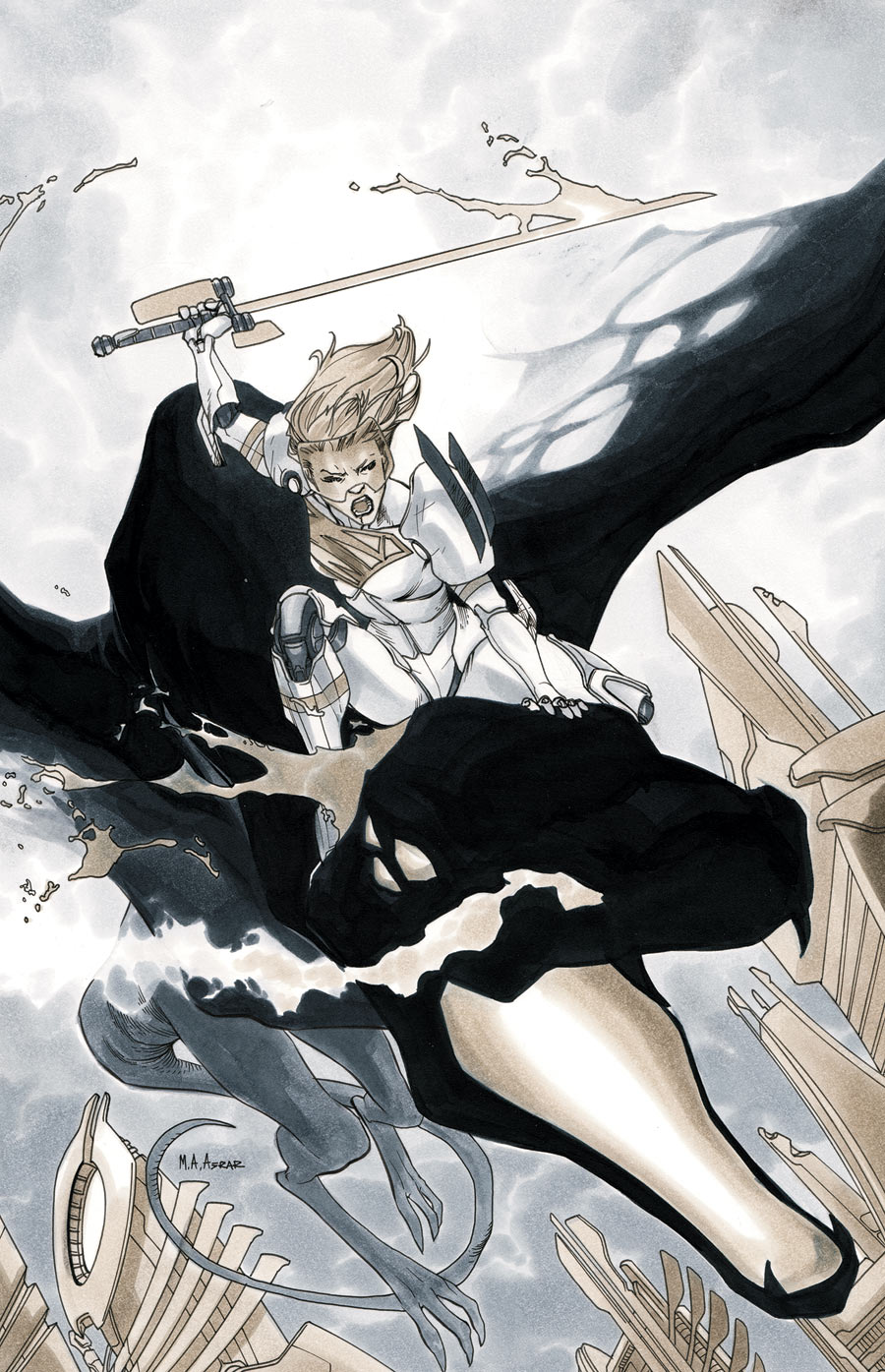 SUPERGIRL 10.  Mmmm. I know this is unfinished but I kind of fucking love it. Almost wish it could stay this way. Will be interested to see how it evolves though.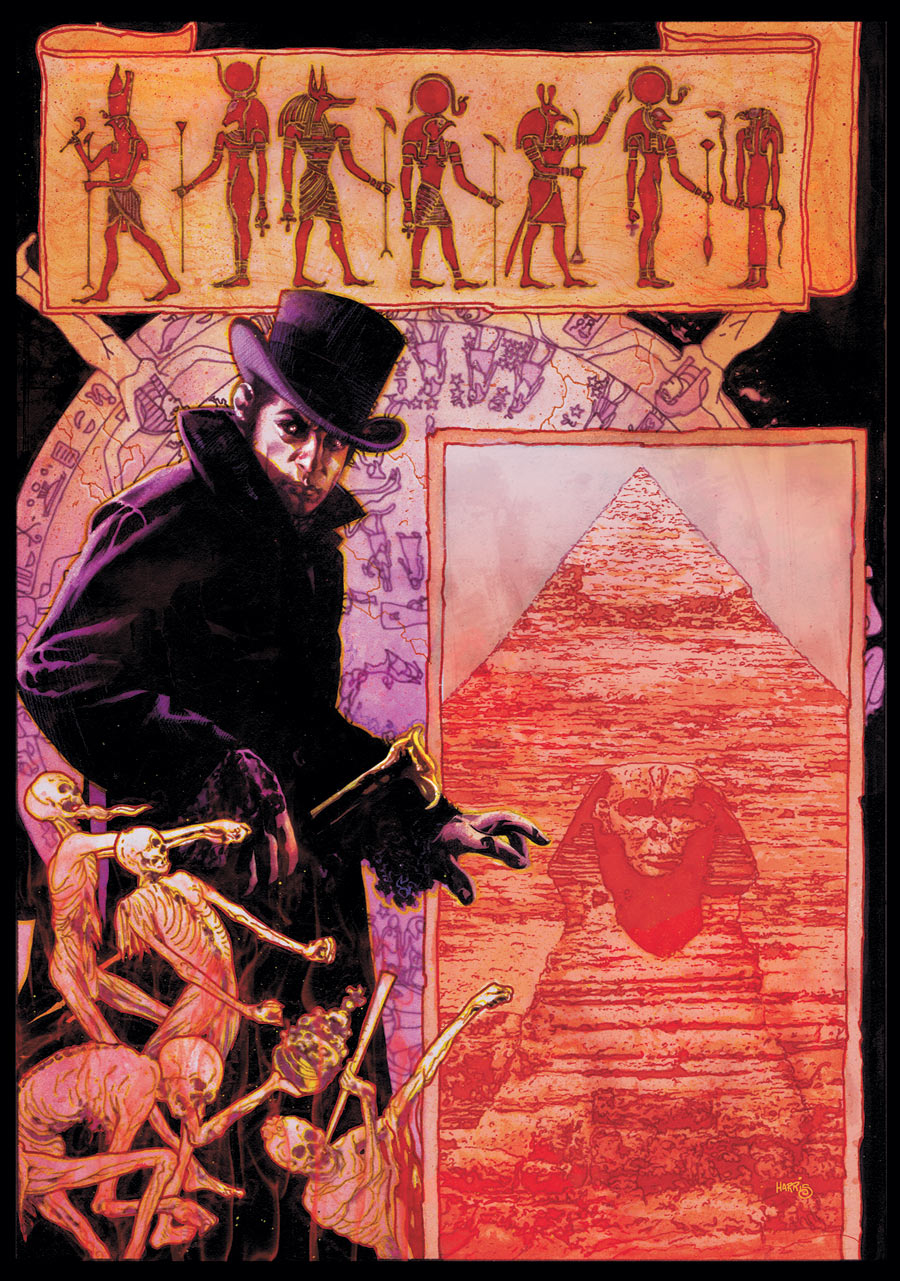 SHADE 9.  As always, nice illustration work, nice color palette.
SMALLVILLE 2.  Wow. What a turnaround from last time! This is EXACTLY what this cover should look like – Cat Staggs is a badass! – this is PERFECT. Recognizable as an actor/character from the show, smart, cool, intense, and makes you wonder what's inside. This does everything a good cover should. Homerun!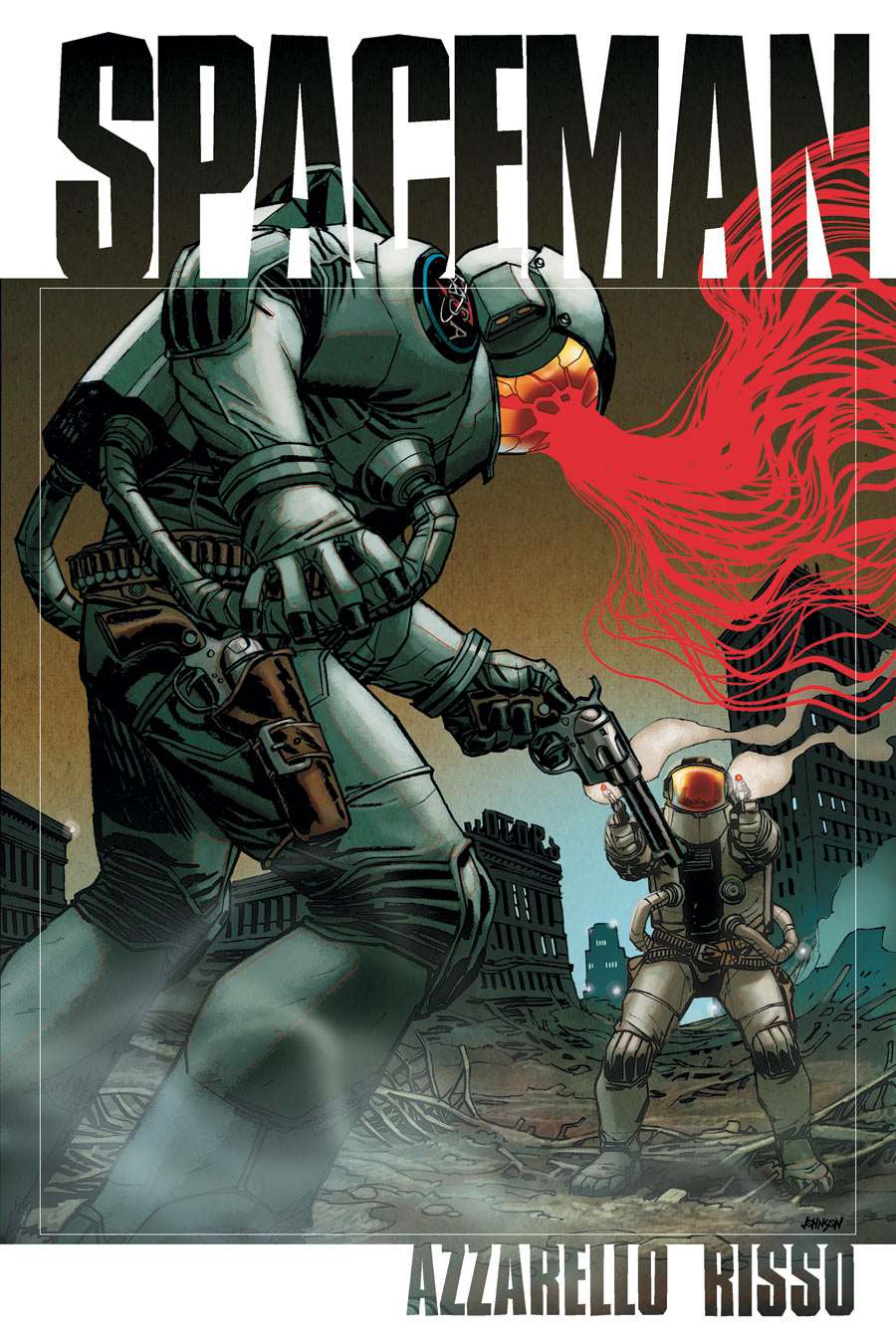 SPACEMAN 7. Still loving the way they're doing the text/titles here. Illustration work is sublime.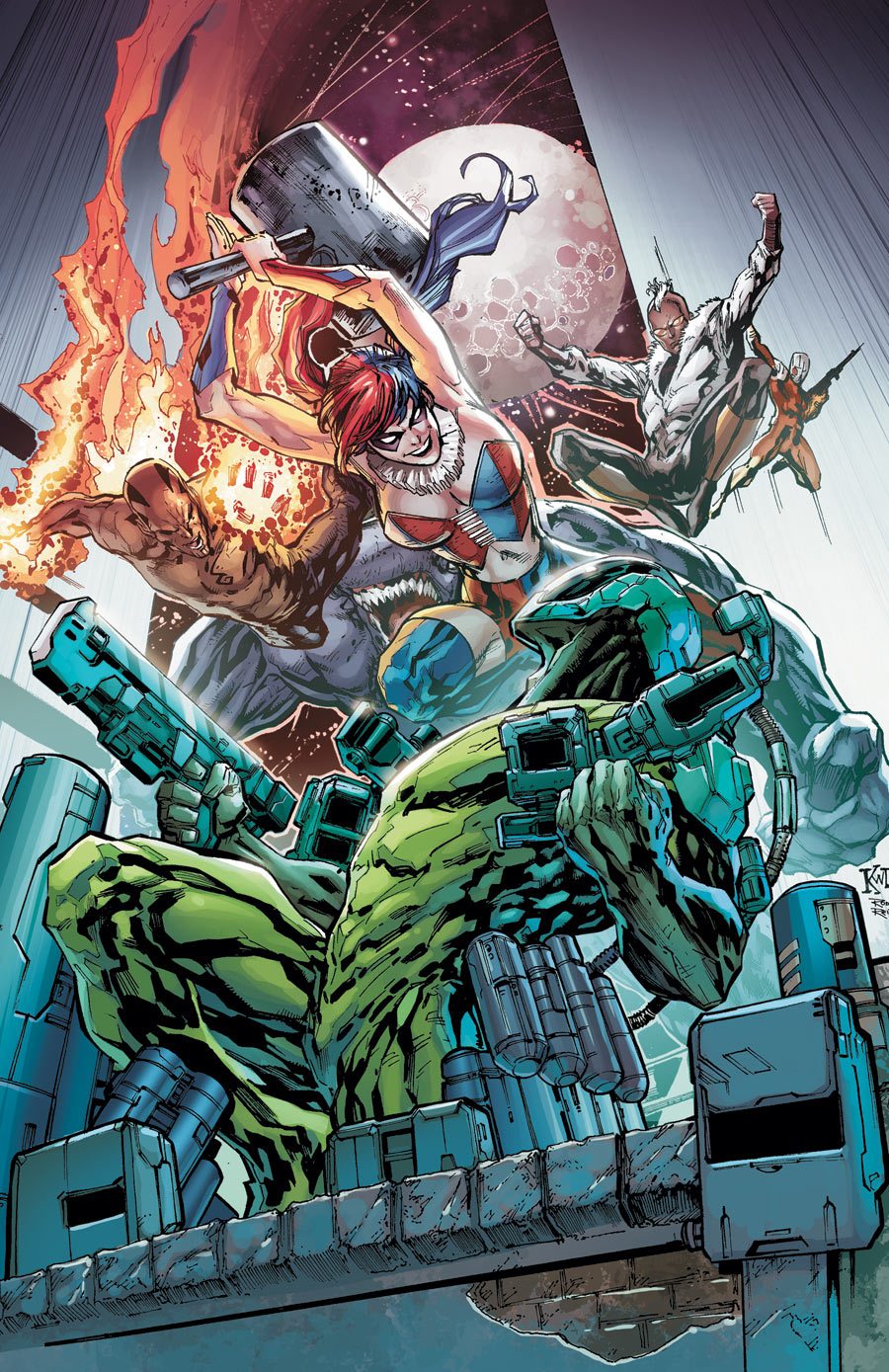 SUICIDE SQUAD 10. Yeesh. What a fucking nightmare. I can't even tell what the fuck is going on and there's nowhere for my eye to land.  HATE.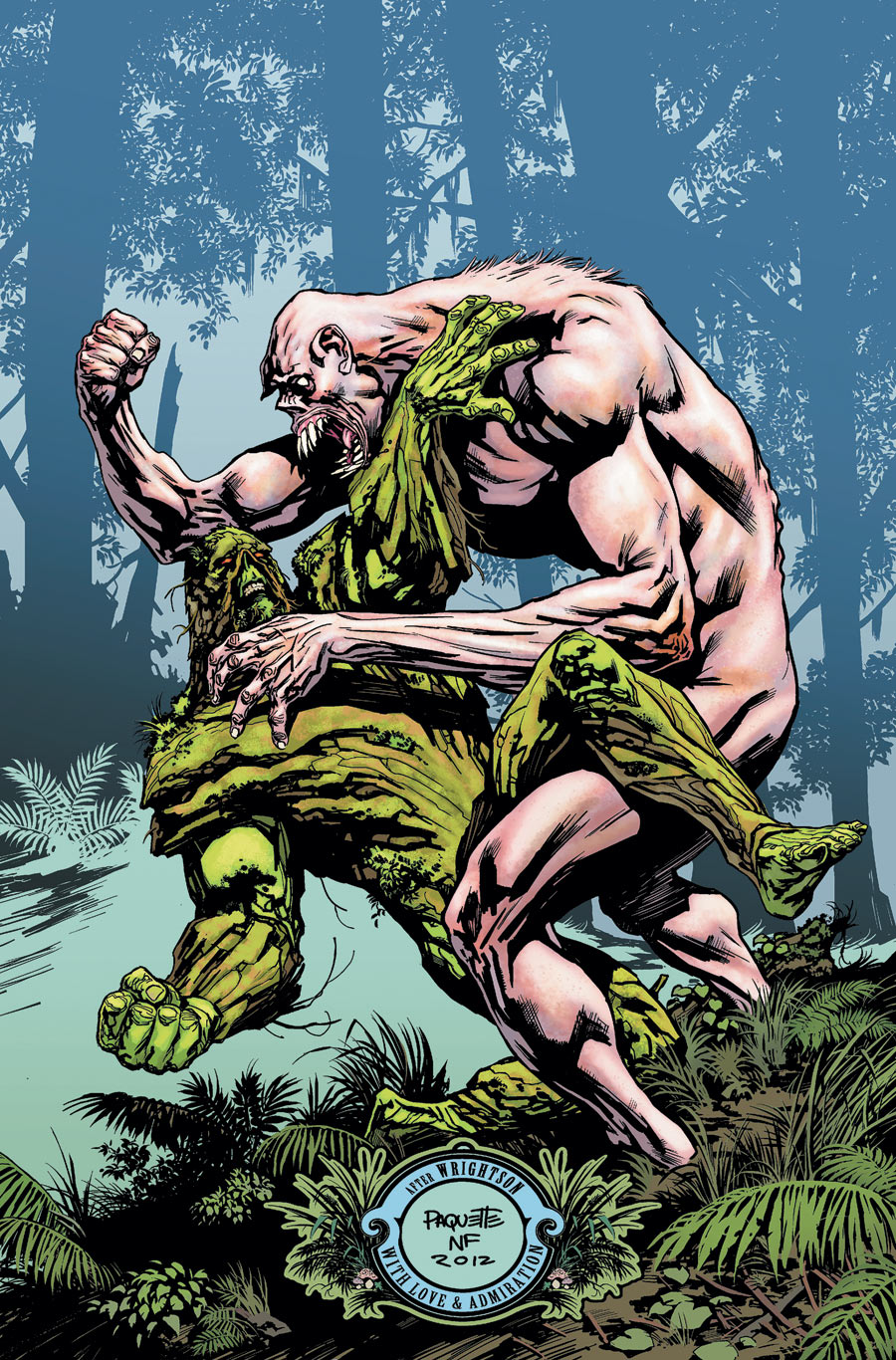 SWAMP THING 10. This is Paquette, so it's still great, but this is not the best of the Swamp Thing covers…of course they've all been pretty great, so that's not much of a criticism. I'm growing weary of the giant signed plaque though. At first I found it a bit charming, but I think it's overstayed its welcome.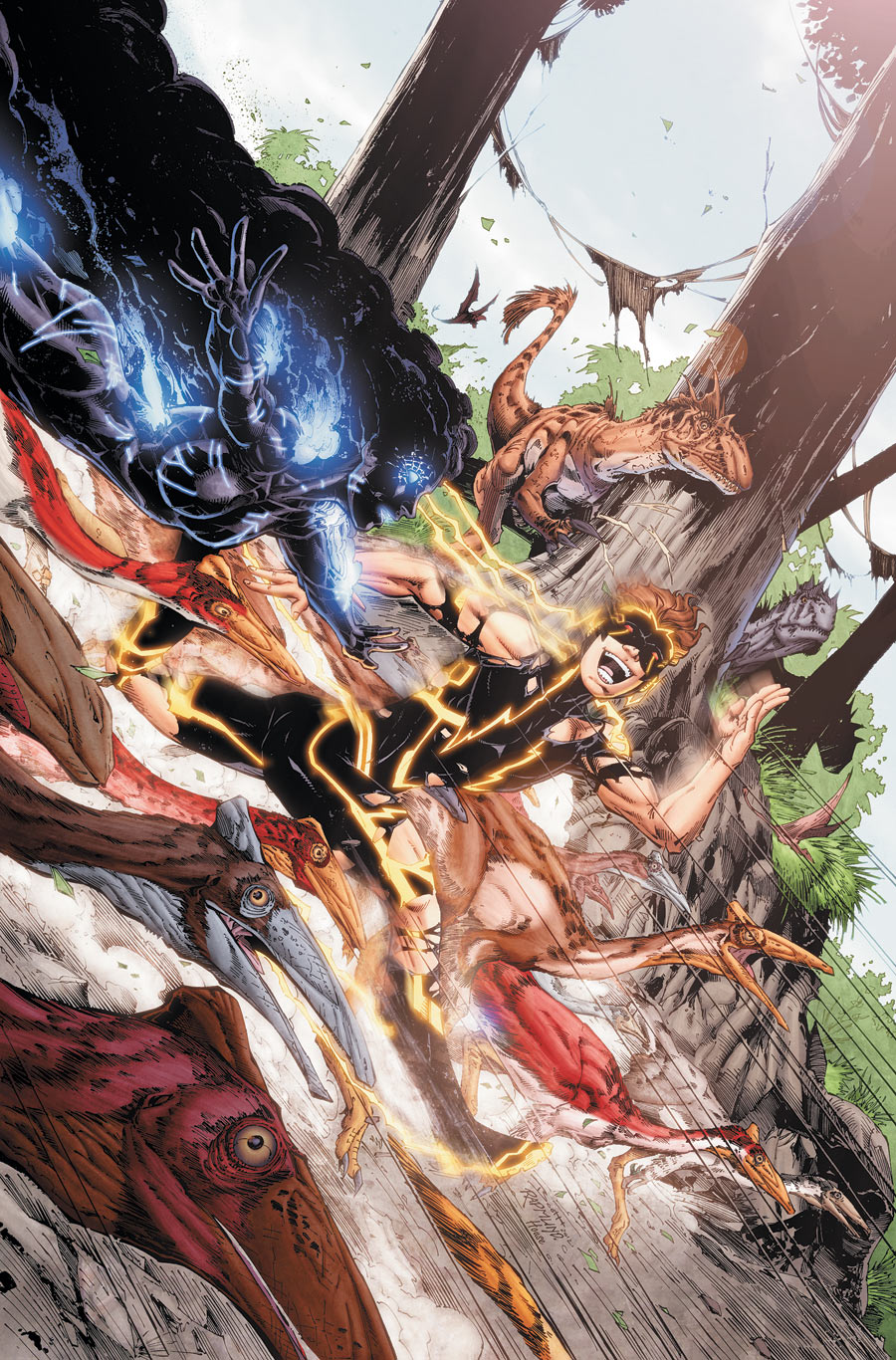 TEEN TITANS 10. OH THE IRONY! On the first cover where it seems it would make actually make sense for there to be FOUR BAJILLION LINES (speed lines) this cover actually has far fewer lines than most of Booth's covers. WTH. I mean, it still has more crazy weird lines than any cover should ever have…but it's like 50% less than most his covers. MY WORLD IS ASUNDER.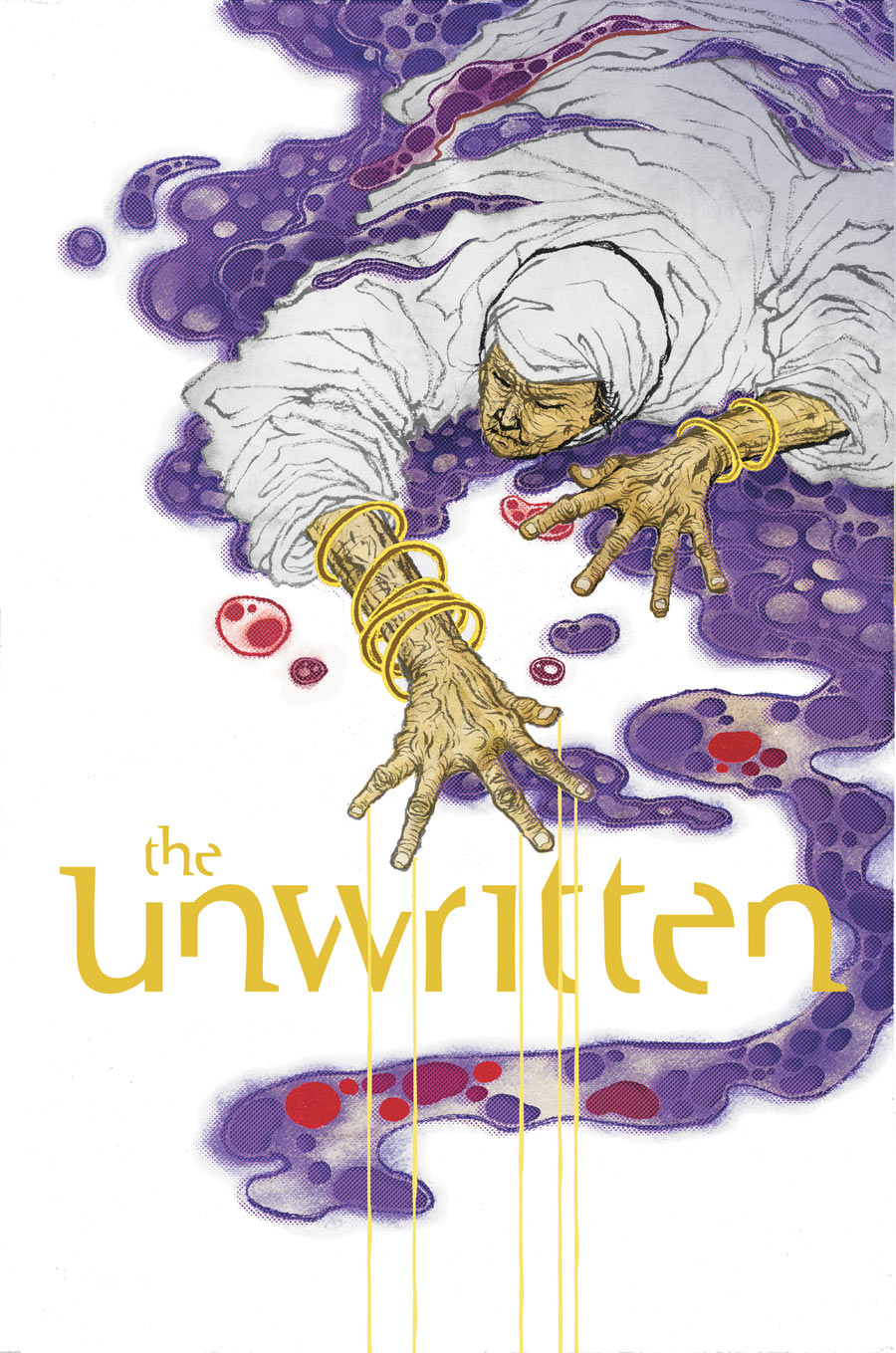 UNWRITTEN 38.  Very smart. I like how this ties in with so many of the covers that have come before it. Super cool.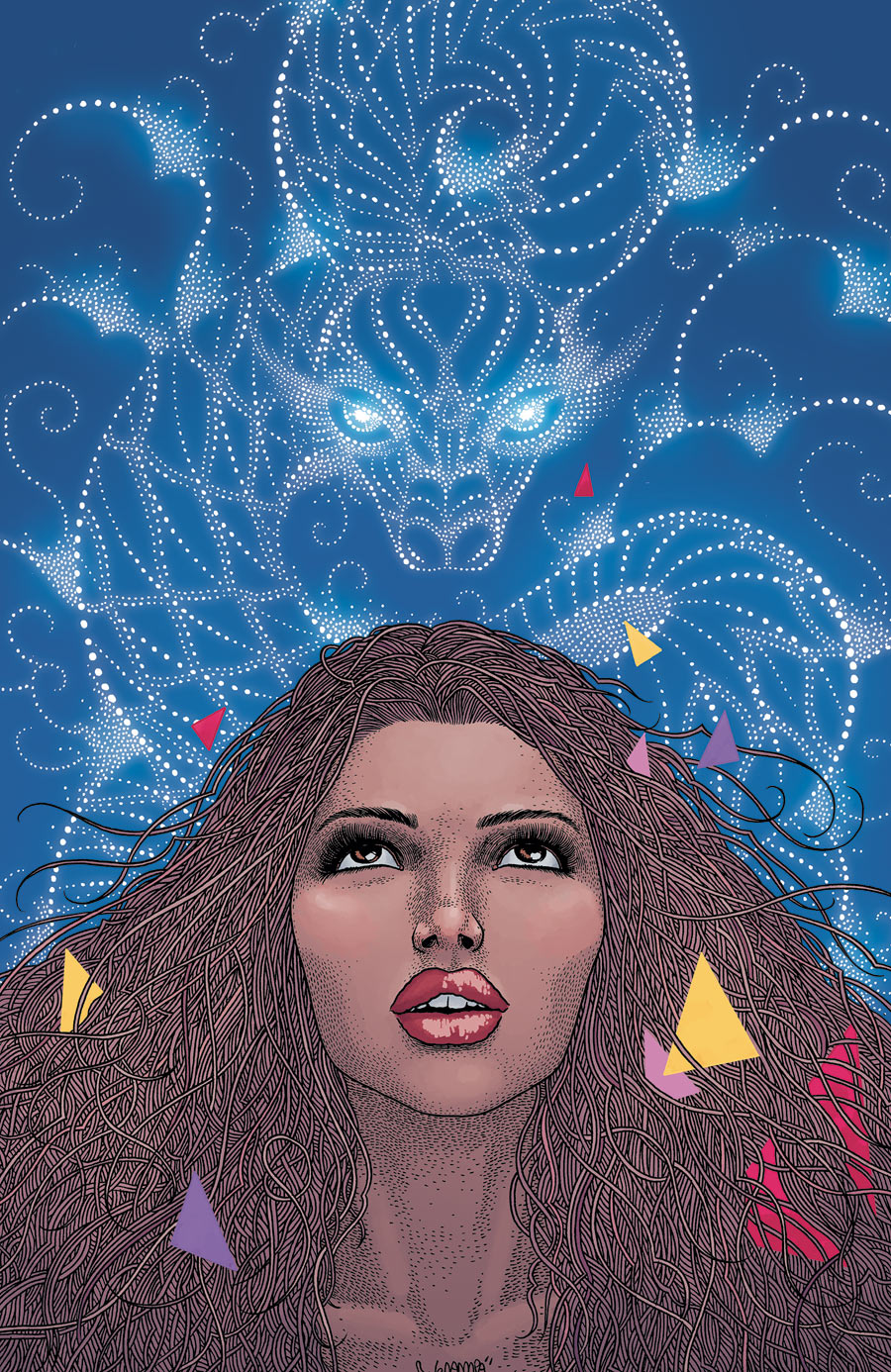 DOMINIQUE LAVEAU: VOODOO CHILD 4.  This is very cool. The line work and colors, the graphic but still detailed background contrasted with the "portrait"…really awesome. That hair if fucking off the hook. And the stippling is really exceptional. Stippling is way underused in comics…probably because it's a huge pain in the ass…but when you can get it right as this cover does, it's SO effective.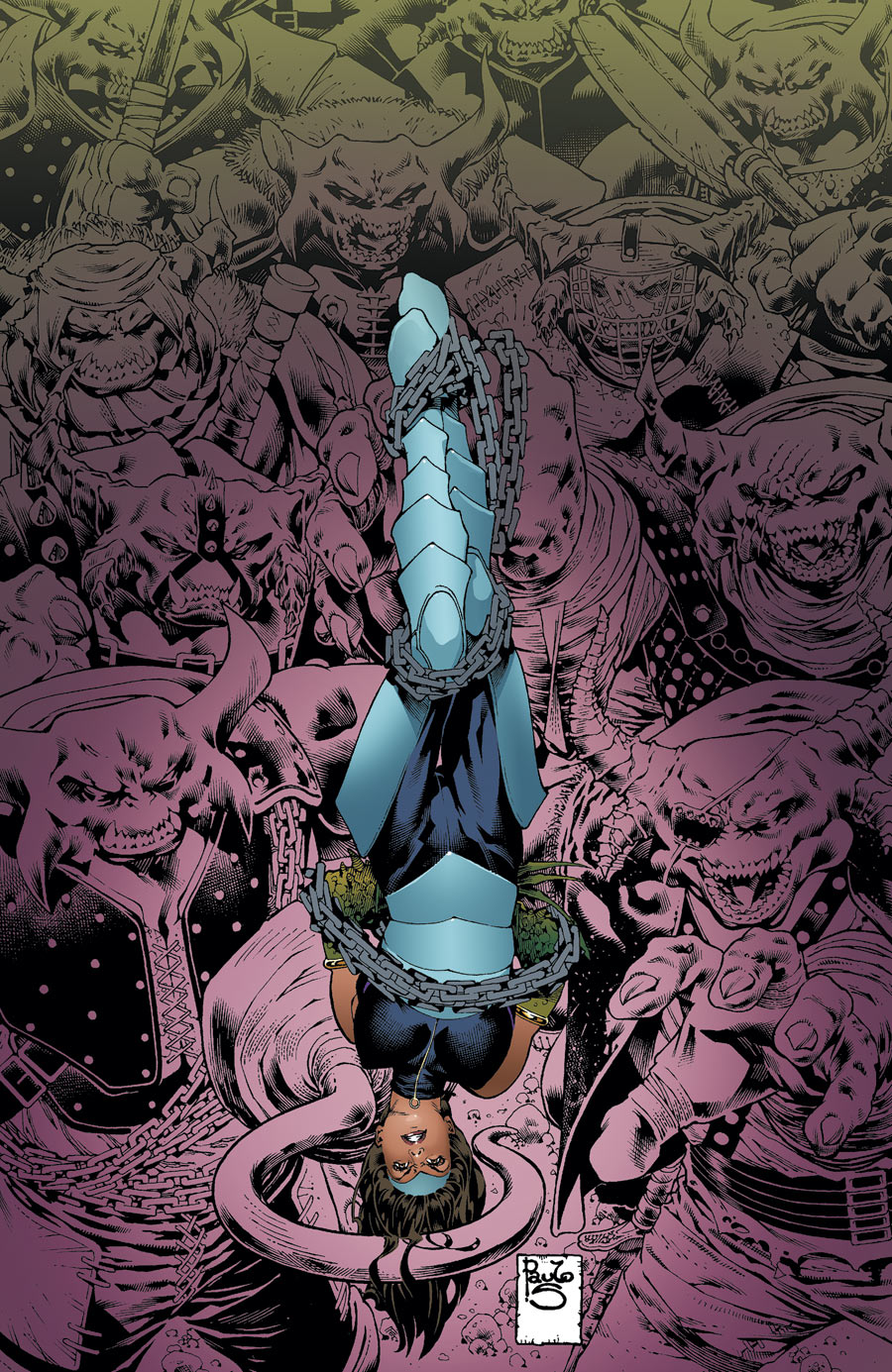 VOODOON 10. I actually think this cover is amazing…except her boobs…they are really really weird and super pointy. I appreciate that the artist tried to acknowledge that boobs – like everything else on a body actually move if you're hanging upside down – but it's not quite successful. I like the monochromatic figures surrounding her though – and her costume and expression. Good stuff. A huge leap forward in fact.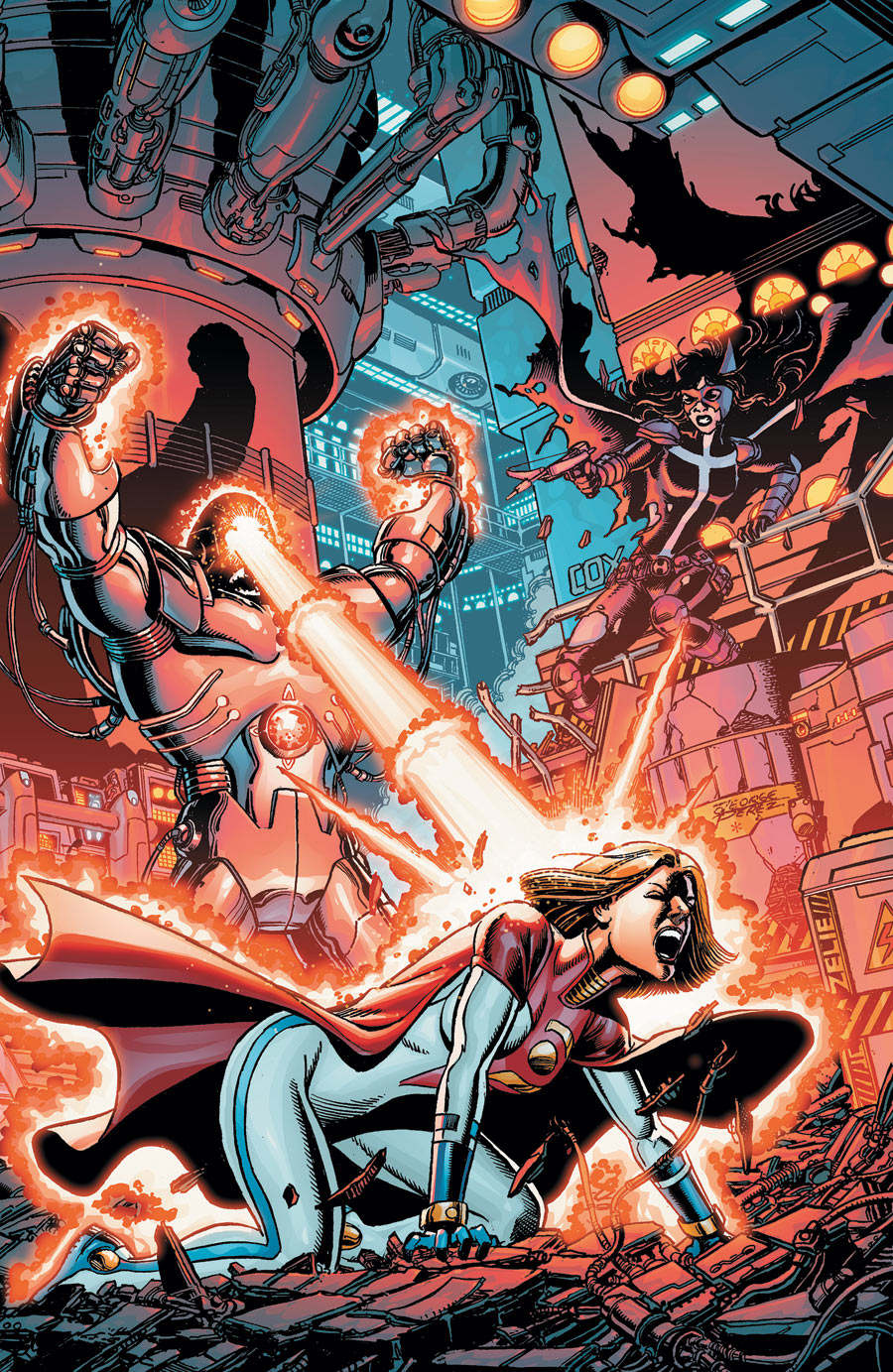 WORLD'S FINEST 2.  Wow. So many problems here. That posing is just…unfortunate. Yes, that's a good but generous word. The expression is extra unfortunate. The hair is EXTREMELY unfortunate. Nice to see Huntress in her "good" outfit. The new Powergirl costume is pretty bad. It's hard to want to be rid of the boob window so desperately that you'll take anything…and then realize that maybe you spoke too soon. SADFACE!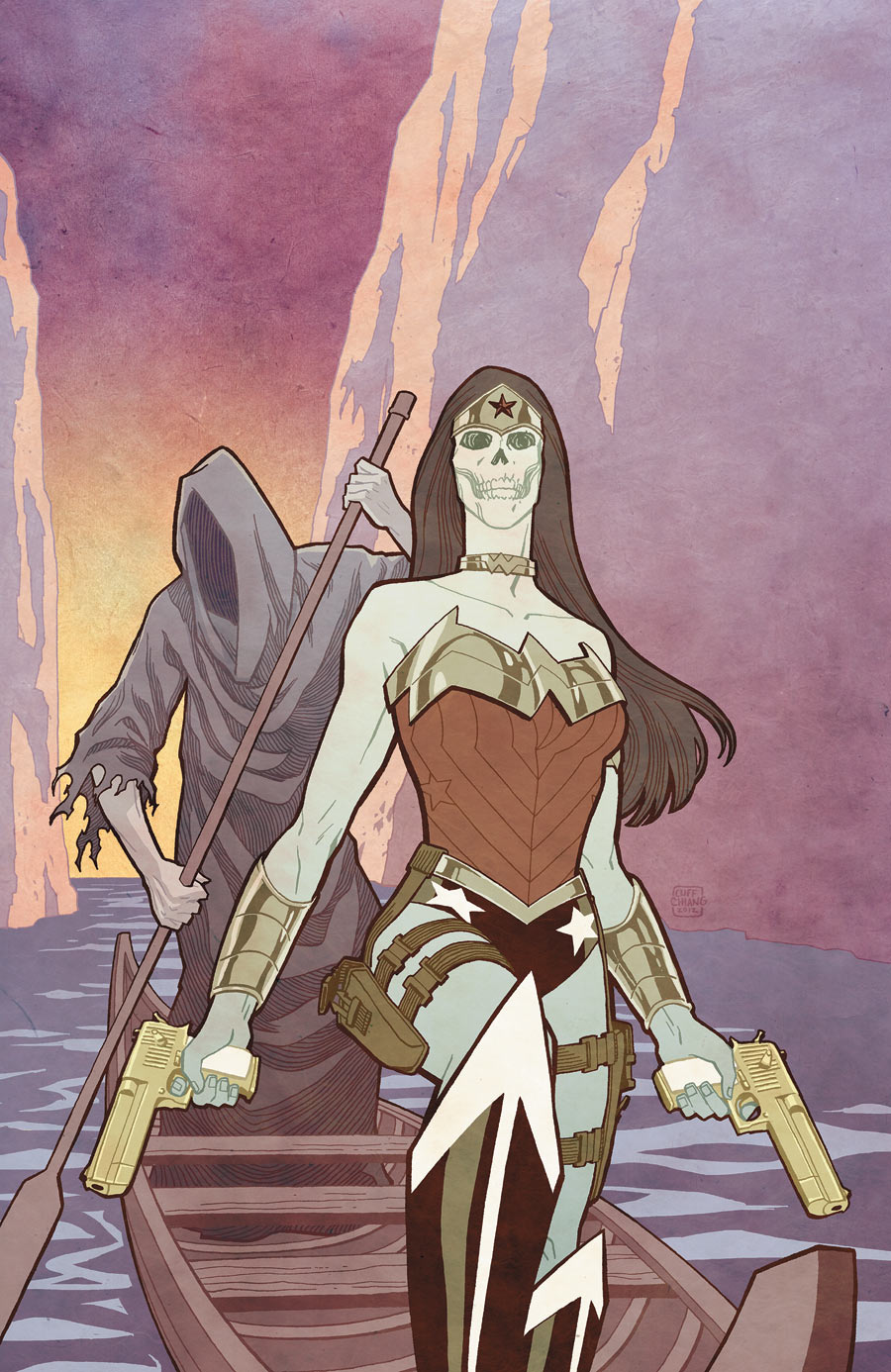 WONDER WOMAN 10. This is Chaing so it is of course fucking gorgeous. One of his best yet in fact. I love how functional and yet also badass those thigh holsters are. However I'm all bad and moody about Wonder Woman right now…so let's just not get into it OK?!
Okaybye!