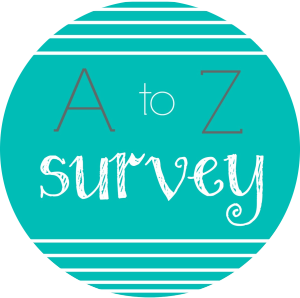 These are always fun and I haven't done one in…ever? Saw it over at Poisoned Rationality where THE GIRL WHO WOULD BE KING was mentioned as one of her "Hidden Gem" books – THANK YOU!

AUTHOR YOU'VE READ THE MOST BOOKS FROM: Hmmm. Hard one right off the bat. As an adult I don't read an "entire author's collection" much, mostly just because I have so many books on my to read list it takes me a while to get around to reading multiples. I've read three or four from Neil Gaiman (plus all his middle grade stuff), I've read about half a dozen Anne Rice books, and I've read Suzanne Collins HUNGER GAMES trilogy at least twice. But if I look at my whole reading life it's probably Christopher Pike. I devoured those puppies (dozens of them?) as a teenager – and many of them still hold up on adult re-reads FINAL FRIENDS TRILOGY forever, yo!
BEST SEQUEL EVER: Woo. Another tough one. Again, as an adult I don't read series near as much, though as  an adult I've begun exploring more YA and as a result I've dipped my toe in more series/sequel books (I haven't been that impressed with most of them quite frankly). I do think maybe Susanne Collins CATCHING FIRE was one of the best sequels I've read, if only because after re-reading HUNGER GAMES last year before the film came out I finished it and immediately had to pick up CATCHING FIRE and tore through it in a day. So yeah, I'll go with CATCHING FIRE – Peeta forever, yo! (now I'm going to have to end all of these with yo!)
CURRENTLY READING: Always more than one. Re-reading Mary Shelley's FRANKENSTEIN, finally started Larsson's THE GIRL WHO PLAYED WITH FIRE, and I also picked up Jo Nesbo's NEMESIS yesterday. Really feeling the "detective fiction" thing these days. Speaking of detective stories, did you guys see PRISONERS?  SO GOOD.
DRINK OF CHOICE WHILE READING: In the cold months, coffee preferably with some French Vanilla creamer and a bit of sugar. In the brutal hot horrible miserable months, Vitamin Water Zero (Go-Go flavor) partially frozen from being in the freezer. It's a whole THING, don't ask.
E-READER OR PHYSICAL BOOK: I will never give up on physical books, I LOVE them. But I confess that the convenience of the e-reader, having a whole library at my fingertips is and the immediacy is getting more and more appealing. It's especially awesome when it's a huge heavy print book (i.e. wishing I had gotten both Susan Palwick's giant SHELTER and Joe Hill's giant NOS4A2 on Kindle instead of print…so heavy.)
FICTIONAL CHARACTER YOU PROBABLY WOULD HAVE ACTUALLY DATED IN HIGH SCHOOL: 
All the normal problems of teenage life combined with living in Utah did not make for a glamorous or exciting high school dating scene for me. But I guess the character I wish I could have dated would be Peeta from Collins's HUNGER GAMES or maybe Michael from Christopher Pike's FINAL FRIENDS Series. Maybe it's weird that I'm an adult and I'm picking YA guys…but I guess I'm thinking of myself back then and picking someone age appropriate? Also of note is that I have a thing for dyed in the wool GOOD guys.
GLAD YOU GAVE THIS BOOK A CHANCE: THE FAULT IN OUR STARS by John Green. When I read YA I typically read stuff that is more action/fantasy/sci-fi/dystopian based, since that's an area of interest for my own YA writing and I like to see what others are doing (and to a degree avoid doing what's already being done if I can help it). Typically for more "literature leaning" books I just read adult books. But man was everyone right about THE FAULT IN OUR STARS. That book just wrecked me, in all the best ways.
HIDDEN GEM BOOK:  Dustin Long's ICELANDER. A fucking WONDERFUL book from McSweeney's press and easily the most beautiful book on my shelves – if you can get your hands on the hardback edition you will forever be pleased with yourself.
IMPORTANT MOMENT IN YOUR READING LIFE: I'd say discovering comics (thanks to my brother and the X-Men Animated Series) when I was about 15/16 was pretty profound. Blew open my whole world.
JUST FINISHED: THE FAULT IN OUR STARS by John Green. Again, WRECKED me.
KIND OF BOOKS YOU DON'T READ: I don't read much Non-Fiction, mostly just due to time issues and I don't like romance as it's usually way too saccharine for my tastes. I'm terrible at writing romance/love scenes/hot scenes as well, but I'm trying to work on this. It's a tough balance though for someone like me that is really easily turned off by cheesy or too saccharine writing/relationships. I've lately been trying to look at some of the couples that I for whatever reason "ship" pretty hard – something I used to think I didn't do but am now realizing I am kind of hardcore about in my own way – i.e. I don't "ship" tons of characters, but those I do, I am nearly fanatical about. I spend a lot of time thinking about why those specific characters (and sometimes the actors playing them) cause such intensity of feeling (for me) when others tend to leave me so cold…I haven't figured it out quite yet, but I hope I will soon. Some of my books need some double t HOTT.
LONGEST BOOK YOU'VE READ: Maybe Justin Cronin's THE PASSAGE? I think it's around 730 pages.
MAJOR BOOK HANGOVER BECAUSE OF: I keep weird hours these days so this is kind of hard to judge, but back when I was working a regular job I stayed up all night to read Cormac McCarthy's THE ROAD in one sitting. That was an awesome (though grim) hangover.
NUMBER OF BOOKCASES YOU OWN: We have 9 or 10 very large (and very full) bookcases, probably half of those are my books…so 5 really big bookcases?
ONE BOOK YOU HAVE READ MULTIPLE TIMES: As an adult I read Terry Prachett and Neil Gaiman's GOOD OMENS at least once a year. As a child I could not get enough of Scott O'Dell's ISLAND OF THE BLUE DOLPHINS.
PREFERRED PLACE TO READ: Usually in bed. Curled up on the couch is a decent alternative.
QUOTE THAT INSPIRES YOU: I don't really capture quotes from books regularly, I'm not sure why but maybe this from A MOVEABLE FEAST counts:
"Do not worry. You have always written before and you will write now. All you have to do is write one true sentence. Write the truest sentence that you know."
SO GOOD. SO TRUE.
READING REGRET:  Just that there is never enough time to read ALL the books. I am aware at all times that I will never have enough lifespan to get to everything I want to read. It's one of the many reasons that people complaining about being bored annoys the shit out of me. How can you be bored when there are thousands upon thousands of brilliant books you will NEVER GET TO READ? Don't be bored. That's such a waste.
SERIES YOU STARTED AND NEED TO FINISH (ALL BOOKS ARE OUT IN THE SERIES): I guess THE MILLENIUM TRILOGY? (aka THE GIRL WITH THE DRAGON TATTOO trilogy).
THREE OF YOUR ALL TIME FAVORITE BOOKS: Katherine Dunn's GEEK LOVE, Terry Pratchett and Neil Gaiman's GOOD OMENS, and Hemingway's A MOVEABLE FEAST.
UNAPOLOGETIC FANGIRL FOR: James Marsters. (runner up Nathan Fillion?) Oh, wait, you mean books. Um. I don't know, I'm not sure I "fangirl" out about books or book authors, maybe because I want to consider myself more their colleague/contemporary than fan? It's still because I'm obviously a fan…but I do have a disconnect with this. I do it with comics as well. I'm weird.
VERY EXCITED FOR THIS RELEASE MORE THAN ALL OTHERS: Maybe Nick Mamatas LOVE IS THE LAW? Comes out 10/8/13 and is described as a punk rock detective story (with a female lead). ANNNND SOLD.
WORST BOOK-ISH HABIT: Buying too many book when my "to-read" pile is already massive.
X MARKS THE SPOT: START AT THE TOP LEFT OF YOUR SHELF AND PICK THE 27TH BOOK: Well, I picked a shelf at random and it worked out awesomely: DELICATE EDIBLE BIRDS by Lauren Groff which is one of my favorite short story collections ever – the title story – Delicate Edible Birds – is one of the best short stories I've ever read.
YOUR LATEST BOOK PURCHASE: THE FAULT IN OUR STARS by John Green and NEMESIS by Jo Nesbo
ZZZ-SNATCHER BOOK (aka THE LAST BOOK THAT KEPT YOU UP WAY TOO LATE): I think this is the same as "book hangover" but I'll say that Max Barry's LEXICON, M.T. Anderson's FEED, and Ernest Cline's READY PLAYER ONE all kept me up to WAY unreasonable hours recently.
Tags: books, lists, The Girl Who Would Be King