Hey, Kids!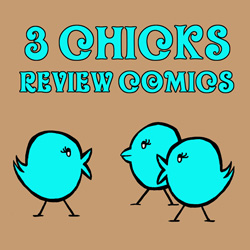 So, in addition to 3 Chicks being on hiatus December as I'm away for the month and in a location with absolutely terrible internet service (or certainly service well below that needed for podcasting) there are going to be some more changes forthcoming.
The big change is that Sue and I are going to take 3 Chicks off of Podomatic. It's just become too expensive and while 3 Chicks has brought me many things, most notably a chance to interview and connect with some of the best creators in the business, it has not only not made me one red cent, but has cost me more and more money ever since we began in 2010. Seriously, hundreds of dollars over the last few years thanks to hosting at Podomatic and software upgrades and the like.
When I was working a full time job this wasn't such a hardship, but since I'm a full time freelancer these days money is tight, and the renewal fees to host on Podomatic this year, since we have such a significant back catalog, are just enormous. Excessive, really.
So, yeah. We're looking into other options, most likely going to host with a friend and then over time, get our RSS Feed under control and get us up on iTunes. I don't THINK we're going to have any downtime beyond the planned December hiatus, and the cast should remain easily downloadable as an .mp3 file even if it takes a bit of time to get us up on iTunes, but I ask that you bear with us.
Any other podcasters out there that want to offer advice, I'm all ears.
Any designers out there that want to re-design the 3 Chicks logo (which we have been in need of badly since day one) hit me up. I'm planning to do it myself, but I hated the first logo I did so I don't know why a new one will be any different!
Thanks for your patience all!
Kelly