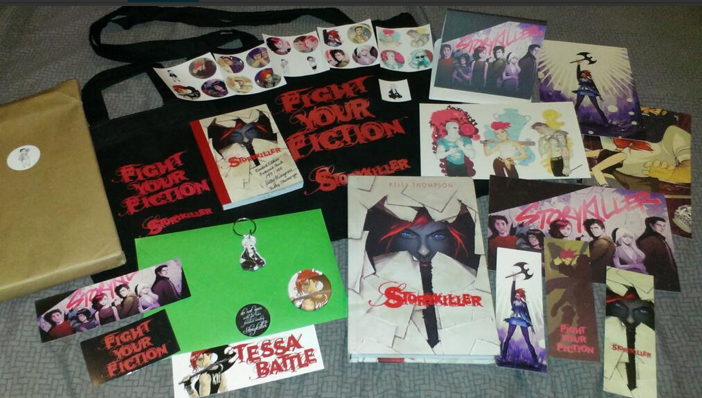 Want to win everything you see above plus a few limited edition signed prints? You're in the right place – keep reading!
UPDATE: CONTEST NOW CLOSED 8/21/14
FIRST PRIZE (worth $275.00) includes the following: a limited edition signed and hand numbered copy of the hardcover illustrated edition which also includes a sketch by yours truly. Also a limited edition signed and numbered postcard book, a Tessa Battle round acrylic magnet, a Tessa Battle double sided acrylic keychain, a Fight Your Fiction magnet, 4 oversized postcards, 5 bookmarks, a mini-tote, a full size tote, the super secret sealed green envelope, stickers, AND three signed 13×19 prints – one by Buffy The Vampire Slayer and Angel & Faith artist Rebekah Isaacs, one by Ms Marvel and Necropolis artist Jake Wyatt, and one by Spera and the forthcoming Storykiller Novella artist Kyla Vanderklugt.
FOUR RUNNERS UP will get the "almost deluxe package" (worth $100.00) which includes everything above EXCEPT the three prints and will include only one postcard, one bookmark, and no stickers (we're running seriously low on all of those!)
Unfortunately we have to limit this to US shipping only, which means if you're outside the US you CAN enter, but only if you have a location in US where your package can be sent/received. Sorry guys, but the international shipping costs are just really prohibitive.
Here's how it works…
You get 1 POINT for each of the following categories:
#1. READ THE BOOK! – prove it by answering the five questions at the bottom of this post.
#2. REVIEW THE BOOK ON AMAZON, GOODREADS, or B&N! – prove it by screencapping or linking to your review. Reviews do not have to be positive, but if you didn't like the book…why do you want to win this contest? Look inside yourself, grasshopper!
#3. PROMOTE THE BOOK! – prove it by screencapping or linking to your promotion of the book. Acceptable places to promote? Facebook, Twitter, Tumblr, Blogs, Instagram and similar. If you are not sure the place you'd like to promote qualifies, just ask in the comments!
#4. GET OTHERS TO READ! – prove it by sending in screencaps (or something similar) of your friends' purchase of STORYKILLER. Eligible places for purchase include: Amazon paperbacks or digital purchases, Lulu or B&N paperback purchases, or hardcovers via the Storykiller website. You get 1 point for EACH verified reader.
#5. FAN ART – prove it by sending in STORYKILLER fan art that can be posted on the website/blog/tumblr/etc. Only one fan art piece per entrant.
Every points gets your name entered into the contest once. So if KellyA just reads the book and answers the questions correctly in her email then she gets one entry into the contest. If KellyB does EVERYTHING above she can get 4 entries into the contest plus an extra entry for every verified reader. Easy peasy.
Names will go into a blind drawing. First name drawn is the first prize winner, following four names are the runners up.
EMAIL ENTRIES directly to me at: 1979semifinalist@gmail.com
Feel free to send more than one email. If you'd like to answer the questions now for example so you have one entry in, but want to do fan art (or something else) for later. That's fine.
And you can ask questions in the comments below or via email.
We're going to run this contest for two weeks to give people that have not yet read the book a chance to do so. CONTEST CLOSES AT 11:59pm (EST) ON THURSDAY 8/21, winners are announced here on Friday 8/22.
HERE ARE THE QUESTIONS:
1. What's the name of Tessa's primary weapon? French or English accepted!
2. Who does Fenris take Tessa (and Robin) to see in the woods?
3. What does Micah always carry with her? (hint: it's not Jeff)
4. Who is Tessa's first kill?
5. What is the name of either Detective Wade's partner or her police captain?
Alright, any questions in the comments and spread the word around, the first rule of Storykiller is that talking about Storykiller GETS YOU MORE POINTS.

Tags: storykiller, Storykiller Contest Giveaway, Tessa Battle, things made of awesome
Comments are now closed.