So the fact that I both twice typed this as 2014 Year In Review and that I already finished this post only for Firefox to crash and me to lose it all is telling, right?
Anyway, I have to be grateful, despite 2015 being a shit year in so very many ways for the world at large and for many of us personally and collectively there is NO DOUBT that this was a huge breakthrough year for me professionally after many years of working hard…finally some things are starting to pay off.
Also, as much as 2015 feels like something we'd all just like to forget about in the mediums I love so much I was given Furiosa, The Five Wives, Unbeatable Squirrel Girl, Jessica Jones, Rey, and even Jem (yeah, I said it!). Of course a lot of those things are very very very white, so we still have plenty of work left to do, but I'm still thankful.
And while we're being thankful, a huge thanks to all of you that have been so kind and supportive and have bought my books and have sung their praises both loudly on social media and privately with your friends/loved ones. It makes ALL the difference. Thank you.
And before we get down to business, because some of you will appreciate THE HELL out of this – I got for Christmas the best freaking gift ever from my boyfriend – a custom made bust of Tessa Battle, the heroine from my Storykiller book series – sculpted and cast by him, it is just…well, there aren't words for how cool it is: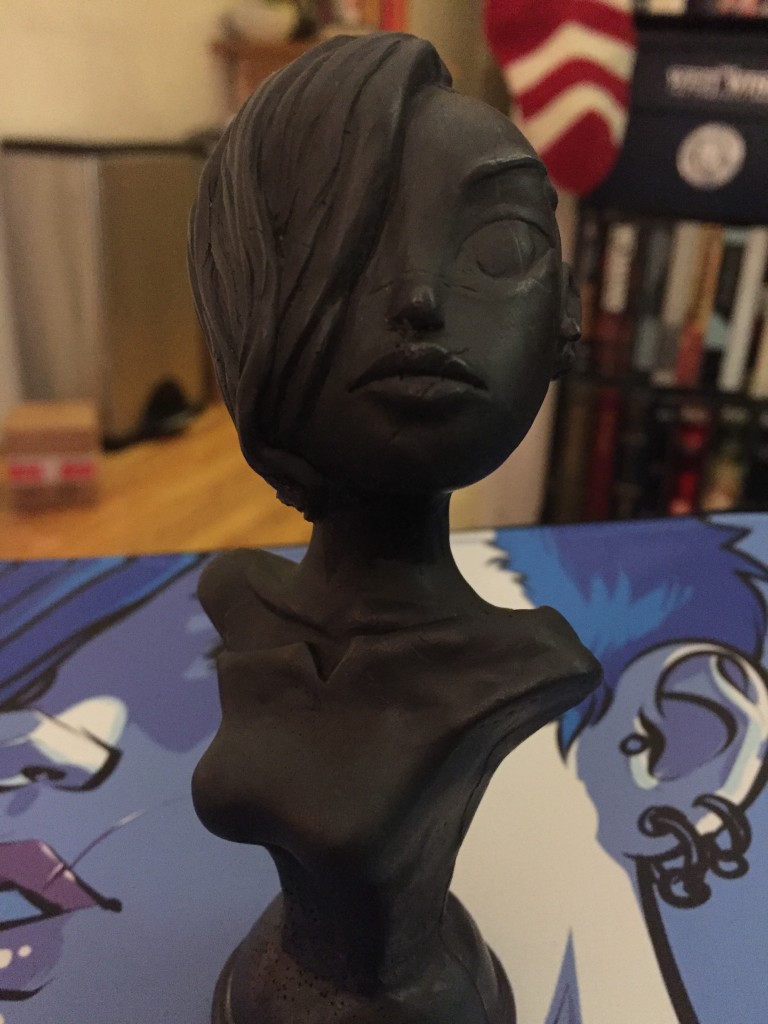 Okay, well, enough of that, onto this "accounting of the year" business…let's see what the tally looks like:
PUBLISHED:
HEART IN A BOX (Dark Horse) with artist/co-creator Meredith McClaren. This is my first ever graphic novel – I feel like not nearly enough people were exposed to this book (indie comics are tough, kids) but the people who did read it seemed VERY moved and that in turn moved me. AND we did manage to hit #77 on CBR's Top 100 of 2015…so YAY.
I also had 15 comic books published including a double-sized annual and 2 short stories (comics) that I wrote or co-wrote, plus one short story that I both wrote and illustrated. [And Jem hit #12 on CBR's Top 100 books, kids! OMG!]
WROTE/CO-WROTE:
Not everything I wrote came out in 2015 (obvs) or even will for sure come out at all (wah!) but by my count I actually wrote (or co-wrote): 28 comics, 5 "Sample Pages" (basically pitch pages for something I was/am pitching), 18 Pitches (with varying degrees of intensity from a "paragraph or two" to "holy shit that's involved" and including a couple revisions of existing/earlier drafts of pitches), 7 detailed summaries (or revisions of summaries) for a series or arc of something, a screenplay revision, a pilot revision, 9 short stories (for the Storykiller Novella…still forthcoming!), and many many words/pages (I'm not gonna count) for Storykiller Book 2.
Yeah, that sounds like about it. A really amazing year considering it was my first "real" year in comics and I hope 2016 is going to kick its ass. So speaking of 2016…what's on the horizon? Here are the plans (and a few hopes…well, more than a few since nothing is for sure) for 2016:
Storykiller Book 2 Kickstarter (March/April)
Storykiller Book 2 Published (May/June Publishing/Fulfillment)
Storykiller Novella Released (sooooo late – I'm sorry guys!)
A year of Jem (yay!)
A year of A-Force! (speaking of, you guys may or may not have seen this great interview with G. Willow Wilson on EW yesterday that also happens to let people know I'll be taking it over full time starting with issue 5!)
I have a new Middle Grade Comic (with a great artist!) that I am close to setting up with a publisher and if we can work it out, it will begin publishing in 2016. The first volume would be 5 issues.
I also have a creator-owned thing that I'm hoping REAL hard is going to work out with an incredible artist (and publisher) on board. Details still need to be worked out but it would be about 6 issues and the first issue(s) would probably begin coming out in 2016.
I have a REALLY FREAKING AMAZING pitch in with a big publisher for an ongoing book with an incredible character…and though it's been taking A WHILE it's finally looking promising. I'm crossing my fingers real hard on this one.
I have 3 cool mini-series pitches in at a couple publishers and 3 more due in January, as well as a pitch on a short story due, and hopefully a couple of those will be a go.
There's always also other creator-owned stuff and various opportunities floating around, but I think everything I laid out here is the most likely stuff to hit in 2016, the stuff I'm focused on and am most optimistic about.
AND, 2016 may be the year that THE GIRL WHO WOULD BE KING finally moves forward (television). As some of you know Legendary Television picked up the option this past year and some exciting things have been happening. Stay tuned!
Lastly, though this is more personal than professional, I am moving cross country mid-year which will make it easier to run Kickstarters (NYC is not Kickstarter fulfillment friendly) and I'm hoping to work some Comic Cons into my schedule once we move as well…so that's gonna be time consuming and stressful but I'm really excited about it too. Fingers crossed, kids!
So, that's the sum up of 2015 not bad (personally/professionally at least) and the prognosis for 2016. Here's to making it work…I'm sure I'm gonna blink and it will all be over all over again.
XO
KELLY
Tags: 2015 Year In Review, 2016 Goals, comics!, storykiller, Tessa Battle