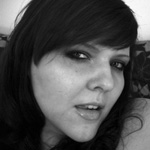 Kelly's love of comics and superheroes have compelled her since she discovered them as a teenager and ultimately led her to a degree in Sequential Art from The Savannah College of Art & Design. Kelly's first novel THE GIRL WHO WOULD BE KING was a breakout Kickstarter success and an Amazon Bestseller.
Currently living in Manhattan with her boyfriend and a pitiful lack of pets, she is hard at work on several projects, including the sequel to THE GIRL WHO WOULD BE KING and an original graphic novel with Dark Horse Comics. You can find Kelly all over the internet where she is generally well-liked, except when she's detested.
Kelly is represented by Miriam Kriss of the Irene Goodman Agency and is managed by Susan Solomon of Principato Young.
Feel free to contact Kelly directly, especially if you want to give her money or compliments (yay!) at: 1979semifinalist[at]gmail[dot]com and you can learn more about Kelly at her official website.
*The current 1979 Semi-Finalist current blog header includes an illustration of Kelly's character Lola LeFever from her novel THE GIRL WHO WOULD BE KING, and is drawn by the utterly fantastic Meredith McClaren.
Comments are now closed.