You are currently browsing the category archive for the 'dark horse comics' category.
Um…super NOT on time! Man guys, I'm sorry, I've got a ton on my plate right now and my horrible allergies are making all of it feel Herculean.
Rules: one cover from the "mainstream" (i.e. DC/Marvel) and one cover from the "indies" (i.e. anything NOT DC/Marvel).
In the mainstream corner we have Jamie McKelvie's Young Avengers #8, doing it again – two issues in a row – and twice in a month – nice! What I love most about this cover is that though it's visually striking and very pretty on just face value, it's in the details where your realize how incredibly smart and cool it is. Love it.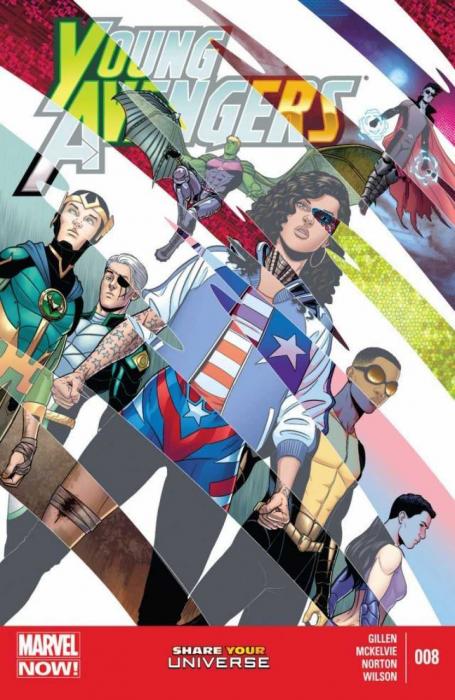 In the independent corner we have Matt Kindt's gorgeous Mind Mgmt #13, which is both gorgeously illustrated (watercolor? got to be) but more importantly content wise, it's just so surprising and awesome. Perfectly executed to feel all sweet and 1950′s and then "oh, yeah, she's got a semi-automatic." AWESOME.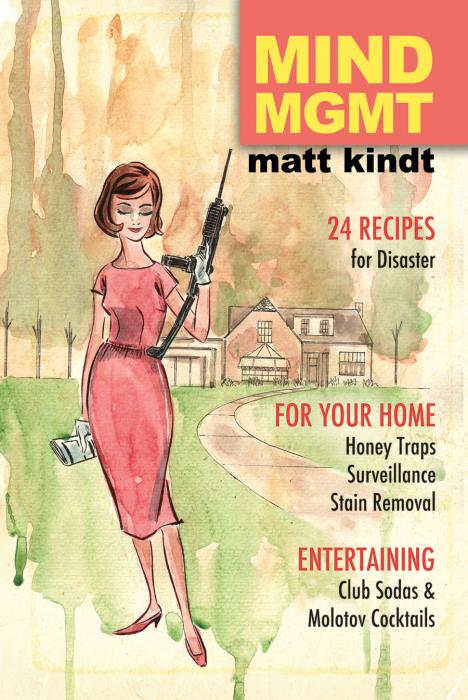 I've got to give it to Fiona Staples gorgeous (and for some reason controversial…what planet am I living on?!) Saga #1: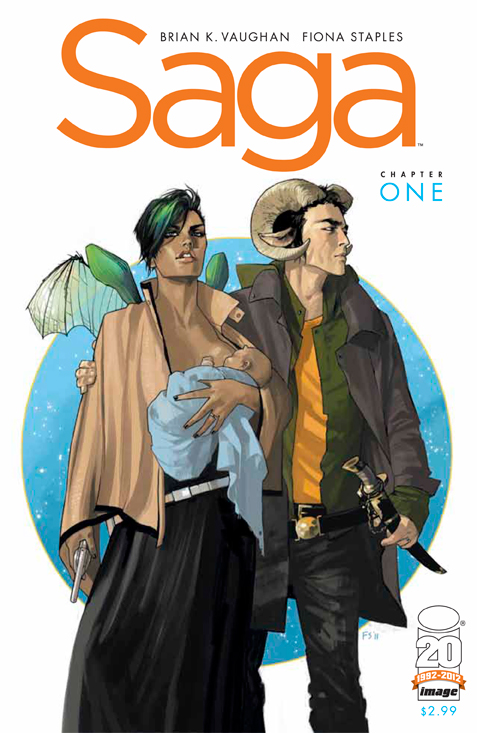 Honorable Mentions to Ross Campbell's Glory #24, a super hardcover cover that's also a fantastic example of the split screen cover…which most artist screw up: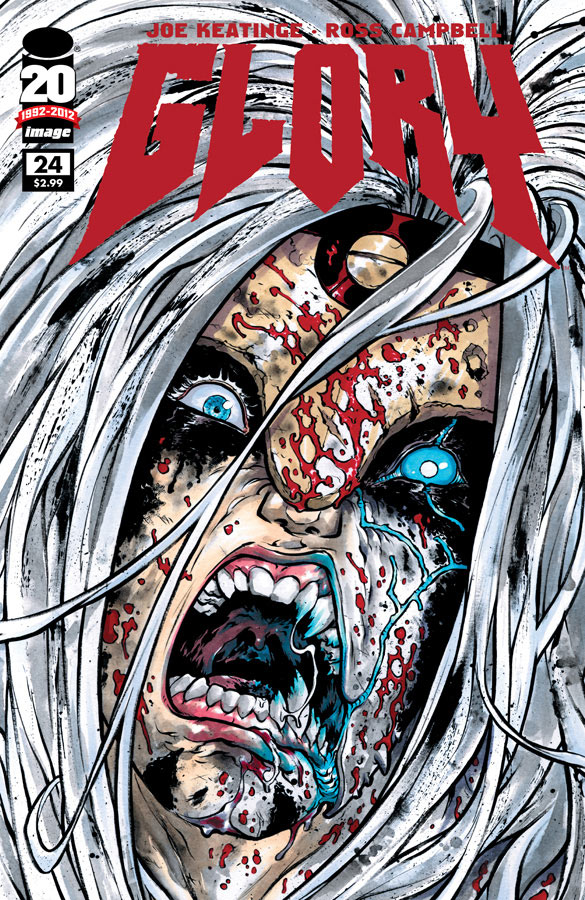 I also have to give major props to Phil Noto who nails his representations of Buffy and Spike, but then twists it into a very conservative/suburban situation that's hilarious but works at the same time on the Buffy The Vampire Slayer: Season Nine #7 cover: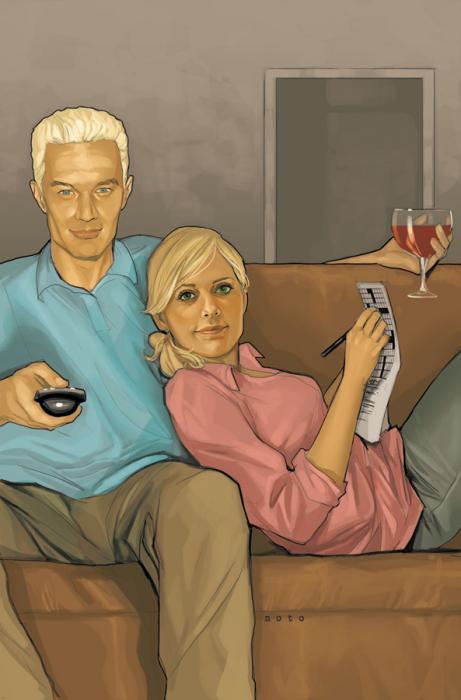 Been just swamped over here, folks, but wanted to link to the last two weeks of CBR Reviews.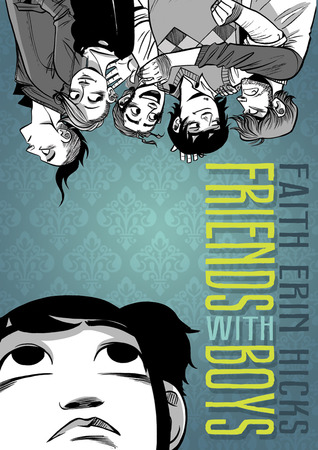 "Faith Erin Hicks' "Friends With Boys" is her best work to date, an engaging beautifully illustrated black and white coming of age story about a girl going to her first year of public school after years of home schooling and the recent disappearance of her mother. Hicks story is surprisingly bold. While on the surface it's a simple story of a girl named Maggie, her three older brothers and their strange family situation (her mother has just left them), there's a bizarre supernatural element that pays off in unexpected ways…"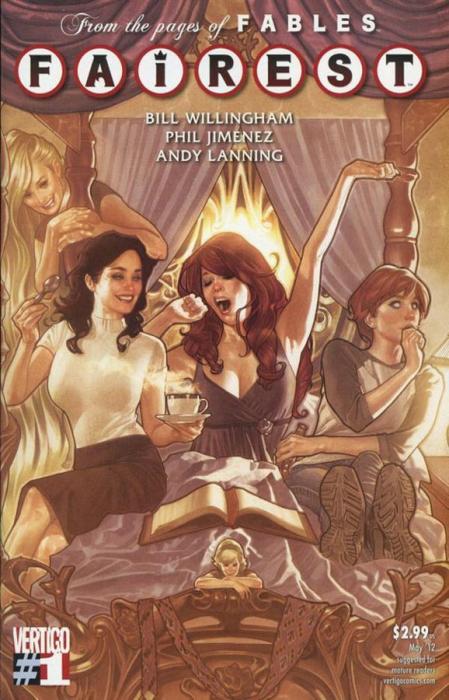 "Fairest," Bill Willingham's latest "Fables" spinoff series with art by Phil Jimenez promises a lot of beautiful ladies with its title and Adam Hughes cover, but what you'll find inside is a bit surprising. While the title and the cover suggest this issue will be focused on Briar Rose, we spend most of the issue meeting Ali Baba (Prince of Theives) and his non-genie of the lamp, Jonah…"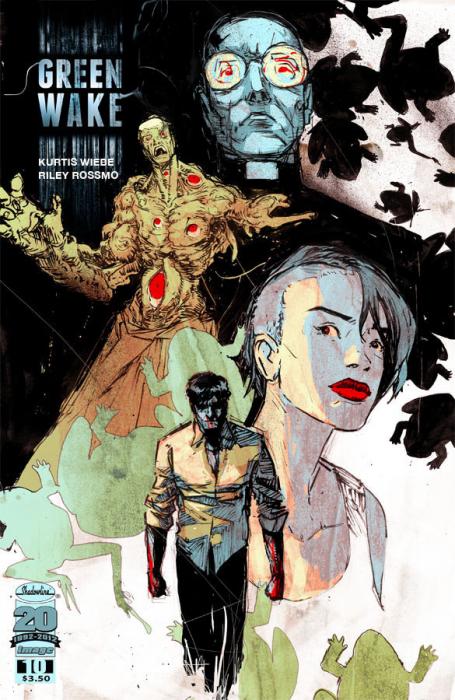 "Although "Green Wake" #10 unfortunately brings the series to a close, Kurtis Wiebe does an excellent job of making it feel as if this was his plan all along. Morley gets to the heart of Green Wake quite literally in this final issue and makes a risky decision with ramifications for all the citizens of Green Wake, past, present and future.  Wiebe has a very specific vision for "Green Wake" and you can feel his uncompromising devotion to it as his tale draws to its conclusion. He unravels his mysteries nicely but rarely says anything outright — both a strength and a weakness…"
"Grace Randolph and Russell Dauterman's "Supurbia" #1 is very interesting. It's hard to know if it can deliver on all its promise, but this first issue is a bizarrely intriguing blend of traditional superhero comics and "The Stepford Wives," with a dash of "The Real Housewives" series from Bravo thrown in for modern flavor.  Randolph's idea is lots of fun, focusing on the "women behind the supermen." If they were less interesting women it could have been a disaster, but Randolph chooses her cast well, which helps to offset the idea that these women (and one man) are not the actual superheroes of the story, even if they are the stars…"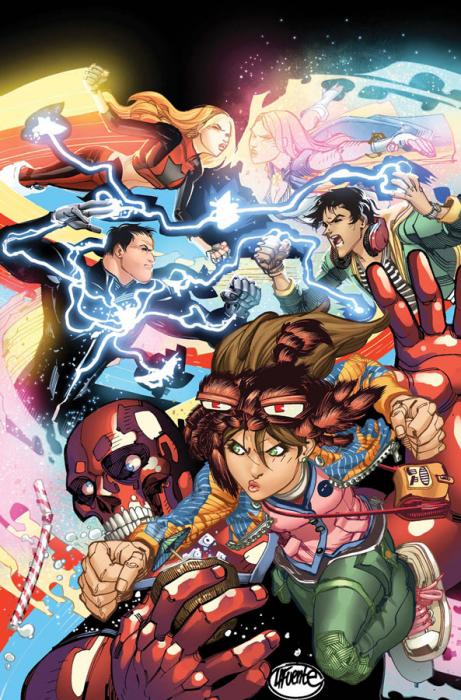 "Christos Gage and Karl Moline wrestle with a massive roster of characters as the entire "Runaways" cast guest stars in "Avengers Academy" #27. Looking for help locating Old Lace, their lost dinosaur, The Runaways come knocking at Avengers Academy and quite naturally get into a fight. The fighting scene is expected; given superheroes too frequently default to fists first to settle disagreements. Plus, The Runaways have been treated poorly by the superhero community in the past and the Avengers Academy students aren't the most level-headed group out there…"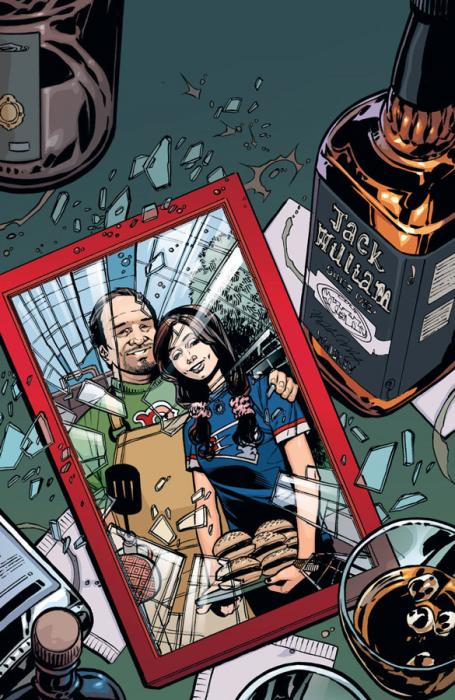 "Angel & Faith" #7 is the first issue of the series that hasn't really hit the mark for me. It's still a solid book, but it's just not ringing true enough to give it the emotional punch of the first arc. Christos Gage has a good handle on both Angel and Faith's voices and personalities, enough so it was clear to readers something was going on with Angel's personality and that continues here. However, on the plotting front this feels a bit weak. The second installment of this new arc, titled "Daddy Issues" is set up to parallel both Angel and Faith's relationships to or as fathers…"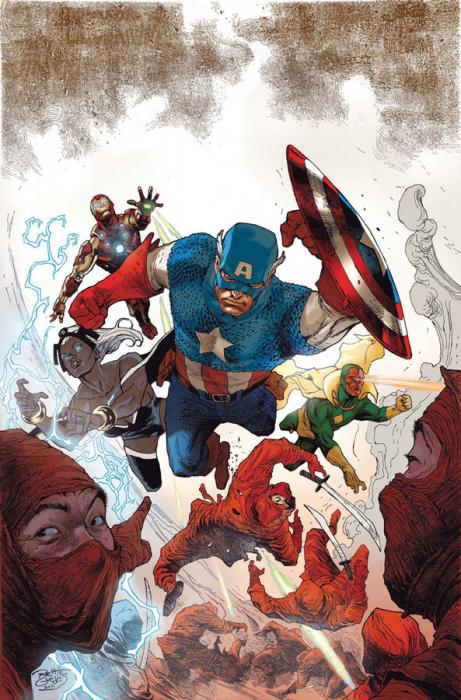 "Avengers" #23 is not a bad comic book, but given the stakes and the players on the field it should be so much more. In this issue, The Avengers attempt to escape the clutches of Norman Osborne's H.A.M.M.E.R. while Viper negotiates with the U.S. Government, using the kidnapped Avengers as their bargaining chip. Brian Michael Bendis finds some great funny moments for his characters in this issue, the kind of good chuckles that make comics fun. Unfortunately, beyond those funny moments and a decent escape scene toward the end, there is so much missed opportunity and the issue is ultimately disappointing…"
As always likes and retweets are much appreciated and you can read all my CBR Reviews here!
So after breaking the internet two weeks ago with my "No, It's Not Equal" post, I'm recommending some great books that you should be reading that don't fall into any of the "No, It's Not Equal" traps. So let's break the internet with PRAISE this time and SUPPORT THE GOOD!
So here are a few CBR reviews I didn't link to from last week and this week.  Enjoy!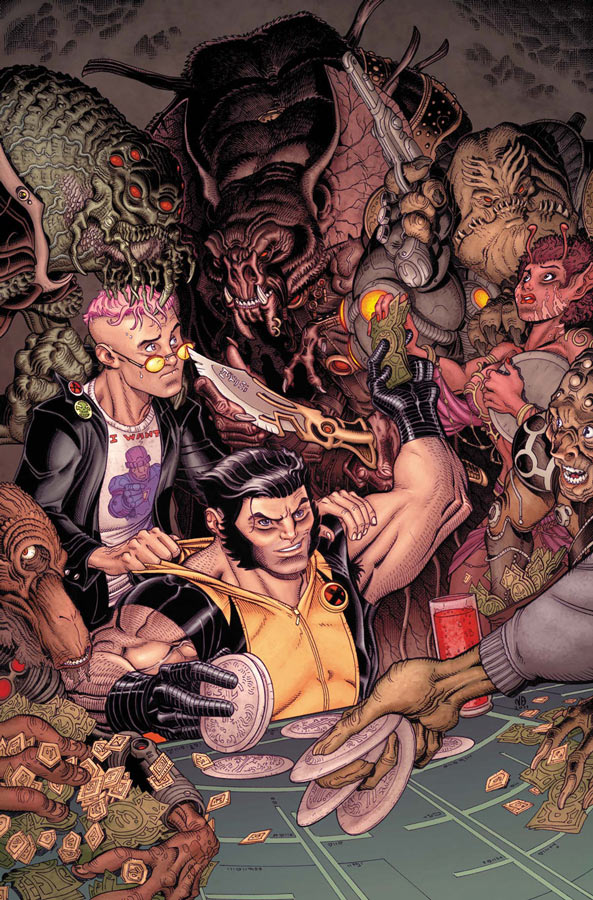 "Jason Aaron and Nick Bradshaw's "Wolverine & The X-Men" #6 continues this excellent series with the same high energy and confident storytelling we've seen in the first five issues.  Aaron has made his book an action packed and wild ride never skimping on character development. He does more with character in a few lines than most writers can do in pages. It's a deft skill to never sacrifice character development for plot while simultaneously never sacrificing plot for character development…"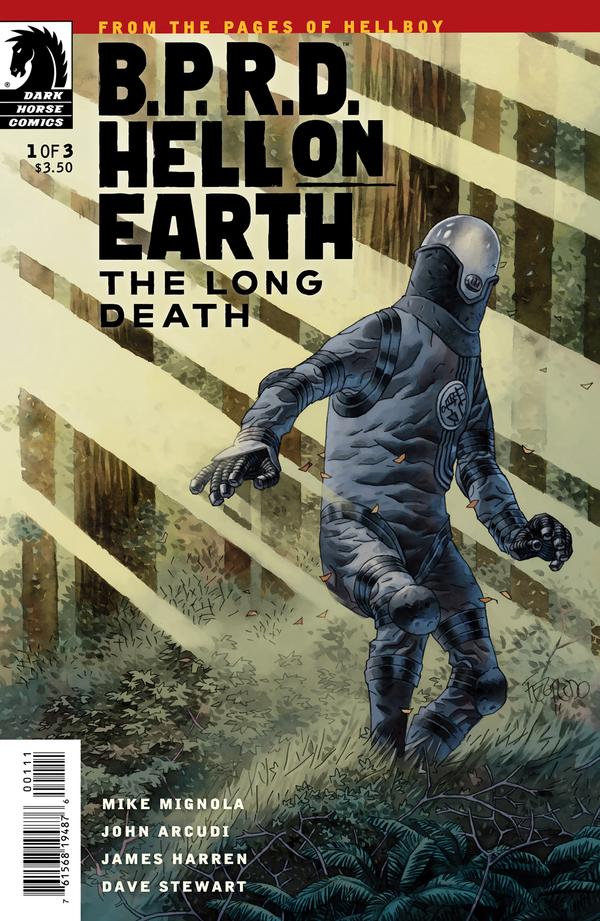 B.P.R.D. Hell On Earth: The Long Death #1
"B.P.R.D. Hell On Earth: The Long Death" #1 by Mike Mignola, John Arcudi and James Harren kicks off another fantastic mini-series with a story focused on Agent Johann Kraus. Like all Mignola's excellent books in the Hellboy universe, "The Long Death" stands nicely on its own for both veterans and new readers, making it a powerful beginning to a must-read mini…"
"Winter Soldier" #2 by Ed Brubaker and Butch Guice is a wonderful noir espionage mix with a breakneck pace. It's a story playing to both Brubaker and Guice's strengths as writer and artist and the result is an exciting new book for Marvel. Brubaker is at his best in this issue with effortlessly cool dark and dirty spy capers. James and Natasha fit the roles of espionage agents perfectly and Brubaker has a great handle on both their voices. The premise for the book plays to both Brubaker's and his characters' strengths and the concept is firing on all cylinders…"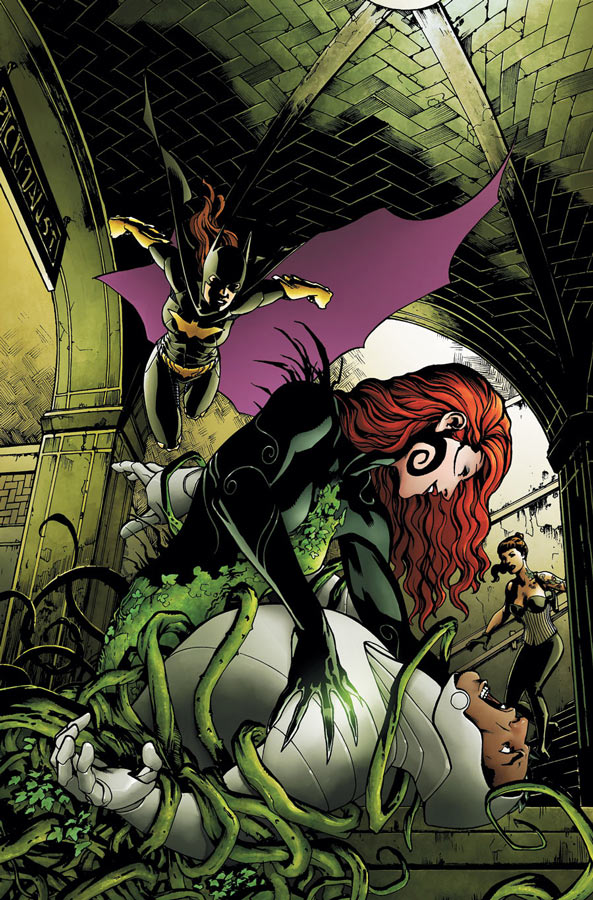 "Birds of Prey" #6 by Duane Swierczynski and Javier Pina is a good comic book but a step down from what we've seen for the past five issues. It's unfortunately timed, as this issue seems like the penultimate issue of the first arc.  Swierczynski's "Birds of Prey" has been a rollicking ride full of jumps forward and backward in time, tons of mystery, action and a beautiful amount of character development — including the introduction of a fantastic new hero in Starling. Unfortunately, this issue feels like a misstep as too much of the mystery is unloaded through info-dump talking heads. It's never ideal from a storytelling point of view and feels completely counter to everything Swierczynski has done thus far…"
Easy win last week for Ross Campbell's Glory #23 which is a thousand kinds of awesome:
Honorable mentions to both absolutely gorgeous covers of B.P.R.D. Hell On Earth: The Long Death #1, the first by Duncan Fegredo: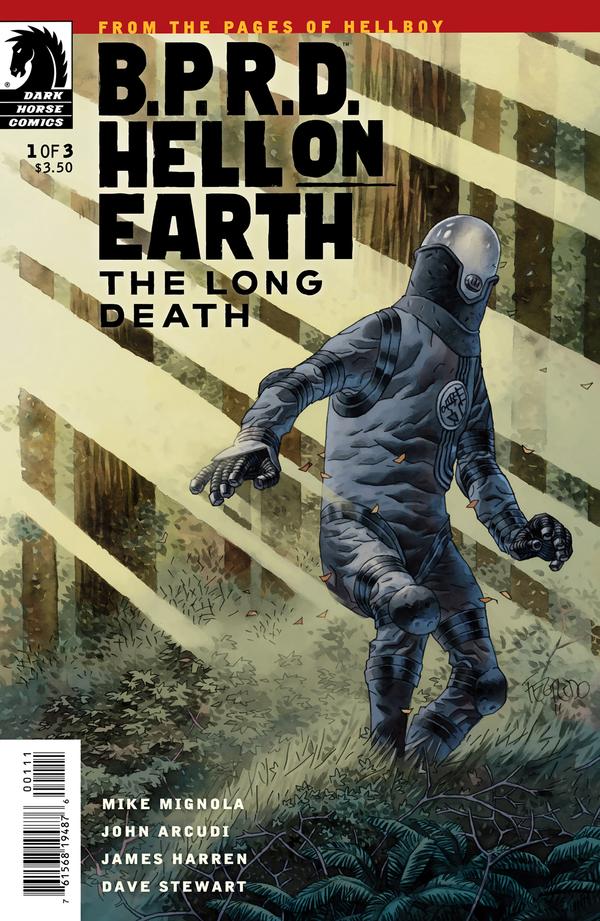 And the variant by Mike Mignola: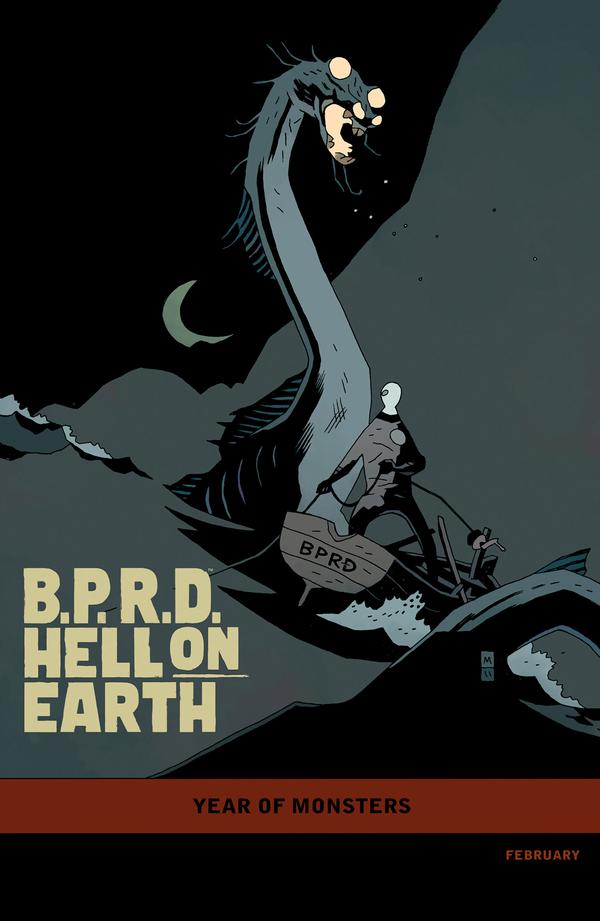 Additional Honorable Mention to Cliff Chiang's gorgeous Wonder Woman #6.  This is perhaps my favorite Chiang Wonder Woman yet!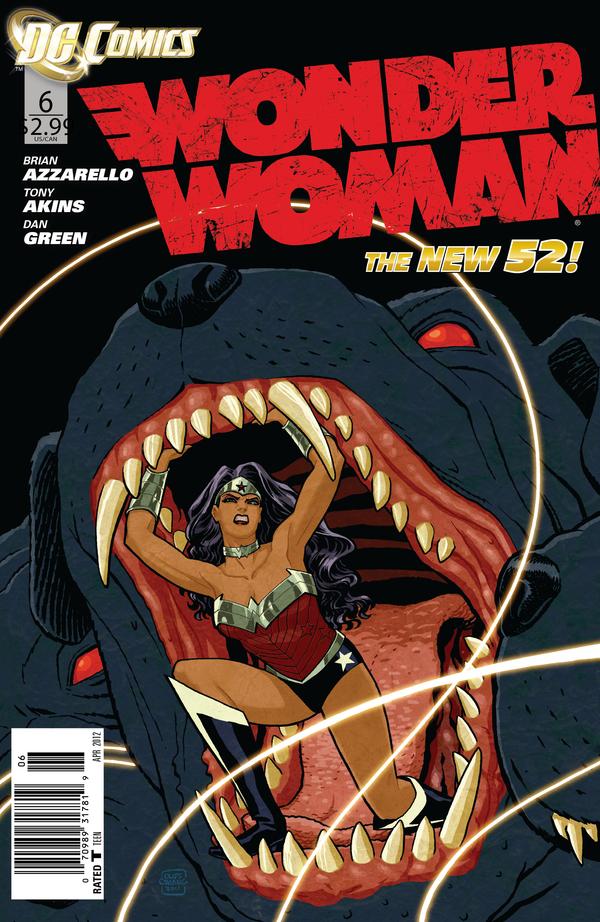 Last week's Cover(s) of the Week are a tie between Buffy & Batwoman (don't tell DC Women Kicking Ass…she'll be mad!)
First up, Steve Morris' truly excellent Buffy The Vampire Slayer: Season Nine #5.  Look at those colors, absolutely fantastic.  Love the text integration as well, so smart:
And then there's Batwoman #5 by J.H. Williams III.  Absolutely stunning – and as I discussed when it came up in Drunk Cover Solicits a few months ago, there's so much more there than meets the eye at first glance.  It's beautiful if you don't look deep, but if you take the time, it's incredibly complex and interesting.  Actually, I'd say that about both these covers.  Excellent work gents.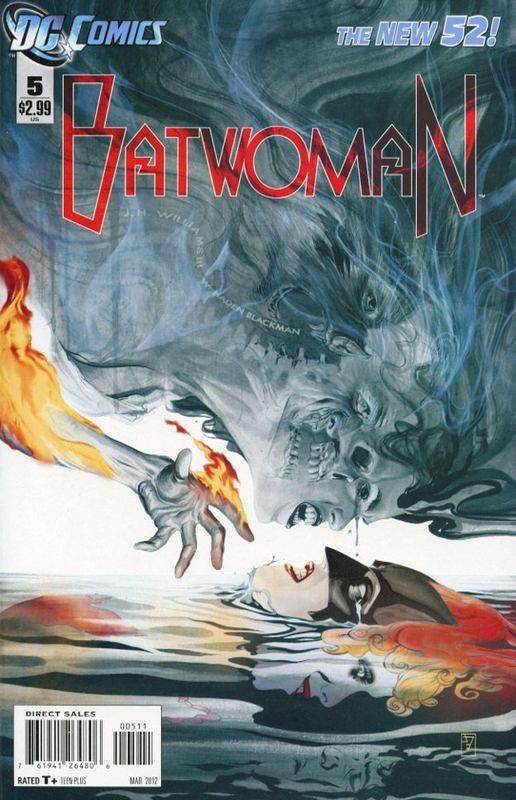 I'm not going to do a post for Panel Of The Week for last week (too busy/tired/lazy) but this definitely would have been one of the picks, also from Batwoman #5 and J.H. Williams: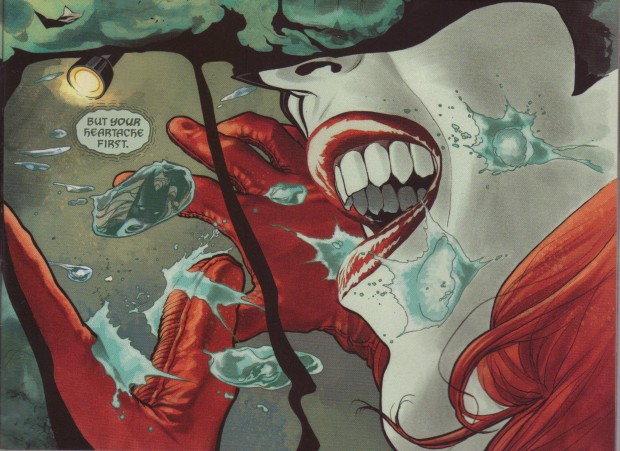 My first CBR Reviews of the new year…read 'em and…well…just read 'em!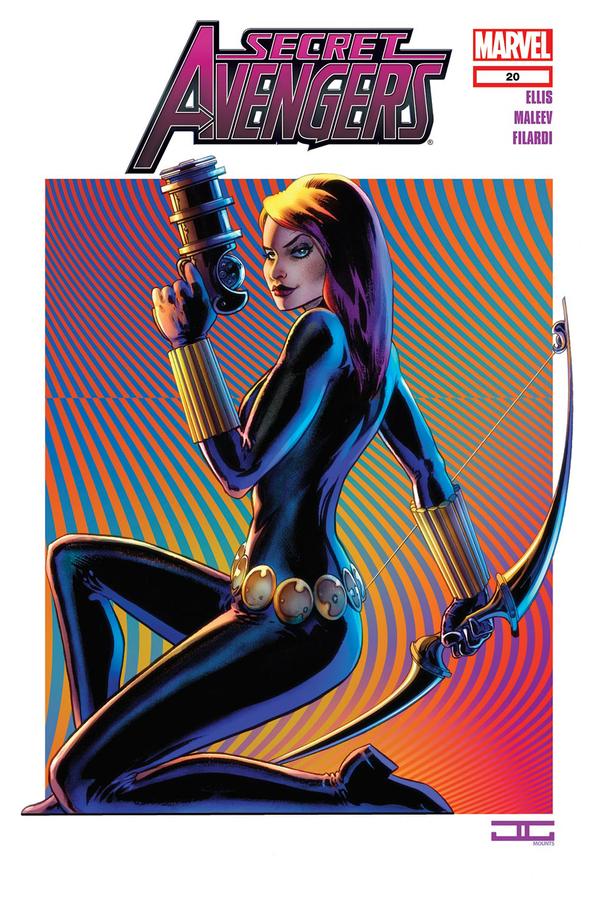 "Warren Ellis has been absolutely killing his run on "Secret Avengers," writing some of the smartest and best superhero comics of the last year with brilliant standalone stories that tell surprisingly complex tales with satisfying results. It doesn't hurt that Ellis has had a rotating cast of unbelievably talented artists to help him deliver these stories, and Alex Maleev on this issue is no exception…"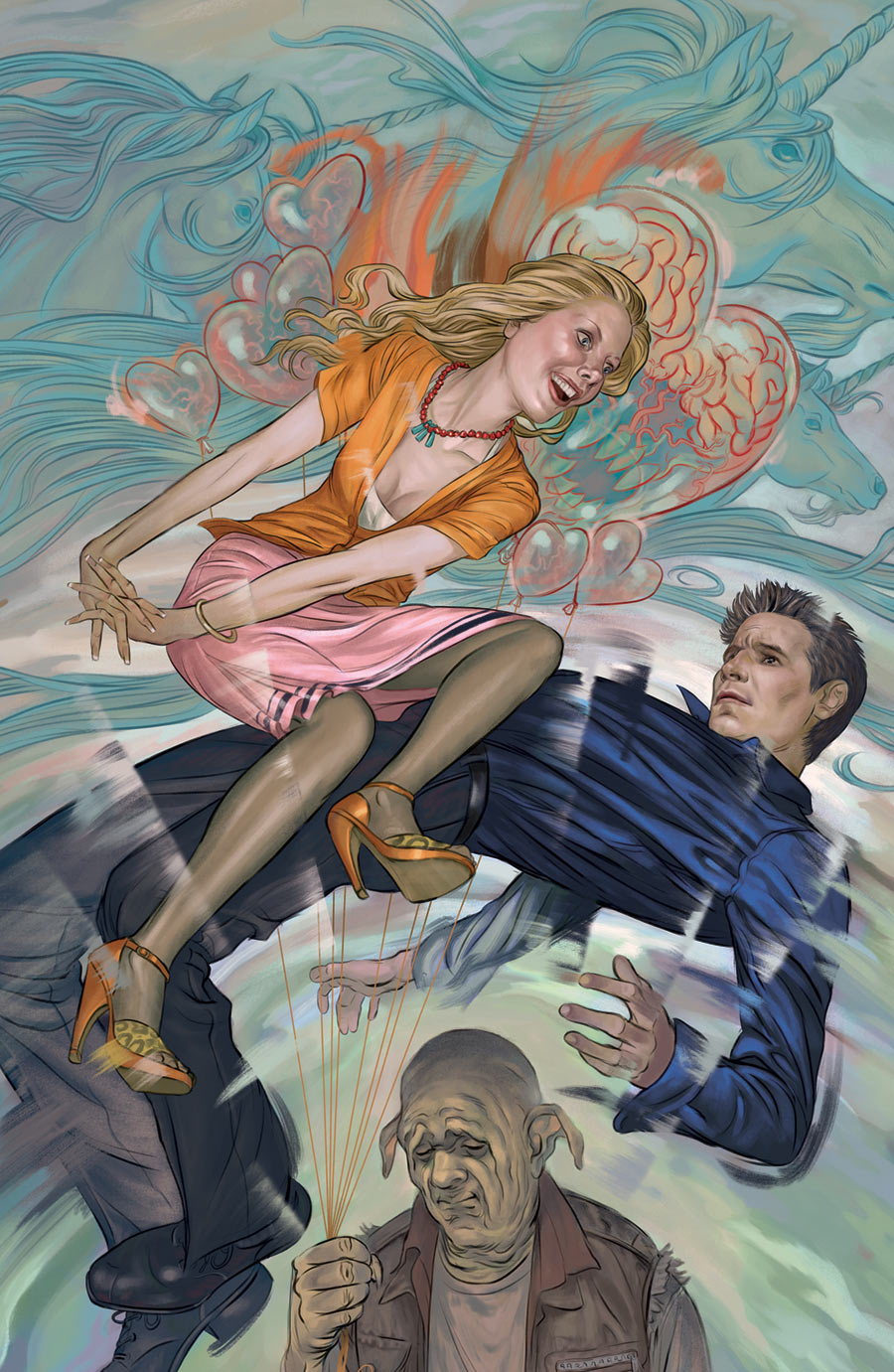 "Despite how much I've been enjoying "Angel & Faith" thus far, I was hesitant about this issue — even with the always exceptional Phil Noto as guest artist — since it guest-starred arguably my least favorite Buffy Universe character, Harmony. Those fears were averted however, as Christos Gage and Noto do great work delivering a fun issue that manages to keep things moving forward while still taking a little breather…"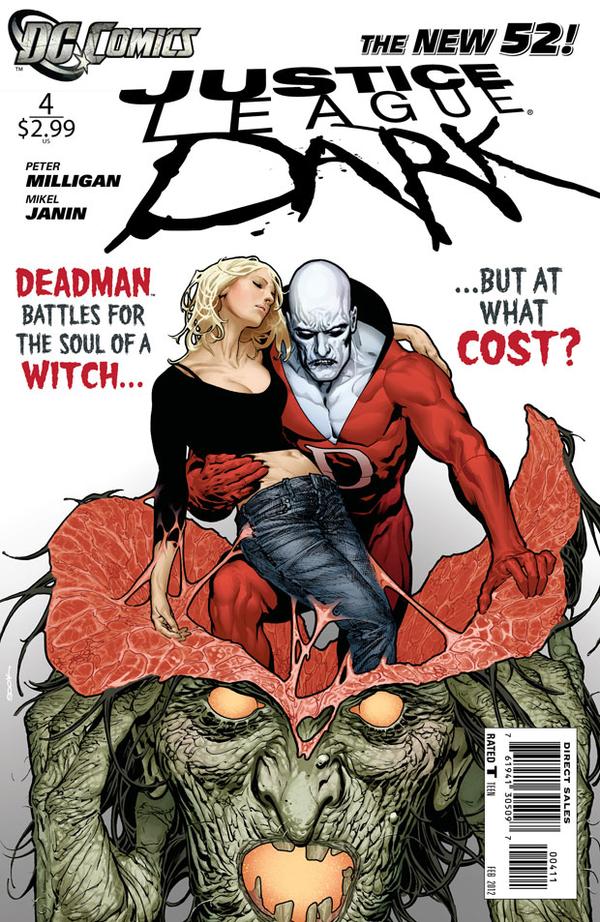 ""Justice League Dark" continues to be the title of the new DCU that I desperately want to like more than I do. It's a good book, but with so many fantastic characters crowded together, largely unused, too much of the book is falling flat…"
As always, likes and retweets are much appreciated and you can read all my CBR Reviews thus far here.
Been so busy…didn't get these reviews from last week up.  So I thought I'd give you guys this week's advance review, plus last week's that I missed.  Still more reviews coming this week – X-Factor #228 and X-Club #1…keep an eye out!
"You can tell from the story title for "Defenders" #1 – "Breaker of Worlds, Part 1: I Hate Myself And Want To Die" that Matt Fraction intends to have a good time with his readers, and indeed he does. The book has an enthusiasm and energy that is evident from page one, even when it's being all grim and world ending…"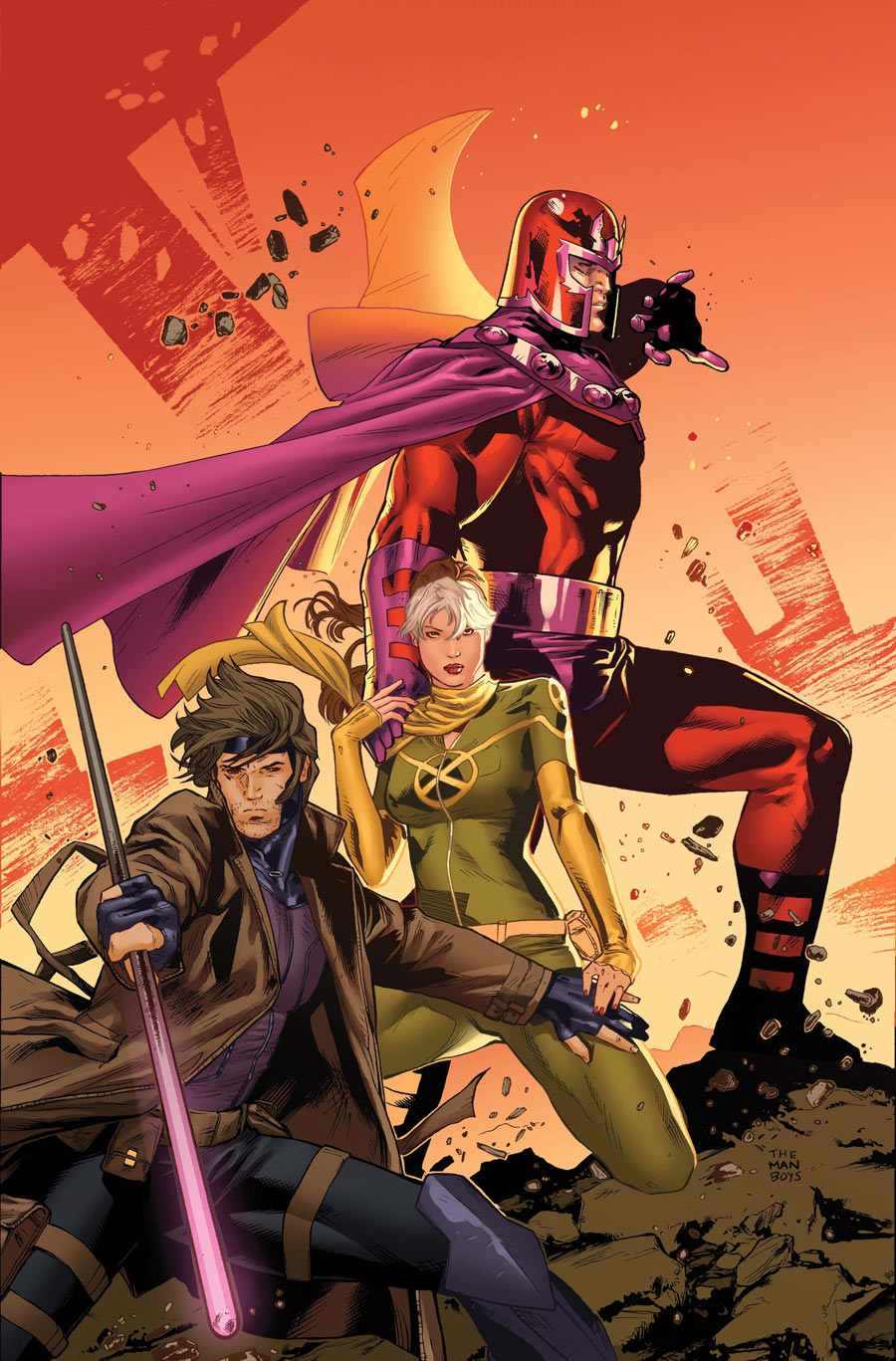 "Mike Carey has thought more intensely about Rogue's powers than any other two creators working in comics.  I feel confident in saying this because Carey constantly surprises me with the ways in which he has used her powers throughout his run.  "X-Men Legacy" #259 continues that tradition. What could have been a mundane filler issue about which way Rogue will choose to go post-Schism, suddenly becomes quite interesting in Carey's hands…"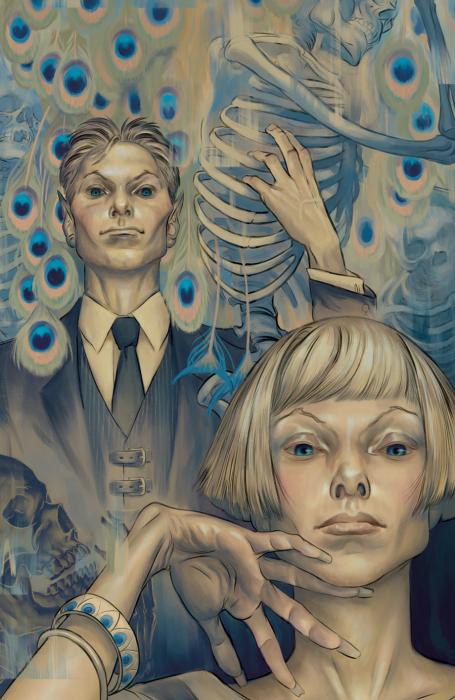 "Angel and Faith" continues to impress as it features two big stars of the Buffyverse that are far more interesting when paired together. The result is a smart book that's being executed very wel.  Issue #4 brings to a close the first arc of "Angel and Faith," and it's a satisfying ending that leaves plenty to still be mined of the book's original mission, i.e. Angel's intention to bring Giles back to life. Angel and Faith, having found the Mohra blood that could well make that happen, discover a horrible secret to the blood now that the world is absent magic…"
As always, likes and retweets are awesome, and you can read all my CBR reviews thus far here.