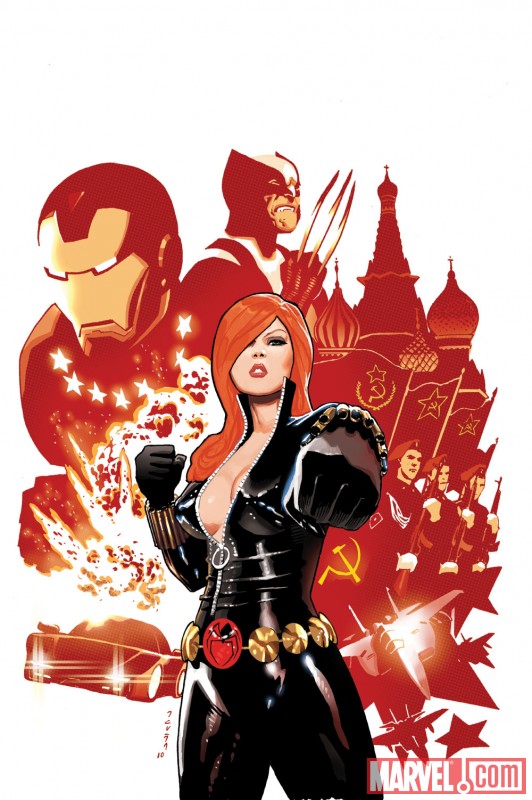 Why when a new ongoing is released for a strong female lead, and with a strong female writer on board (Marjorie Liu) – why does it HAVE to come with objectifying imagery?  Do they not know what they're doing?  Or do they just not care?  These are the kind of releases that lead me to giant columns asking whether Marvel is just stupid or cloaked in misogyny.
Because I have to tell you…it's upsetting.  It upsets me greatly to realize that in the year 2010 (2010!!!!), Marvel does not think they can market a book with a strong female lead and a strong female writer without using sexist imagery that horribly objectifies their lead.
And that they're willing to make a character like Black Widow look like she doesn't know how to dress herself.  Does she not know how to use a zipper?  Does she not know how to purchase clothing for herself that can contain her massive breasts?  Does she have so little confidence in her ability as a fighter and hero that she thinks she has to try to distract people with her zipper unzipped to somewhere below her tits?  Does she have such low self esteem that she thinks people will only like her if she runs around with her top unzipped?  Why do I have to keep talking about this? I am so sick of this crap.  One of the worst things about this image is that if the zipper was simply zipped up to a more reasonable level…this cover would be awesome.  What a waste.
Is this what I have to look forward to in Marvel's 'year of women'?  Cause if so, I'll fucking pass. Thanks Marvel.