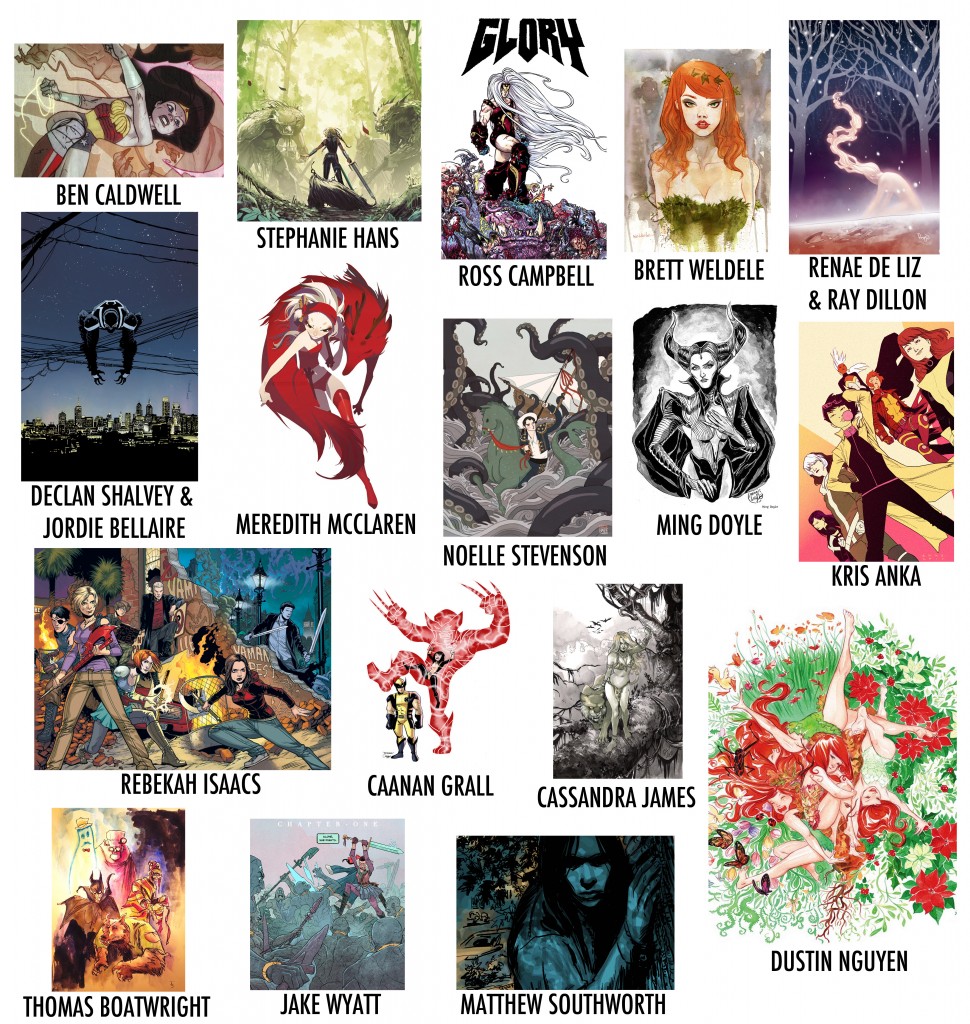 Over on the STORYKILLER Kickstarter (just launched today 01/21/14!) I've got a full list of the artists currently on board producing illustrations for the illustrated edition, but I thought I'd put a compilation image here that included at least one image from each artist. I find it a bit confusing when those images are on the Kickstarter (i.e. art that isn't actually being used for the project).
Anyway, here they are, as well as a list of all the incredible artists (and links to their respective sites) – I encourage you to check them out (if you don't already know them) as they are all incredibly talented and worthy artists!
You can click to enlarge the image above…it should get rather huge.

KRIS ANKA – artist for X-Men, Uncanny X-Men, Marvel Cover Artist
THOMAS BOATWRIGHT – artist and creator of Cemetery Blues and Zeke Deadwood: Zombie Lawman, artist on Orc Girl
BEN CALDWELL – artist for Wednesday Comics Wonder Woman, The Wonderful Wizard of Oz, artist and creator of Dare Detectives!
ROSS CAMPBELL – artist for Glory and TMNT, creator of Wet Moon and Shadoweyes
RENAE DE LIZ & RAY DILLON – artist and creator of Peter Pan and Womanthology, artist for The Last Unicorn. Colorist for Peter Pan, The Last Unicorn
MING DOYLE – artist for Mara, Fantastic Four, Womanthology
CAANAN GRALL – artist and creator of Max Overacts and Celadore
STEPHANIE HANS – artist for Spider-Man, Fearless Defenders, Journey Into Mystery
REBEKAH ISAACS – artist for Buffy The Vampire Slayer: Season Ten, Angel & Faith, DV8: Gods & Monsters, Magus
CASSANDRA JAMES – artist for Red Sonja, Valentine, Womanthology
MEREDITH MCCLAREN – artist for Hopeless Savages, Adventure Time, artist and creator of Hinges
DUSTIN NGUYEN – artist for Detective Comics, Batman: Streets of Gotham, Batman: Li'l Gotham, American Vampire
DECLAN SHALVEY & JORDIE BELLAIRE – artist for Hero Killers, Thunderbolts, Deadpool, American Vampire. Colorist for Pretty Deadly, Mara, Journey Into Mystery, The Wake.
MATTHEW SOUTHWORTH – artist for Stumptown, Ain't Them Bodies Saints, X-Men, Spider-Girl
NOELLE STEVENSON – artist and creator of Nimona, co-writer for Lumberjanes
BRETT WELDELE – artist and co-creator of The Surrogates, artist and creator of The Light and Spontaneous, artist for Southland Tales, 28 Days Later
JAKE WYATT – artist and creator of Necropolis