to vote for Anis Mojgani on famecast this week…
the title of this post is actually the title of one of Anis' lighter pieces, and one of my favorites.  i write this post for two reasons, 1) because Anis is the best spoken word poet out there and he needs all the support i can rally for him over on Famecast, and 2) because just having Anis' name on my blog raises my blog views.  at least once a day (more like ten times a day) someone comes to this blog becuase they use the search term "anis mojgani".  he is IT my friends.  and you should check him out, so you can see what IT is all about.
Anis is currently in the final five over on Famecast (and up for the 10k first prize – a hell of a lot of cash for a poet).  please help him get it, not only because he deserves it, but because you will be better for going to Famecast today and listening to Anis' words.  i actually defy you to go there and listen and NOT be moved.  i'm not sure it's possible.  even if you don't think you like spoken word…give Anis a try.  what he does is not just poetry, it's not just spoken word, it's not JUST anything, and the shit can change your life, or at least how you think about your life.   
all five poets in the finals are talented, but Anis is it.  please, go check him out and VOTE!
here's what to do…
go here:  http://famecast.com/login.php?login=1
create an account (or log in if you already have an account) and check out the spoken word poets (stage 9).  and vote for Anis.  that is all.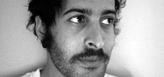 this is a picture of Anis.
Comments are now closed.