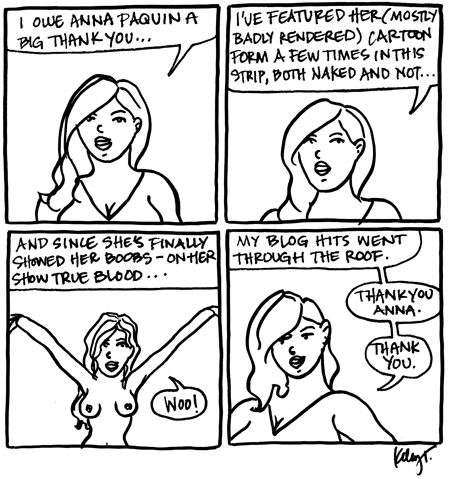 Yes, thank YOU Anna Paquin.  I had my biggest blog day ever thanks to you! 
And by the way, I'd like to add, perhaps unnecessarily, that I commend Anna for showing her boobs.  I'm not into the gratuitous nudity for no purpose but I actually find avoiding nudity for no purpose equally as annoying.  These (boobs and other various body parts) are not precious perfect commodities to be sold to the highest bidders (Halle Berry, I'm speaking directly to you), they are just part of the human body, and if there's a scene where it's awkward and bizarre to hide them – you know – that scene where lovers suddenly cover up after the sex when it's time to get a glass of water? – sure that's how we all behave – personally, it completely takes me out of a scene when they throw in that awkward "cover up" moment because such and such actress doesn't want to "give away the goods". 
Now, unfortunately we do see a disproportionate amount of lady parts to man parts and that should change…but that's a whole other conversation, this is just to say not only "thank you" to Anna, but also, "You go girl.  Your decision, as far as this viewer is concerned, was well-considered and appropriate for the show that you are currently on." 
Also, as a side note – you looked gorgeous.
Comments are now closed.