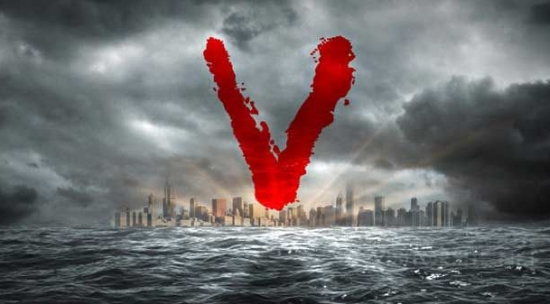 Awesome idea, as it was in 1984, but the execution here is seriously flawed.
Stilted writing, over-the-top hammy performances (with a few notable exceptions), incredibly out of touch and dated stereotypical characters, and effects that are completely hit and miss.
It's easy to see where the money went on certain effects shots that look good to great by TV standards, but others look hokey and almost like they could have come from the original 1984 series.  Basic shoddy green screens with actors awkwardly in front of them; a "New York riot" that looks like an average day on any New York street, rather than the chaos that would ensue were aliens floating above us, etc.
I could forgive the effects though, I really could.  What I cannot forgive is ridiculous heavy handed plotting and completely unoriginal characters.  The single mother and rebellious teenage son?  CHECK!  Attractive blonde overly earnest priest questioning his place now that aliens have showed up?  CHECK!  Hot blonde (might as well be from Cali) alien to tempt the rebellious teen son?  CHECK!  "Perfect" guy with a mysterious past that is super in love with his "perfect girlfriend"?  CHECK!  Convenient traitorous partner/best friend?  CHECK!  "Tough as nails" newly divorced mother?  CHECK!  All the tropes are there – and there's not a single interesting or new thing about these stereotypes that get trotted out for roll call.  These were tired character types ten years ago (at least!) and I saw nothing new to keep me tuned in now.
[SPOILERS]
Scott Wolf's tempted opportunistic reporter was vaguely interesting and well executed, though certainly not ground breaking.  Alan Tudyk's traitor FBI agent/V terrorist cell operative was not unexpected, but at least in Tudyk's hands it didn't incur eye rolling.  Although proof that the writing/plotting/pacing is seriously off, is that we as an audience cannot remotely begin to care about Tudyk's character and/or his relationship with Elizabeth Mitchell's character before he turns on her – so the reveal is totally powerless.  We can't feel anything about it because we don't care about these characters yet (if ever)…it's no real surprise he turns on her, because we don't actually know or care for him.  Morris Chestnut's "perfect guy with a past" in love with his "perfect girlfriend" was boring me to tears as well (despite my general like of Morris Chestnut) but the reveal of him as a V traitor aligning himself with the human resistance was a welcome surprise.  The V leader Anna, played capably by Morena Baccarin is enjoyable to watch, but that won't take me far.  And in an interesting side note, IMDB says that Famke Janssen turned down the role of Anna…which if she read the script, I don't have to wonder why.
There was also a kind of pitifully unhip aspect about this show, that I can't quite put my finger on.  I suppose it was primarily noticeable in the writing…it felt like someone's grandpa was writing it and was trying SOOOO hard to connect "with teh kids!"…which as anyone who's still remotely young-ish will tell you is a freaking death knell.  In my experience, kids (especially badass awesome ones) can sense someone trying too hard from about a thousand miles away and will run in the exact opposite direction.
Also, if this was supposed to be geared towards the young hip sci-fi crowd then why are there no good young characters?  There's only one young adult/teenager (that'd be the rebellious teenage son – oh, and his token friend that got about six lines) and they're probably the most annoying characters thus far.  So if it's not geared towards "teh kids"…who is it geared towards?  The entire cast looks to be in their mid-30's…but I'm in my early 30's and the cast still felt old and tragically unhip to me.
And it can't possibly be geared towards the die hard sci-fi crowd because even my barely sci-fi credentialed ass found plot holes the size of…well…I don't know…but they were big.  Like, why do the the V's need to engage in any kung fu fighting with us lame humans, when their technology outstrips us by miles?  And how have the V's actually managed to stay hidden, when all it takes is a two by four to the head (or arm, or whatever) to reveal their interior reptilian selves?  And is the entire human race really so dumb that when an alien guest storms into all of our major cities across the globe and essentially says it will be taking some of our "abundant natural resources" nobody stands up and goes – "Hey…you know what is abundant here on Earth and isn't anywhere else in our known universe?  Human FLESH!"  Lame.
All in all I'd give the first half of the episode a solid and resounding F, and the second half a wavering C- (wavering towards D that is), putting us somewhere in the D range overall.  I'll probably tune in next week to see if they can save any of it (though if the previews are any indication – they can't).  But if they don't manage some better writing, better acting, less heavy handed hammy one liners, more consistent effects, and perhaps most critically – losing the dated and unhip feeling of the whole thing – I'll be permanently pulling the plug.
Ironically, the somewhat similar Flash Forward (FBI lead characters, major global event, etc.) is already on my critical list – a mere pseudo-weak episode away from being pulled from my weekly viewing – and compared to V, Flash Forward looks like a world famous, A-list cast Shakespearean production.  And if you've seen Flash Forward…that's saying a lot.
Comments are now closed.