Adam got me an awesome Wacom Tablet for our anniversary this year so that I could try a little digital drawing, inking, etc., I tend to prefer traditional mediums (y'know paper, pencils, pens, etc.) but I really really hate scanning (especially with my scanner)…and drawing on a Wacom…well, it eliminates all scanning.  So, win!
Anyway, here's my first pass at a little inking of an old sketch on the Wacom.  Good times.  Let's hope I get better with practice.  You'll note that I didn't ink any of the truly hard stuff…hands, feet, y'know things with details that take a precise hand.  It's how I roll.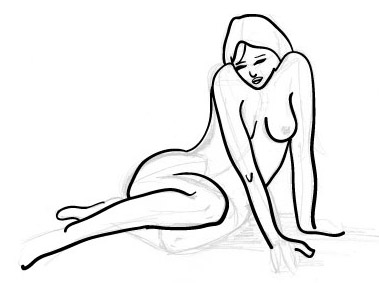 Other favorite presents this year?  I got lots of great stuff including a Jeffrey Brown journal from Adam with Jeffrey Brown style kitties all over it:
Adam also got me some sweet new boots and from my parents a much needed replacement "fit and fast" blender for making fruit protein shakes as mine crashed and burned after about 20 uses this summer (hopefully this one is built to last0, a few great books (one I read yesterday – go me!) and a check that will hopefully be paying the bulk of my March rent if I'm still out of work.  That one is the least exciting, but sadly the most necessary.  It was a great haul of presents all around (hopefully I gave as well as I got).  Though, as the first year that I didn't go home for Christmas, I have to say I would rather have seen everyone than have gotten anything at all.  Next year perhaps.
Comments are now closed.