Welcome to the first Sketch-A-Day post.  Learn more about the rules of and inspiration for Sketch-A-Day here.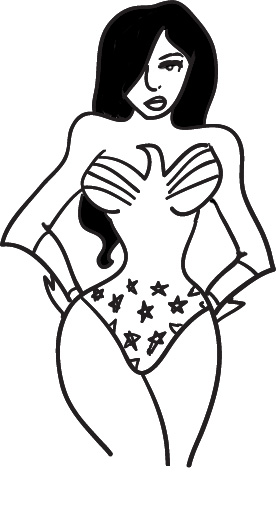 What is it: Wonder Woman!  I've been in a Wonder Woman mood lately so she seemed the obvious choice.
How long it took: 9 minutes start to finish
How many sketches I did today: 3
Total time spent sketching: 36 minutes
Materials used: My Wacom Bamboo tablet, Illustrator, and Photoshop (for clean up).
Other notes/details: The sketch was done freehand with no base drawing to "ink" from.
What I like about it: I really like the looseness of it and the sketch-y exaggerated proportions.  I like the overall feel of it quite a bit.  It feels fun.
What I dislike about it: My lack of skills with the Wacom tablet are obvious – there is little ability yet to do anything but something loose and sketchy – i.e. the hands look like little claw bits.  Also, the face looks pretty dead and non-specific (that isn't the expression I had in mind – I wanted something a little more playful) and doesn't benefit from the fun looseness of the rest of it.
Comments are now closed.